As an income investor, I'm a big fan of Procter & Gamble (NYSE:PG). The company has a stable business model, healthy profit margins, and has an excellent history of dividend growth. We took a bullish position on PG in September of 2015 and believe in the company's long-term prospects.
But this year, investors shouldn't expect much in the way of positive returns from their position in PG. In 2016, the bulk of returns are likely to come from PG's dividend yield. The company will almost certainly increase its dividend during the year, but shares of PG will likely be range-bound for the bulk of 2016.
The US Dollar Is A Major Challenge For PG
What's holding shares of PG back?
The answer is the strength of the U.S. dollar, and the effect that a strong dollar is having on international sales. Procter & Gamble is based in the U.S. but the majority of its revenue actually comes from outside of the U.S. In fact, as you can see in the chart below, Procter & Gamble only generates about 40% of its sales from North America.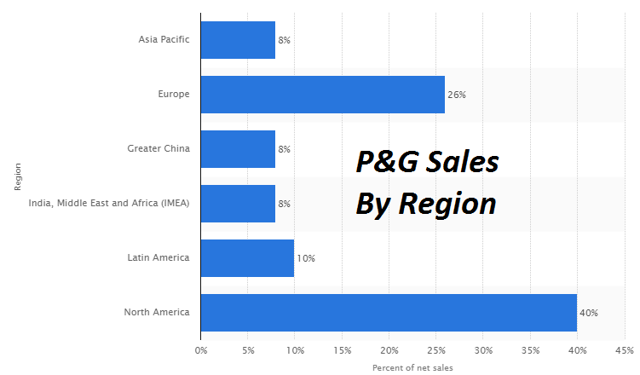 Click to enlarge
(Source: Statistica.com)
U.S. companies with an international presence have been challenged in recent years by the strength of the dollar. A strong dollar makes it challenging for international customers, because weakening international currency depletes the purchasing power of international customers.
Or, put another way, even if PG generates the same amount of revenue in yen, euros or yuan; when the company reports revenue figures in terms of U.S. dollars, the sales figures will be smaller.
Procter & Gamble has seen its reported revenue steadily contract over the past three years, and much of this decline is due to the effects of a strong U.S. dollar.

(Source: YCharts)
Unfortunately for Procter & Gamble, as well as other international companies based in the U.S., the strong dollar trend does not appear to be slowing down anytime soon. As I write, the trade-weighted U.S. dollar is hitting a level not seen since 2003.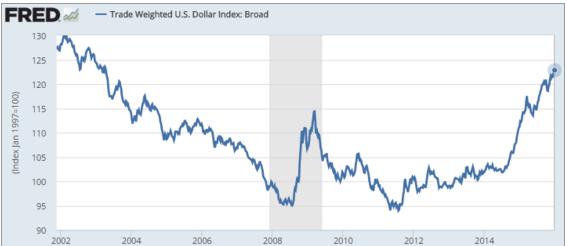 (Source: Federal Reserve Economic Data)
This year, investors will be paying close attention to currency fluctuations, and I expect the strong dollar to put a cap on any potential increase in the share price for PG.
Why Is The Dollar Continuing to Strengthen?
There are essentially three major forces right now that are contributing to a rise in the U.S. dollar. Keep in mind that a strong U.S. dollar is the same thing as a weak alternative currency. So as other countries see their currencies weaken, the U.S. dollar naturally increases in comparison.
The first issue that will keep the U.S. dollar stronger this year is a depreciating Chinese yuan. Chinese policymakers have allowed the yuan (a quasi government-controlled currency) to trade lower versus the dollar. If the yuan is weak, it will theoretically make Chinese exports more attractive to foreign consumers and help to prop up the country's contracting manufacturing sector.
There is also the issue of Chinese individuals and firms attempting to allocate capital into assets that are not denominated in yuan. As the Chinese lose confidence in the long-term purchasing power of the yuan, this devaluation could accelerate. Chinese officials certainly have their work cut out for them this year as they try to maintain a relatively stable currency.
A second issue that should support the U.S. dollar is the Fed rate hike cycle. The U.S. Federal Open Market Committee raised its target interest rate at its December meeting and the board has indicated that rates will continue to move higher throughout 2016.
If the Fed continues to hike rates this year as planned, it will increase the attractiveness of the U.S. dollar. This makes sense because dollar-denominated deposits will pay out higher returns, and so capital will be more likely to flow into U.S. dollar accounts.
A third issue supporting the dollar is the decline in oil prices. Many oil exporting countries such as Russia, Venezuela and other Middle Eastern countries are experiencing economic instability because of lower revenue from oil exports. As these trends continue (and oil is breaking below $30 per barrel as I write), currencies for oil exporting nations should continue to weaken.
All of these trends likely to persist throughout 2016 and so investors are understandably skeptical when it comes to potential revenue growth for international companies like Procter & Gamble.
These concerns should keep shares of PG from trading much higher over the next 12 months. Still, there are a handful of positive issues that should offset the affect of the U.S. dollar, keeping PG shares form trading much lower.
The Bull Case For Procter & Gamble
As a worldwide consumer staples giant, Procter & Gamble gives investors excellent exposure to worldwide consumer spending. The company has a longstanding history of reliable profits, and has maintained an enviable gross profit margin between 47.5% and 52.5% for more than 12 straight years

(Source: YCharts)
The story is even better for dividend investors, thanks to P&G's 59 consecutive years of increasing dividends. Today, the company pays a quarterly dividend of 66.3 cents per share, which nets out to a 3.5% yield compared to the stocks current price near $76.50.
Procter & Gamble just announced that the next dividend payment will be $0.663 as expected, and payable to shareholders of record on January 22. This will be the fourth quarterly payment of $0.663, and from there it is expected that PG will increase the next dividend in keeping with its longstanding history of annual increases.
A strong (and growing) dividend yield should help to bolster the stock price as investors are still looking for alternatives to low interest rates. The recent Fed minutes indicated that the FOMC was divided in their stated plan to methodically increase interest rates this year. And if it turns out that the Fed does not increase rates as quickly as planned, investors may be more likely to add to their blue-chip dividend stock positions in order to boost income.
With $4.63 of cash per share, a strong balance sheet with a debt to equity ratio near 0.50, and expected earnings of $3.75 for the fiscal year ending June 30, Procter & Gamble is in an excellent position to be able to boost its dividend for the 60th consecutive year.
From a valuation standpoint, PG is trading a bit above its average forward PE for the last ten years, but well below the peak set in late 2014. Low interest rates help to boost PG's valuation as investors are attracted to the company's strong dividend. Meanwhile, the challenge of a strong dollar should keep PG from reaching peak valuation anytime soon.

(Source: YCharts)
For this year, it is likely that PG will remain in a relatively tight range because of these two opposing forces. Thankfully, investors will be compensated for holding shares of PG thanks to the reliable dividend increase.
To generate extra income from this name, investors may wish to use an option selling strategy to augment returns with their PG position.
In particular, it would make sense to sell put contracts whenever shares of PG pull back. This strategy generates income through entering an agreement to buy shares of PG if the stock closes below the specific strike price of your contracts. I recommend selling put contracts if PG pulls back to the $70-$73 range and I typically sell contracts with 4 to 8 weeks left until the expiration date.
Conversely, when the stock advances, investors can collect additional income from their shares by selling call contracts. This strategy generates income through entering an agreement to sell shares of PG if the stock closes above the specific strike price of your contracts. I recommend selling call contracts if the stock advances over $80, and again using contracts that expire in 4 to 8 weeks.
Regardless of the option strategy, PG is a solid company that will weather the strong dollar challenges well, and should continue to pay investors a solid and growing dividend yield.
Disclosure: I/we have no positions in any stocks mentioned, and no plans to initiate any positions within the next 72 hours.
I wrote this article myself, and it expresses my own opinions. I am not receiving compensation for it (other than from Seeking Alpha). I have no business relationship with any company whose stock is mentioned in this article.