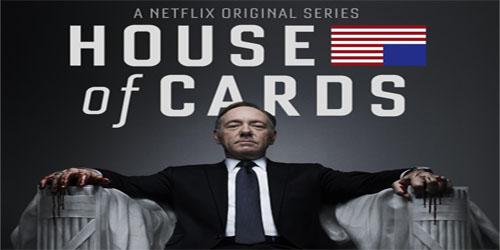 Image courtesy of Netflix
As we welcome 2016, a lot has changed in the world of streaming media. While Netflix (NASDAQ: NFLX) remains the leader in the market, the playing field has changed considerably in the last 12 months.
Now, new rivals are making their mark as Netflix prepares to expand its original content yet again. For those of you keeping tabs on this fascinating sector, here are three things you need to know about Netflix and its outlook in 2016.
The Competition Is Gaining
Since Netflix and its streaming rivals don't release ratings, a large part of determining what is and isn't a success is dependent on how critics and award voters respond to the programming. To say award voters are embracing streaming media would be an understatement.
Take the Golden Globes, for example, as when they announced their nominees last month, of the 11 series up for top honors (Best Comedy/Drama), five are from streamers. Breaking it down further, of the group of six up for Best Comedy, four are from online providers (and one of those actually won). In total, 14 of the nominations from the Globes came from series not airing on a traditional broadcast network.
If you're an investor in Netflix, Amazon (NASDAQ: AMZN) or even Hulu right now, you're probably feeling pretty good (and we'd understand why). This was a full-blown invasion of streaming content into the mainstream awards season, and it is going to have long-lasting repercussions on how we watch TV.
Netflix even topped HBO as the most nominated network at the Globes, which marks an important change of guard. Yet, here's the twist. Usually, Netflix is the one earning all the award recognition, but now Amazon Prime and even Hulu are invading the territory.
In fact, despite all of Netflix's nominations this year, it didn't convert a single one to a win. In contrast, Amazon won twice. Now, the true impact of those results won't truly be felt until the Emmy nominations this summer, but investors shouldn't underestimate the threat.
For now, the overall focus still remains on Netflix, because it is the originator, and again, it did top HBO in total nominations, which is important, because that broke a 14-year streak. With the service committed to doubling down on its original programming in 2016 and rivals Amazon and Hulu continuing to gain new ground, this threat from the cord-cutting generation of series isn't going away.
Originals Are Growing
One thing of note was that among those eight nominations for Netflix, House of Cards earned just one. While it was slighted in most of the main categories (unlike in past years), the important differentiator is that the network still loomed large without it. That's good news for the streamer, as Cards likely only has another few seasons left in it before star Kevin Spacey decides to make a full-time return to movies or the theater.
Cards did its job - it set the table for Netflix, and the network was able to take advantage of the momentum and build off its success. The studio unleashed a number of new hit series in 2015, and it won't stop in 2016. In addition to new episodes of Cards, Orange, Narcos, Bloodlines, Unbreakable Kimmy Schmidt and Marvel-based Daredevil and Jessica Jones, Netflix is set to unveil a stunning roster of new series.
Speaking of Marvel, Netflix is expected to debut Luke Cage and Iron Fist in 2016, paving the way for The Defenders (presumably in 2017), which will combine the leads from all four series into one program (a la The Avengers). Of course, the network isn't fully relying on superheroes, and its other programming options look just as healthy.
For example, it will look to award-winning filmmakers Judd Apatow and Baz Luhrmann for such buzzy projects as Love and The Get Down. Love is described as a "down-to-Earth" comedic look at dating with Gillian Jacobs (Community) and Paul Rust (Super Fun Night) in the lead roles. Meanwhile, Get Down is a musical drama that revolves around a group of teens in the age of disco. Fan favorites Jimmy Smitts (NYPD Blue) and Giancarlo Esposito (Breaking Bad) headline.
You also can't forget about the nostalgia factor, as Netflix will bring back the cast of Full House for spin-off Fuller House, as well as re-unite That '70s Show's Ashton Kutcher and Danny Masterson in The Ranch. Both comedies are expected to get an immediately strong reception.
Movies Are Still A Priority
Much has also been made about the network's entrance into the world of movies. The network's theatrical debut Beasts of No Nation got off to a rough start when it bombed at the box office. Yet, as I mentioned previously, that should have no effect on its success overall. Netflix had to release the movie in theaters to be eligible for the Oscars, and the streamer never expected to make money during that run.
Of course, that didn't stop analysts from taking cheap shots at the studio's business model. Netflix is having the last laugh, though, as so far at least 5 of the most prestigious award groups have included Beasts as either a nominee or a winner in multiple categories. It is also heavily expected to maintain some sort of presence at the Oscars.
Meanwhile, 2016 will expand that experiment, as Brad Pitt will be the studio's next big headline with the film War Machine. Pitt's Plan B productions made the film, which is based on the book The Operators: The Wild and Terrifying Inside Story of America's War in Afghanistan. Written by Michael Hastings, the film centers on Gen. Stanley A. McChrystal, the former commander of the U.S. and international troops in Afghanistan. Netflix reportedly spent $60 million to acquire the film, as it saw promise in the premise.
It will also release Crouching Tiger, Hidden Dragon: Sword of Destiny, Pee-Wee's Big Holiday, Mascots and the Ricky Gervais vehicle Special Correspondents.
The bottom line is Netflix is for now well positioned to maintain its current run in 2016 after a number of big wins in 2015. Combined with its expansion into additional markets, the network is looking more and more prepared for what will be an onslaught of competition going forward. But make no mistake that competition is coming and is getting stronger.
Disclosure: I/we have no positions in any stocks mentioned, and no plans to initiate any positions within the next 72 hours.
I wrote this article myself, and it expresses my own opinions. I am not receiving compensation for it (other than from Seeking Alpha). I have no business relationship with any company whose stock is mentioned in this article.