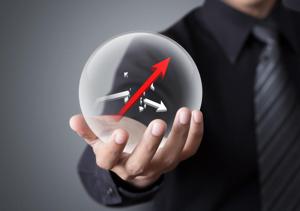 The theme we've been discussing in recent Briefings continues to hold. The market has seen the low, and is gradually building support here. Despite a barrage of troubling individual moves (we'll get to them in a minute), the broader market is stabilizing nicely.
RBS came out with a polemic claim that folks should "sell everything" except high-quality bonds, which, as it is often prone to doing, marked what appeared to be a good buying point. The markets opened strongly higher. Then there was a midday dip, with bears briefly getting the markets into the negative.
Then, as the market has been seeing all year, a huge barrage of buy orders hit the floor toward the last hour of the day, taking the S&P 500 (NYSEARCA:SPY) up 15 points for the day and the Nasdaq (NASDAQ:QQQ) up more than 1%.
Most importantly, even as bears briefly got the market into the negative, volatility (NYSEARCA:VXX) (NYSEARCA:UVXY) never reacted at all. The recent market sell-off can be viewed as a fever, which decisively broke at 3:30 PM ET on Monday. That huge vertical drop on Monday was the end of the panic.
As you can see in UVXY's action, there was no renewed tension on Tuesday at any point, and by the end of the day, volatility made another big move lower.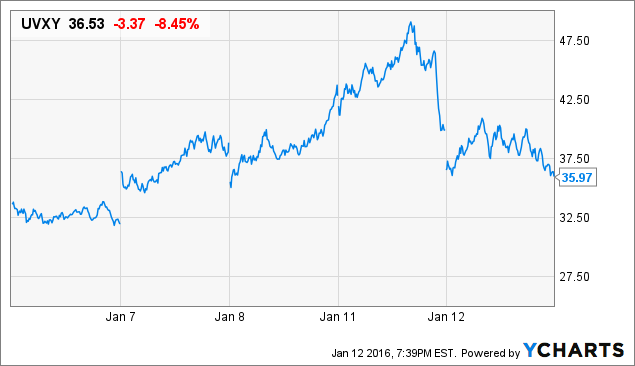 UVXY Price data by YCharts
The market may continue to be choppy for a while, but the panic phase of this sell-off has ended. Without fear, without volatility, there's no impulse to push stocks lower. Though it's still early on Tuesday evening, S&P futures are up about 15 points as of this writing, and it seems bulls may be making the decisive charge away from 1900 now.
With the market this resilient despite many reasons to think about selling, you can prepare for a sizable rally once the general mood brightens. For now, though, we've got some things to watch...
Biotech: The Bear Is Showing Its Teeth
Immediately following the beginning of the Martin Shkreli-induced pricing concerns, I started calling biotech (NASDAQ:IBB) (NYSEARCA:XBI) a popped bubble. With speculative money nervous and politicians on the warpath, it appeared the sector's best days were behind it.
I initially was met with a huge number of comments saying I was wrong, that a new era of biotech breakthroughs had begun, and that the sector would come roaring back. As the fall dragged on, biotech failed to make any meaningful recovery, and hopes for a next leg up in the sector diminished.
And whatever hope there still was of the bull market continuing has just about been snuffed out with this disastrous start to 2016. The sector ETF is now in its worst drawdown since the ETF was launched a decade ago.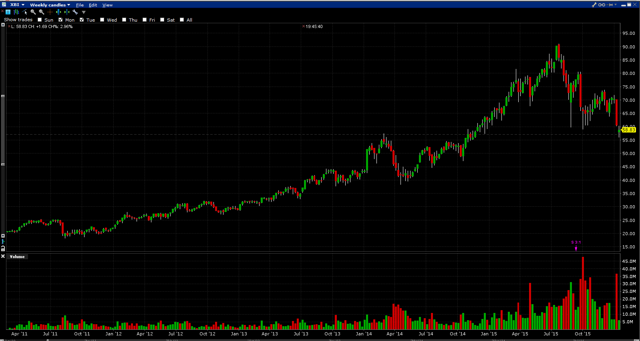 Click to enlarge
I'm not much for technical analysis, but even to my eyes, last week's massive sell-off looks brutal. The XBI biotech ETF valiantly held the $60 level on numerous selling attempts in August and September, and yet, it caved immediately this past week. And check out the volume last week, the selling was at four times the normal rate, with 35 million shares getting traded. On a $60 ETF, that's serious bucks fleeing.
Monday brought more selling, and yesterday, after a huge morning pop, shares went negative again. It felt like the sector, which was already down 7% from the morning highs, was about to go off the cliff. The late-day rally shored things up for the time being.
Still, that chart is ugly! With any failure to get back above $60 in the near term, $45 would be the likely next stop. Biotech is not faring well in this "flight to quality" environment, and being a political football in an election year also doesn't help matters.
Oil Tastes The Twenties
It only lasted a few minutes, but oil (NYSEARCA:USO) briefly broke the $30 barrier, continuing to plunge at a truly breathtaking rate. It rallied toward the end of the day, only to close down 1%, but the emotional damage to sector longs continues to mount.
At the risk of looking silly, I'm going to call a short-term bottom coming here soon for oil. The last $10/barrel of the drop has come without anything particularly negative to the outlook for the oil supply/demand picture.
And shorts have lost any impulse to cover their bets, seemingly convinced that the decline will continue forever. The capture of two American vessels by the Iranians also did little to juice the price of oil, even briefly.
It feels like oil bears are getting a little sloppy here. There's less research and more grandstanding nowadays. Riding momentum and shouting for $10 oil is fine, but be aware that once everyone thinks things will go in one direction, you often get an unexpected move the other way.
Remember August last year, when oil shot up $10/barrel in one week. There was no good fundamental reason for it, just a pure technically driven oversold bounce. Expect a similar one soon.
My 2016 oil target is $27/barrel, so if anything, I'm still mildly bearish on the commodity at $30. But I expected it to take months to reach $27, not to hit my target in the first two weeks of the new year. Simply put, this move down has been too hard and too quick.
Freeport-McMoRan: Can It Survive?
The horror show goes on for prominent hedge fund managers over the past few quarters. You had the fiasco with Ackman and Valeant (NYSE:VRX). Einhorn continues to get killed on energy bets and SunEdison (SUNE), which further imploded on Tuesday.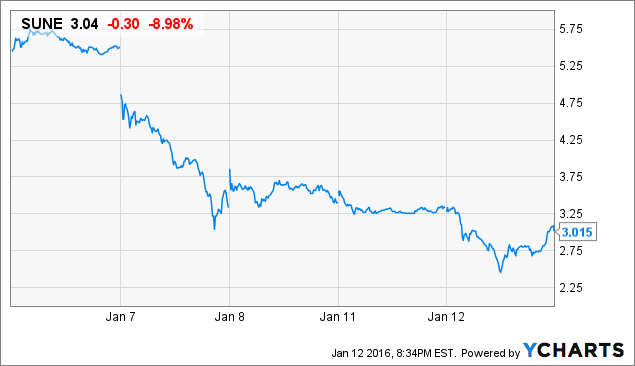 SUNE Price data by YCharts
And Carl Icahn has hit the latest in a string of problems now with Freeport-McMoRan (NYSE:FCX), which is down roughly 40% YTD already in 2016. Icahn is one of Wall Street's most famed activist investors, known widely for skirmishes with other leading players, such as the high-stakes battle over Herbalife (NYSE:HLF).
However, while his track record is remarkable, Icahn's recent plays in the commodity space during this bust have been less impressive. Chesapeake (NYSE:CHK) and Transocean (NYSE:RIG) both face substantial problems.
Freeport-McMoRan, however, is facing something worse, as the market is clearly questioning its solvency.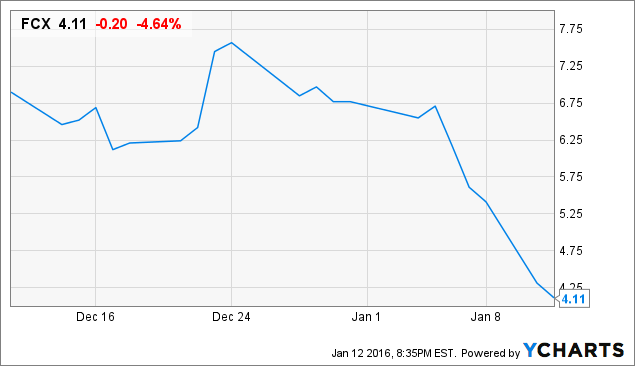 FCX data by YCharts
The company was supposed to one of the world's most stable mining companies, as its wide array of different assets was to ensure steadier revenues. With copper (NYSEARCA:JJC), gold (NYSEARCA:GLD), molybdenum, rarer metals, and oil, the thinking was that somewhat would pick up the tide when other products' prices slacked.
However, the Chinese slowdown has taken down the entire commodity space, and correlations in the whole sector have gone to one. As long as China isn't buying, the market has decided to hit the bid for everything. Most importantly, copper continues to hit new lows.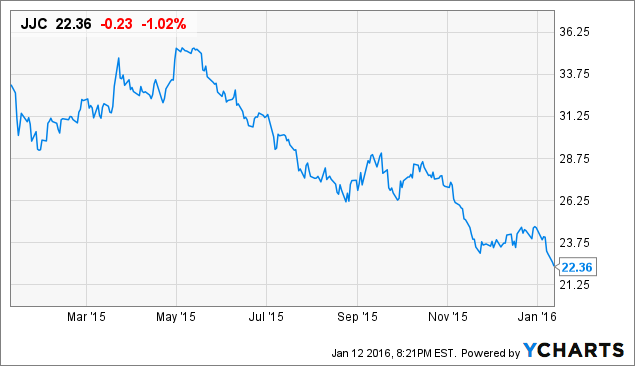 JJC data by YCharts
Now, it's somewhat surprising that Freeport stock has been hit quite this hard, losing nearly half its remaining value already this year. The company has seemingly ample liquidity, and doesn't have a ton of near-term maturities.
But the market smells blood, and with the commodities market this bad, even if you're early with your short, you're still unlikely to lose much money. After watching weak firm after weak firm fail, the short sellers are feeling bold.
Remember the Glencore (OTCPK:GLNCY) panic a few months back? Vultures swarmed, thinking the company was about to go bust immediately. It didn't, and the shares spiked initially.
But the relief was short-lived, and the shares have resumed going straight down. An overeager short could have lost money if they played it wrong, but generally, staying short has worked wonders, even if you got your timing wrong. Wait a month and the market will bail your short out.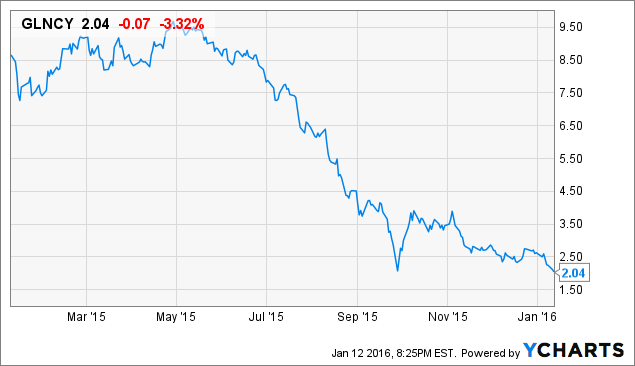 GLNCY data by YCharts
Glencore is now taking out the September insolvency scare lows. I expect a similar trajectory for Freeport. A bounce comes once the market realizes the firm isn't going to go bust immediately. Maybe Icahn or other deep pockets kick in some more money to shore things up.
And then, after a few months pass, people realize oil is still at $30 and copper under $2, and then FCX shares will resume sinking.
The market is assigning less and less option value to busted oil and commodity firms. Without core commodity prices turning up, I don't see FCX getting much of a bounce, even with the shares down this far.
Short-term traders can probably make a buck going long at some point here, but for investors, there's no play on this one. Stick to better balance sheets.
Disclosure: I am/we are short VXX, UVXY.
I wrote this article myself, and it expresses my own opinions. I am not receiving compensation for it (other than from Seeking Alpha). I have no business relationship with any company whose stock is mentioned in this article.