Originally posted on January 12, 2016
By Jodie Gunzberg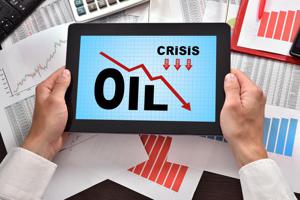 In the January 11 note (that used closing data as of January 8, 2016), I stated that the oil market is falling at an alarming rate, and I guess I was right. That is the reason I'm posting an update today. Normally, I don't update the posts from day to day; however, today, something I said on Monday changed very quickly:
"The concern is for futures investors that need to pay rolling costs. The S&P GSCI Crude Oil Excess Return that includes rolling costs is down far past a 2004 low, reaching its lowest since Feb 1999, and is on the verge of another multi-year loss. If the S&P GSCI Excess Return loses just another 5.5%, it will shed another 5 years of gains."
After a 2-day loss of 8.2% in the S&P GSCI Excess Return index, that February 1999 bottom is history... Now the index blew through the 1999 bottom, and intraday broke the 1994 bottom to set the index all the way back to the lowest level seen since March 1989. That is a 27-year low. During the day, the index recovered, but is now flirting with and is only 55 basis points away from that 1989 level.
The index only goes back to 1987, and here is the new picture:
Source: S&P Dow Jones Indices
Someone asked on Tuesday whether this is a good thing for the rebalance that is increasing the (WTI) crude oil weight not just 3.4% from the relative loss (to other commodities), but an additional 2.1% from the new world production weights for 2016. It depends how you look at it. Maybe like catching two falling knives, or getting the steal of a lifetime...
If this drop is like the 2008-09 drawdown, then oil needs to fall to about $27; however, with the supply like the '80s and the Chinese demand slowdown like the global financial crisis combined, this period may be worse.
Disclosure: © S&P Dow Jones Indices LLC 2015. Indexology® is a trademark of S&P Dow Jones Indices LLC (SPDJI). S&P® is a trademark of Standard & Poor's Financial Services LLC and Dow Jones® is a trademark of Dow Jones Trademark Holdings LLC, and those marks have been licensed to S&P DJI. This material is reproduced with the prior written consent of S&P DJI. For more information on S&P DJI and to see our full disclaimer, visit www.spdji.com/terms-of-use.