Background
Christopher & Banks Corporation (CBK, the company) is a retailer and designer of women's apparel and accessories that targets 45-60 year old women of a wide range of sizes with an average household income of $70k-75k. In February 2009, the company announced an extensive reorganization amid slumping sales and changing customer demands. As of this writing, the company operates 537 stores: 314 in the new MPW format, 76 outlet stores and 57 Christopher & Banks and CJ Banks stores awaiting renovations.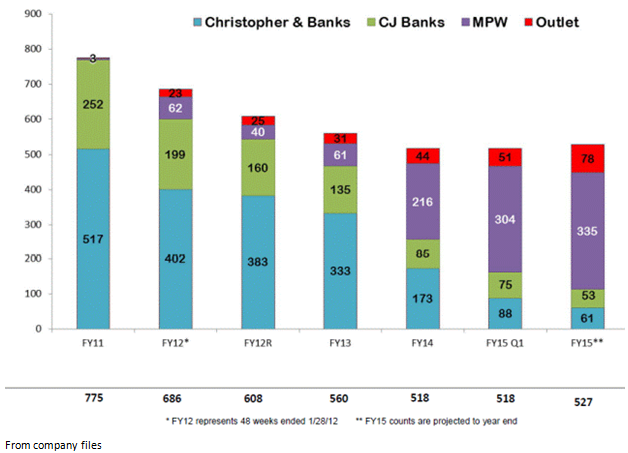 Prior to the reorganization, the company operated two separate store brands: Christopher & Banks (previously named Braun's after its founder who opened the first store in 1956, catering to the "average woman": "Missy and Petite" segment) and CJ Banks (opening first in 2000 during the rebranding of the Braun's stores, catering to "plus size women": "Women" segment). In 2008, CBK launched two separate websites catering to each store brand separately on christopherandbanks.com and cjbanks.com, respectively, both of which were integrated into a single platform under christopherandbanks.com in 2014. The website represents a modest percentage of overall sales but grew at 25.7% in the last quarter, signifying a lot of potential for the company going forward.
The reorganization focused on transforming all stores to the MPW concept and closing down unprofitable stores, with the intention of increasing same store sales (SSS) and sales per square foot (through better targeted marketing and merchandising opportunities, efficient store utilization, and growing the loyalty program and private label credit card) and improving margins - particularly the gross margin (by lowering SKUs and improving inventory management and lowering COGS by importing a greater share of merchandise and concentrating production on fewer suppliers to increase bargaining power).
The MPW Concept
The MPW stores combine the Christopher & Banks and CJ Banks brands and allow for a more integrated "one-stop shop" for clothes of all sizes - an important characteristic given that many women shop among several different sizes. These new stores have also allowed the company to reduce SKUs and focus on SKUs that generate the highest margins - evident as MPW stores have higher gross margins than its other stores.
The company expects to convert all its stores to the MPW concept long-term.
Performance
Between 2011 and 2014, the company increased sales per square foot from $150 to $190, gross margins from 24.4% to 36.2%, and imported goods from 16% to 39% of total production, leading to positive operating cash flow generation in seven of the last nine quarters - a key component in preventing a considerable cash drain during the company's renovations.
In the most recent quarter, SSS (more indicative of performance given the closure of a significant number of stores) declined by 6.5% and 10% over the last three quarters, resulting in negative LTM profits. I believe this SSS drop-off is overstated because it includes remaining stores that haven't been converted to the MPW concept and only includes stores that have been in operations for over 13 months (company 10-K) - omitting the majority of MPW stores (80% in the most recent 10-K). The overall sales figure is slightly misleading as well as it doesn't account for ongoing renovations that would likely have lowered traffic. Q3 appears to provide evidence for this as it marked the first full quarter under which the majority of stores had been converted to the MPW concept - resulting in a slightly positive adjusted profit. It appears that as the company enters 2016, the impact of these variables will diminish significantly and we are likely to start seeing performance improvements - the recent insider buying may also help to provide some insight here.
Given that the company has lost over 70% of market value in the last year (90% since 2007) we'd expect to see a highly distressed company with a weak balance sheet and poor operating cash flow generation. This is far from the case as CBK is one of only two companies in its direct peer group (Ascena, Chicos, Ann, New York & Company) to be completely debt free. The company has also generated positive operating cash flows in each of the last three years that have helped to fuel much of the restructuring and prevented value destruction in its NAV. I believe a factor in maintaining a high NAV may have come from the company's demand advantage - a key intangible asset and catalyst for the company.
Demand Advantage
The most important intangible asset in the retail industry is customer loyalty. An important consideration when it comes to loyalty is that compared to those of young adults and teens, brand switching behaviors are significantly less widespread in adults. This is an important distinction for CBK given that it exclusively targets adult women. A loyal customer base increases price inelasticity and lowers churn rates and customer acquisition costs by reducing marketing expenditures and increasing "free" marketing through word of mouth. Word of mouth is extremely important to maintaining and acquiring customer loyalty as research has shown that it is the most significant variable affecting customer switching behaviors and churn rates.
What makes the case for CBK intriguing is that 97% of its sales come from the 2.1 million active (4.4 million total) customers enrolled in its loyalty program and that 28% of its active customers are enrolled in the its private label credit card, which generated 36% of sales in Q1 of 2015. This type of loyalty is extremely hard to attain and provides a remarkably powerful competitive advantage when it comes to retaining and acquiring new customers. For example, in CBK's immediate peer group (Ascena, Chicos, Ann, New York & Company), Ann is the only competitor that has a comparable credit card program, but the percentage of sales it generates from these cards is miniscule in comparison (1.86% of 2014 sales).
Though all these factors don't necessarily guarantee the survival of the company, they do point to a significant demand advantage as both an intangible asset (customer relations) and a value driver for ensuring a high return on invested capital (ROIC) in the future.
Value Destruction Consideration
For companies that have an identifiable demand advantage, we'd expect an ROIC above the cost of capital and that of the industry. In CBK's case we don't see this, as it returned only 2.0% (adjusted NOPLAT of $5.8mm/invested capital of $287mm) on its capital in the LTM, compared to a WACC of about 8.5%. Though this is counterintuitive to the points above, CBK is still in its restructuring phase and, more importantly, such deviations are common during periods of cyclicality - even for companies with strong moats. Looking at CBK's historic ROIC helps to assert this point: the company's ROIC in the period between 2003 and 2007 averaged 19%, with a high of 26% in 2003 and a low of 14% in 2005.
Despite a lower ROIC during the restructuring, the company has not been destroying value at any level that the market may be punishing it for. In fact, the NAV for Q3 of this year actually increased to about $8.30 per share from $8.15 per share in the previous quarter.
NAV Analysis
At $1.40 per share the company trades at an enterprise value of about $23 million, or approximately $43k per store. In terms of a replication value, no entrant would be capable of reaching any scale similar to CBK's at this valuation. In the NAV, AR is grossed up by 5% to account for allowance for doubtful accounts and the land as well as the buildings and leasehold improvements are conservatively grossed up by the rate of inflation depending on the period of time that each has been held at book value (approximately 10 and 15 years, respectively, in this case). Apart from the assets on its balance sheet, a competitor would also need to replicate CBK's customer relations (or in this case its loyal customer base) - a key off balance sheet intangible asset. To replicate this customer relations, the average marketing expense (at 4% of sales over the last three years) is applied a multiple to a multiplier dependent on the perceived demand advantage an incumbent has (0-3x) (Athanassakos, G. (Revised Jan 2014). Value Investing).
Adding the customer relations value to the NAV provides an estimated replication value of about $316 million or $8.30 per share. This value represents the upper boundary for the intrinsic value of the company and the necessary capital required if a new competitor were to enter and attempt to replicate CBK's business.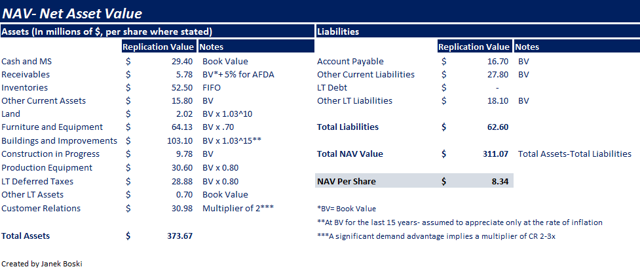 Click to enlarge
EPV Analysis and Implied Entry Price
The EPV is calculated by taking a normalized operating margin (last three years) and applying it to current sales. An adjustment for the implied interest on operating leases is added back (as it represents a financing rather than operating cost) to reach an adjusted EBIT and an after-tax NOPLAT. Depreciation is added back and maintenance capex subtracted to reach FCF that is discounted by the company's cost of capital. In CBK's case, this provides an EPV of $0 (Athanassakos, G. (Revised Jan 2014). Value Investing).
Though a long-term EPV of $0 is unrealistic due to eventual value destruction, it's included in the final valuation to show just how undervalued the company really is. To further "punish" the company for its performance, a 50% catalyst probability for realizing the NAV and a 40% necessary margin of safety is assumed. Even under these conservative assumptions, the company's implied entry price is still $2.50 and its implied intrinsic value (exit price) is over $4 per share.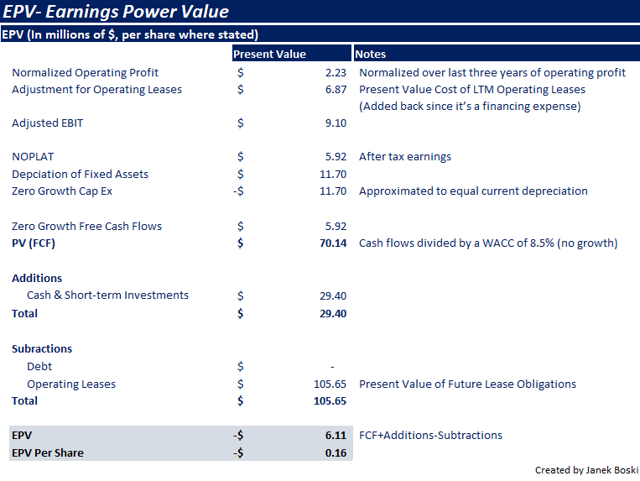 Click to enlarge

Click to enlarge
Scalability and Potential of EPV
Long-term, we would expect the NAV and EPV of an average company (with no competitive advantage) to converge as its WACC and ROIC begin to align. That is, in a competitive industry with no barriers to entry, the long-term NAV and EPV equal one another and represent the intrinsic value of a company (Athanassakos, G. (Revised Jan 2014). Value Investing). In CBK's case, the ROIC and WACC would converge at a NOPLAT of about $24 million (currently at $5.6 million). This does not factor in the CBK's demand advantage that would result in an ROIC to be above its cost of capital - as was the case prior to the restructuring. In the period prior to its reorganization where CBK maintained its significant demand advantage (2001-2007), the company's sales per square foot were $238 and its operating margin was about 12.4% (vs $180 and -2% currently). Given the demand advantage the company has, we'd expect its margins to deviate back to this mean in the long-term.
Taking the points mentioned above into consideration, if we conservatively assume CBK were able to reach sales per square foot of $200 and an operating margin of 6.5%, the company's EPV would jump to $5.3 per share and its intrinsic value to $7 per share. Even under this scenario, CBK's ROIC would still remain below WACC at 7.3%.
Though I am wary when it comes to speculating on timing, I believe these results are attainable over the next few years, especially given the conservative assumptions presented and the significant catalyst sources stated below.

Click to enlarge
Catalyst Sources
Demand Advantage
I believe the company's loyal customer base will likely continue to be the main catalyst source for the company in the interim as it continues to recover from its restructuring. This demand advantage has likely prevented a considerable amount of value destruction from occurring thus far and will be a key factor for the company to attain superior returns going forward.
Management and Hedge Fund Activism
In April 2015, activist hedge fund Macellum Advisors criticized the company's management for its performance since the reorganization. Despite agreeing with some of the critiques regarding the company's internal problems addressed in the letter, I believe CBK's management has done a good job at managing the needs of its customer base, especially given the overall performance of the industry. Throughout the renovations the company has been proactive in gathering customer insights to help with merchandising, the overall presentation of the stores and in ensuring that customer demands were being met. I spoke with a CBK representative in regards to this and was made aware that no stores were closed during the renovations to allow for business operations to continue and for the company to receive valuable customer feedback along the way. I believe this type of attention at the customer level has helped to stem value destruction, despite management's struggles in helping to drive the overall recovery process - some of which that may arguably have been out of their control.
A big issue in 2014 was also the large outflow of shares from company insiders that brought into question management's alignment with the direction of the company. However, this issue seems to have been addressed recently through the open market share purchase by both the company's CEO and CFO - a positive signal of management's confidence in the direction of the company.
Conclusion
Despite CBK's struggles, the company has three catalysts that favor its recovery and ability to realize the significant intrinsic value within the company. First, the company benefits from a significant demand advantage resulting from its loyal customer base that has historically driven above market ROIC and helped stem significant value destruction over the last few years. Second, the management that is in place appears to be capable of providing long-term value for shareholders and the recent insider buying likely affirms management's confidence in the company's prospects. Third, the threat of activism by Macellum Advisors will minimize the potential for significant value destruction in the event that management's performance does not to improve - through continued pressures such as a proxy fight.
I believe that all these factors justify the conservative catalyst probability provided and that the additional margin of safety offers ample downside protection given that the current share price of $1.40 is significantly below the proposed entry price of $2.50.
Disclosure: I am/we are long CBK.
I wrote this article myself, and it expresses my own opinions. I am not receiving compensation for it (other than from Seeking Alpha). I have no business relationship with any company whose stock is mentioned in this article.
Editor's Note: This article covers one or more stocks trading at less than $1 per share and/or with less than a $100 million market cap. Please be aware of the risks associated with these stocks.