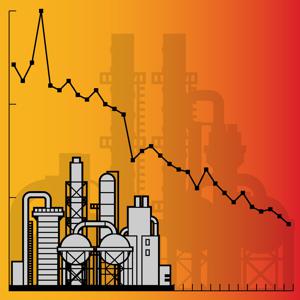 The Energy Information Administration (EIA) released its monthly Outlook yesterday. This is the first time it has projected out through 2017. Its projections represent a "base-case" scenario. I highlight below the three key risks I see to the EIA's forecast and discuss its price outlook in relation to the inventory projections.
How prices actually unfold will likely be quite different from the EIA's projected scenario. Prices will depend on the market's perceptions as news is released about each of the key uncertainties, U.S. output, Iran and China. They will also be impacted by trader behavior, such as long liquidation during the current price collapse and short-covering at some point.
The United States
The EIA projects a slower decline in U.S. crude production in 2016 than it had previously expected. It says domestic crude will drop about 690,000 b/d from 2015 to average 8.74 million barrels per day. It projects a further decline of 270,000 b/d in 2017 to average 8.46 million. The risk here is that the decline may be smaller or larger. The output has remained well above EIA forecasts during this price collapse.
Petroleum product consumption rises by 160,000 b/d next year and 270,000 b/d in 2017. This is less than a 1% gain this year and a 1.4% rise in 2017.
With modest gains in product consumption, U.S. refinery demand would rise modestly this year and next. The EIA projects increases in crude imports, natural gas liquids and a drawdown in crude inventories to replace the lost domestic production.
The increases in crude imports would be 360,000 b/d in 2016 and another 400,000 b/d in 2017. That represents increases of 5.2% and 5.6%, respectively.
Natural gas liquids would rise by 6.3% and 8.1% this year and next. That represents volumes of 200,000 and 280,000 barrels, respectively.
Finally, it projects that crude inventories will be drawn down by 28 million barrels (mmb) next year and another 7 million in 2017. Crude inventory holders have been investing in inventory as prices drop, expecting that they will profit when prices rise. Given the ongoing collapse in crude prices, such a draw is possible if prices rebound to $40 from a much lower low (e.g., $20).
OPEC
The EIA estimated that OPEC crude production averaged 31.6 mmbd in 2015. It's expecting production to rise about one-half million barrels per day this year to 32.16 mmbd. This, presumably, would account for the expected increase from Iran. It forecasts another gain in 2017 of 560,000 b/d. That reflects an additional gain that Iran has said is coming. The risk here is that Iran may be able to achieve the entire one million barrel per day gain during 2016.
World
Led by the declines in U.S. crude output, OECD production is forecast to drop by 600,000 b/d this year, but just 70,000 b/d next year. Output in the former Soviet Union is expected to dip this year and next.
Total world consumption is projected to rise by 1.4 mmbd each in 2016 and 2017. Roughly, one-third of that comes from OECD, one-third from China and one-third from "Other Asia." The risk here is that China's economy slips into recession or even implodes, and this growth does not materialize in China or Other Asia.
The net effect of these projections is a global stock build of another 72 million barrels in 2016, adding to the glut. The EIA then projects that supply/demand will balance in 2017 with no net stock change.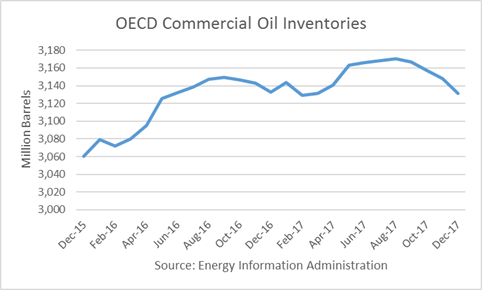 Price Outlook
The EIA foresees oil prices averaging $40 in 2016, down 23% from 2015 and then rebounding to average $50 in 2017, still lower than the 2015 average of $52.
The rise in prices is said to get under way in early 2017. Prices are forecast to rise steadily from $40 and end at $55 in December. Based on the EIA's projections of inventories, it seems the timing of this price rise is premature.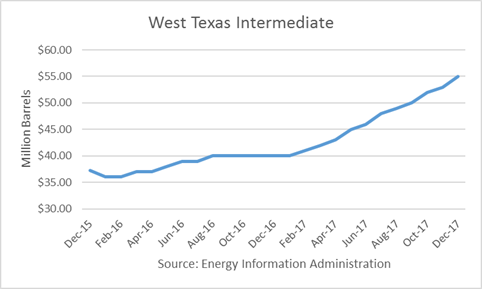 Conclusions
The EIA's base-case forecast contains three major risks in both timing and quantities: the decline in U.S. crude production, the rise in Iran's production and the rise in China's oil consumption. Assuming the EIA numbers are correct, the near-term price outlook appears to be too optimistic, as well as the rise in prices in early 2017. However, if its supply/demand numbers are correct, prices would find support by the second or third quarter of 2017.
Disclosure: I/we have no positions in any stocks mentioned, and no plans to initiate any positions within the next 72 hours.
I wrote this article myself, and it expresses my own opinions. I am not receiving compensation for it (other than from Seeking Alpha). I have no business relationship with any company whose stock is mentioned in this article.