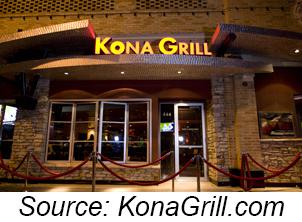 Kona Grill (KONA) has been one of the prime beneficiaries as investors fell in love with restaurant stocks in recent years. This multi-year bull trend for the sector broke in 2015, as shares of Kona Grill have lost roughly 50% from their peak at the start of 2015.
After this big move, the shares jumped at the start of 2016, as they were encouraged by relatively strong comparable sales growth numbers for the final quarter of 2015. This triggered a 15% jump in the share price, prompting me to review the opportunities for the stock going forward.
Kona's Business
Kona Grill is a relatively small casual restaurant chain which combines a mix of American cuisine, sushi and bar business. The American grill generates nearly half of total sales, with the remainder of sales being split pretty evenly between the sushi and bar business. While the business has been around for a while, the company operates just 37 restaurants across the nation, each generating $4.4 million in average sales.
Most of the business is done at night, as dinner makes up half of its total sales. Happy hours and lunchtime make up the remainder of sales. The chain is quite distinctive, as the restaurants have a luxurious and modern design. These factors and distinctive sushi offerings make it a destination for health-conscious consumers as well as Millennials.
As a matter of fact, many consumers like the restaurant so much that they become "heavy" users. Roughly one in six visitors has made more than 9 visits in the past 90 days, as a third of guests make their way into Kona restaurant some 4-8 times per quarter. Its loyal customer base has been a key driver behind the organic growth rates being reported in recent years, as Kona Grill has signed leases to open another 8 new properties in 2016-17.
On top of this growth, Kona is trying to develop a franchise-based model as well. The first international franchise location is anticipated to open later this year in the Middle East, and the company has signed an agreement to open a restaurant in Mexico as well. I must say that I find it quite surprising to see the company focusing on international development, given that it is still very small within the US.
Updating The Fourth Quarter
Kona Grill surprised the market, as it reported very solid momentum for the fourth quarter of last year. The company reported revenues of $38.1 million, a 20.6% increase. Most of this growth was driven by the opening of new restaurants, with comparable sales increasing by 3.2%.
While the overall sales number was more or less in line with the guidance of $38 million, the comparable sales growth numbers were pretty strong. This followed the company's own guidance, which called for a "slightly positive" increase in comparable sales. The growth marked a nice acceleration from the 1.6% growth rate being reported in the third quarter as oil-related states suffered from slow momentum, with actual traffic numbers falling compared to the year before.
The company has real momentum, as Kona opened 4 restaurants during the fourth quarter, expanding the total restaurant base in a significant way in a short period of time.
Strong Financial Position
Kona Grill has a strong balance sheet, which comes in handy during this expansionary state. When the shares fell towards the $15 mark in November 2015, the company announced a $10 million share repurchase program to take advantage of the 50% fall in the share price versus the highs earlier that year.
This repurchase program can easily be financed with cash holdings of $16 million at the end of the third quarter. If the buyback would be completed by now, cash holdings would fall to just $6 million, although it should be said that the company has no outstanding debt.
Such repurchases would have been able to reduce the outstanding share base to 10.7 million shares. As the shares have jumped towards $16 following the release of the fourth-quarter revenue numbers, the business is valued at roughly $170 million.
The issue is that the company is not profitable, as it posted an operating loss of $2.2 million in the first three quarters of 2015, with losses being driven by pre-opening expense of $3.3 million. Even when excluding that item, operating profits are pretty minimal, with operating margins coming in at just 1% or so. This makes it useless to value the business on earnings multiples, as the business now trades at 1.2 times 2015 sales of $143 million.
Del Frisco's (NASDAQ:DFRG) is the only listed competitor that is mentioned by Kona in its recent investor presentation. This struggling player trades at 1 times sales, but reports much lower sales growth compared to Kona Grill. Unlike Kona, Del Frisco has been able to post operating margins of around 10% in recent years. It must be said that increasing competition has been hurting margins of Del Frisco, having fallen towards the mid-single digits by now.
Final Thoughts, Priced For Perfection
Kona has grown quickly over the past decade, and it aims for a continuation of growth going forward. Sales have increased by a factor of 4, from $37 million in 2005 to $143 million by now. While this is impressive, the number of outstanding shares has more than tripled as well. This pretty much tells you that growth on a per share basis has been very limited. Kona Grill has frequently issued shares in order to finance this growth, as the lack of profitability prohibited the company from financing new restaurant openings with retained earnings.
Until 2010, Kona Grill has consistently lost money. Operating margins did peak at 5% in 2012, while the margins are reverting towards zero at the moment. Of course, earnings are hurt to some degree by pre-opening expenses. Obviously, the market is pricing in growth and margin gains for the future at current levels, but just how much is being priced in?
Let's assume 15% growth per year through 2025. This growth could come from an increase in restaurants and comparable sales. In such a favorable scenario, sales could come in at $600 million by 2025. If the margins came in at a very generous 10% in this scenario, after-tax profits would come in at $40 million, assuming the business has no debt.
Such a business could be valued at $700 million in a favorable scenario by 2025, or $65 per share if I do not assume any further dilution of the shareholder base. This is a real challenge as investors have constantly witnessed dilution in recent years.
That implies the shares could increase by a factor of 4, for annual returns of 15%. While this is very appealing, it is based on extremely favorable assumptions. If revenue growth is just 10% per year and operating margins fail to exceed 5% of sales, the shares would be worth roughly $20 by 2025. That would imply investors could not look forward to any substantial capital gains in the decade to come.
The point is clear. While shares of Kona have been cut in half over the past year, the shares have still enjoyed a multi-year momentum run. Even as unit growth and comparable sales growth looks appealing, the company is failing to report any profits on these sales. While investors can expect nice returns if the company achieves its long-term objectives, I find it highly unlikely that Kona will be able to achieve these targets.
All of this makes me very cautious and hold off from the stock now, as I refuse to join the bandwagon into the start of the new year.
Disclosure: I/we have no positions in any stocks mentioned, and no plans to initiate any positions within the next 72 hours.
I wrote this article myself, and it expresses my own opinions. I am not receiving compensation for it (other than from Seeking Alpha). I have no business relationship with any company whose stock is mentioned in this article.