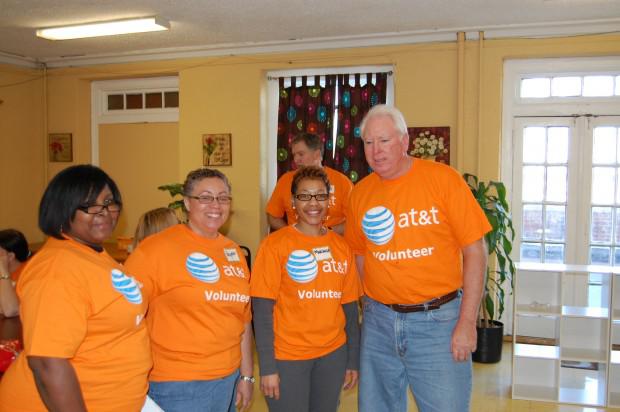 In my previous articles on wireless telecom companies, I looked at AT&T (NYSE:T), Verizon (NYSE:VZ), and Vodafone (NASDAQ:VOD). My conclusions for each differed slightly. The primary focus of these analyses were on the dividends - more specifically, the sustainability of the dividends.
Readers responded relatively well. The main complaint I received was regarding VOD, which I analyzed in USD, despite it being a UK company. This was not neglect on my part; instead, I wanted to give the readers, who are mostly American, the American perspective: A dividend from a ADR will be bumpy.
Today, I wish to follow up on a few unanswered questions, mainly about T, but also somewhat about VZ. If you read my previous articles, you would know I summed up these businesses as follows:
This is a dog-eat-dog industry; one company cannibalizes another's market share. You can only make the pie bigger by international expansion - something VOD is currently doing; however, I feel the payoff will not be as expected.
VZ and T are good, safe dividend investments, with VZ having the better fundamentals. They are also both being called "shelters" for an upcoming bear market.
VZ and T are competing for an important government contract; the winner should see improved growth. I have not yet analyzed who is better positioned to win (perhaps in a future article).
VOD makes a good short in a pair trade with VZ (preferred) or T (also good).
Other than hedging issues and the fact that the companies are competing for market share, investing in multiple wireless telecom companies in not a bad idea.
Due to reader requests, I will be looking once again at T, this time from a more dividend-unrelated perspective. Specifically, I will be giving an intrinsic valuation, be analyzing the shareholder equity ratio, and be giving a few opinions about the company itself.
Valuation
While I have previously evaluated VZ with my discounted cash flow model, I have not yet done so for T. I will do so now. I am using a 9% discount rate and a logarithmic growth rate.
The results follow: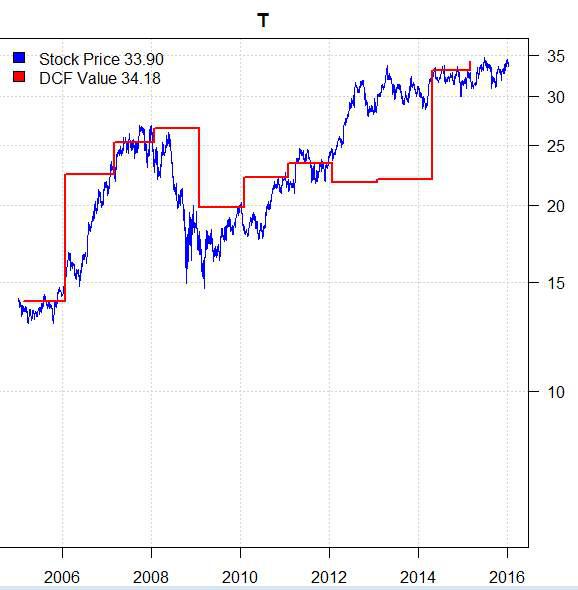 Clearly, the intrinsic valuation (DCF price) has followed the stock quite well, implying a tight relationship between the fundamentals of the company and the stock price. Interestingly, sometimes the DCF price precedes stock movement (as in 2006) but also sometimes lags behind sentiment (as in 2008). Of course, the latter can be attributed to the stock market crash of 2008; otherwise, DCF price seems to predict stock price.
One interesting time period was that of 2012 to 2013, which the stock was overvalued according to this model. Yet as of 2014, the DCF value and the stock both evened out. Currently, the model, for which the last price was calculated for March 2015, shows a fair pricing of the stock.
However, running the model on quarterly data, I see the stock as overvalued by $4. That is, the stock has trended sideways in the past 9 months, yet the fundamentals predict a dip. Overall, I give an implicit value of T as $30.21, making the stock 12% overpriced.
Shareholder Equity
I also received a request to look into the shareholder equity for T and compare it to VZ. The concern is that VZ's low shareholder equity makes it more risky than T. This is assuming the companies liquidate, which is unlikely. However, it makes for an interesting analysis.
For T, the common stock equity versus total asset ratio follows: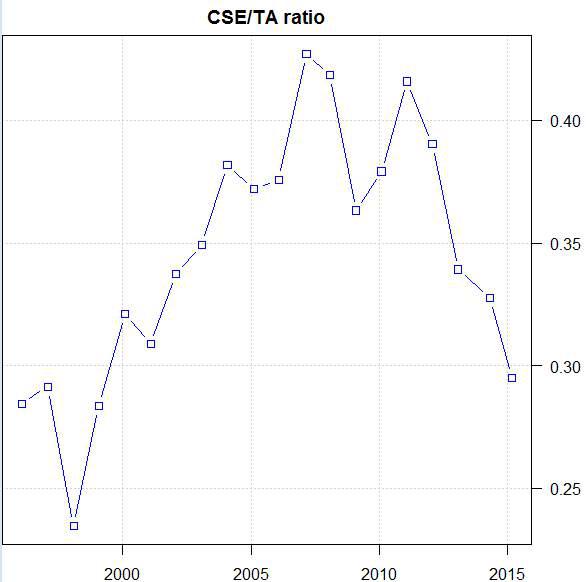 From a high of nearly 45%, T's ratio is now 15% lower, at 30%. Calculating the liquidation value for shareholders, every shareholder would receive $16.64 a share. This is roughly half the price of what T is currently trading at, implying the downside of T is not $32 but only $17. But what about VZ?
Indeed, the concern is justified: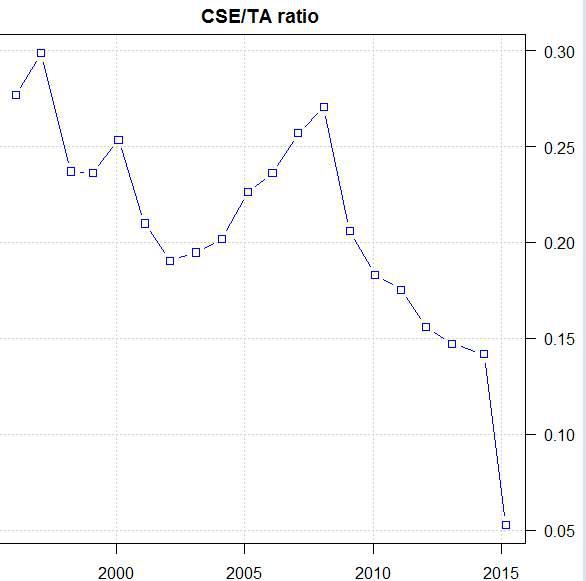 VZ's shareholder equity ratio is slightly about 5%. Thus, if VZ were to liquidate its assets, every shareholder would receive only $2.96 per share. The downside for VZ is nearly equivalent to that of a stock option: 100%.
Of course, the realism of liquidation is far off. But the potential does exist, as- after all- the wireless telecom industry is about market share, not growth (unless you are VOD). This, investors should consider the downside of each stock, coming to the conclusion that VZ is the riskier play in the worst-case scenario.
In other words, a logical maximum resistance level for T is $17, whereas for VZ, we are looking at Sprint (NYSE:S) levels. While I do prefer VZ to T, at least until the FirstNet decision, T is the safer choice. T is a boring but safe stock, whereas VZ is more interesting but more risky, at least from this perspective.
Insider Trading
In another article on T, one recent seller of the stock cites insider trading as one catalyst for lack of confidence in the stock: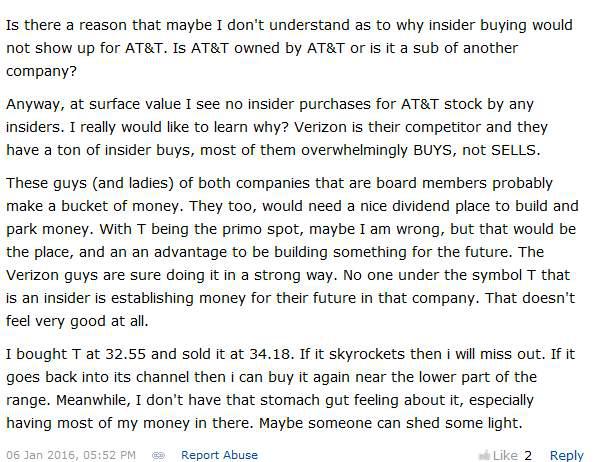 While his theories are correct, his numbers are wrong. A look into insider trading of T versus VZ shows more buying at T and more selling at VZ:
T: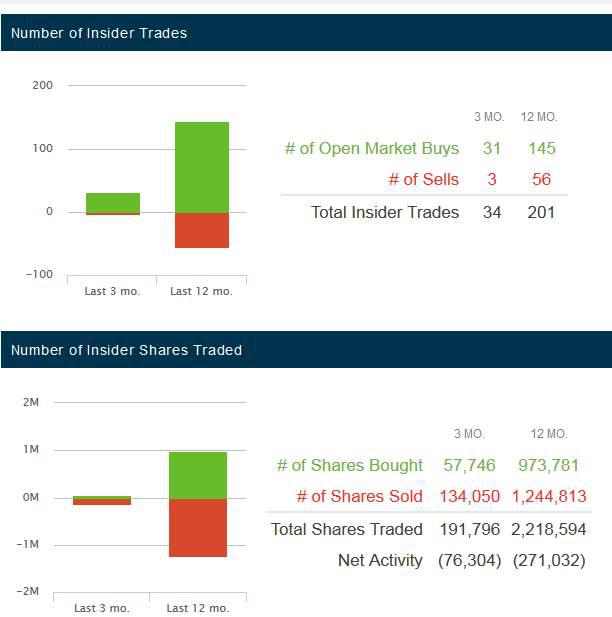 (Source: NASDAQ)
VZ: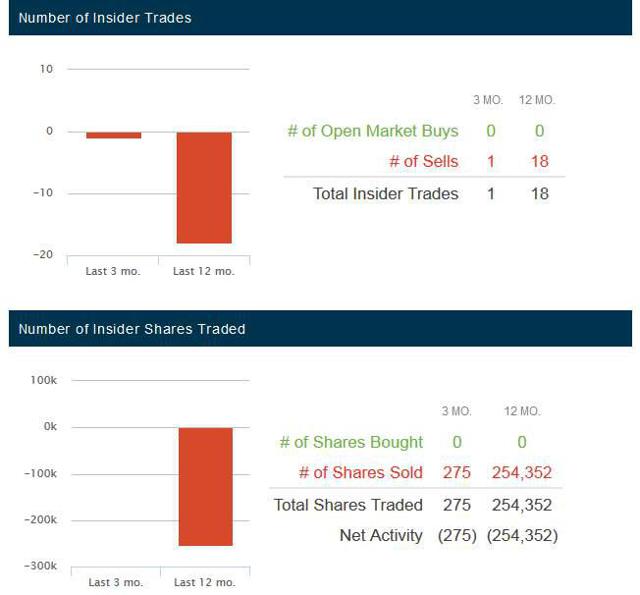 (Source: NASDAQ)
Personally, I do not put much weight on insider trading, as company culture can be more influential than the hard numbers or market outlook. But if it matters to you, T looks to be the "more confident" of the two companies.
Conclusion
T is a boring stock meant for reliable dividends, regardless of the company's income, cash flow, or market status. Its popularity relies entirely on its ability to consistently pay out dividends even at the hardest of times. Should we really be hitting a bear market, T is a good stock in which to place your cash while you ride it out.
Of course, you should also always be hedged, which is one reason I recommend shorting VOD with a T play.
Options Plays
I am of the strong belief that you should never play stocks over options unless your goal is dividends. That said, for a stock like T at a time like this (increased market volatility), you do have some good sideways plays as an options trader:
For Non-holders: Calendar Spread
Sell Feb16 34 Call
Buy Mar16 34 Call
For Holders: Collar (profits during sideways trends; protects you from drops in stock price)
For every 100 shares you own
Sell 1 Feb16 33 Call
Buy 1 Feb16 28 Put
Request a Statistical Study
If you would like for me to run a statistical study on a specific aspect of a specific stock, commodity, or market, just request so in the comments section below. Alternatively, send me a message or email.
Disclosure: I am/we are long S.
I wrote this article myself, and it expresses my own opinions. I am not receiving compensation for it (other than from Seeking Alpha). I have no business relationship with any company whose stock is mentioned in this article.