Make no mistake about it - the external environment for Citigroup (NYSE:C) is dismal to say the least. If I had to rate the externals from 1 to 10 - I would say for Citigroup we are probably at about 4.5-5 (where "normal" would be about 7).
The headwinds are multiple:
US dollar strength is shaving an estimated $500-$600 million of net income in 2015
Low interest rates are a significant drag (assume Fed's rate at 200 basis is the new "normal", I estimate a drag of about $3 billion drag on the deposit franchise)
Oil price decline is leading to reserve build (~around $600-$700 million) and revenue headwinds especially in the Corporate bank.
FICC volumes are depressed in 2015 due to macro uncertainties and low interest rates
China soft or hard landing means many capital markets participants are sitting on the sidelines
Return drag from Citi Holdings and $30 plus billion of DTA which is not counted for regulatory capital calculations
This is a very tough environment for a global and universal bank such as Citigroup - nonetheless, against this background Citi is still delivering a RoTCE just below 10% and EPS of around $5.40 and generating excess capital of ~$7 per share.
In my books, this is a very credible performance.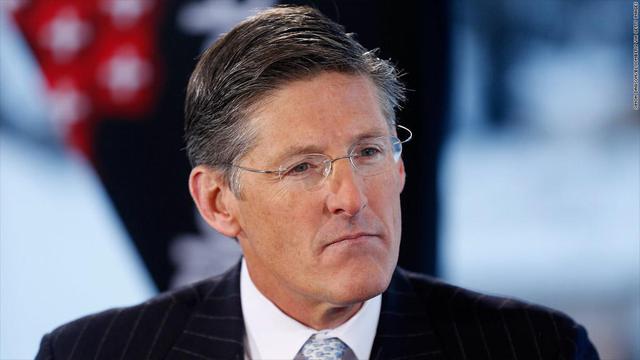 Click to enlarge
(source)
Keen to hear your thoughts as well, in the comments section - so please sharpen your pencils (this is the only reason why I write for Seeking Alpha).
But now, we shall focus on my EPS estimate and financial model.
The Street as per the Wall Street Journal is calling for $1.07 (and will probably reduce further by Friday).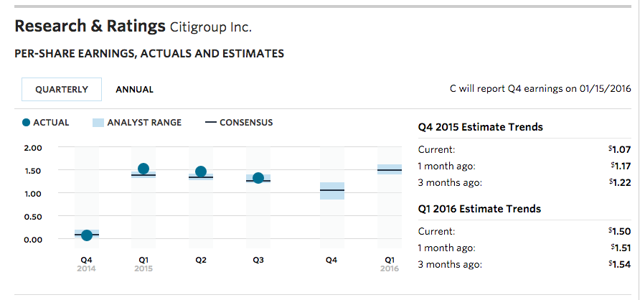 Click to enlarge
My EPS model points to a slight beat with an estimated EPS for 4Q'2014 of $1.10.
Let's consider the detail behind the numbers:
Global consumer bank (GCB)
I expect some headwinds in the international franchise (including slowdown in Wealth given subdued EM stock markets in recent time). The other main headwind is the ever-appreciating USD against EM currencies.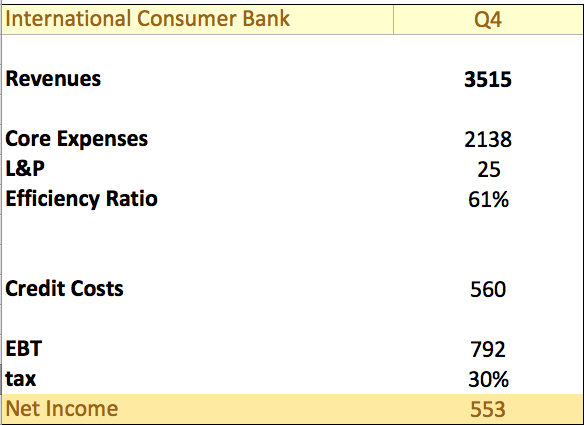 North America consumer
I expect continuous improvements in the U.S. consumer bank - the U.S. consumer is increasingly healthier and that should reflect in the numbers (albeit I assume continuous branch closures will impact repositioning costs somewhat).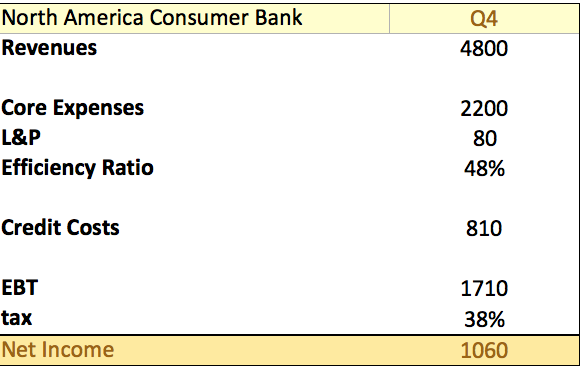 Institutional Client Group (ICG)
A tough quarter for ICG with FICC and Equities down in sequential quarter by up to 20%. Similarly, a large reserve build of $400 million in respect of Energy exposures with no offsetting hedge gains as per 3Q'2015. It will also be impacted by increased repositioning costs. The only positive item this quarter is the performance of the M&A advisory franchise that seemed to have gained further market share.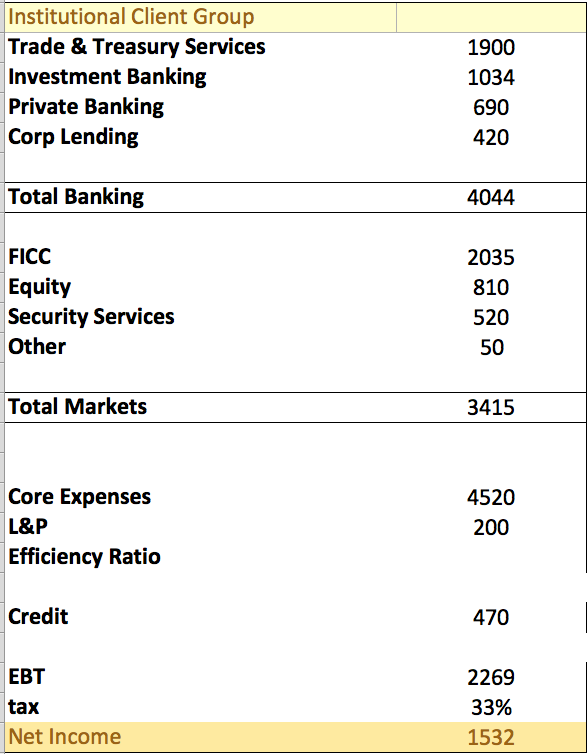 Citi Holdings, Corp and Others
Citi Holdings results include the disposal of OneMain and Japanese assets and buyback of expansive debt. Share count should have been reduced by about 30 million shares. Preferred shared distributions increased to $209 million reflecting additional issuances over the last 12 months.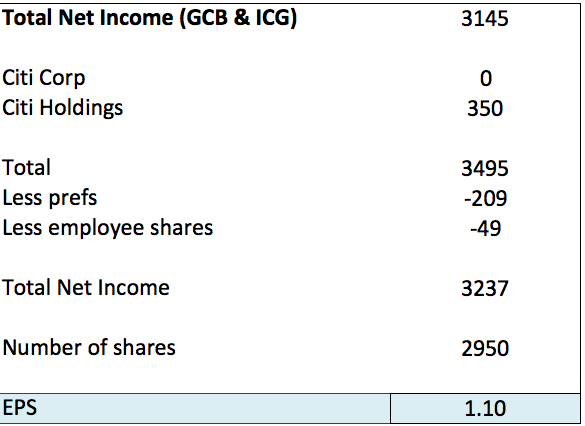 As can be seen from above, the bottom line is an estimated EPS of $1.10 per share and a modest beat on analysts calls.
A fool's game
Trying to accurately predict Citi's EPS is a fool's game - so I certainly won't bet the house on the above forecast. Naturally, there are many moving parts (e.g. FICC revenue outcomes over the last 2 weeks of 2015). For the record, my previous two predictions on Seeking Alpha were within a cent from actual results. We shall see Friday morning!
Final thoughts
It is a dismal macro environment for banks out there - especially for a bank like Citigroup. In spite of this, Citi is delivering decent results quarter by quarter and Mr. Corbat and team's performance has been very credible. I acknowledge the solid banking execution and risk management - as a long term shareholder I am so far satisfied with management.
I will cover the banking earnings results in the next few days, so please stay tuned and don't forget to add me as a "real-time follower".
I cover U.S., European, Asian, Canadian and Australian large-cap banks, identifying long and short opportunities. If interested in the topic, feel free to add me as a "real-time follower" or message me if interested in a specific banking name.
Disclosure: I am/we are long C.
I wrote this article myself, and it expresses my own opinions. I am not receiving compensation for it (other than from Seeking Alpha). I have no business relationship with any company whose stock is mentioned in this article.