When we first began writing about Clearwire (CLWR), we noted that this company was extraordinarily misunderstood, and if investors took the time to truly analyze its financials, its assets and its competitive position, they would see that this is a company that deserves a far higher share price than what is currently being given by the market. Recent events have confirmed that the story is fully intact, and Clearwire's competitive position has greatly improved in the past week. Below we profile recent developments that have impacted Clearwire.
The Collapse of LightSquared
On February 16, it was announced that the FCC would officially block LightSquared from launching its new wireless network, something we had said would happen in our last Jan. 24 article on Clearwire. The opposition to LightSquared was simply too much, we noted at the time. And even with LightSquared hiring lawyers to examine its legal options, we do not see any future for LightSquared. Clearwire's relationship with Sprint (NYSE:S), and its position as the leading wireless wholesaler, are now much stronger. And we think investors will soon appreciate this more. Clearwire shares crashed 24% the day Sprint announced it deal with LightSquared. Yet they made no such moves when LightSquared's network collapsed. Investors have yet to fully realize that now that LightSquared is out of the picture, Sprint will have to rely on Clearwire to augment its LTE network buildout.
LightSquared signed up over 30 partners before its network was blocked from launching. And two of those partners, Simplexity and FreedomPop have already inked deals with Clearwire. We think that as the other partners LightSquared had signed come to realize that the end is near, they will jump to Clearwire for their wireless needs. Furthermore, given that the rejection of LightSquared's spectrum was based on the incompatibility of its spectrum, it seems unlikely that the spectrum can be salvaged by another well-financed entity that can remold it into a Clearwire competitor.
Earnings and the Annual Report
On February 15, Clearwire announced its fourth quarter and full year 2011 earnings. For the fourth quarter, Clearwire posted revenue of $361.87 million, representing growth of 8.94% sequentially and 106.61% year-over year. On the EPS side, the company posted a GAAP loss of 81 cents per share, which is unchanged from its results in the fourth quarter of 2010. Below, we provide a quick look at Clearwire's financials for all of 2011.
| | | |
| --- | --- | --- |
| | 2011 | 2010 |
| Revenue | $1.253466 Billion | $535.103 Million |
| EPS | -$3.07 | -$2.46 |
| Net Subscriber Additions | 6.069 Million | 3.769 Million |
| Total Subscribers | 10.414 Million | 4.345 Million |
Clearwire posted soaring revenue and subscriber growth in 2011, yet its net loss widened by 61 cents per share. While EPS is a crucial metric, it is important to nevertheless analyze just what makes earnings rise and fall, as one-time events can both overstate and understate a businesses' true income.
(Click to enlarge)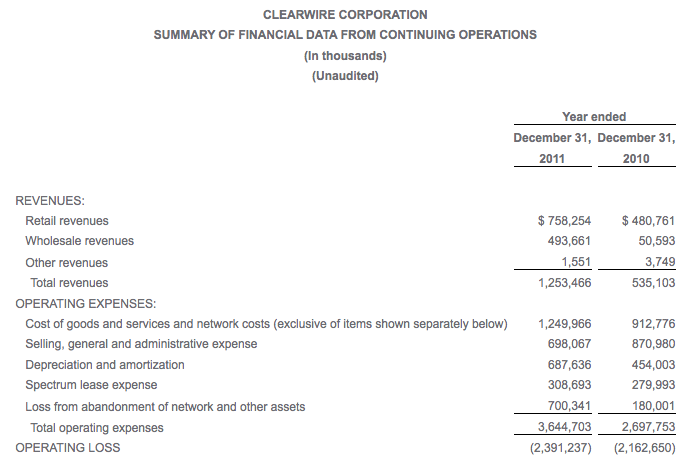 Click to enlarge
Operating losses at Clearwire grew by $228.587 million in 2011 compared to 2010, but it is crucial to note that Clearwire wrote down its WiMax network by a substantial amount in 2011, to the tune of over $700 million. That non-cash charge weighed on results in 2011, but we feel it was a necessary move, given that Clearwire is aggresively moving to rebuild its network on LTE standards that are the norm in the wireless industry. Without the WiMax writedown, Clearwire improved its operating losses by quite a bit in 2011, and we feel it is well-positioned going into 2012.
Earnings conference calls are always a source of great information, and Clearwire's earnings call was no exception. Clearwire guided revenue of between $1.15 and $1.25 billion for 2012, which is not only below analyst forecasts of $1.36 billion, but below 2011 levels. What gives? On the conference call, CFO Hope Cochran explained that Clearwire guided revenue in such a way due to the timing of payments from Sprint. As such, Clearwire's revenue does not align with the cash that comes in the door from Sprint. Cochran explained the revenue and associated EBITDA issues in this way:
"As we look at revenue for 2012 in our guidance, we do feel like we know where the whole wholesale revenue is going to land based on the fact that we have a fixed contract for that. With that said, there is potential for upside as we bring on other wholesale partners, et cetera, that will take time to build up. In regards to retail, you can see that we have had some good quarters of growth in retail as we launched this new go-to-market strategy. Our objective with this strategy is to make sure we are continually improving the cash that it brings to the business. So we've talked about continuing to improve the distribution channels on the expense side and we're still looking at the revenue side, feel like there's some upside there but want to be conservative in what we're expecting. With regards to EBITDA, you hit on some really important points and I think it's the difference of cash EBITDA, if there were such a thing, to GAAP EBITDA, which is of course what we have to report. So as we look at GAAP EBITDA, it doesn't take into account the cash that we received from Sprint, and therefore there is a significant delta between the cash we received from Sprint versus the revenue that we needed to recognize throughout the year for them and that's due to the fact that the $900 million is coming in $600 million in 2012 but we need to recognize revenues in a straight-line perspective. So there's definitely a positive variance between the negative EBITDA and what we will actually receive in cash."
This revenue guidance does not account for potential revenues from LightSquared's partners, who now have no one to provide them with wholesale wireless service. Enter Clearwire. In addition, the timing of payments from Sprint affects revenues due to the need to recognize them in a straight line, even though the cash does not come in the door in such a way.
On the call, Clearwire executives were also asked about selling spectrum. Given that Clearwire is the largest single holder of spectrum in the United States, and that its value is derived from its vast spectrum holdings, many analysts and investors want to know what Clearwire's plans for it are. Given that Clearwire, even with its ambitious LTE network plans, needs far less spectrum to compete that it currently has, speculation is abounding as to what Clearwire will do with its "excess" spectrum. CFO Cochran was as evasive as always on the matter, but did state that, "I just want to remember what the other carriers hold today that are operating multiple markets and networks which is, as we look at Verizon and AT&T, they're in the 100 megahertz range or so. So here we sit on 160, which is more than any other telco out there. So we're looking at making sure we can support the WiMAX network and have a great experience for those customers, rollout tremendously high-capacity LTE network. And you look at that and I think 80 to 100 megahertz is what we need to really fulfill that and we'll evaluate that market by market based on the demand for market, but we've got 160. So we definitely have some room."
From a technical standpoint, Clearwire can definitely sell spectrum, but critics wonder if the market will allow for such a sale. We think so, and look to recent developments in the spectrum world for confirmation.
Spectrum Auctions
By law, companies can be licensed to use spectrum from one place: the FCC. And while companies can acquire spectrum from one another, it must initially be sourced from one place, and one place only: the FCC. And the FCC is gearing up for another spectrum auction, which is expected to bring in up to $25 billion in proceeds to the federal government. And buried in the bill are provisions that, in a roundabout way, could serve to greatly benefit Clearwire. Critics of Clearwire contend that if the FCC auctions off more new wireless spectrum, the value of Clearwire's holdings diminishes. But, a look at the nuances of the current auction and spectrum market shows that this is not the case.
In the last major spectrum auction, which occurred in 2008, most of the airwaves went to AT&T (NYSE:T) and Verizon (NYSE:VZ), which is only natural, seeing as they have the deepest pockets in the wireless industry. However, the FCC could very well restrict their participation in this auction. The FCC has had the authority to limit participation in these auctions since 1993 on the basis of industry dominance, current holdings, and needs. But, buried in the JOBS Act (designed to deal with unemployment) alongside the spectrum auction plans, are provisions that severely weaken the FCC's power to regulate auctions. AT&T and Verizon of course lobbied for the provision, just as Sprint and other wireless companies opposed it. Stripping the FCC of its regulatory role in this matter would mean that the majority of airwaves would go to AT&T and Verizon. Yet, this benefits Clearwire in a roundabout way.
If Clearwire is the single largest holder of spectrum in the United States, and AT&T and Verizon are buying up everything the FCC is auctioning off, where will Sprint and all the other wireless companies receive spectrum from? Enter Clearwire. Should the FCC lose control of the auction process, AT&T and Verizon will dominate the auction and force the other companies out. Aside from a wave of mergers, there will be but one alternative for access to spectrum in such a scenario. If AT&T and Verizon tighten their grip on spectrum even more, they will enhance the appeal of Clearwire's spectrum via the simple fact that it is the only spectrum that is left to acquire. Dish (NASDAQ:DISH) has shown that it is unwilling to sell, preferring to launch its own network instead. And LightSquared's spectrum has been proven to be largely useless. Should AT&T and Verizon tighten control of the spectrum market, Clearwire is poised to be a prime beneficiary.
Conclusions
Recent developments have proven that the Clearwire story is only getting better. Clearwire's competitive position has dramatically improved with the collapse of LightSquared. Its earnings release shows that it is steadily working towards a better financial future. And recent developments in the spectrum market serve to highlight the value of Clearwire's spectrum. We think that Clearwire is an extremely compelling investment at these levels, and believe that now is a great time to add to or initiate positions in Clearwire, as we are doing. Analysts agree with us. For the record, the Reuters average analyst price target is $5.81, representing upside of almost 163% from current levels. We think that investors who invest in Clearwire at these levels will be amply rewarded. Clearwire is slowly but surely changing the wireless industry, and it is presenting a clear investment opportunity to those willing to look at the facts.