Finding an undervalued microcap based upon metrics such as EV/EBITDA, EV/EBIT or EV/Revenue is not a hard task. Finding a microcap company that is undervalued with a strong balance sheet and recurring FCF, the task becomes a little harder. Going even further, finding a microcap company that has all of the former characteristics, and has a management team that is completely aligned with shareholders, well that is even more difficult to find.
Jewett-Cameron Trading Company (NASDAQ:JCTCF) is a ~$24mm dollar company (on a market cap basis), with a strong balance sheet (zero debt and cash representing ~18% of the market cap), history of predictable and recurring FCF, trading at a decent undervaluation, and has a management team that is aligned with shareholder interests. With the vast majority of sub-par microcap companies out there, finding all of these attractive features in such a tiny company is rare to say the least.
| | | | |
| --- | --- | --- | --- |
| Market Cap | 24.89 M | Enterprise Value | 20.48 M |
| Shares Outstanding | 2.47 M | Cash | 4.42 M |
| TTM Revenues | 42.24 M | Debt | 0.00 |
| TTM EBITDA | 3.21 M | Insider Ownership | 49.36% |
| TTM EV/EBITDA | 6.39 | TTM EV/Revenue | 0.49 |
Summary
JCTCF started its history in 1953 as a lumber wholesaler. Later in 1987, Donald Boone and Michael Nasser Took over and currently remain on the executive team. Currently, JCTCF is organized under the laws of British Columbia, Canada.
Operations are reported in four business segments…
Industrial Wood Products: This segment is operated/conducted under the business; Greenwood Products. Under this business segment, JCTCF sells plywood that is sold to boat manufacturers and the transportation segment.
Lawn, Garden and Pets: This business segment reflects all operations of JCC. As a business, JCC is a wholesaler of wood products. Not only are they a wholesaler of wood products, but the company also is a manufacturer and distributor of specialty metal products. JCC's wood products include fencing, and landscape timbers. Metal products include dog kennels, propriety gate support systems, perimeter fencing, and greenhouses. The majority of customers are Home Centers and other relatable retailers.
Seed Processing & Sales: This business segment reflects the operations of JCSC. JCSC as a whole, processes and distributes agricultural seed. The majority of JCSC's sales are derived from selling seeds to distributors.
Industrial Tools and Clamps: Conducts business operations out of MSI-PRO. MSI-PRO imports and distributes products such as; pneumatic air tools, industrial clamps and saw blades. The majority of products sold by MSI-PRO are sold to retailers. Retailers primarily resell the products to contractors and end-users.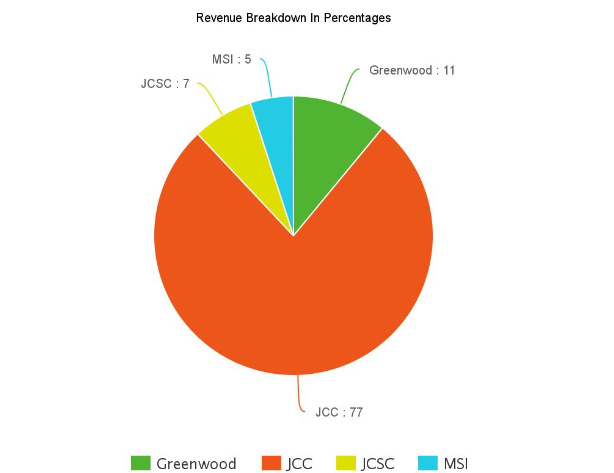 Source: Feynman Research, data taken from 2015 Annual Report
Why Does This Investment Opportunity Exist?
With JCTCF's situation, we believe the opportunity for an asymmetrical return exists due to the fact that JCTCF flies under the radar of the majority of investors. JCTCF has a low market cap of ~$24mm coupled with a tight share structure of 2.48mm shares outstanding and an even lower overall float of 1.25mm shares. With an average trading volume of 2,247 shares per day in the fiscal year of 2015, many money managers who do stumble upon JCTCF, may not be able to make a meaningful position due to sheer size and liquidity concerns.
In the past decade JCTCF has been a substantial value creator for shareholders…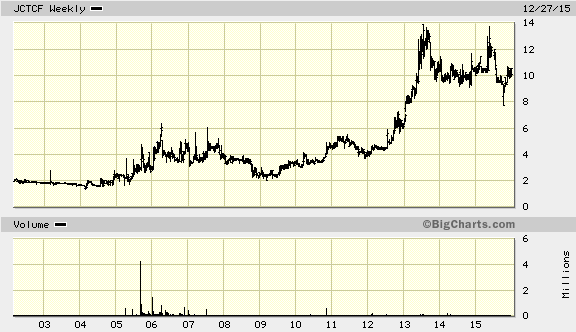 In terms of book value growth, the company has grown significantly.
| | | | | | | | | | | | |
| --- | --- | --- | --- | --- | --- | --- | --- | --- | --- | --- | --- |
| | TTM | 2015 | 2014 | 2013 | 2012 | 2011 | 2010 | 2009 | 2008 | 2007 | 2006 |
| Book Value Per Share | 7.08 | 6.81 | 6.77 | 6.30 | 5.57 | 4.58 | 4.34 | 3.89 | 3.40 | 3.00 | 2.52 |
In the past ten, five and three years, book value per share has grown at an annualized CAGR rate of 10.45%, 8.26% and 2.62%, respectively. Also, from the 2015-TTM, JCTCF's book value per share has grown 3.96%. We believe that the recent drop down from ~$14/share to ~$10/share, represents a great buying opportunity that the majority of investors cannot or will not participate in.
Per the statement, "the majority of investors will not participate in", we mean that the majority of investors have perceived misconceptions about microcap companies that allow the astute investor to take advantage of mispriced microcaps. The main misconception about microcap companies is that they are riskier than large caps. This allows us to snatch up mispriced and underfollowed opportunities such as JCTCF.
Valuation
When looking for a comparable company to conduct a relative comps valuation on, our options are small. First, there is no 100% direct competitor due to the different business segments that JCTCF conducts operations under. Secondly, even when looking for a competitor under the Lawn, Garden and Pets or JCC segment, JCTCF's unique product mix makes it hard to find a company with the same business model. Thirdly, due to the small size of JCTCF finding a competitor with relatively the same market cap and business model makes for a challenge in itself. Finally, using a larger competitor can skew the relative under-valuated results.
The closest competitor we could find for a relative valuation is Huttig Building Products (OTC:HBP). HBP has a somewhat similar business model, comparable margins, yet its market cap is almost four times larger than JCTCF (market cap around ~$94mm).
| | | |
| --- | --- | --- |
| | EV/EBITDA | EV/Revenue |
| HBP | 10.10 | 0.25 |
| JCTCF | 6.39 | 0.49 |
Based upon the above table we can conclude that JCTCF is undervalued upon a relative (in terms of the EV/EBITDA) and an absolute basis. But how can JCTCF realize a higher multiple going forward?
First, we believe that JCTCF can incrementally grow sales going forward, despite weakness in their second biggest business segment (the Greenwood segment). From 2014-2015, sales were flat (less than a 1% decrease). The main contributor to flat sales were; a delayed start to the Lawn and Garden season from a prolonged winter, coupled with the marine port slowdown and shutdowns on the Westcoast (this delayed the delivery of some of the companies key products).
As I am sure you have noticed, this winter has been relatively warm and much less harsh compared to the winters we have experienced in the past two years. Interestingly enough, the majority of the United States is predicted to experience warmer weather from December 1st- February 29th.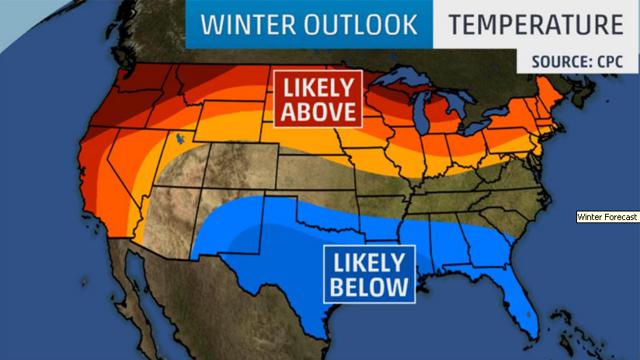 Source: Weather
If these predictions are correct this will be great for JCTCF's topline since their high demand season starts in February. If a warmer and much shorter winter is on the horizon for 2016, and thus the high demand season for JCTCF's starts sooner, we will have to thank El Nino.
The marine port slow down on the West Coast was from the result of operational issues, drive up in demand almost every week from much larger ships, chassis shortage, service issues in regards to intermodal railroad networks, work slowdowns from unions and terminals operating at a utilization rate of 95-97% from the historical average utilization rate of 80%. Alphaliner, a renowned worldwide marine news/research source actually stated that it was the worst ever case of US port congestion on record.
The picture below really puts into context how many containers and ships were backed up in 2015.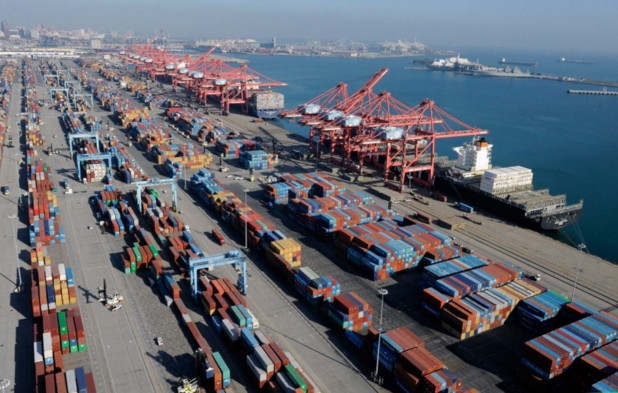 Source: Washington Post
Since it was considered one of the worst port slowdowns ever recorded, coupled with the fact that we have not heard of any news for 2016 of a slowdown, we are theorizing that the slowdown was a one-time event. Thus, because we are not expecting a slowdown and we are expecting peak demand for sales to start earlier this year, we have confidence that JCTCF will be able to incrementally grow revenues in 2016.
Not helping the revenues in the past year or so are decreasing sales in the Greenwood business segment. In 2015, sales in the Greenwood business segment were down 14% YOY. Management has stated that they do not believe that there will be a significant rebound in the marine industry market, at least in the near-term. However, to offset the decline in sales from the Greenwood segment, is double digit revenue growth in the Seed and Processing segment and Industrial Tools and Clamps; revenues up 12% and 13% YOY, respectively.
In 2013, the Seed and Processing segment lost its lead salesman. In the near-term this was a headwind, yet management finally found someone to take over sales and revenues are on a rebound. Also in 2014, management decided to narrow its focus on products in the Industrial Tools and Clamps segment and only sell products with a much higher turnover rate. This has benefited the Industrial Tools and Clamps segment from double digit revenue growth.
Based upon falling revenues in the Greenwood business segment, yet stable revenues in the core product offering and double digit growth in the company's other two operating divisions, we believe that EBITDA will incrementally grow to $3.5mm and support a multiple of 8.0x, over the next few years.
| | |
| --- | --- |
| EBITDA | 3.5 |
| Multiple | 8.0 |
| EV | 28 |
| +Cash | 4.42 |
| -Debt | 0.00 |
| Total Equity | 32.42 |
| Shares Outstanding | 2.47 |
| Estimated Equity Per Share | 13.13 |
In millions
At the current price, that would give the investor a decent return going forward. However what we find to be the most attractive aspect about an investment in JCTCF is the company's shareholder alignment that will help serve as an underlying catalyst for capital appreciation. Since 2010, management has bought back a considerable amount of shares.
2010: 158,000 shares for $550,000 at $3.97/share.
2011: 900,000 shares for $3,902,000 at $4.33/share.
2012: 580,000 shares for $2,610,000 at $4.45/share.
2013: 192 shares for $2,304 at $12.00/share.
2014: 313,500 shares for $3,055,600 at $9.76/share.
2015: 93,829 shares for $1,156,066 at $12.32/share.
Also on August 25th, 2015, Boone, the CEO and President voluntary returned 15,000 shares for treasury cancellation at no price to the company. Since 2010, the company has repurchased (counting Boone's voluntary return), 2,060,521 shares. Thus with the current 2,476,832 shares outstanding, management has repurchased 45.41% of the shares outstanding since 2010.
Currently there is no active share repurchase program. However based upon management's repurchase history, there is a very good chance that there will be a repurchase program in 2016. If management continues to repurchase shares back at the rate in which they have in the past, the bottom line will continued to be enhanced, and shareholder value will be created.
Downside
As investors we are more focused upon protecting our downside than looking for upside. With JCTCF's case, we believe that the downside is limited. We believe that downside is limited due to; high insider ownership, strong FCF and cash position, potential for further repurchases, and zero debt on the balance sheet.
Currently, insiders own 49.36% of the shares outstanding. In theory, if insiders continue to hold onto their shares, downside will be limited. JCTCF also has a strong balance sheet which will help shield downside. Currently the company has $4.42mm in cash, zero debt, and a $3mm credit facility from US Bank with a LIBOR rate of (0.20% + 1.75%).Based upon the strong balance sheet, we believe that JCTCF will not have liquidity issues going forward and the strength of the balance sheet will help shield the downside.
Finally, FCF is recurring and predictable (average FCF in past decade was $2.2mm). If the company does not use its FCF going forward, it will continue to pile up in the bank. Because of the company's attractive repurchase programs, we believe that the company will use its FCF for further repurchases. Both strong FCF and potential for additional repurchases will help protect an investor's downside.
Management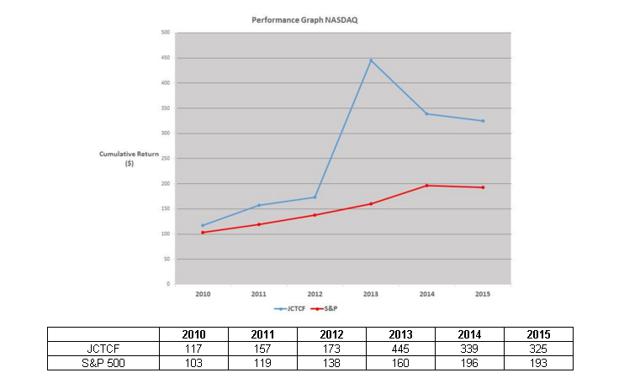 Source: 2015 Proxy
Management has done a wonderful job of getting JCTCF to outperform the S&P 500 by a rather large margin every year since 2010. Investors who bought JCTCF back in 2010 have realized at least three bags in capital gains.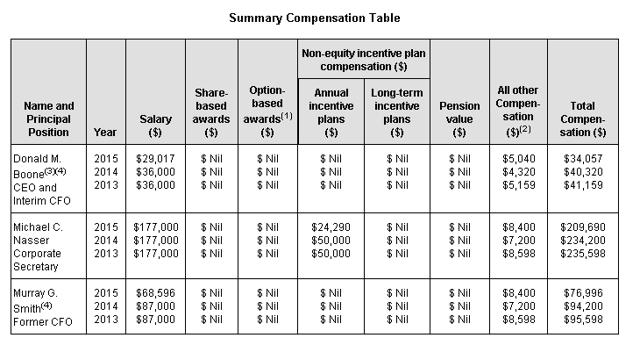 Source: 2015 Proxy
What is very interesting is that despite the fact that JCTCF has outperformed the S&P 500 by a large margin, management does not line their pockets with money. In fact, if you go back and look at all of the proxies of the last decade, management has always paid themselves a very conservative salary. This is also another proof that management is aligned with shareholders.
From an employee standpoint, JCTCF has decent reviews…

Source: Glassdoor
The company also does not have any unions representing its employees. This tells us that employees have not revolted against management and that work benefits must be somewhat decent. However if a union does come to exist in the future, margins may have a possibility of getting squeezed. We believe that this risk can be mitigated for now.
Daniel Boone, the CEO and President is also 75 years old. Because Boone is getting close to retirement age, we can speculate upon a few things. First, Boone holds 32.4% of the shares outstanding. Due to Boone's salary and wealth tied into JCTCF we can assume that the majority of Boone's wealth will be based upon the success of JCTCF going forward. Thus, it is in Boone's every interest to continue to do shareholder enhancing programs like repurchases going forward. Secondly, if Boone decides to retire soon, a sale of JCTCF to a private equity firm may transpire. JCTCF has a lot of the attributes/features that the "typical" PE firm looks for…
Multiple opportunities of forward revenue growth (they have four different business segments).
Historical recurring FCF that is stable.
Low capex requirements (in the past ten years JCTCF has only spent ~$1.0mm on capex).
A strong management team that is aligned with shareholders.
If you want to read more on what PE firms typically look for we suggest you read these two article here and here.
We believe that if management continues to have aggressive repurchase programs, PE firms will become more attracted to JCTCF going forward. Thus the less shares outstanding, the bigger block a PE firm could potentially buy from management, the higher chance JCTCF will get bought out. If JCTCF does not get bought out, we believe that management will continue to outperform major indices and reward shareholders through their historical aggressive buy back program. We are very confident in management's ability to perform going forward.
Risks
Accounts receivable collection period rose from 21 days to 32 days in 2015. Currently the company has ~$3.7 million of accounts receivable on its balance sheet. In 2014 at the company had ~$2.4mm of accounts receivable. Due to the rise in accounts receivable and upsurge in DSO, the company may be at risk for doubtful accounts.
The top ten customers in 2015 and 2014 represented 71% and 73% of consolidated sales, respectively. A loss of any major customer has potential to put adverse risk upon JCTCF's security.
The shares are thinly traded. An investor may buy into JCTCF and not have a potential to sell when they need to due to illiquidity.
There are low barriers to entry into the industry in which JCTCF operates. Recessions can also have a huge impact on sales and profits.
Conclusion
We believe that JCTCF represents a good buy for an investor looking for a well-run microcap stock. The company's strong balance sheet, predictable FCF and history of repurchasing shares makes for a great buy and hold. Management is aligned with shareholders and there is possibility of further buybacks going forward. The recent dip in the stock price coupled with stable to incrementally increasing revenues makes for an attractive entry point. We expect the price target to be hit in 12-18 months and believe that a further repurchase plan will be announced in due time. A repurchase plan will serve as an underlying catalyst for capital gains.
Disclosure: I/we have no positions in any stocks mentioned, and no plans to initiate any positions within the next 72 hours.
I wrote this article myself, and it expresses my own opinions. I am not receiving compensation for it. I have no business relationship with any company whose stock is mentioned in this article.
Editor's Note: This article covers one or more stocks trading at less than $1 per share and/or with less than a $100 million market cap. Please be aware of the risks associated with these stocks.