Electronic Arts (NASDAQ:EA) is launching a monthly subscription-only service for PC gamers. EA's Origin Access is a $4.99/ month service that will let people enjoy early access rights to play demos of future releases and free access to a library of older PC games.
Just like Best Buy's (NYSE:BBY) Gamers Club program, Origin Access also grants subscribers discounts on new PC game title purchases. This service could help EA gain new customers. For example, people who never bought the $30 boxed version of last year's Battlefield Hardline could enjoy it now if they sign up for the $4.99 monthly plan of Origin Access.
As far as I know, Origin Access will be the first of its kind. No other game publisher currently offers the same kind of service.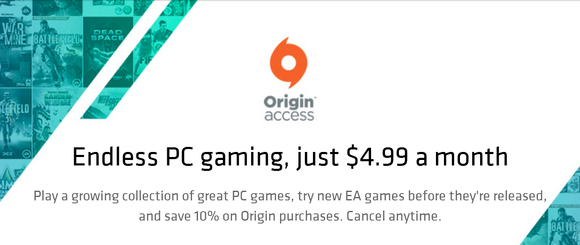 Source: Electronic Arts
There are still 711 million PC gamers in the world today. It is a huge pool of people with massive disposable income that is ripe for other ways of monetizing. Electronic Arts can get a tidy recurring revenue stream if it can attract 3-10 million monthly-paying Origin Access members. The Netflix (NASDAQ:NFLX) style of monetizing PC games is a good move for EA.
I believe that a huge portion of the global PC gaming population will embrace an affordable monthly subscription service because it helps them save money. Instead of buying new games at $20-50 each, players will now be able to enjoy more PC games through faithful renewals of their $5/month Origin Access.
Electronic Arts initially offers 15 of its most successful/popular PC game titles on Origin Access. However, the company intends to increase this number as time goes by. Content is king in any subscription-type service. The success of Netflix is largely due to its deep content offering. Only a healthy library of old and new content will persuade more PC gamers to sign up for Origin Access.
Consequently, I expect most of EA's old games library and future new game releases to eventually be included in the Origin Access service. Electronic Arts also promises to offer third-party games inside Origin Access.
The economic potential of five million people spending $5 a month is a hopeful expansion effort for EA:
Five million x $4.99 x 12 months = $299.4 million extra annual revenue for Electronic Arts.
Just like Adobe (NASDAQ:ADBE) and its subscription-only software distribution, Electronic Arts could also eventually end up as a Software-as-as-Service (SaaS) company. A PC game is just another software product that should no longer only rely on the old one-time direct selling method.
Even Microsoft (NASDAQ:MSFT) is now using the SaaS method to monetize its Office 365 product. Electronic Arts only needs to attract a user base that's big enough to support the long-term benefits of renting out (not direct selling) games.
Origin Access Could Beat Nvidia's GeForce NOW Games Service
Since Origin Access will work with any computer hardware, I expect it to attract more subscribers than Nvidia's (NASDAQ:NVDA) GeForce NOW product. The big problem with Nvidia's service is that it requires PC gamers to buy an Nvidia-made Android Shield tablet or TV console hardware before they can use GeForce NOW.
Yes, Origin Access is not a streaming service like GeForce NOW. Players will still have to download the games before they can play. On the other hand, there is nothing preventing Electronic Arts from coming up with a streaming version for Origin Access games in the future.
Electronic Arts could become the Netflix of video games streaming if it pours resources to building a better version of the bankrupt OnLive service. EA can use Kalydo's services to create streaming-friendly versions of Origin Access titles and EA Access Xbox One games. Kalydo offers game publishers/developers the ability to instantly create cloud-based versions of their games.
EA also promised that offline gaming will be made available to subscribers depending on the games they play. This is something that Nvidia GeForce NOW or PlayStation Now cannot yet offer. There are still many gamers like me that enjoy the stress-free joy of offline single-player PC gaming.
Conclusion
The Origin Access service increases the lifetime monetization potential of existing and future game titles of Electronic Arts. Instead of only deeply discounting older game titles, EA now wants a recurring revenue stream to keep people interested in them. The player who only used to buy one or two new $50 EA-made games is now a potential subscriber of Origin Access.
The obvious advantage of getting 15 or more game titles for just $5 a month is an irresistible deal to any PC gamer.
An affordable monthly subscription service is also a great incentive for gamers to avoid pirated copies of their favorite game titles. Similar to the success of Adobe's cheap $9.99 monthly fees, there should also be little reason for people to use pirated copies of popular PC games.
Providing discounts and helping gamers save money on games is a very effective way for EA to retain the long-term loyalty of PC gamers.
Disclosure: I am/we are long MSFT.
I wrote this article myself, and it expresses my own opinions. I am not receiving compensation for it (other than from Seeking Alpha). I have no business relationship with any company whose stock is mentioned in this article.