Stock indices have moved sharply lower in 2016, and income stocks have been dragged down with them. One of the reasons why stocks have fallen into a tailspin: Crude oil prices didn't show any signs of rebounding in light of a persistent supply glut that continues to push oil companies to shelve development projects and fire workers. WTI crude oil for February delivery has fallen to ~$31 and Brent Crude, also for February delivery, can be bought for ~$32 per barrel. The slump in oil prices has been a driver of softer stock prices, including those of business development companies. From what we have seen over the first two weeks of trading, 2016 is shaping up to be a challenging year for investors.
Some financial advisers have been making controversial shots lately, including J.P. Morgan which warned investors at the beginning of January of a growing recession risk for the U.S. economy over the next two to three years. RBS is another financial adviser that is contributing to deteriorating investor sentiment by advising clients to "sell everything expect high quality bonds". RBS' call for caution comes after a very weak start to the year in which major U.S. stock indices shed 6% of their value and oil prices have fallen to new lows. Fear-mongering and blindly selling everything, however, is definitely not helping investors over the long haul.
Business development companies are taking another hit
Prospect Capital Corporation (NASDAQ:PSEC) got particularly hard hit over the last couple of days. Not considering the lows reached during the flash crash on August 24, 2015, Prospect Capital's stock fell to a new 52-week low $6.14 on Tuesday. Though PSEC recovered a little toward the end of Tuesday's trading, it has been nothing short of a bloodbath for this business development company in 2016.
Prospect Capital's stock is down 9% year-to-date. Other business development companies have not done nearly as badly as Prospect Capital: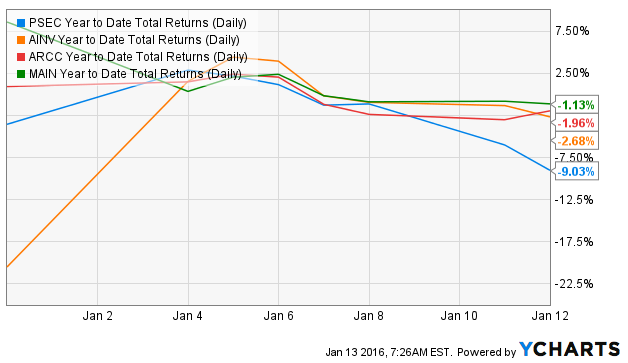 Why the bloodbath?
With oil prices slumping, investors sell 'high-beta' BDCs first. Mr. Market largely expects defaults in the high-yield, levered energy sector to rise in 2016 as low crude oil prices render shale oil exploration projects uneconomical and strain cash flow. That said, though, concerns over too much energy exposure in the BDC sector is greatly exaggerated.
Most business development companies, including Prospect Capital have very limited exposure to the oil and gas industry, and all of them have highly diversified loan portfolios. According to Prospect Capital's latest investor presentation, the BDC's oil and gas industry exposure stands at only 3.6%. Manageable.
The lesson here is that despite fear-mongering and panic selling in the first one and a half weeks of trading in 2016, the fallout from the energy crisis is at this point largely contained, and not as big an issue for BDC investors as some would want them to believe.
Watching NAV carefully
Prospect Capital's quarterly earnings and NAV disclosure in early February will shine a light on any near term valuation issues that may have arisen in the last quarter, especially with respect to its loans to the energy industry. For now, Prospect Capital's net asset value continues to stand at $10.17/share...this implies that PSEC now sells for only 62 cents (!) on the dollar. Investors need to learn to take a deep breath and relax.
Your Takeaway
2016 has not been a good start for Prospect Capital, but that has had nothing to do with the business development company itself. Instead, investors have been panicking about the fallout from the energy price crisis, and displayed a general desire to get out of stocks, encouraged by financial advisors that recommended to ditch stocks altogether. Though there are arguments to be made for Prospect Capital rightfully trading at a discount to NAV (potential for share sales below NAV, management compensation), Mr. Market does not price many BDCs including Prospect Capital fairly at this very moment.
Disclosure: I am/we are long PSEC.
I wrote this article myself, and it expresses my own opinions. I am not receiving compensation for it (other than from Seeking Alpha). I have no business relationship with any company whose stock is mentioned in this article.