The Equity Bear Market Is Already Underway
Last week's stock market mayhem spooked more than 1,000 points out of the Dow, while the Nasdaq fared even worse as investors exited positions in overowned stocks such as Apple (NASDAQ:AAPL), Alphabet (NASDAQ:GOOG) (NASDAQ:GOOGL) and Amazon (NASDAQ:AMZN).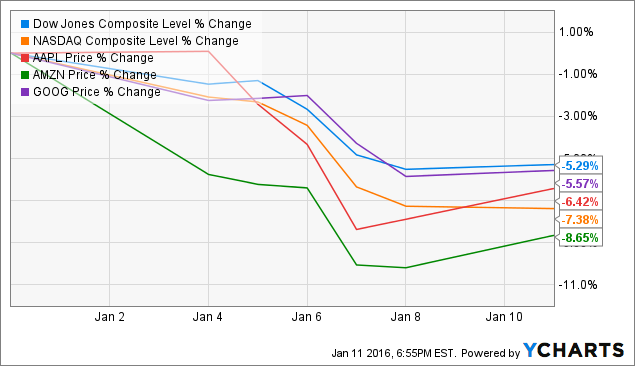 As investors try to figure out whether this is simply profit taking or the beginning of something more sustained we note that a more sustained bear market in equities has already begun. We can already see sustained downtrends in economically sensitive sectors and equities. Here are just a few examples: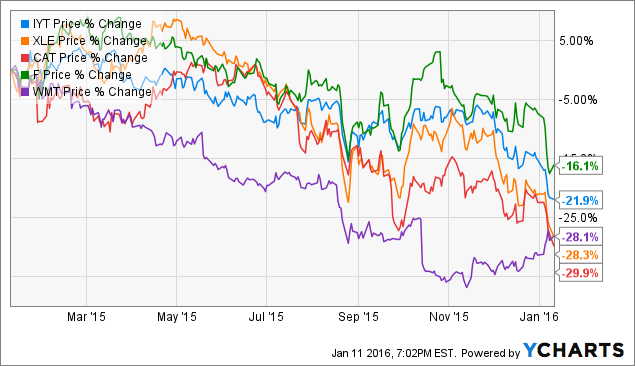 Of course this "list" is incomplete and we can name several exceptions.
The bear market appears to be more advanced if we look at global stocks, especially compared with the S&P 500.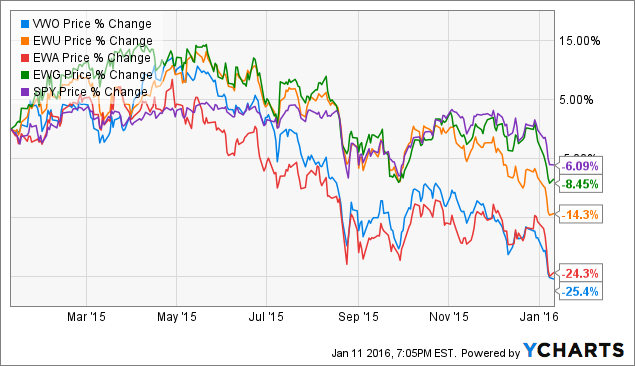 While many indexes haven't fallen the necessary 20% for this to be an "official" bear market (and many that have fallen this far haven't fallen nearly as much in local currency terms) we suspect that the economically sensitive sectors (e.g. transports, energy) that have already entered bear markets are simply the first to roll over. The relative strength in the S&P is largely due to the fact that a few bellwether stocks have been very strong (e.g. the "FANGs"). The fact that the strongest stocks have sharply pulled back has us wondering whether this is the beginning of something more substantial, especially now that the Fed is raising rates. Investors should be particularly concerned about the potential impact of currency headwinds for U.S. listed companies operating overseas--which includes virtually all the big ones. This has already prompted selling in names such as Proctor and Gamble (NYSE:PG) and Hershey (NYSE:HSY), which are otherwise very stable companies that are largely recession resistant. Similar companies that have held up [e.g. PepsiCo (NYSE:PEP) and General Mills (NYSE:GIS)] are very expensive relative to their respective historical valuations, and this premium has probably been justified by investors given the low interest rate environment.
We suspect that the interest rate cycle--both the shorter term cyclical (2003-2015) and the longer term secular (1981-2015)--that has pushed investors into these now overvalued stocks has likely ended, and that the relative earnings/dividend yield appeal is going to dissipate as rates rise. As we've stressed before the Fed follows the short term rate market rather than leads (i.e. controls) it, and short-term rates are on the rise.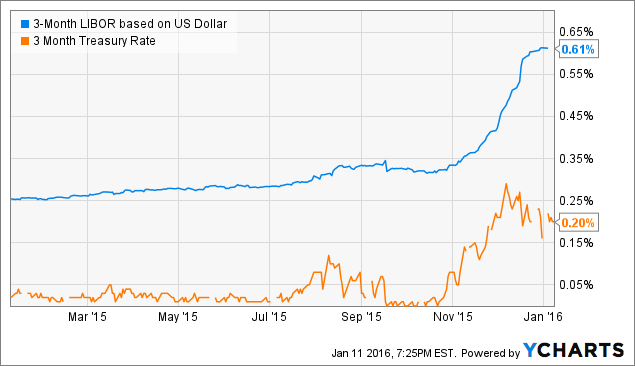 These are sizable rate increases on a relative basis, but historically we've only seen a blip.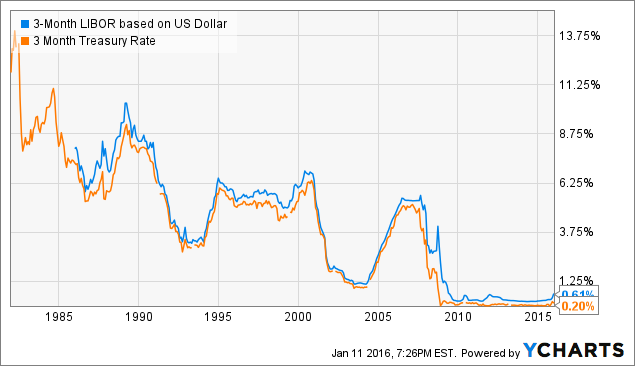 As rates rise stocks will have to correct--at least on a relative valuation basis--in order to reflect the rising "zero-risk" interest rate.
"Rising rates" here doesn't simply mean that we'll see a few token rate hikes by the Fed: we expect a full-blown bear market in bonds that will see rates rise to a level that reflects the extremes in the bond market (and to a slightly lesser extent the stock market). This could take many years to play out, especially since we've never had a bond market that has traded at such an extreme valuation. Since we began the bond bull market at ~20% on the long-bond we wouldn't be surprised to see rates reach these extremes again.
This will have dire consequences for the equity markets, and we're already seeing the beginnings of this. Thus, despite last week's panic and the fact that we're seeing "bold" buy-the-dip calls, we'd rather sell the rip for the foreseeable future, except in very specific circumstances.
M&A Among Gold Miners
One notable exception to the market decline at the beginning of 2016 is the relative strength in gold and gold miners.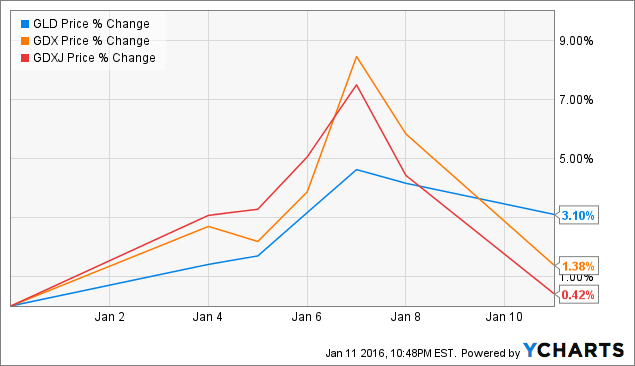 We've been claiming for a long time that we'd turn bullish of gold once the bond market turned--the short-term "zero-risk" (i.e. TSY) bond market in particular. The fact that we have begun to see interest rates rise doesn't mean that we've necessarily seen the bottom in gold, but we think that if it isn't in we will see it shortly, and that the risk/reward is extremely favorable.
This applies to mining companies, although we want to be extremely selective. Other mining companies seem to agree since we're seeing M&A along with proclamations of intended M&A.
On Monday morning (Jan. 11th) Niogold (OTCPK:NOXGF) entered into an arrangement with Oban Mining (OTC:OBNNF), which valued the company at C$0.50/share (~US$45 million). Niogold's Marban Block deposit has ~2 million ounces of gold resources and is extremely close to the massive, low-cost, Canadian Malartic Project owned by Agnico Eagle (NYSE:AEM) and Yamana Gold (NYSE:AUY). Several other projects are nearby as well: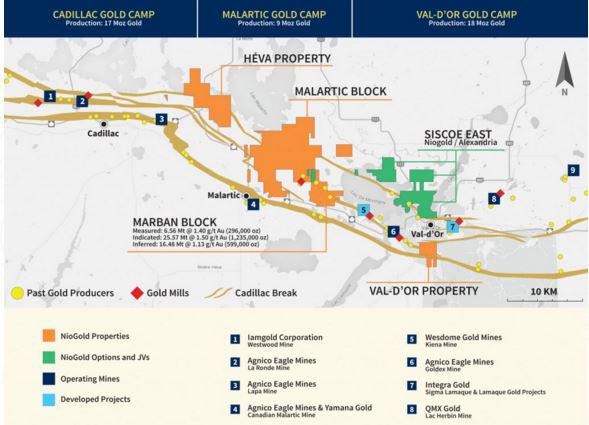 We note that there are fewer and fewer quality multi-million ounce deposits in low-risk mining jurisdictions.
Speaking of low-risk mining jurisdictions, the world's largest gold company by market capitalization--Goldcorp (NYSE:GG)--wants to expand into Africa. The good news about the announcement is that maybe Goldcorp will finally begin to use its overvalued stock in order to grow its production: almost any sensible acquisition will improve the company's production and cash-flow (potential) on a per-share basis. This is something we've wanted to see from the company for a couple of years.
However, many investors are concerned about Goldcorp investing in Africa, and many have actually invested in Goldcorp because they had defined themselves as strictly an Americas company. We think investors need to take a more subtle outlook: "Africa" is a meaningless term when it comes to mining jurisdiction. It is an enormous continent home to a diverse group of peoples who are governed in a variety of ways. One of our favorite gold mining companies and one Goldcorp should have its eye on--Avnel Gold (OTC:AVNZF)--is developing a project in Mali--a nation where gold mining is the second largest industry--in a mining village. This is a far cry from the mining operations in politically unstable regions where the locals aren't used to mining and the government's only interest is in its ability to generate near-term tax revenues.
If Goldcorp enters Africa with this in mind it should be extremely successful. Africa is full of large deposits in underexplored regions, and since many investors want nothing to do with investing in African mining operations they typically trade at a discount to similar operations in, for instance, Quebec. The market generally doesn't discriminate between quality projects such as Avnel's Kalana and problematic projects where the locals and government have no interest in supporting the industry, so if Goldcorp can find opportunities in the former camp its strategy should prove successful. Given the company's current valuation, its lack of growth (and its limited growth potential given its size) we continue to avoid the shares.
Disclosure: I/we have no positions in any stocks mentioned, and no plans to initiate any positions within the next 72 hours.
I wrote this article myself, and it expresses my own opinions. I am not receiving compensation for it (other than from Seeking Alpha). I have no business relationship with any company whose stock is mentioned in this article.
Editor's Note: This article covers one or more stocks trading at less than $1 per share and/or with less than a $100 million market cap. Please be aware of the risks associated with these stocks.