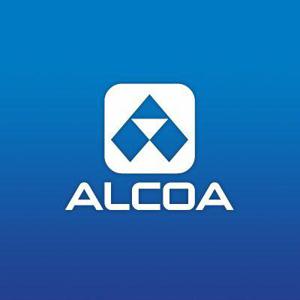 As we find ourselves kicking off yet another earnings season, one of the first reports we tend to get a look at is that of aluminum giant Alcoa (NYSE:AA). That being said, I wanted to take this opportunity to not only review the company's Q4 performance but to also highlight a number of reasons as to why I'm staying bullish on its stock over the next 12-18 months.
Company Overview
Headquartered in New York City and possessing a market capitalization of $10.48 Billion, Alcoa Inc. Which operates through four segments: Alumina, Primary Metals, Global Rolled Products, and Engineered Products and Solutions produces and manages primary aluminum, fabricated aluminum, and alumina worldwide. (Yahoo! Finance).
Recent Performance & Trend Behavior
On Monday, shares of Alcoa, which currently possess a market cap of $10.48 billion, a forward P/E ratio of 15.53, and a dividend yield of 1.50% ($0.12), settled at a price of $8.00/share. Based on a closing price of $8.00/share, shares of Alcoa are trading 14.36% below their 20-day simple moving average, 11.65% below their 50-day simple moving average, and 24.38% above their 200-day simple moving average.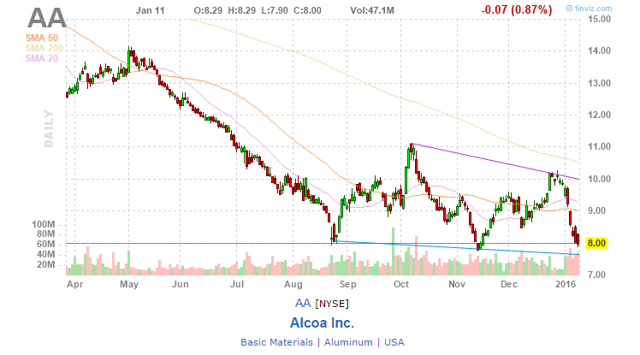 Click to enlarge
Although these numbers indicate both a short-term and a long-term downtrend for the stock, which would normally translate into a selling mode for both near-term traders and many long-term investors, I strongly believe the company's recent earnings performance could be the first step in reversing the company's long-term trend behavior.
A Brief Look at Q4 Earnings
Following the close of trading on Monday, January 11, Alcoa reported the results of what I believe to be a very strong fourth quarter, even though revenue numbers were dragged down by both a global weakening in aluminum demand and unfavorable pricing across the board.
The company's Q4 EPS of $0.04/share beat Wall Street estimates by $0.02/share, while its revenue of $5.25 billion missed Wall Street estimates by the super slim margin of $20 million. When it comes to revenue performance I'm more concerned with the 17.7% year-over-year decline in revenues then I am a miss of just $20 million.
So why am I so positive on a company that just demonstrated a 17.7% decline in year-over-year revenues? Because there's a very clear silver lining in Alcoa's numbers and that is fact that year-over-year revenues actually rose 26% in its engineered products and business solutions segment (to a record $1.4 billion) and nearly 34% in its aerospace segment.
Contrary to popular belief, there is still a significant demand for aluminum in such places as the global aerospace and automotive marketplace and I strongly believe that Alcoa's most-recent segment driven performance is a clear indication that the tide has turned and greener pastures are ahead.
Looking Ahead to 2016
One of the biggest questions surrounding aluminums 2016 performance is clearly one of demand. Will we see things pick up for the better or will aluminum prices continue to fall even further? If it were up to the folks at Alcoa, things are actually expected to pick up quite nicely especially since the company believes global demand growth will reach 60.5M metric tons (which would represent a year-over-year increase of 6%).
In addition to the anticipated spike in demand, Alcoa also sees global aerospace and automotive sales demonstrating strong growth throughout 2016.
That being said, if any considerable spike in global aerospace sales (a jump of at least 3.5%-to-5.0%) or global automotive sales (a jump of at least 3.5%-to-5.0%) were to occur, not only would Alcoa's 60.5M metric ton benchmark for global demand be surpassed but there's a very good chance we could see such demand surpass 61.5M or even 62M metric tons by the end of Q4 2016.
Examining Alcoa's Planned Split
One of things you may have noticed earlier as I was discussing the company's Q4 revenues was the fact that I left out the $40-million-dollar operating loss when it came to its smelting segment. The reason I did that was because I knew that its smelting operations (which had been minimized via the shutdown of its Indiana smelter and the pausing of operations at its Texas facility) and its traditional mining segment would form one of the two newer companies that were to be established as a result of the company's recently announced restructuring strategy.
The restructuring strategy, which accounted for roughly $500 million in costs this past quarter, includes the splitting up of Alcoa into two separate companies. One company will focus on the production of lightweight metal products for both cars and airplanes while the other will continue operating Alcoa's traditional mining and smelting business.
The split, in my opinion, is a great a move as it separates its flourishing aerospace and automotive segment from its demand-reliant mining and smelting segments which are struggling in a sea of weakened prices.
Conclusion
For those of you who may considering a position in shares of Alcoa, there are a number of things I'd continue to keep an eye on. For starters, shares of Alcoa are trading right around their 52-week low which is a great entry point for anyone who may be considering a position in the company.
In my opinion, shares may not be at these levels for much longer given the anticipated spike in global aerospace and automotive sales that is expected to occur throughout 2016. If the spike in sales falls into the above mentioned range of 3.5%-to-5.0%, then there's a very good chance we could see shares of Alcoa appreciate quite nicely.
Once Alcoa splits into two separate companies, I'd actually apply a much different theory. I'd look to establish a long position in the newly formed lightweight metals company and either hold off on buying or even consider shorting the traditional mining and smelting company which has the potential to face unfavorable pricing for quite some time.
Disclosure: I am/we are long AA.
I wrote this article myself, and it expresses my own opinions. I am not receiving compensation for it (other than from Seeking Alpha). I have no business relationship with any company whose stock is mentioned in this article.