Introduction:

After a more than 11% year-to-date drop in Las Vegas Sands (NYSE:LVS), I was asked whether I am now more positive on the sector. Regular followers of LVS will recall that since initiating on LVS in June last year, I have remained short, LVS is now down over 25% since my initiation. On the back of this, it is always tempting to ask, is it time for bottom fishing now? This is also the contention of many of my fellow Seeking Alpha (SA) authors here who argue that a contrarian approach requires one to buy the gaming counters after the sell down. In my view however, a contrarian approach requires you do the opposite, I will elaborate more on this later. But to answer the question, I am now less negative on LVS at this level and as I have elaborated on in many of my previous articles, I continue to think LVS is the best positioned for a recovery and is also my top pick based on valuations. For that reason, I have taken profit on the majority of my position in LVS and now only have a small short position in LVS.
January's Gross Gaming Revenue (GGR) numbers came in stronger than expected
The first week of January's GGR numbers came in much stronger than expected at an estimated MOP607m which was even higher than that recorded in the October 1st holiday last year, which coincided with the opening of Studio City. I think the strong numbers bode well for 2016, but a word of caution is warranted.
The GGR for the second week of January is expected to be slightly weaker as the holiday season wears off. Nonetheless, I expect the third and fourth week of January to start picking up due to the earlier Chinese New Year (CNY) this year, which will fall on the 5th of February.
A common argument for gaming bulls this year, is that stabilization and rebounding of the GGR for 2016 should see a re-rating of gaming counters. This however, is in my view, different from having clearer GGR visibility for the rest of the year, which continues to remain cloudy in my view. What is worth noting however, is that even though the first week of January's GGR numbers came in better than analyst estimates, this is still down about 15% from a year ago (which is not insignificant) in my view.
Key dates for 2016
I compiled a list of key dates that readers can look out for in 2016 in order to provide more clarity for readers on what is going on in Macau.
Month

Gov't Policy

Other Developments

Jan 16

None

4Q15 results

Feb 16

Macau Govt smoking ban update

4Q15 results

Mar 16

Macau Govt mid-term review release

None

Apr 16

None

None

May 16

None

1Q16 results

Jun 16

None

Opening of Wynn Palace

Jul 16

None

Opening of Shanghai Disneyland

2Q16 results

Aug 16

None

2Q16 results

Sept 16

None

Opening of Parisan Macau

Oct 16

None

3Q16 results

Nov 16

Macau Government Policy Address

MGM Cotai Opening

Genting Malaysia Tower 2A development

Dec 16

None

Nagacorp Naga2 opening in Cambodia
Source: Bloomberg
Compilation: Enceladus Research
The above list is a compilation of the important dates for 2016; readers are advised that results announcement might differ slightly from those projected above.
Referring to the list above, I think the months of February and March will be closely watched by investors for any clarity on the direction that the Macau government is going to take for Macau moving forward. Despite the temptation to accumulate from the recent sell-down, I continue to remain on the sidelines until further clarity from the Chinese government.
Chinese Economy
Regular followers of the gaming sector will recall that in my previous article, I talked about monitoring property prices for any signs of stabilization in the Chinese economy given its importance. You can see the link above and charts below.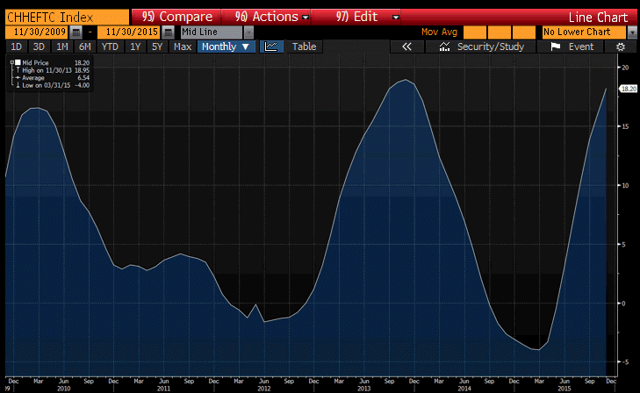 Click to enlarge
Source: Bloomberg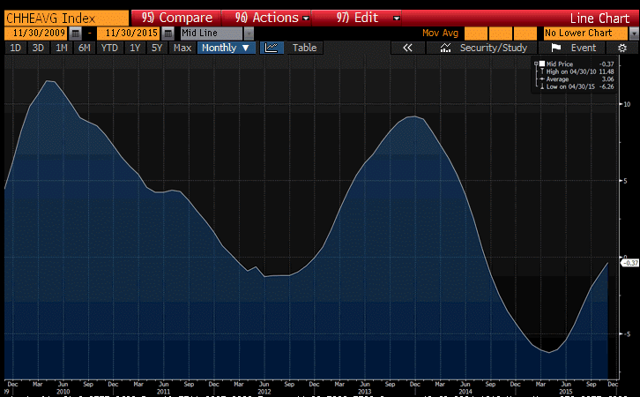 Click to enlarge
Source: Bloomberg
The first chart shows the property price index in the first-tier cities in China over a five-year period. You can see this starting to recover from the second half of 2015 mainly due to the Chinese government's stimulus measures announced in the second half of 2015.
The same can be said in the second graph (which is broader in terms of scope), which measures the average prices of new launches in the 70 cities in China. A closer look however, show that the recovery is not uniform throughout China and the index is negative for the period ending December. I think the question to ask is, can property prices remain stable and sustain the uptrend seen above or will this fizzle out in 2016? I think this remains to be seen. In my view, this will depend on whether the Chinese government comes up with additional easing policies to boost consumption in China, should they do so, property prices and demand will likely firm up in 2016 boding well for the Chinese economy.
Valuations
I am more positive on LVS now after the sharp sell down, valuations based on an EV/EBITDA (trailing) basis is at 9.5x, which is lower than their historical average and most of their peers. I continue to think LVS is best positioned for a recovery and will accumulate when there's greater clarity on the Chinese government's move.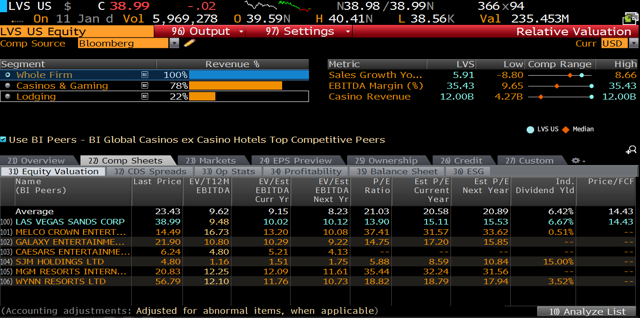 Click to enlarge
Source: Bloomberg
Contrarian Approach?
The majority of my SA contributors and readers alike have since 2015, repeatedly attempted to call the bottom arguing that the sharp sell down in gaming counters justify accumulating. I find it apt to weigh in on this issue. In my view, a contrarian approach to gaming counters is staying out or being short especially when everyone is saying that you should "bottom fish". The first week of 2016 shows that to be hardly true.
Whilst I have started to turn less negative following the steep sell down, I see no strong justification to upgrade until there is further clarity on the Chinese government's stance. I remain short.
Disclosure: I am/we are short LVS, WYNN.
I wrote this article myself, and it expresses my own opinions. I am not receiving compensation for it (other than from Seeking Alpha). I have no business relationship with any company whose stock is mentioned in this article.