No rhyme or reason right? I'm sure that is what a good deal of SodaStream International (NASDAQ:SODA) investors are thinking after witnessing shares rise from $14 to almost $18 over two weeks, only to witness shares fall back below $14 in only a few short trading sessions. But there is always a reason, isn't there? Since December 30th, shares of SODA have declined more than 20% and below where the CEO of SodaStream recently acquired shares, identifying the irrelevancy of the purchase with regards to the greater importance of SodaStream's business trends.
With Keurig Green Mountain (NASDAQ:GMCR) also seemingly on a short path to home carbonation irrelevancy, it would appear that the category will continue to be dominated by SodaStream. But that is only a superficial rendering of the category and with SodaStream still not promoting its products in North America in a way that highlights the benefits of the products, the door to the category is always open. With that said, the door is not always open to those who desire greater insights to what may be going on behind the scenes of the cold and carbonated home beverage platform market.
The Consumer Electronics Show is not often a show for highlighting small appliances, but it can be. I find myself at the CES almost every year and just in case something shows up. It's for this reason that many companies participate in the show and for this reason most every beverage and appliance brand is represented at the show in some form or fashion. LG (LG), Samsung (OTC:SSNLF), Whirlpool (NYSE:WHR), Bosch Siemens, Phillips and a number of multi-national appliance makers had platforms at the CES showroom floors, but some companies had private showings of technology and goods within the Venetian hotel. It's well-known that some companies still seeking privacy and patent protections for said technology will attend the CES show, but not on the showroom floors. They often maintain a room at the Venetian to house their technology and products, setting up meetings for patrons to privately view their accomplishments. And that's where we come to understand some of the recent concerns from SODA investors we've spoken with recently.
In several Keurig Green Mountain and SodaStream dedicated research articles, I outlined Keurig's dubious attempts to enter the home carbonation category with Keurig Kold. I detailed the problems with the Kold technology and questioned the company's acquisition of Bevyz Global. Regardless of the Coca-Cola (NYSE:KO) brand support for Kold, it would not matter for Kold sales as the product's technology was sorely lacking. I knew this to be factual because I have tested and been present during the business cycle surrounding the total development of the Keurig Kold. Secondly, I knew this because most every single technology in the home beverage platform category has been vetted by Capital Ladder Advisory Group (for whom I was employed) over the years. So when Keurig acquired Bevyz Global and with the knowledge that the cooling system didn't belong to Bevyz Global, I understood that Keurig Kold would be disadvantaged. But, then who did own the cooling system inside the former Bevyz Fresh machine?
The question above is what brings us to the CES show as the company that owns the technology debuted it privately for many multi-national companies of interest. The most interested party of scale was recognizably Whirlpool and…sorry folks; I know it's a bit of a teaser. Unfortunately, the owners of the cooling, carbonating and pouch evacuation technology have asked that some details remain private until further notice.
Have you ever taken the shell off of an appliance to reveal the inner workings of the appliance? That is exactly what was displayed at the Venetian hotel for private viewing with some of the biggest global companies. And if you wanted hot, cold, carbonated, single-serve home beverage platform technology with the greatest of customization you found it there and in a way that was shocking to even me. To be clear, I've understood the relevant details surrounding the technology for more than a year, but I only witnessed the inner workings of the technology during the CES showing. Never before in history has a company been able to exhibit the cooling and carbonation levels that are identified in the photographs below… and with such consistency.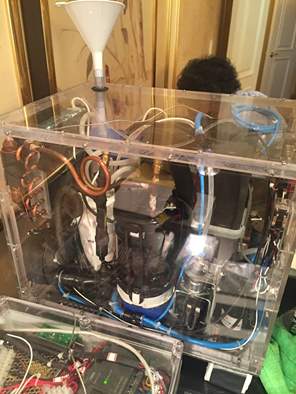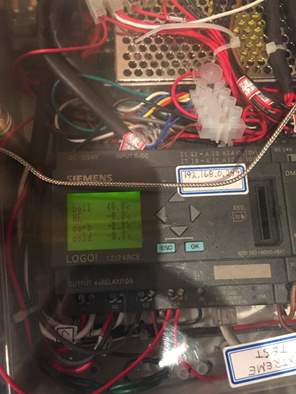 This unique technology and capability that was demonstrated to industry executives served to produce great interest beyond the final day of the CES show. If you can imagine a Coca-Cola Freestyle or Pepsi Spire (NYSE:PEP) machine that can work in the consumer's home and fit right on the kitchen countertop exactly as a regular coffee machine can, that is exactly what this privately developed technology does and what Keurig Green believed they acquired through Bevyz Global. That is why Keurig paid the $300mm price tag for Bevyz Global. What Keurig didn't realize all those many months ago and after writing that woeful check was the technology demonstrated to them by Bevyz Global was "on loan". Nothing more and obviously a whole lot less. And for those of you thinking this technology feat of strength must cost a pretty penny, think again. Part of Keurig Kold's pricing problems come straight from its origin of manufacturing in China. So eliminate China and you automatically eliminate much of the costs associated with product manufacturing. Secondly, the cost of goods for this technology is cheaper when done by those who better understand automotive manufacturing, which the owners of this technology are actually in the business of performing from an OEM perspective. In short, the aforementioned technology can be delivered to the consumer for less than the Keurig Kold and less than you might think.
As it was discussed with the owners of the technology in focus here, they have entered into preliminary talks during FY15 with several multinational companies. When pressed for greater details they offered that one of the companies was the largest CPG Company in the world by sales volume. Based on conversations since the CES show's closure, it appears that one of SodaStream's potential partners is now interested in the technologies offered by this obscure company that will remain unnamed at this time.
Exampling the technological feats of strength this little known private manufacturer has achieved can be recognized in another product by a company called Bonaverde. The Bonaverde coffee machine is the first ever roaster of green coffee beans, grinder and brewer, all-in-one machine. The coffee beans are delivered straight to one of the thousands of coffee shops or millions of consumer homes around the world, straight from the farmer who grew the coffee beans. Utilizing the internet of things ((NYSEMKT:IOT)) technology inside the Bonaverde, coffee lovers around the world can source any coffee beans they like, brew any strength of coffee they like and eliminate the unnecessary and costly co-packing used in the coffee industry to date. Using this advanced technology employment as an example it is easy to see why SodaStream investors can also understand where their future competition may come from. During the CES show that did feature the Bonaverde product, the company received orders of nearly 100,000 machines. Here's a clip from the Bonaverde press kit.
Click to enlarge
Smart packaging at minimal waste

We package the green coffee beans in coffee filters. Doing that, we create a very smart packaging at minimal waste. This packaging method allows us to do the whole packaging in the countries of origin. These countries benefit from our approach. The value creation happens in the country of origin.

The first direct connection to coffee growers

The Bonaverde ecosystem empowers a direct connection between coffee growers and coffee consumers. Through our online channels, you can follow your coffee from harvest to cup. Get to know the coffee grower and his workers. Take a look at astonishing pictures and videos from his farms. Give direct feedback and help him make his coffee even better. Collect tokens for every coffee you consume and use this tokens to support your favorite coffee grower. Cover his internet bill or help him building a new packaging line.

The most convenient coffee experience

The Bonaverde ecosystem is based on IOT technology. Our coffee machines are Bluetooth and cellular ready and enable you to control the machine with the help of your smartphone. You can analyze your coffee consumption; you can send a coffee to your friends and get a coffee for free at your favorite coffee shop.
Regardless of the seemingly endless fears surrounding competition for SodaStream's business in the future, it's pretty clear that investors are often unsure of the business that is SodaStream. In the New Year, I would expect to hear a good deal more about the future of the home carbonation category. The International Home and Housewares show is only a couple of months away and several companies will likely show themselves in the home carbonation category at the show. With SodaStream failing to wow retailers with sales over the last two years, those retail buyers are left looking for alternative sales driven products.
One potential competitor to SodaStream in the New Year is iDrink's DrinkMate and DrinkMate Mini. While iDrink failed to achieve distribution in brick and mortar retail last year, mainly due to branding issues, the company has rebranded itself and is now said to be in talks with several major retailers of scale who desire to launch the product in stores later this year. The DrinkMate product utilizes a slow pressure release valve, which enables the consumer to carbonate any liquid of choice, be it milk, coffee, fruit juices, beer, liquor and more. At a price point of just $79.99, this compares relatively well to SodaStream's average price point that currently doesn't function in the same manner as the DrinkMate.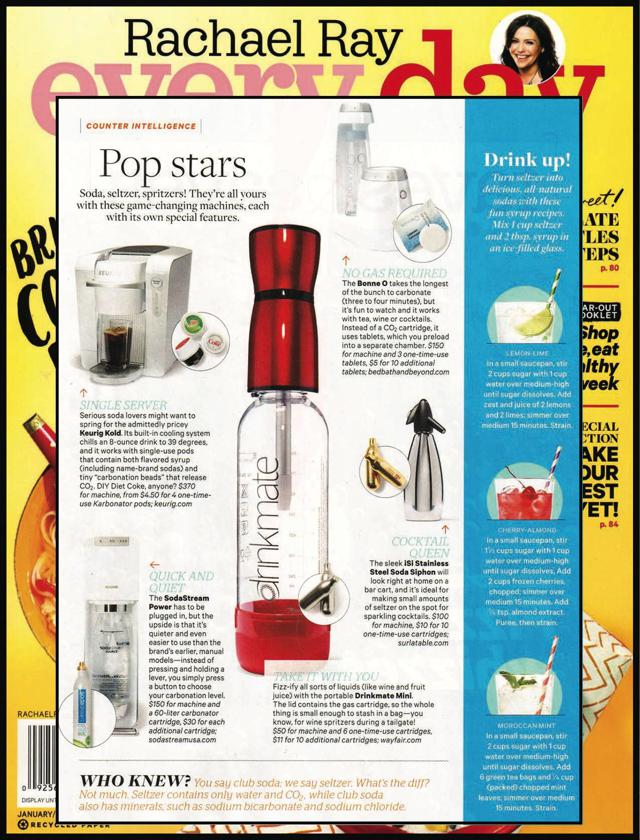 Click to enlarge
The photograph above displays the DrinkMate MINI in the Jan/Feb 2016 issue of Everyday with Rachael Ray magazine (impressions: 5,133,324).
The article is titled Pop Stars and features Keurig Kold, Soda Stream Power, Bonne O and iSi Stainless Steel Soda Siphon. As investors and readers can see, the DrinkMate MINI is featured more prominently than all the others.
Competition is nothing new to SodaStream and it is unlikely that a competitor will impede the company's progress any more than it imposes upon itself. SodaStream has been its own worst enemy in recent years as it now aims to show a return to growth in 2016. Machine unit sales in the United States did not appear to improve in the sales channel during the 4th quarter, but investors should also recognize the largest segment of the SodaStream business is focused in Europe.
Disclosure: I/we have no positions in any stocks mentioned, and no plans to initiate any positions within the next 72 hours.
I wrote this article myself, and it expresses my own opinions. I am not receiving compensation for it (other than from Seeking Alpha). I have no business relationship with any company whose stock is mentioned in this article.
Editor's Note: This article covers one or more stocks trading at less than $1 per share and/or with less than a $100 million market cap. Please be aware of the risks associated with these stocks.