Fundamental investors are challenged to view securities through at least two principle lenses. First, he/she must attempt to determine if an underlying company is a well-run business; one that owns a sound balance sheet, a strong franchise, earns its profits in cash, and is shareholder-friendly. Second, and importantly, good investors perform an estimate of fair value. "Paying up" for merchandise is rarely a prescription for investment success.
In this article, we will investigate Union Pacific Corp (NYSE:UNP), the holding company for one of America's oldest and largest railroads.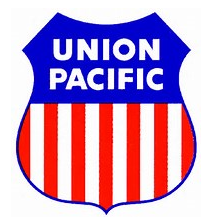 A Few Important Data Points About Union Pacific
Via recent articles, this author and other Seeking Alpha contributors have outlined how UP enjoys a strong underlying business model; current performance none withstanding. For purposes of this article, we will not re-plow this ground. For those seeking a more detailed fundamental check, here is a previous article written in November. The data hasn't changed much since that time.
Moving forward, there are a few points that I believe bear special emphasis and clarification:
Union Pacific has well-managed its debt. Through 3Q 2015, Union Pacific recorded a 62% long term debt-to-equity ratio versus 51% at the end of 2014. It is important to note UP management had previously stated their intent to raise leverage. Senior leadership tracks leverage via Adjusted Debt to Capital. The preferred metric stands at 44.5% versus 41.3% on December 31, 2014. The target ratio is mid-40s.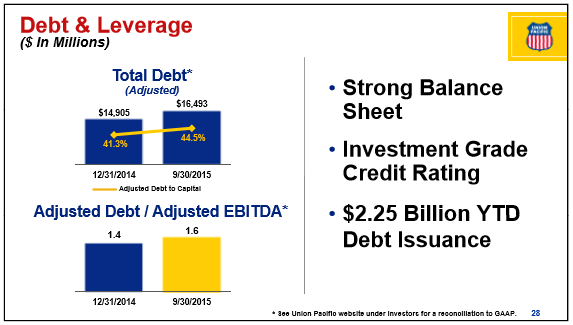 Freight volume worries appear overblown. Management has attempted to point out Union Pacific enjoyed peak volumes in 2014; the railroad was unlikely to improve upon it in 2015. Year 2014 was rivaled only by 2006. Year 2015 freight volumes look a lot more like "run rate" years.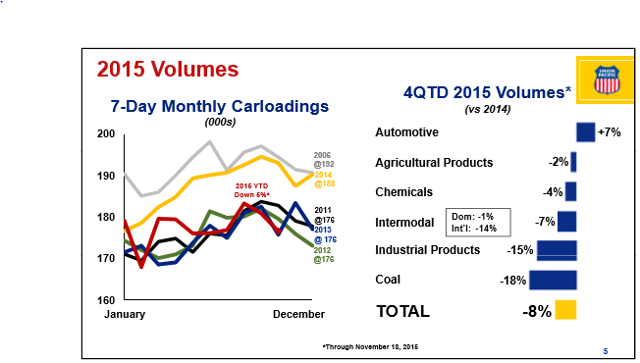 Click to enlarge
Over the past decade, volumes have largely flat-lined. 2006 and 2014 were the high-water marks.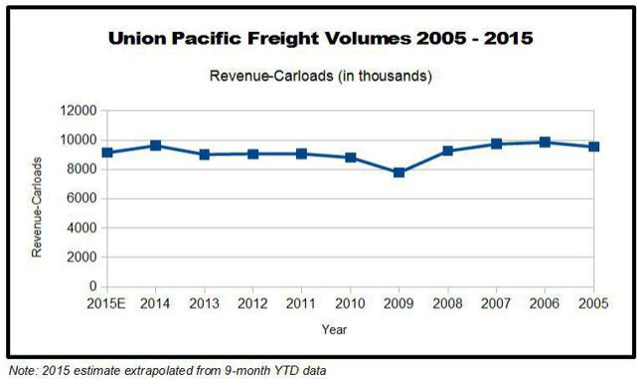 Click to enlarge
Earnings and cash flow remain solid. Indeed, the Company continues to generate considerably greater operating cash than profit.
Through 3Q 2015, Union Pacific earned $3.66 billion, or $4.18 per share. Through nine months of 2014, profits were $3.75 billion, and $4.14 per share. Cash flow figures were considerably higher.
Not only has UP generated significantly greater cash flow than profit, Operating Cash Flow has been higher in 2015 than 2014. The following table summarizes the facts:

source: Union Pacific 2015 3Q earnings release
Strong share repurchase activity continues to make a difference. Since the beginning of the year, stock buybacks have reduced total shares outstanding by 2.8%. This is why YoY earnings per share improved despite a 3% reduction in net income after tax.
2015 freight rates advanced strongly. Perhaps overlooked, Union Pacific has managed to boost 2015 core pricing in the face of difficult markets. This exemplifies a strong franchise. Remarkably, the Company has recorded stronger core pricing increases this year than in 2014.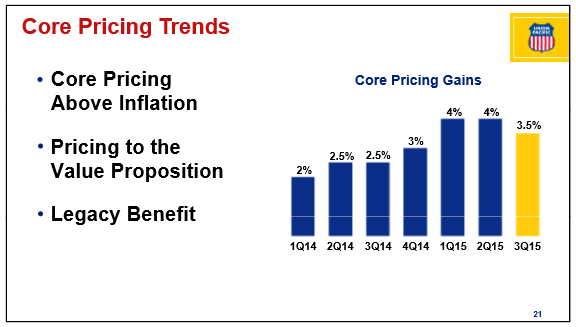 Nonetheless, 2015 has proved to be a down year for Union Pacific. Management has responded by pulling the right levers. This included moving quickly to reduce operating costs, idle excess equipment, negotiate increased rates, and continue to buy back shares.
Current 4Q 2015 estimates forecast UNP will record $1.44 EPS. If so, full-year earnings of approximately $5.61 per share will be down less than 3% versus 2014.
Current consensus Street estimates peg 2016 earnings at approximately $6 a share.
Valuation Metrics Disconnected Versus Historical
When attempting to value Union Pacific shares, investors have several advantages helping the exercise:
Earnings tend to be consistent. UNP has a strong propensity to make EPS estimates, rarely missing or beating by much.
Earnings tend to be "clean." Union Pacific records earnings with few adjustments for one-off items, restructuring, tax adjustments, etc.
Historic price-to-earnings ratios are tight. The long-term P/E multiple has experienced little variation across different time periods. The average, trimmed P/E is 16-17x....whether averaged over 5, 10, or 15 year spans.
As such, using a price-and-earnings approach is an appropriate metric by which to determine a fair value estimate for UNP stock. A price-and-cash flow assessment offers to validate the exercise.
Let's begin by using a F.A.S.T. graph to highlight Union Pacific's 17-year earnings history.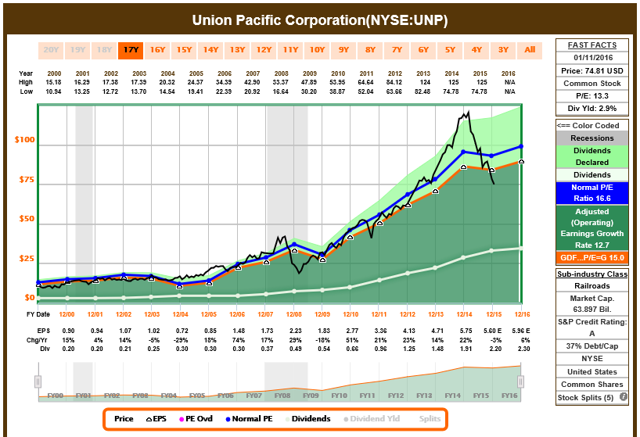 Click to enlarge source: fastgraphs.net
We see the shares became appreciably overvalued in 2014; in 2015 the stock fell back to the mean. However, as is often the case, Mr. Market swung from euphoria to despair. The blue line represents the historic 16.6x P/E commanded by UNP shares. After straying far beyond fair value, the price (black line) has subsequently tumbled far below the historic price-and-earnings relationship.
Investors have compressed the historic 16.6 trimmed average multiple to just a ttm 12.8x.
Just how dour has Mr. Market become?
Using S&P 500 IQ data, I reviewed Union Pacific P/E ratios over the past decade. While the F.A.S.T. graphs provide historical average multiples, I took it a step further. Analyzing 10 years of data, I determined the average annual HIGH P/E has been 18.2x, and the average annual LOW P/E was 12.7x.
It appears UNP shares are sitting at the historic low ebb price-and-earnings relationship.
Going forward, based upon history and probability, continued share price deterioration requires either 1) falling EPS, or 2) P/E ratio compression to levels experienced only once in the last decade: those seen during the 2008-09 Great Recession. Multiples temporarily dropped to 9x during that period.
So what's a Reasonable Fair Value Estimate?
The aforementioned indicates a 16.5x P/E has proven to be a reliable valuation benchmark. While the price-and-earnings relationship has strayed from that marker from time-to-time (like now), it always returns to it. Accepting this premise, investors must next decide upon a forward EPS forecast. Utilizing the current Street consensus of $6.00, we arrive at a $99 FV estimate.
Switching over to a cash flow model, we find another F.A.S.T. graph outlines the historic relationship between price and operating cash flow.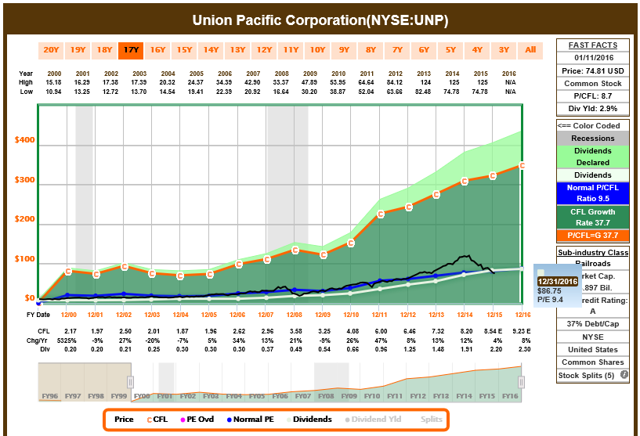 Click to enlarge
source: fastgraphs.net
Applying the historical 9.5x P/OCF multiple to anticipated 2016 cash flow yields an $88 FV estimate.
Blending our two results together, I suggest Union Pacific stock has a fair value estimate of approximately $93.
What Are the Primary Risks to the Estimate?
By definition, investing is about probabilities, not certainty. Good investors attempt to handicap the potential for downside to fair value estimates.
In the case of Union Pacific, I believe there are two significant risks:
The American economy falls into recession. While this does not appear to be a high probability outcome today, I would consider this to be a low-probability, high-consequence event. Indeed, while the Fed is fallible, its data points and discussion indicates they do not anticipate a U.S. recession; quite the opposite. The Fed appears more likely to raise 2016 rates in conjunction with a slowly-strengthening economy.
U.S. stocks experience a 2016 bear-market. In such a scenario, investors often ignore earnings fundamentals and indiscriminately sell down all equities. There is no reason to believe UNP share would be spared. However, given the equity has already notched bear-market performance, one could conclude a deep fall in the overall market could hit other stocks harder than Union Pacific.
Please do you own careful due diligence before making any investment decision. This article is not a recommendation to buy or sell any stock. Good luck with all your 2016 investments.
Disclosure: I am/we are long UNP.
I wrote this article myself, and it expresses my own opinions. I am not receiving compensation for it (other than from Seeking Alpha). I have no business relationship with any company whose stock is mentioned in this article.