It is surprising to see that railcar manufacturer Greenbrier (NYSE:GBX) has lost almost a quarter of its value this year and trades at its 52-week low. This is despite the fact that the company's financial performance has been improving at an impressive pace and it reported record results last week that comfortably beat analyst estimates.
An unjustified drop
For instance, in the recently reported first quarter, Greenbrier saw a rise of 62% in revenue, while its bottom line of $2.15 per share was greater than estimates by $0.52 per share. More importantly, this is not a one-off performance by Greenbrier as the company has been able to consistently improve its top and bottom lines in the past few years, as shown in the chart given below:

Source: Greenbrier
What's more as shown in the chart above, Greenbrier expects its top line to grow further in the ongoing fiscal year 2016, while its bottom line is also anticipated to remain consistent. However, it looks like investors are more concerned with railcar orders of just 500 units during the quarter, which looks quite low at first. But, they seem to be ignoring the fact that Greenbrier has already received 2,100 units of new railcar orders after the quarter ended, indicating that the 500 units of new orders was an aberration rather than the norm.
More importantly, Greenbrier has focused on diversifying its business, apart from improving efficiency and margins by lowering costs, which will allow the company to do well in the long run. Let's take a look at more reasons why Greenbrier's drop is an opportunity to buy shares.
Increasing market share is leading to a better backlog
Greenbrier now commands a substantial portion of the railcar market in North America. In fact, in the past decade, its backlog share has gone up from 13% to 30%, as shown in the chart given below: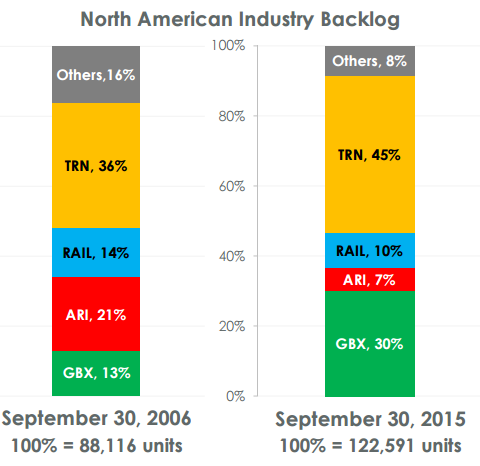 Source: Greenbrier investor relations
More importantly, apart from recording unit growth in the backlog, Greenbrier has also been able to witness an increase in the average selling price per railcar. This can be gauged from the following chart: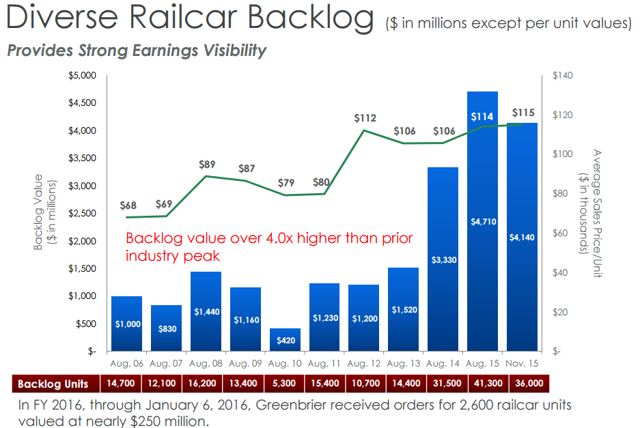 Source: Greenbrier investor relations
Of course, as seen above, Greenbrier's backlog dipped in the last quarter due to lower units, but the fact that it has already received new orders this year for 2,600 railcars indicates that the weakness is short-term in nature. Moreover, the consistent increase in the company's value per car will allow it to record better margins going forward, and also mitigate any weakness in the unit backlog to some extent. Also, investors should not forget the fact that demand for railcars in North America is anticipated to clock a consistent 50,000 units per annum till the end of the decade, as shown below: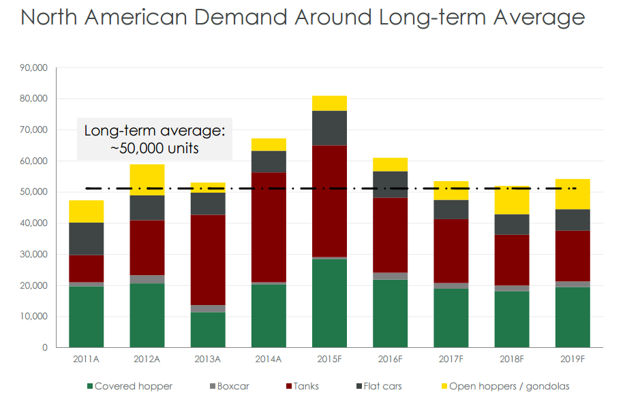 Source: Greenbrier investor relations
What's more, Greenbrier is also diversifying itself into other markets as well, which will allow it to maintain a strong level of backlog in the long run. For instance, it made a move into Brazil last year, as discussed below, which has opened up a lucrative market for it going forward.
Foray into the Brazilian market might be a smart move
It cannot be denied that Brazil is currently in the midst of a recession and the outlook for the current year is not bright. However, Greenbrier has made an ambitious move by making a strategic investment in Brazilian railcar manufacturer Amsted-Maxion Hortolandia last year.
This investment, worth $15 million, gave Greenbrier 19.5% ownership in the Brazilian company, and it has the option to increase the stake to 60% by September next year. Now, Amsted-Maxion commands 70% market share in railcar market in South America by providing components such as braking systems, bearings, castings, wheels, etc., which is good news for Greenbrier investors as demand for railcars in Brazil itself is expected to exceed 4,000 units a year in the short run.
This consistent growth in Brazil's railcar market will be driven by the replacement of the ageing railcar fleet since 60% of the country's railcars are more than 30 years old. Hence, Greenbrier has made a smart investment from a long-term perspective as this will allow it to tap the growth in the Brazilian market in the long run, even though the country might be facing a recession currently.
Conclusion
The drop in Greenbrier's stock price seems to be overdone given the progress that the company has made in terms of revenue and earnings growth. Moreover, its backlog should continue getting better in the long run given the opportunity available in the North American and Brazilian railcar markets. So, in my opinion, investors should buy the drop in Greenbrier's shares as the company's consistently improving financials should lead to upside in the long run.
Disclosure: I/we have no positions in any stocks mentioned, and no plans to initiate any positions within the next 72 hours.
I wrote this article myself, and it expresses my own opinions. I am not receiving compensation for it (other than from Seeking Alpha). I have no business relationship with any company whose stock is mentioned in this article.