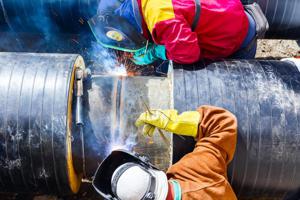 In our recent article examining whether the Plains All American (NYSE:PAA) distribution was sustainable, we concluded, "that the company has growth projects backed by take or pay contracts that should ensure the distribution is well covered in 2017. While the market price drop has increased their cost of equity capital, we believe that the general partner, PAGP, has the balance sheet strength to ensure PAA can fund its growth projects. Also, the headwinds they face in current market conditions, including excess capacity in portions of their network, should turn into tailwinds when supply and demand in the oil market returns to balance."
Since our article, market conditions have continued to deteriorate. Oil prices dropped by another 25% percent and the yield on PAA shares soared above 13%. Industry heavyweight Kinder Morgan (NYSE:KMI) buckled under the pressure and announced a 74% dividend cut. This announcement, coming less than two months after KMI had increased the payout and guided to a 6 to 10% increase in 2016, rattled the entire sector. KMI shares are down from about $32 in October, when they issued their dividend growth guidance, to less about $13 as we write this. As shown in Figure 1, PAA's general partner, Plains GP Holdings, LP (NYSE:PAGP), mirrored KMI's decline. Clearly, Mr. Market did not share our optimism.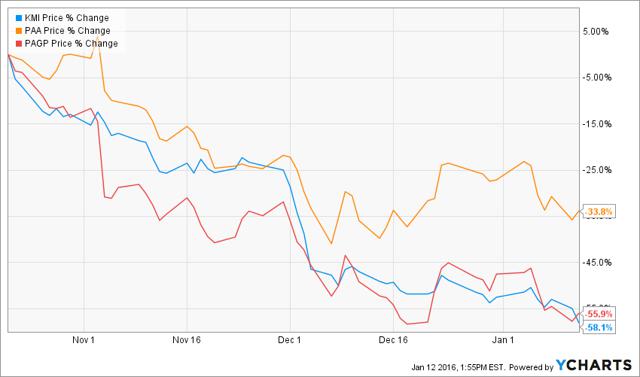 Click to enlarge
Figure 1: Kinder Morgan and Plains All American Price Performance Since the October 21, 2015 dividend guidance (Source: YCharts)
Transaction Terms and Implications
The 10/12 announcement sent PAA/PAGP shares soaring by double digits. They have since dropped from their early highs, but remained up on a generally down day for MLPs. Details of the transaction are summarized in Table 1. Does this mean the PAA distribution is safe?
From a cash flow point of view, we believe it does. PAA's growth projects are backed by contractual commitments from financially strong counterparties such as refineries and large producers. With the incremental cash from these projects, PAA's EBITDA should increase from about $2.2 billion in 2015 to about $2.7 billion in 2017. This means that by 2017 the distribution coverage should be well above 1.00. (Source: One and Done Conference Call, author's analysis). The capital raised from the preferred shares removes the uncertainty on the company's ability to fund their growth projects.
Security:

8% Perpetual Convertible Preferred

Proceeds:

$1.5 billion

Conversion & Voting

Convertible after 2 years into PAA common units on a 1:1 basis, subject to antidilution provisions; voting rights on an "as converted" basis; after 3 years PAA can force conversion if PAA unit price >150% of conversion price

Purchasers:

Affiliates of EnCap, EnCap Flatrock, EMG, Kayne Anderson/First Reserve

Other Notable Provisions

After 5 years, holders have the one-time right to increase the preferred yield based on the same spread to 10-year treasury as existed on the signing date (~585 bps)
If investors elect to exercise this option, PAA would have the right to redeem the preferred for cash or units (at PAA's sole discretion) at 110% of face at any time after 6th anniversary

Incentive Distribution Waiver

IDRs on Preferred Conversion Units limited to growth above $2.80 distribution per unit (permanent waiver of ~$90 million per year)

PIK Feature

PAA has 2-year option to pay dividends in kind

Restrictions

Prohibition on shorting/hedging underlying conversion units for 2 years
Table 1: Summary of Transaction Terms (Source: One and Done Presentation)
But wait; didn't Kinder Morgan Inc. make a very similar announcement on October 30 - only to slash their dividend on December 8? In a filing with the Securities and Exchange Commission, Kinder Morgan said that the new financing strategy would eliminate the need for the company to issue equity for the balance of 2015 and the first half of 2016. Why should we not expect PAA to follow the same playbook?
There are three important differences between the two companies, which in our view, suggest that PAA will not follow in KMI's footsteps. These have to do with a) project backlog, b) balance sheet leverage, and c) business risk.
a) Project Backlog
PAA's committed backlog involves a diversified portfolio of comparably sized projects - all of which will be completed by 2017. The company has other growth prospects, but they are not committed to pursue these. The announced transaction is sufficient to fund all of their committed projects.
KMI is a considerably larger company and has a correspondingly larger backlog. In their 11/18 presentation (the first after announcing the convertible preferred transaction), they list a backlog $21.3 billion in projects spanning five years. The $1.54 billion KMI raised in the transaction only covered a small portion of their growth commitments.
Also, some of KMI's longer duration projects involve a greater level of complexity and political risk. In particular, the Trans Mountain pipeline expansion represents about 25% of the backlog. As with many pipeline projects, there has been substantial public opposition to the expansion. The mayor of Vancouver has come out firmly against the project. (For details, see Seeking Alpha article by Alberto Alfonso's).
While the Conservatives were in power in both Alberta and in the Canadian Federal Government, the opposition had trouble getting traction. But since then, elections in both Alberta and at the Federal level have swept Canada's Liberal party into office.
The CBC news website reports that incoming Prime Minister, Justin Trudeau, is on record saying that he would kill the Northern Gateway pipeline, which, like KMI's Trans Mountain, would carry crude oil from Alberta to British Columbia.
"If I win the honour of serving as prime minister, the Northern Gateway Project will not happen," said Trudeau after the pipeline was approved last summer. "I've been to that part of the world. I've met with many who make their living off the pristine coastal waters. It is just not a place for a pipeline."
On January 11, 2016, British Columbia's Environment Minister Mary Polak said Kinder Morgan Inc. hasn't met the conditions the Canadian province established for an oil pipeline expansion to go ahead. (Source: Financial Post)
As a minimum, these issues may trigger expensive delays - but there is a risk that KMI's investment in the expansion will have to be written off.
b) Balance Sheet leverage
The unadjusted total financial debt to EBITDA ratio for KMI was 7.3 as of Q3 2015 compared to 4.8 for PAA (see Figure 2). The careful reader may note that the 7.3 figure is considerably higher than the debt to EBITDA ratio of 5.8 KMI disclosed during the Q3 investor call. The difference has to do with a variety of adjustments KMI makes to both debt and equity. The numbers shown on Figure 2 are unadjusted. (For a detailed discussion on KMI's adjustments, see Seeking Alpha article by Ron Hiram).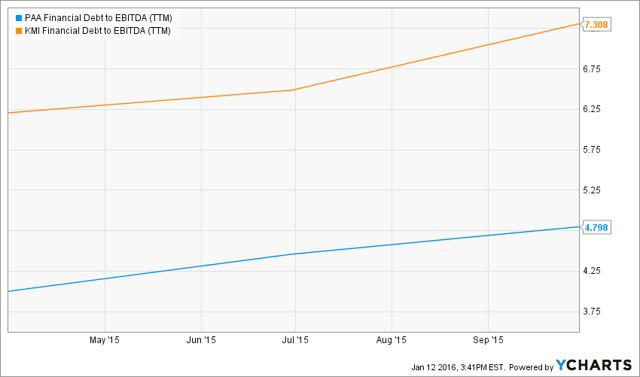 Click to enlarge
Figure 2: KMI vs. PAA Total Financial Debt to EBITDA ratio (Source: Y-Charts)
c) Business Risk
PAA's business is centered on pipelines (click here for a summary). KMI has expanded into a variety of other lines of business.
The KMI CO2 segment, which includes crude oil production, represented 12% of revenues for the nine months ended on 9/15 (Source: 10-Q). KMI reports that 80% of the oil production for 2016 has been hedged at $72/barrel. However, as these hedges run out, these revenues will become directly impacted by fluctuations in the oil price.
In 2013, Kinder Morgan started acquiring Jones Act oil tankers. In the Q3 investor call, KMI CEO Steve Kean, said "On the liquids side we're benefiting from higher renewal rates particularly in Houston […] and from additions to our Jones Act tanker fleet. We also announced earlier in the quarter the Philly Tankers acquisition, which takes our fleet up to 16 vessels, all but two of which are under charter and the other two are in active negotiation even before they roll out of the yard."
A pipeline is by far the cheapest way to transport oil (or natural gas), but this is not true for Jones Act Tankers. "It costs $5 to $6 a barrel to move crude from the Gulf Coast to the Northeast on Jones Act tankers, according to the nonpartisan Congressional Research Service. By contrast, a foreign-flag tanker can take the same crude from the Gulf Coast to eastern Canada for about $2 per barrel" (source: Huston Chronicle Article dated Nov 28, 2014).
The Jones Act restricts movement of oil (or other cargo) between U.S. ports to vessels that are U.S. built, owned, and operated. While the US maintained a ban on oil exports, US oil producers were forced to absorb this incremental shipping cost. Now that this ban has been lifted, "a refiner in Europe will be able to buy U.S. crude in Rotterdam cheaper than I can buy it in Philadelphia for my refiner there. We'll be selling U.S. crude cheaper to foreign competitors than to ourselves." (Source: Huston Chronicle Article dated Nov 28, 2014). This dynamic could impact the contract renewals.
Does PAA offer any growth upside?
This analysis suggests PAA has secured the funding to complete its backlog of committed growth projects - but after that, will the company ever grow again?
The oil industry has been cyclical for almost 200 hundred years. In each down cycle, low prices have accelerated growth in demand and reduced, or even reversed, growth in supply. According to the December 11, 2015 EIA Oil Market Report, total oil demand for Q4 2015 was 95.3 million barrels per day. Total supply as of November (the most recent published figure) was 96.9. Assuming supply did not increase in December, the excess supply was only 1.6 million barrels per day. The EIA reports that consumption increased in 2015 by 1.8 million barrels per day over 2014 and they expect supply to decline: "A 0.6 mb/d decline is expected in 2016, as US light tight oil - the driver of non-OPEC growth - shifts into contraction." (Source: EIA)
Even if actual demand growth is lower in 2016 and supply does not decline, the oil supply and demand market should be in balance by the end of 2016. This, of course, does not mean oil prices will spike. Far from it, the world has record volumes in storage and the US shale industry will likely ramp up production when prices approach $60/barrel. But restoring supply and demand balance will reduce uncertainly and trigger resumption in US production growth.
PAA revenues are driven by the volume of oil transported, not the market price. Moreover, the company has excess transportation capacity in several regions. This was a headwind in 2015 - but will be a tailwind when production growth resumes because the company will be able to transport more volume with little or no incremental capital expenditures.
Conclusion
We believe this transaction should remove the uncertainty surrounding PAA's ability to sustain its distribution in the current environment of low oil prices. If oil prices actually rise in 2017, oil production in the US will resume its growth, paving the way for PAA to resume distribution increases.
Disclosure: I am/we are long PAA AND PAGP.
I wrote this article myself, and it expresses my own opinions. I am not receiving compensation for it (other than from Seeking Alpha). I have no business relationship with any company whose stock is mentioned in this article.