One of the areas I frequently cover is ETFs. I've been a large proponent of investors holding the core of their portfolio in high quality ETFs with very low expense ratios. The same argument can be made for passive mutual funds with very low expense ratios, though there are fewer of those. In this argument I'm doing a quick comparison of several of the ETFs I have covered.
| | | |
| --- | --- | --- |
| Ticker | Name | Index |
| | Vanguard Small Cap Value ETF | CRSP US Small Cap Value Index |
| | WisdomTree SmallCap Dividend ETF | WisdomTree SmallCap |
| | Vanguard Small Cap Growth ETF | CRSP US Small Cap Growth Index |
By covering a few of these ETFs in the same article, I hope to provide some clarity on the relative attractiveness of the ETFs. One reason investors may struggle to reconcile positions is that investments must be compared on a relative basis and the market is constantly changing which will increase and decrease the relative attractiveness.
Dividend Yields
I charted the dividend yields from Yahoo Finance for each portfolio.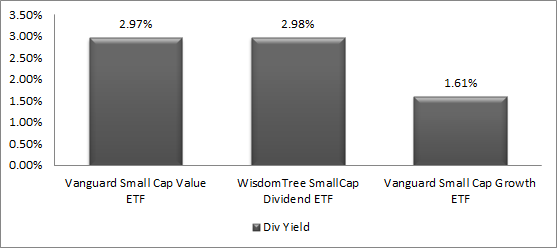 All else equal, I consider higher dividend yields to be more favorable even if the expectation for total returns is the same. The preference for higher yielding ETFs comes from behavior finance rather than modern portfolio theory. Under behavioral finance, the human elements of investing are considered. A higher yield can encourage investors to stay invested when the market is done and to recognize lower prices as an opportunity to acquire shares that are "on sale" rather than a reason to panic and sell their portfolio at low prices only to repurchase the securities at higher prices.
The clear winners on dividend yield are the Vanguard Small Cap Value ETF and the WisdomTree SmallCap Dividend ETF. Either of these funds offers very compelling dividend yields for investors wanting better yields from their allocations to the small capitalization space.
Expense Ratios

I want diversification, I want stability, and I don't want to pay for them. My general guideline for expense ratios is that I want to see the ratios below .15% on domestic equity ETFs and below .30% on international equity ETFs. However, there are times where it is reasonable to make an exception. Funds that must regularly rebalance their portfolio have a better case for having a high expense ratio than funds that simply follow a market capitalization approach.
I love the .09% expense ratio on the two Vanguard funds.
Sector
I built a fairly nice table for comparing the sector allocations across each ETF to make it substantially easier to get a quick feel for the risk factors:

Click to enlarge
The sector allocations for these three ETFs are substantially different. The heavy allocation to real estate for VBK is interesting since it is a growth ETF and has the lowest dividend yield within the group. On the other hand, the heavy allocation to utilities for DES makes sense as it tries to generate strong dividend yields while covering a higher expense ratio. I can't complain too much about that as I rather like the sector allocations.
Return Check
I ran a quick check through investspy.com on the returns over the last few years to look for volatility and determine which funds were performing better.

Click to enlarge
DES ended up with the lowest total returns for the sample period, but it is interesting to note that the fund underperformed VBK by slightly less than the difference in the expense ratio. Therefore, the issue seems to be one of the expense ratios eating into the returns rather than the sector allocation of DES underperforming the allocations for VBK.
On the other hand, the excellent returns in VBR were clearly at the top. The total returns charted do take into account the impact of dividends, so this test shouldn't be biased by higher dividends on the first two ETFs.
The most interesting thing though could be that DES demonstrated a significantly lower beta which gives it an advantage under modern portfolio theory. When adjusting for the beta, the fund outperformed VBK.
Disclosure: I/we have no positions in any stocks mentioned, and no plans to initiate any positions within the next 72 hours.
I wrote this article myself, and it expresses my own opinions. I am not receiving compensation for it (other than from Seeking Alpha). I have no business relationship with any company whose stock is mentioned in this article.
Additional disclosure: Information in this article represents the opinion of the analyst. All statements are represented as opinions, rather than facts, and should not be construed as advice to buy or sell a security. Ratings of "outperform" and "underperform" reflect the analyst's estimation of a divergence between the market value for a security and the price that would be appropriate given the potential for risks and returns relative to other securities. The analyst does not know your particular objectives for returns or constraints upon investing. All investors are encouraged to do their own research before making any investment decision. Information is regularly obtained from Yahoo Finance, Google Finance, and SEC Database. If Yahoo, Google, or the SEC database contained faulty or old information it could be incorporated into my analysis.