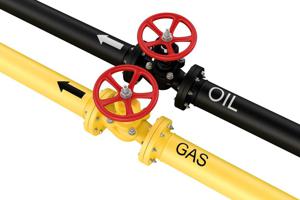 As Oil prices continue to crash, I have re-examined my investment strategy in oil and gas. Presently, the commodity portion of my portfolio is primarily held in cash equivalents. With this year presenting to be a very volatile year, and with consolidations on the horizon, I have reviewed when I should start to look at re-entering the market and what companies I will focus on. At current oil prices, the debt holders behind many firms will begin pressuring companies using the tools at their disposal. When the debt crunch starts to bite, investors can expect many highly leveraged companies to enter bankruptcy or other options that damage shareholder value when a price recovery occurs. Extended periods of stability in oil markets are often followed by long periods of price instability. If the price remains high for a prolonged period of time, the stability eventually results in oil prices crashing due to the extreme overconfidence of exploration companies. The inverse happens when long periods of low prices exist.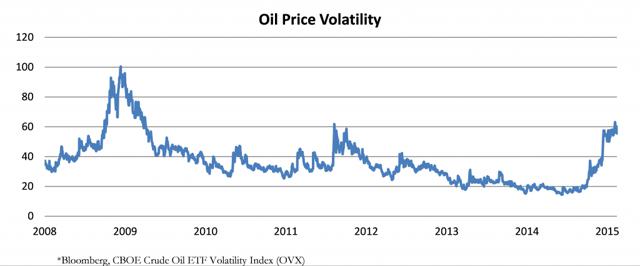 Click to enlarge
Source
Over Leveraged Industry
Like many other commodity producers in the recent past, oil companies have increased leverage above historical numbers, to maximize production when oil was over $100/bbl. High debt ratios are exceptionally prolific with smaller producers. The figure bellow shows the extremity of debt levels relative to the years heading into the current bust.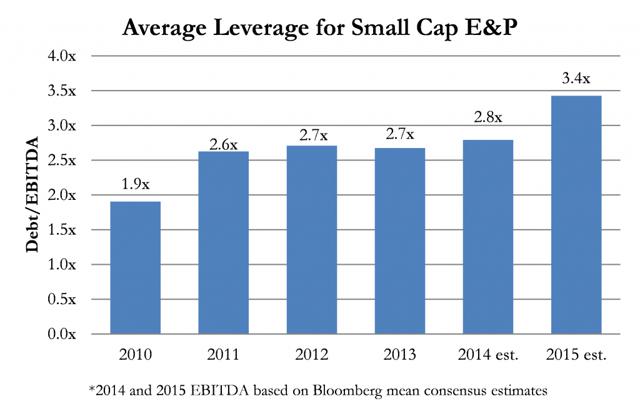 Click to enlarge
As the Oil and Gas Monitor article goes on to discuss, the debt structure forming this high debt load is typically "Senior Debt Revolving Reserve Based Loan". What this means is that the debt that a company holds, and withdraws funds from, is tied to their reserve build. For larger companies such as Exxon Mobil (NYSE:XOM), Chevron (NYSE:CVX), and Royal Dutch Shell (NYSE:RDS.A) (NYSE:RDS.B) with very low-cost reserves or better credit ratings, this usually means that they can still justify a proven reserve build at lower costs or don't have the same requirement. In very simple terms, if a field has an operating cost of $15, and the oil prices drops from $120 to $30 per barrel, the reserve hit will not necessarily be significant. In comparison if the field has an operating cost of $45, as many small oil companies do, their reserve build can be wiped out altogether causing a breach of debt covenants. As they are forced to find alternate forms of funding to either pay off debt or satisfy new covenants, the financiers can gain even more favorable terms.
The the sheer magnitude of debt in the industry will result in many companies seeking to refinance at a time when financing will be unavailable, many businesses will be forced to default and will give the financiers large portions of stock and options, or worse, cease to exist altogether. There is no positive for the shareholders of companies that go through this process. Here is the series of events as I see them:
A summary of my expectations are as follows:
Small oil and gas-based companies will succumb to pricing pressures as their hedges continue to dry up
Debt holders and funding parties will apply pressure to gain terms that are damaging to shareholder value
Around June-July medium-large sized firms will begin buying assets from distressed smaller companies, or directly from bankrupted groups
There is no telling how low the market will take small-medium sized companies with breakeven costs over $50/bbl
Short Term Oil Price
Any investors who are expecting a sudden Saudi production cut will find themselves without help. OPEC has fought hard for what is coming, and has expended a tremendous amount of resources in foregone profits to ensure that weaker companies and assets are pressured to close up shop. It is not impossible that Saudi and OPEC could slash production, however, the likelihood is small until we see greater restructuring across the industry. Oil stored around the world is at all-time highs, and as these storage facilities get closer to capacity, producers wishing to offload product will be fighting for the lowest rates. These prices could drop well below the cost of production due to the difficulty in storing large amounts of oil. It is hard to imagine the scale of a 5-6 million barrel surplus with no storage available. This oil takes up a large volume of space, and with supply limited, the price of crude would crater even further. I expect that we will start to see bankruptcies and removal of small suppliers over the next 4-6 months as Saudi Arabia has shown that it is willing to provide any supply that is removed elsewhere. With that being said, I will discuss how low oil prices will affect shareholders and how investors can protect themselves in this shorter term environment.
Oil Price Lower For Longer
As many CEOs have added the term "lower for longer" to their vocabulary, so has the market come to expect it. Investors hoping for a quick supply bounce have been disappointed to date, and they will not be unburdened in 2016. Large swathes of written content discuss the supply/demand dynamic, and my view is one of extended imbalance and oversupply. Saudi Arabia has proven to have resolve in maintaining low oil prices until they see widespread default. Unfortunately for them, due to the ease with which many oil wells can be returned to production, and the backlog of uncompleted wells that many shale oil companies hold, production will quickly return when oil prices collapse. I will try to explain this in a simple example that excludes many of the important factors in making one of these decisions. If a company drills a well expecting to have a breakeven cost of $25/bbl for a well with oil in place of 1.5 mmbbls, but the well has only 0.75 mmbbls. The breakeven cost would rise to something like $50/bbl, so the company elects to case and suspend the well for a later date. When oil rises to $50/bbl that company can quickly re-enter the well, complete it, and bring it into production. The drilling costs are sunk at this point and do not play into the economics.
It may take 4-5 years for the backlog of production to work itself out in a world with reduced drilling rig costs. By then, we may find demand has reduced due to efficiencies, electric vehicles, and a possible looming recession. These factors could combine to maintain oil prices below $50 for the next decade, assuming there isn't a sudden OPEC supply cut.
Gas and LNG
My prediction for gas and LNG is different. As its production has traditionally been tied to oil for various reasons, so has the price. With the dynamics of the oil market shifting dramatically, gas becomes ever more distinct from its historical brother. Gas is entering the forefront of energy installations due to its cost, efficiency, and environmental benefits over coal/heavy oil plants. We will see demand for LNG, as well as domestic gas increase. It is hard to predict the movements and arbitrage pricing around the world, but it is apparent that Canada, the U.S.A, and Australia, hold gas reserves far more than domestic demand that can be piped, thus forcing producers to look to LNG. See my articles on Cheniere Energy, and Shell's joint venture for a closer look at North American production.
As more and more LNG comes online in the next few years, we will see the supply glut worsen. Intelligent companies have hedged, or locked in long term pricing at profitable levels, and others such as Cheniere Energy have built a utility style business model to avoid a large portion of downside price exposure. In a way, Cheniere Energy's model carries the least risk and exposure to a decline in LNG due to their take or pay contract structure. In producer owned LNG projects, the whole supply chain is owned, and while they benefit more from an upside in LNG pricing, they also have a much higher exposure to a downside.
Companies exposed to the spot price, or seeking to arrange long-term contracts in the current environment will see low returns, and low contracted prices. This will discourage investment for a few years while the market dynamics are better understood by those involved for the existing oncoming LNG supply. Companies, such as Shell, with large balance sheets, are able to look past the current price environment, and out to 2020. By this time, we will see a gravitation towards more gas powered installations due to economics, as well as environmental effects.
In the following 5-10 years, we will see a dramatic shift in energy focus worldwide. I have written on the Paris agreement, and I also believe that many clean energy plans will push gas turbines to the forefront for many countries. Long term contracts can be locked in at lower prices now, and perhaps we will see a move to produce energy in countries close to natural gas sources (similar to coal) to reduce transportation costs.
Investing Strategy
If you are looking at investing new funds, you can expect that small companies with secured debt facilities will succumb to pressure as they breach their debt covenants. With debt at an all-time high in the industry, many will find financing unavailable and will resort to financing options that destroy shareholder value. Investors should focus at companies that have the following:
Are relatively large companies with healthy balance sheets such as Exxon Mobil, Shell, and Woodside Energy (OTCPK:WOPEF) (OTCPK:WOPEY)
Have liquidity available to purchase assets as prices plummets
Are in the bottom quartile for production costs
Have exposure to LNG, with greater than 50% of their barrel of oil equivalent reserves in either near-shore Asian gas or LNG facilities.
Out of all the companies I have looked at, my absolute favorite in this regard is Woodside Energy. Woodside has one of the best debt coverage ratios in the industry and has ample liquidity available to begin purchasing assets over the next year.
Cheniere Energy, Inc (NYSEMKT:LNG) provides low-risk exposure to the LNG price arbitrage with limited downside due to fixed price contracts.
Exxon Mobil remains a leader in the industry and has industry best return on capital employed numbers in the industry.
Investment Timing
While I do not often try to time the market, I do exercise prudence when investing. It is rare that I take a full position in a company immediately after making the decision to purchase stock. What I have done with Woodside is to take a 50% stake now, and then wait and see how things pan out over the next six months before re-evaluating. If I am wrong and the price recovers, I can purchase more stock with less risk. If things head further south, as I believe that they will, I can buy a great company at a wonderful price.
I have no doubt that many oil and gas companies are trading at a discount to long-term earnings. However, I can not ignore the fear that currently presides over the market. The market can become irrational and stay irrational for a long time. I continue to keep a large portion of my portfolio in cash equivalents waiting for the day(s) that the market reaches its peak of capitulation. Perhaps that will coincide with the broader restructuring that OPEC is pushing for.
Conclusion
Overall, the oil price will struggle for the next few decades. As competitive pressure coming from alternative fuel sources meets plentiful supply around the world we could see oil prices below $60/bbl for several more years, eventually ending in an OPEC price cut. My preference is to purchase well-managed companies, without looming debt problems, and a majority of their exposure to LNG. If the LNG is online, or coming online within the next 4-5 years, investors need to ensure that prices are hedged in some manner. Once the supply glut has been depleted, and the low prices we are seeing encourage an increase in gas usage for electricity generation around the world, LNG prices will come booming back. Oil may not do the same.
Disclosure: I/we have no positions in any stocks mentioned, but may initiate a long position in LNG over the next 72 hours.
I wrote this article myself, and it expresses my own opinions. I am not receiving compensation for it (other than from Seeking Alpha). I have no business relationship with any company whose stock is mentioned in this article.
Editor's Note: This article discusses one or more securities that do not trade on a major U.S. exchange. Please be aware of the risks associated with these stocks.