Last year, I restructured my Ford Motor (NYSE:F) investment position and sold January 2017 call options with a strike price of $17 and moved back into the common stock for yield. I also reduced my price target on Ford Motor from $18 to $17, not so much because the company was somehow in trouble, but because of investors' distaste for auto stocks.
Anyways, I moved back into Ford's common stock because of the income the stock was going to provide in the years to come. In particular, I expected the company to announce an increase in its base dividend in January, just like it had done in the past - and Ford did so by meaningful growth rates too. A year ago, for instance, Ford hiked its dividend by 20%.
As a result, I made the educated guess that Ford Motor, in light of robust financial results in 2015, would shoot for a dividend rate of $0.17/share in January, thereby implying a ~13% growth rate year over year.
That prediction wasn't exactly on point. Ford Motor announced on Tuesday that it would not increase its base dividend payout at all, thereby invalidating my core argument to buy the stock, but the auto maker nonetheless decided to declare a $1 billion special dividend instead. Spread out over the amount of outstanding shares, this $1 billion (non-permanent) payout translates into a one-time dividend of $0.25/share. Ford's special dividend, therefore, accounts for ~29% of total projected shareholder distributions in 2016.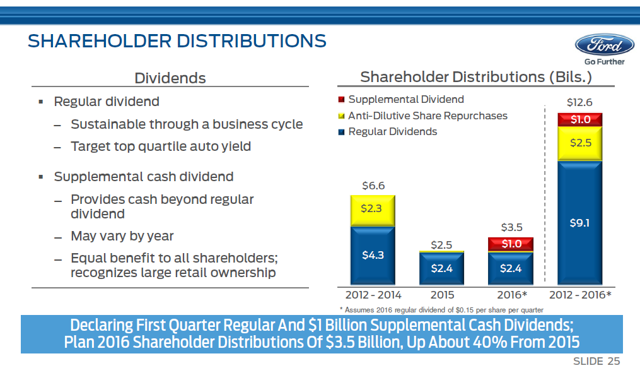 Source: Ford Motor Investor Presentation
If Ford Motor keeps its base dividend payout of $0.15/share unchanged in 2016, a total of $0.85/share in cash (pre-tax) are going to find their way into shareholders' pockets this year. That's a substantial amount of dough considering that Ford Motor's stock sells for $12.25 at the time of writing. Put differently, including the special dividend payment, which also will be paid on March 1, 2016, Ford's stock yields 6.94%. Just to remind you: Ford Motor is an S&P 500 company. For investors seeking some nice dividend income, Ford has become even more attractive as an income vehicle.
However, the almost 7% yield is a one-time occurrence and the yield will revert back to the ~4-5% level if Ford Motor decides to return to its base dividend a year from now. While I would have preferred an increase in Ford Motor's base dividend and a smaller special dividend in order to make a point about permanency, the sources of cash (at least in 2016) don't really matter.
Since 2016 is expected to be another robust year for Ford Motor according to its President and CEO Mark Fields, there is a case to be made for compelling cash returns in 2017 as well.
Your Takeaway
Ford Motor has declared a $1 billion special dividend, or $0.25 per share which will be paid to shareholders in March. While I would have liked to see a permanent commitment from Ford's management and base dividend growth, the special dividend is substantial. It boosts Ford Motor's dividend yield to almost 7%, thereby confirming my approach to see Ford first and foremost as an income vehicle rather than a spec on higher share prices. That said, investors need to understand that the special dividend is going to be a one-time event and that Ford Motor will likely decide to return to base dividend growth in 2017. Buy for income.
Disclosure: I am/we are long F.
I wrote this article myself, and it expresses my own opinions. I am not receiving compensation for it (other than from Seeking Alpha). I have no business relationship with any company whose stock is mentioned in this article.