Eldorado Gold Corporation (NYSE:EGO)
This article follows my preceding article on Eldorado Gold published on October 6, 2015.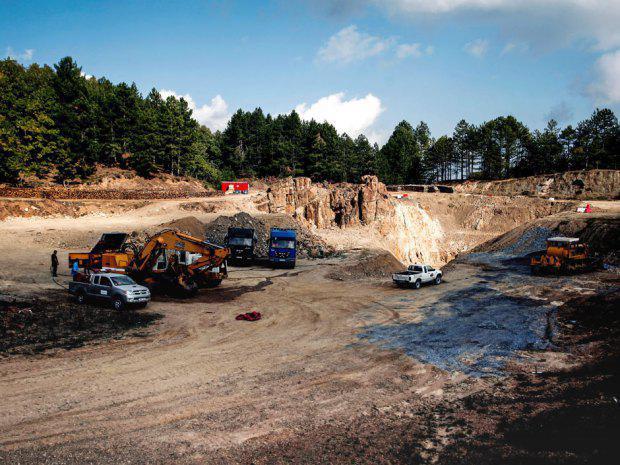 Image: The Skouries mine in Northern Greece, from Reuters.
The Skouries project is one of the most important investments in Greece, involving roughly 2,000 employees and numerous local companies. The Skouries mine.
On August 20, 2015, Eldorado Gold confirms that it has been aware of the notification from Greece's Ministry of Energy suspending the technical studies pertaining to the Skouries and Olympias projects in Halkidiki, Northern Greece.
M. Paul Wright, CEO, said:
...We will once more take legal action against a decision of the Ministry in order to safeguard the rights of Eldorado , Hellas Gold , our Greek employees and the communities and stakeholders that support our projects in Halkidiki. At this time, work at all our Halkidiki operations and projects continues as normal; however, Hellas Gold may be forced to suspend all its mining and development activities in Halkidiki due to this rash decision by the Ministry of Energy.
On September 1, 2015, EGO had to stop temporarily its mining activities at Skouries and part of its operations in Olympiada, Greece.
Eldorado has suspended its operations at the mine and put most of its 1,300 workers on temporary redundancy
On September 25, 2015, the Greece's newly appointed government will meet Canada's Eldorado Gold next week to discuss the closure of its Greek gold mine, Energy Minister Panos Skourletis said. EGO is still hopeful a new agreement will be signed and the mine will resume its work.
On October 5, 2015, Eldorado Gold announced:
The Greece's Council of State - the country's Supreme Court on administrative and environmental matters - has issued an injunction relief #299/2015 in favour of the Labour Center of Halkidiki and the Labour Unions representing the workers of Hellas Gold S.A . - a subsidiary of Eldorado in Greece .

The injunction relief temporarily revokes the decisions of Greece's Ministry of Energy and Environment, which forced Hellas Gold to suspend its activities in Halkidiki in August (as described in Eldorado's press releases dated August 19 and August 20, 2015 ).
Paul N. Wright , Chief Executive Officer of Eldorado , commented:
We will resume our mining and construction activities in Halkidiki and bring our employees and contractors back to work, effective immediately. Furthermore, we will continue to engage in constructive dialogue with the Ministry of Energy with a view to addressing any concerns the Ministry might have.
Finally today, January 12, 2016, M. Paul N. Wright released the following:
A building permit, that would allow Hellas Gold to complete the construction of the Skouries processing plant, has been delayed for over three years. Hellas Gold is presently unable to complete its development plans in Halkidiki as a result of the actions and/or inactions of the Ministry and other agencies regarding the timely issuance of routine permits and licenses, which is not only a legal responsibility, but also a contractual obligation of the Greek State.

Skouries Project (Halkidiki)

Construction and development activities at the Skouries Project (with over US$300 million invested to-date), will be suspended. Environmental protection works and care and maintenance activities will continue to be performed in order to safeguard the environment and the assets of the Company at site at a cost of approximately US$1 million per month.
A little about the mine:
The Skouries Cu/Au mine, requires another $200 million in CapEx, with production expected in 2016. This expectation is now pushed back significantly.
The Skouries presentation indicates that the production will be around 140K Oz of gold/30K T Cu and 90K Oz of gold/22k T CU from UG with an expected LOM of 27 years.
Skourie has Proven and Probable reserves of 3.7 Moz of gold and 767 KT Cu.
Commentary:
The press release was a general update on the different projects in Greece -- Skouries, Olympias, Stratoni and Perama Hill and Sapes project. A more complete strategy will be unveiled by EGO, at the end of January.
Basically, EGO decided to suspend the Skourie project, because of the obvious inaction of the new government, and unprecedented delays in receiving building permits.
This decision pushed the company to lay off about 600 people -- mostly contractors -- at the Skouries site, and place it on care & maintenance.
Furthermore, another 500 people may be laid off at the Olympias, if the company doesn't receive the permits required by March 2016.
Mr. Paul Wright, indicated that the company remains committed to its Greek assets, but the fundamental issue is that EGO needs to see a commitment from the leftist government, and a more friendly and responsible attitude toward this sector.
It goes well beyond the issue of the building permit indicated above, and receiving them now, will not trigger an automatic restart of the project. The company is no longer willing to operate in these conditions, where progress has been slowed to a halt. Basically, the leftist government must look at this investment as it is and not as an insignificant political toy.
Eldorado Gold has already invested about $300 million in Skouries and it is another setback for the company. The stock price dropped when we learned that EGO had a problem with the new government last year, and has been tumbling since.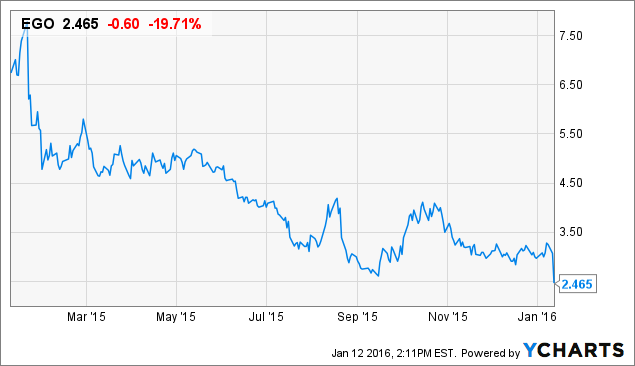 This situation couldn't have come at a worse time for EGO, which is facing a gold price weakening at the same time. A perfect storm for shareholders, and the PPS tumbled nearly 20% today.
Conclusion:
For the ones who like these risky situations, it is perhaps a good opportunity to invest, right now, and bet for re-test of the $3 in a few days or weeks? However, from a long term perspective, it is difficult to advise anyone to invest in this company, with this situation hanging in the balance. I see unfortunately further price erosion to the low 2's, before I will be really confident EGO has reached a bottom.
Disclosure: I/we have no positions in any stocks mentioned, and no plans to initiate any positions within the next 72 hours.
I wrote this article myself, and it expresses my own opinions. I am not receiving compensation for it (other than from Seeking Alpha). I have no business relationship with any company whose stock is mentioned in this article.
Additional disclosure: I trade EGO