Royal Dutch Shell (NYSE:RDS.A) (NYSE:RDS.B) is one of the biggest publicly traded oil and gas companies in the world, and the company's shares offer great income potential at the current price.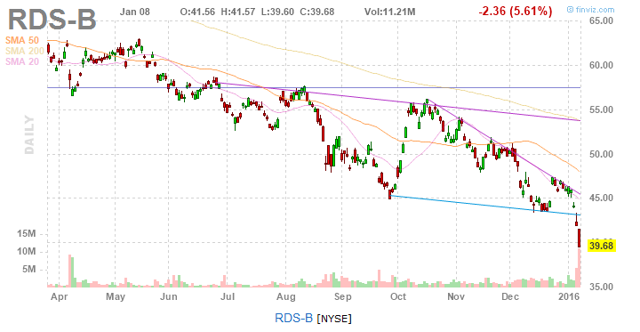 Click to enlarge
Shell's shares have been declining heavily over the last months, the company's B shares trade below $40 right now, which is forty percent below the 52 week high of $66. Shell's shares were hit by a combination of broad market weakness, low oil prices which pressure the company's shares (albeit Shell has a lot of oil price independent gas operations), and also uncertainty about the proposed acquisition of BG Group.
Let's take a look at each of these points in order to determine whether they truly danger Shell in the long term.
First, the recent market weakness we have seen in markets both in the US and abroad, which brought almost every stock down by a couple of points: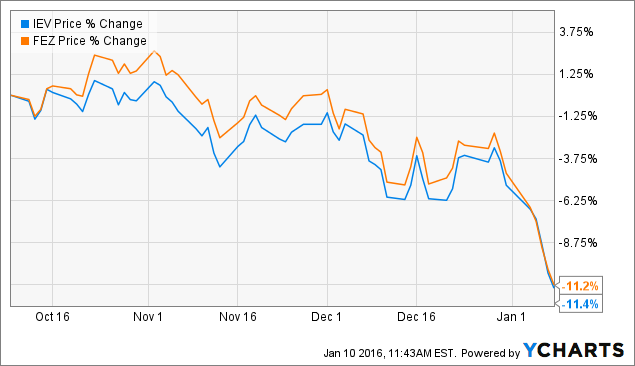 Broad markets in Europe (where Shell is based) sold off substantially over the last three months, measured by double digit declines in both the iShares S&P Europe 350 index (NYSEARCA:IEV) and the SPDR EURO STOXX 50 (NYSEARCA:FEZ). Some of Shell's negative performance over that time frame can thus be explained by the fact that Shell, which has a beta of 1.2, declined along with the broad stock markets.
The next point is the weak oil price we have seen over the last weeks: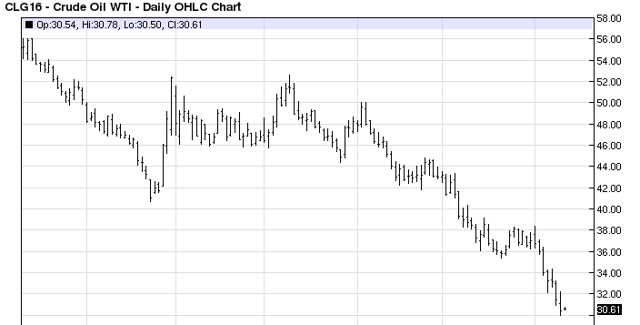 Click to enlarge
The price for WTI as well as the price for Brent crude oil declined substantially, hitting new cycle lows in the last days. This obviously impacts Shell's operational results, as lower oil prices mean lower oil production revenues, which in turn means lower earnings as long as the cost of production remains stable.
Lastly Shell's shares were pressured due to uncertainty about the acquisition of BG Group, which seems likely to get approval by a majority of the company's shareholders, but this is not certain: Proxy advisory firm ISS (35 of the top 50 shareholders of Shell subscribe to ISS) backs the deal, but other key players see the deal in a different light. Standard Life Investments, which holds almost two percent of Shell's B shares (and also some of the company's A shares), stated it would vote against the acquisition. Shell itself stated the company believes shareholders will approve the deal at the end of January, management also said that the deal would be accretive to Shell's results even if oil remains at $50 for the next two years. The uncertainty of the BG acquisition explains some of the volatility and recent down movements in Shell's stock, yet I believe either way (approval or refusal by Shell's shareholders) would not have any long term negative effects on Shell: If the acquisition gets approved, this will strengthen Shell's position in natural gas, LNG and would also give Shell access to offshore plays in Brazil, which would overall increase Shell's global footprint at a price which is not too high. If the acquisition gets refused, Shell could likely try again, this time for a lower price (which could then get accepted by Shell's shareholders), or Shell could look for other companies to take over (or buy assets from). The low oil prices mean that a company like Shell, which has sufficient cash flows and balance sheet strength, is in a favourable position to buy from pure upstream producers which are hit hard by the low oil price and may be forced to sell assets.
We can summarize that Shell has been hit hard over the last weeks, but all three reasons (overall stock market weakness, temporarily low oil prices and uncertainty about BG deal) will likely not have any long lasting effects on Shell's fundamental performance. The share price decline to a level not even seen during the 2008 / 2009 recession thus provides a great entry point for investors looking for income from a global energy company with a strong balance sheet:
At $0.94 per ADS per quarter, Shell's dividend ($3.76 a year) gives us a dividend yield of 9.4 percent right now. This yield is a lot higher than the dividend yields we get from other energy majors, such as Exxon Mobil (NYSE:XOM) or Chevron (NYSE:CVX). Shell, which has not cut its dividend for decades, has recently stated its goal to keep the dividend stable: By lowering capital expenditures and a lower share repurchase pace, as well as the option of a stock dividend for shareholders, Shell's management is positive it will be able to pay dividends of the current size in the next years.
Shell's financials do, in fact, remain very strong: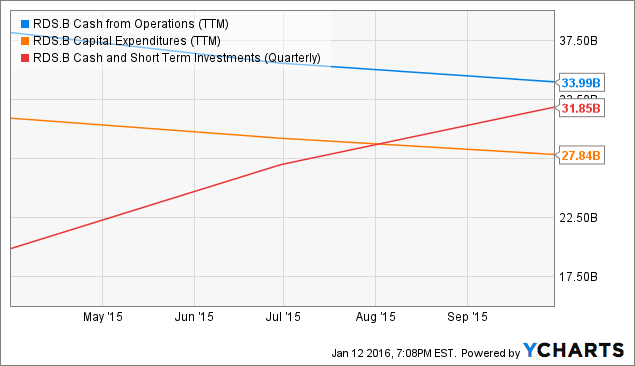 With cash from operations of $34 billion over the last year and capital expenditures of $27.8 billion over the same time, Shell remains free cash flow positive: $6.2 billion in free cash flow leave Shell in an admirable position relative to most other energy companies. On top of that Shell has $32 billion in cash on its balance sheet, which the company could use for either acquisitions, share buybacks or dividends. Since management stated keeping the dividend stable is one of the priorities, share buybacks will likely play a very minor role over the next years.
Shell's total dividend payout is $10.7 billion a year, with $6.2 billion in free cash flow this leaves a funding gap of $4.5 billion a year to cover the dividend. With $32 billion in cash Shell could easily fund the dividend for five years at the current level without taking on any new debt and whilst maintaining a sizeable liquidity position.
With a debt to equity ratio of just 0.3 and a debt to EBITDA ratio of 1.4 Shell's balance sheet looks very strong in terms of its debt levels as well. Shell would likely be able to triple its debt without loosing its investment grade rating (seeing at the fact that Kinder Morgan's debt to equity ratio stands at 5.6 and yet the company has an investment grade rating with a stable outlook [Moody's]).
Buying Shell now at a dividend yield of 9.4 percent and opting for stock dividends instead of cash dividends will bring your yield on cost to 10.3 percent over the course of the next twelve months [assuming a stable share price, depending on stock price movements the amount of shares you get might vary] -- the ability to get access to a double digit income yield from a global player such as Shell, which has low leverage and whose dividend is well protected is, I believe, an excellent opportunity for income focused investors.
Shell's direct peers, e.g. Exxon Mobil and Chevron, have lower dividend yields and trade above their 52 week lows, thus could have further to fall (also Chevron's dividend isn't as well covered as Shell's, due to Chevron being free cash flow negative). Other energy companies and those from related sectors sometimes offer higher yields, but at much larger risk of a dividend cut (as could be seen with Kinder Morgan).
Takeaway
Shell's stock has been hit hard, but not due to reasons which are material in the long run. Getting a double digit income yield by reinvesting this year's dividends is a possibility at today's price, which makes Shell one of the best income picks in the energy sector right now.
The combination of good dividend coverage, low leverage, strong cash position and high dividend yield (as well as a management team which is friendly towards income investors) make Shell attractive below $40 per share.
Disclosure: I/we have no positions in any stocks mentioned, but may initiate a long position in RDS.B over the next 72 hours.
I wrote this article myself, and it expresses my own opinions. I am not receiving compensation for it (other than from Seeking Alpha). I have no business relationship with any company whose stock is mentioned in this article.