When I'm thinking about how to arrange a portfolio, I think there is a uniquely human aspect to the process. The ideal dividend portfolio depends on the risk factors an investor feels comfortable accepting. After the year is over, any investor can easily see which companies delivered the best returns, but when the period is starting, the goal is for an investor to be carrying a portfolio that meets their individual objectives.
These are five of the companies that I think may help me meet my return objectives.
| | |
| --- | --- |
| Altria Group Inc. | (NYSE:MO) |
| Exxon Mobil Corp. | (NYSE:XOM) |
| McDonald's Corp. | (NYSE:MCD) |
| Philip Morris International | (NYSE:PM) |
| Wal-Mart Stores Inc. | (NYSE:WMT) |
As I said in the opening, these companies are usually not very exciting. That makes them ideal for my needs. Each of the companies has a fairly low beta, which means it won't spike up and down as much with the market. Since the core of my portfolio comes from very diversified ETFs, I want my individual allocations to have less correlation with the market and less volatility overall.
Dividend History
Dividend champions have a tendency to be less volatile. That can be a function of long time investors refusing to sell their shares and confidence among many investors that the income from their shares will continue. Therefore, companies with a long history of raising dividends have an advantage here.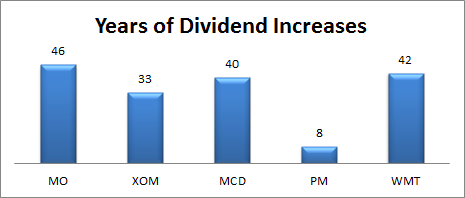 Philip Morris is the only company with less than 30 years of history and that is due to a shorter life so far. They came from MO, so I think they have the same focus on returning capital to shareholders. Yes, it may be clear that my first group of five stocks contains two that produce tobacco. As you'll see, the valuations just aren't that high for companies that have performed so well over such a long history.
Strong Yields
One major argument for these companies is the strong dividend yields. All five are yielding over 3%.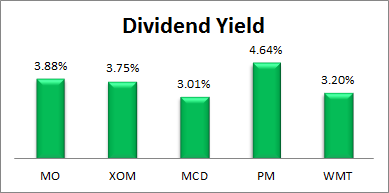 Comparing the dividends to the earnings per share shows that the EPS payouts can be fairly substantial:

While MO and PM have the highest payout ratios and the highest yields, they are also projected to have exceptional growth rates in dividends despite not retaining much of their earnings. Generally, an investor buying shares in a company that is paying out over 80% of earnings would not expect substantial growth in their dividends year after year unless the 80% of earnings statistic was a function of earnings being depressed for the year by one-time charges.
However, PM and MO regularly pay out the vast majority of their earnings in dividends. Their cost of goods is already exceptionally low with the largest single cost being sin taxes for each company. Because they already have enormous economies of scale, there is no major benefit to reinvesting capital. They can grow earnings through two major methods: Increasing the price of their product or the quantity sold. Increasing margins is inherently problematic when their largest line item is sin taxes.
Projected Growth Rates By Consensus Estimate
The following projections are based off consensus analyst estimates for dividends to be paid in the next five years.

I find it interesting that XOM and WMT have the lowest payouts and yet analysts are giving them the lowest projected growth rate. I can see the rationale since Wal-Mart authorized a huge program to repurchase stock and I believe that should be their single largest use of cash flow. It also makes sense that in this sudden era of low oil prices, the growth rate would be much lower for XOM. Of course, oil prices are expected to stay low forever, just like they were expected to stay forever a year ago. Sometimes, forever is simply less than 12 months. I guess that's a good thing for celebrity marriages?
The lower growth rate for PM compared to MO may simply be a reaction to the fairly strong dollar resulting in much weaker earnings once the sales have been translated. PM is purely international and the strong dollar pounds their earnings fairly hard. On the other hand, if the dollar weakens the expected earnings and dividends for PM could suddenly be increased by a substantial margin.
The area where I would be most concerned is the projection for McDonald's. I would avoid relying on the P/E ratio or dividends to earnings too heavily because restaurants are generally valued through EBITDA. However, McDonald's was issuing debt and buying up shares. With a low interest rate on the debt, the reduction in shares outstanding resulted in substantially better metrics for the company. Since McDonald's saw their share prices rebound to hit record highs, it won't be viable to drive growth so rapidly through repurchasing shares. They may simply send extra cash out in dividends, but the growth rate in their earnings metrics should suffer.
Five-Year Payback
For the investor who wants to track how quickly they'll be paid back on their investments, I built the following chart using dividend projections for 2016 through 2020.

One of the benefits to PM right now is that the five-year payback is projecting 25% of invested cash would be returned to the shareholder within five years. For an investor focused on income, that strong payback will be very attractive.
Since it is extremely hard to find solid international exposure with strong yields and a focus on shareholders, I used PM as my largest international holding. My portfolio also contains a couple of international ETFs, but the weight to PM is larger than the weight for my international ETFs combined.
Size Differences
Everything here is large companies. Their size can be a benefit since the presence of extensive analysis by the major investors should encourage more efficient pricing.

Valuation
Using the P/E ratios for the five firms gives us some idea of the valuations:

While the market as a whole is fairly expensive, these companies aren't so bad. For MCD I would prefer to use EV/EBITDA, which is about 13.6. That is in line with the rest of the restaurant industry.
Projected Returns
I used a fairly simple method of adding the dividend yield and the projected growth rate over five years to create estimates for total returns. This is a fairly simplistic method that is the premise of dividend growth formulas. I believe there are a couple of flaws that should be addressed below the chart.

The five-year projections operate on the assumption that the companies end the five-year period with the same dividend yield they had when the period started. That is a questionable basis. The other problem here is that it severely punishes companies that are actively using other strategies such as repurchasing shares (see Wal-Mart) rather than spending excess cash on growing the dividend right now. Because they are repurchasing shares at fairly cheap valuation (by P/E) measures and because I expect earnings to grow substantially towards the end of the decade, I believe Wal-Mart will see share prices rebound and start aggressively raising their dividend after a few years.
Operating Margins for Wal-Mart
The graph below demonstrates the operating margins for Q3 of 2015 and Q3 of 2014. It also compares the margins for the first three quarters of each year. I'm avoiding incorporating the fourth quarter because retail sales can be materially impacted by the quarter (holiday shopping) which would distort the results.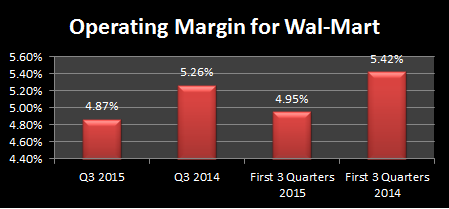 The margins for the third quarter are weaker than for the rest of the year and the margins in 2015 are materially weaker than the margins in 2014. Since management is indicating higher wages, which create pressure on earnings, shareholders are heavily concerned.
Why Earnings Should Rebound for Wal-Mart
I predict a resurgence in earnings for Wal-Mart after the first year or two of higher wages because labor in their stores will become more efficient. Arguments that low-wage labor is incapable of being productive fail to recognize the core challenges in utilizing the lower wage labor. One of the biggest challenges is very high turnover rates and the substantial cost of training new employees.
By raising wages before other employers, the store should be able to recruit more talented employees and keep them working there for substantially longer periods. The benefit of lower turnover isn't just the cost of training, it is the difference in the productivity of a new worker compared to a worker that knows how the store functions. Remember that margins for Wal-Mart are razor thin, so earnings expectations were hammered by projections for higher labor costs.
If I'm right about the labor costs, the incremental gain from more experienced labor could bring back 1% to 2% of gross sales to the operating margins, which would create substantial gains to earnings. Combine that with the impact of repurchasing shares with a P/E ratio under 14 and the recipe for rapid growth in earnings that can facilitate growth in dividends is complete.
The following chart demonstrates the source of the costs for Wal-Mart: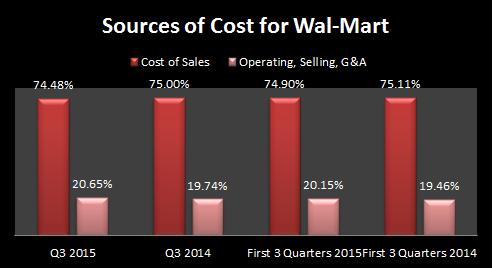 Comparing Q3 of 2015 year over year demonstrates that their cost of sales was down slightly but their operating, selling, and G&A (general and administrative) were up almost 1% year over year. That may get a little worse before it gets better. Within a few years, I expect these margins to be back to their previous levels.
If Margins Simply Stabilized
Based on my expectations for Wal-Mart to benefit from superior labor in the next few years, I would expect their margins to recover towards previous levels. During the first three quarters of the year, Wal-Mart reported decline in total revenues by less than 1% year over year. However, on a constant currency basis, total revenues would have been up by 2.8%. Assuming the dollar does not strengthen further, it should be reasonable to project total revenues to grow around 3.8% year over year.
With an average P/E of 14, the earnings yield would be around 7.14%. If 40% of earnings are paid out, the remaining earnings would be equal to about 4.28% of the market cap. If that entire volume was used to repurchase shares (any cash flow sent to investments would have to be funded by debt), then earnings can grow 4.28% per year from a reduction in shares outstanding plus about 3.8% from growth in sales assuming constant currencies.
This produces the potential for EPS to grow by 8.08% per year so long as Wal-Mart is given the opportunity to repurchase shares at these cheap levels and can simply maintain their operating margins. Note that this scenario assumes that 40% of earnings continue to be paid out in dividends, which suggests that when earnings growth resumes, the dividends would be growing at the same rate as EPS.
If margins recover to previous levels as a function of more experienced labor, it would represent another increase in the expected annual earnings.
Why Philip Morris Is Great for International Allocations
When I was doing some research on the business model for Philip Morris and coming to the decision to buy them, I evaluated them for six major criteria. Dividend growth and earnings were one important metric, but another was their ability to influence governments. Because the majority of gross sales for Philip Morris go to taxes, the company is able to work their way into the fabric of each country. If you want to read more about it, check out my research on Philip Morris.
The international breakdown of sales and net operating income for Philip Morris helps to get an idea of how they function as exposure to the different markets:

Click to enlarge
That breakdown between the different parts of Europe, Asia, and even including Latin America creates a more geographically diversified revenue stream than some international ETFs. One of the major benefits of those sales as a way to get the geographic diversification is that it provides a very clear exposure. When an international ETF invests in foreign companies the designation as foreign does not indicate that 100% of their revenue comes from countries outside the United States. As a result, I think PM creates an excellent international allocation with no expense ratio.
McDonald's Buying Back Shares with Debt
I put together some charts to demonstrate the way McDonald's is increasing shares and leveraging their business over the last few years: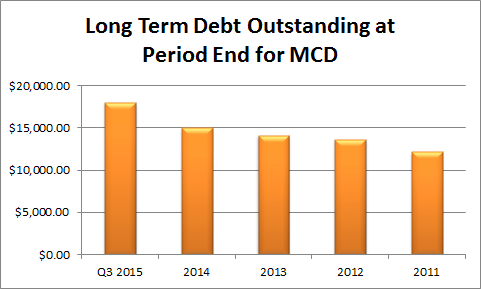 The amount of debt outstanding has been consistently growing, but the rate accelerated during 2015.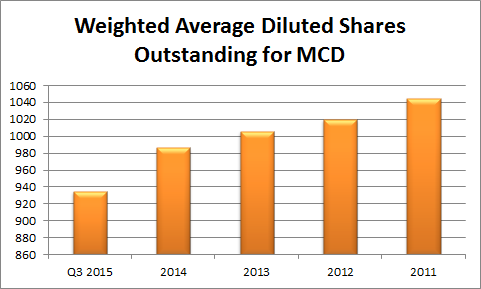 The volume of shares outstanding has been declining and the rate at which it declined increased during 2015.
When we put those two factors together, we reach the following chart: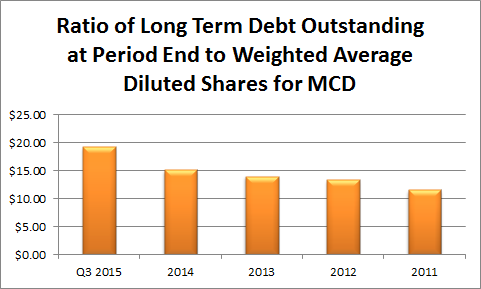 The debt per share has been increasing quite substantially as McDonald's leveraged the company up to generate significant growth in their metrics on a "per share" basis.
Since the company is returning substantial amounts of cash to shareholders through dividends and repurchasing shares, the impact of high share prices is a reduction in EPS growth. When share prices are high, the dollars spent on repurchasing shares won't be as effective at reducing the share count outstanding. That creates a challenge when it comes to ramping up the earnings metrics or reducing the number of shares that need dividends.
Thanks.
Thanks to David Fish for his CCC list which was instrumental in preparing this analysis.
When December was ending, I added PM and MO to my portfolio. Over the next few months, I'm hoping to add WMT and XOM. I was hoping to get a great steal on WMT, but lately they have been rallying even as the market struggles. Timing for an investment in MCD will be more difficult.
Disclosure: I am/we are long MO, PM.
I wrote this article myself, and it expresses my own opinions. I am not receiving compensation for it (other than from Seeking Alpha). I have no business relationship with any company whose stock is mentioned in this article.
Additional disclosure: Information in this article represents the opinion of the analyst. All statements are represented as opinions, rather than facts, and should not be construed as advice to buy or sell a security. Ratings of "outperform" and "underperform" reflect the analyst's estimation of a divergence between the market value for a security and the price that would be appropriate given the potential for risks and returns relative to other securities. The analyst does not know your particular objectives for returns or constraints upon investing. All investors are encouraged to do their own research before making any investment decision. Information is regularly obtained from Yahoo Finance, Google Finance, and SEC Database. If Yahoo, Google, or the SEC database contained faulty or old information it could be incorporated into my analysis.