Investors naturally gravitate towards utility companies as safe investments, but Duke Energy (NYSE:DUK) has left longs frustrated. However, should the overall market continue to not only experience turbulence, but in fact a significant retraction, then allocating capital to stable stocks like Duke is the smart move. Not only is Duke stable in its 90% regulated utilities, but also it's growing trend to create renewable ancillary revenue streams via solar and wind power is why this utility is at the top of my list.

Click to enlarge
Renewable Focus
Given the strong trend the U.S. has developed to move away from coal-powered electricity generation and towards more renewable sources, Duke Energy needs to be able to take advantage. Right now, only 5% of revenues come from solar and natural gas. Acquiring natural gas assets in this depressed price environment is arguably a smart decision for the long-term when prices rebalance and the industry becomes stable. Thus, Duke has set a goal for itself to have 18% of total revenue driven by solar assets by 2040. The company plans to invest $3 billion in renewable energy over the next five years, showing that it has its focus aligned with shareholders.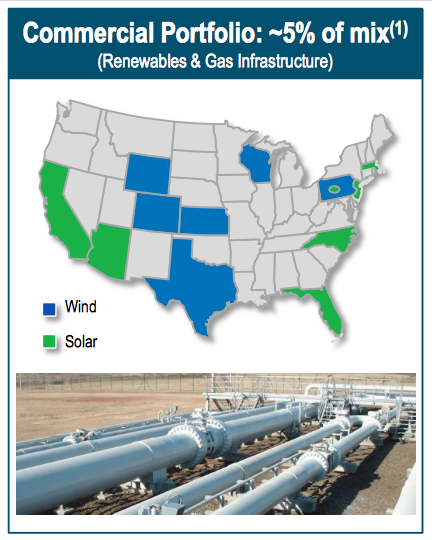 Source: Investor Presentation
Naturally, this seems very far off, but nonetheless it is a step in the right direction. The firm has seen notable margin contraction in the last three years, but is looking to solar farm opportunities to help prop those margins back up. For example, Duke is about to begin construction on a 17 MW solar farm in Indiana at a naval base, likely to be completed by the end of 2016. There's also the 13 MW solar farm in eastern North Carolina, which began operating in December. As a larger total, the company already has 300 MW of commercial wind and solar power online. Additionally, the company has the Los Vientos VI wind side, a 200 MW monster project, that is coming online this year to help boost revenue.
Perhaps one of the most notable steps towards creating a cleaner power grid is Duke's acquisition of Piedmont Natural Gas for $4.9 billion in cash on October 26. I don't believe this is the last natural gas acquisition that we'll see from Duke in the near term, as it is an excellent way to modernize their assets as they attempt to keep up with the changing regulatory environment of electricity generation. While I've seen a lot of criticism for this acquisition given the current state of energy prices, we have to think about what point in the market cycle is buying these assets at. Natural gas is at multi-year lows and by Duke gaining natural gas infrastructure, they're essentially purchasing high quality assets for the LT at the bottom of the market. Furthermore, Piedmont's ROE range is 10-10.2% and has investment pipeline growth of 9%.
In reference to the coal ash cleanups, these regulatory headwinds will be in the news for another decade or so as Duke pays fines to cleanup what it must. It is estimated that all of the coal ash will be cleaned up by 2030. The company has already paid over $102 million in fines, and there are likely more expenses ahead over the coming years, for which Duke will need to offset.
Now it's a safe assumption that because of weak energy prices that utility companies like Duke are going to continue to provide less than ideal returns on the market. Yet, if the broader market contracts, in any manner like what we saw in the first four days of trading this year, then income investors will flock to Duke. That would be an excellent occurrence especially since Duke has no plans on "maturing" any time soon. In fact, they've established a plan for capital investments of $20 billion over the next four years to boost EPS, as mentioned above with their renewable energy focus.
Another area to keep an eye on is Brazil. While the company only derives a small amount of overall revenue from the country, it still generates 2,075 MW there. Brazil is Duke's largest international market and this emerging market economy has faced significant troubles in the last couple of years, indicated below by the 5Y Ibovespa. The stronger dollar continues to work against Duke in terms of its emerging market revenues, especially given Brazil's high state of political risk and reduced hydroelectricity demand.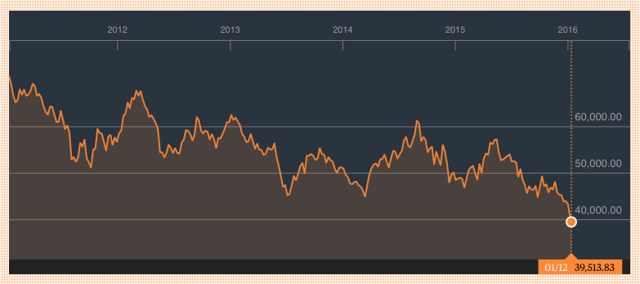 Click to enlarge
Source: Bloomberg
Is Duke Undervalued?
In narrowing down a comparable universe to try and see if Duke is undervalued, we have Southern Company (NYSE:SO), American Electric Power (NYSE:AEP), and CenterPoint Energy (NYSE:CNP).
| | | | | |
| --- | --- | --- | --- | --- |
| | Duke | Southern | American | CenterPoint |
| P/E | 20.42 | 17.66 | 16.10 | N/A |
| EV/EBITDA | 10.60 | 9.79 | 9.51 | 8.06 |
| P/B | 1.44 | 2.24 | 1.77 | 2.22 |
| P/S | 2.47 | 2.40 | 1.75 | 1.10 |
| Yield | 4.63% | 4.67% | 3.85% | 5.72% |
The yield is really something worth considering. While Southern has a slight, slight advantage on them in overall yield, the main difference between Duke and southern is the price to book. On that front, Duke looks far more undervalued. American Energy is nearly a full percentage point lower in terms of yield than both Duke and Southern. All three of those utilities at least have positive earnings TTM, where as CenterPoint doesn't. Now, the advantage to that stock is their revenue composition is slightly different as well as they have a over a percentage point higher in on the yield, but you're dealing with less stable company than Duke. As a sidebar, Duke has paid a quarterly dividend for the past 89 years, now on a growth rate of 4%, which was recently doubled, and a payout ratio of 71.7%.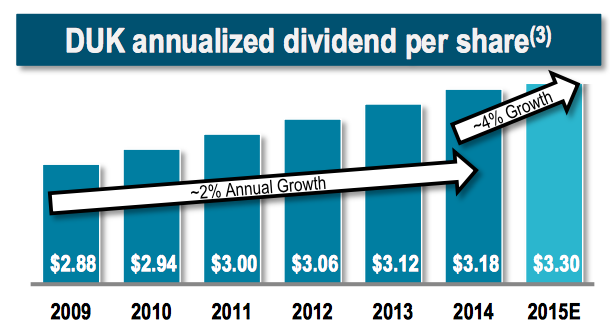 Source: Investor Presentation
Furthermore, if you compare the yield on Duke to Utilities Select Sector SPDR ETF (NYSEARCA:XLU), the latter only has a yield of 3.67. Duke is nearly a full percentage point higher. It's also worth noting that the current average yield for utility stock is 3.70%.
When Should You Go Long?
If you take a look at the below chart showing the last six months of trading, you'll immediately notice the stress that has been put on DUK shares. It often fluctuates in between its 50 and 200 DMA and the runs are largely unpredictable. Duke declined 15.06% in 2015 and has begun 2016 on a volatile run, but fortunately has not lost all its marbles like some other equities, namely those in the energy sector. If Duke can gain stability to its equity, this will be an excellent stock to drip.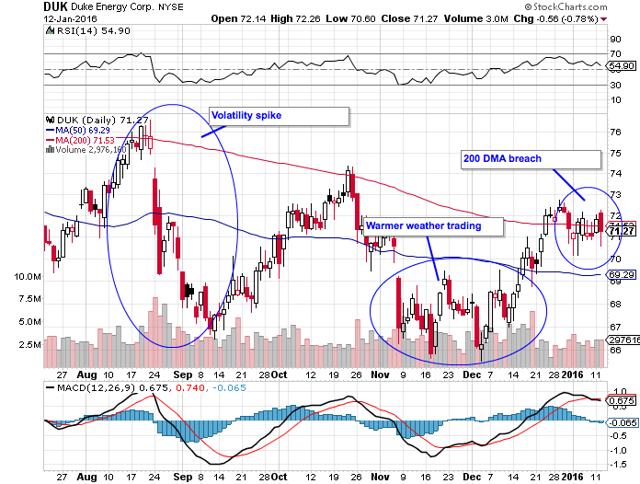 Click to enlarge
Source: StockCharts
Furthermore, we have duke against its comparable universe and XLU. Notice that Duke did outpace the higher yielding CenterPoint, but ultimately fell short of the rest of the comparable universe. Much of this has to do with the company's leverage as well as what I believe to be the pressure added on by the negative headlines from the coal ash cleanup. If anything, the 15% dip in 2015 creates a slightly more attractive risk/reward scenario and with a strong dividend growth rate, the stock becomes immediately compelling.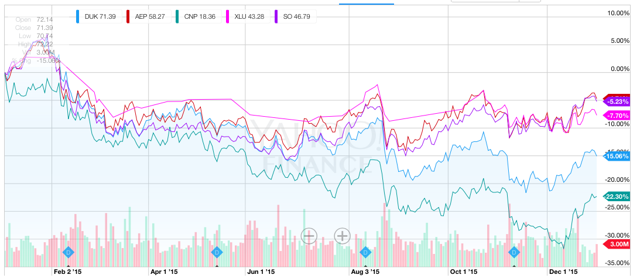 Click to enlarge
Source: Yahoo! Finance
Conclusion
Duke Energy is an excellent current income stock. It's competitive on a valuation front, offers a higher yield than the average utility stock, and has a growth focus on renewable energy. Furthermore, Duke received an upgrade from Bank of America Merrill Lynch from underperform to neutral on Tuesday morning. If the analyst community can hop on board, we'll likely see aggravated increases in the price of the equity. Even so, BAML is a bit more cautious than I am.
Disclosure: I am/we are long DUK.
I wrote this article myself, and it expresses my own opinions. I am not receiving compensation for it (other than from Seeking Alpha). I have no business relationship with any company whose stock is mentioned in this article.