For many investors in search of instant diversification, but wanting a more managed or income-specific solution, "Fund of Funds" (FoFs) satisfies a unique niche in the investment industry. Open-end fund companies and ETFs utilize FoFs as a one-stop-shop basket of funds, typically incorporating a variety of equity strategies, managers, and strategic styles under one banner. Sometimes a fund shop might advertise a FoF strategic grouping with adjectival titling such as "aggressive," "moderate," or "conservative."
While I would say I'm not generally a fan of FoFs for the more sophisticated investor, there are certainly cases where the right FoF might make sense for some targeted exposure.
Such is probably the case in the closed-end fund, or CEF, arena. Since CEF investors may not be likely to own a huge selection of funds, nor have sizeable overall allocation to the space, a simplistic, one-stop shop might be an appropriate consideration. Further, since CEFs are managed primarily as an elevated income tool with typically better-than-average risk involved, ample or above-average diversification may be generally warranted.
Still, there are a lot of downsides involved in owning a CEF FoF, including:
Double layering of fees (inherited + FoF mgmt.)
Overdiversification or inappropriate underlying allocation
Indeterminate tax consequence
General risks of a CEF
Poor performance
The Four Contenders
For investors seeking this one-stop CEF solution, I am aware of four options. Two are ETFs which trade around their NAV, one is a CEF, and another is a 2X leveraged ETN.
1. PowerShares CEF Income Composite Portfolio ETF (NYSEARCA:PCEF): Containing over 100 CEFs, PCEF is based on the 145 CEF (as of 1/2016) S-Network CEF Index. Rules based, the index is constituted by about 50% investment-grade credit, with the rest split between high-yield bonds and option income. Trailing 12-month yield was about 9.4 percent.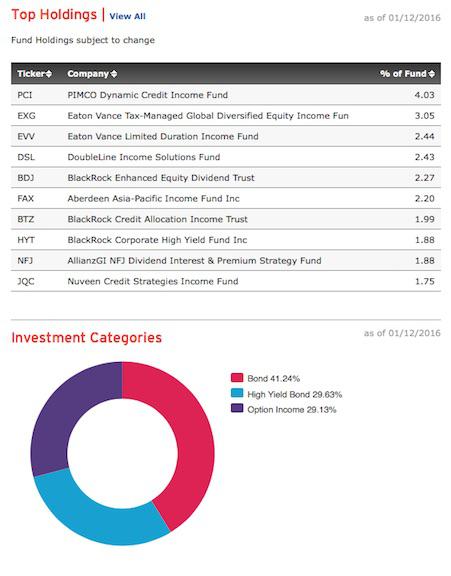 Source: Invesco.com
2. YieldShares High Income ETF (NYSEARCA:YYY): Like PCEF, YYY is also an ETF, but is composed of only 30 CEFs in the ISE High Income™ Index. Also like PCEF, YYY charges a 50 basis point annual run rate management fee in addition to costs related to its underlying holdings. The fund's current allocation is about 68/32 bonds to stock-related CEFs. It has been paying 16 cents a month to investors, which equals about an 11 percent yield at current market.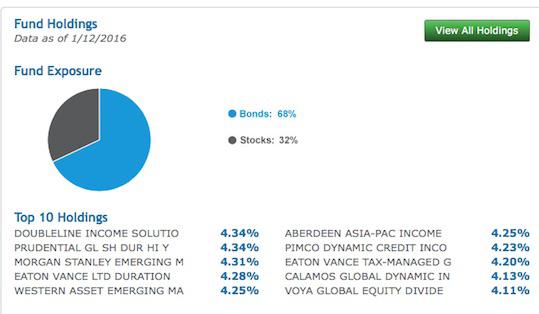 Source: Yieldshares.com
3. UBS ETRACS Monthly Pay 2xLeveraged Closed-End Fund ETN (NYSEARCA:CEFL): Tracking off the same index as YYY, CEFL presumably will pay out double the yield of the non-leveraged index. Structured as an ETN however, any income paid to investors will be generally realized as debt interest. In 2015, the note paid investors $3.81 in interest, representing a TTM yield of a whopping 27 percent. The note charges 50 basis points of tracking fee and matures on December 10 of 2043.
Holdings should mimic YYY, although may not be exact in size.
4. Cohen & Steers Closed-End Opportunity Fund (NYSE:FOF): This fund is the one true "closed-end fund of closed-funds" that investors can access. It is also a fund that is actively managed "non-index style." Recent data distributed by C&S indicates the fund holds 84 CEFs. FOF charges nearly double the fee, 95 basis points, compared to the other three. Trading at an 11% discount to NAV, FOF yields nearly 10%, paying out on a quarterly basis. Composition wise, FOF is clearly a differentiator compared to the others in that it maintains much more equity exposure. While C&S does not distinctly publish the precise number, it appears to about 65/35 stock to bond.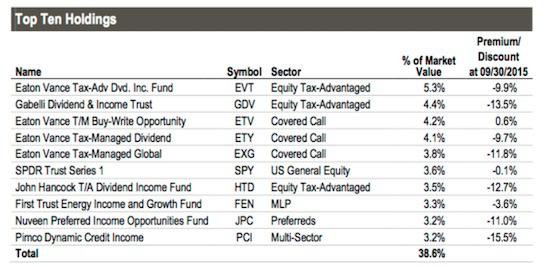 Source: Cohenandsteers.com
Past Total Return Performance: None Too Impressive
On a historical performance level, none of the four can brag about much in terms of total return. The index that YYY and CEFL track has only been around for a couple of years and has done quite poorly. Obviously, with its added leverage, CEFL's price has suffered more than YYY's, particularly last year, as a result. Taking into account the robust underlying yields, however, since inception in 6/2012, YYY has managed a negligible positive total return while CEFL, around since December of 2013, is underwater by about 7.5 percent.**
There's a bit more of a track record with PCEF and FOF to go on, with mixed results. In six years of operation, PCEF's price has deteriorated from $25 to $20.25 today, and FOF's, which has been around nearly a decade, has slumped from $20 to $10.50. PCEF has managed about 4% return per year with dividends making up for the lost NAV. In FOF's case returns have been basically flat.**
**Total returns calculated without reinvesting dividends.
The Portfolios
If you consider that CEFs hold several dozen securities at minimum, reason would dictate that it probably doesn't take a portfolio of too many CEFs to achieve what most would consider "adequate" diversification. Even if one becomes more liberal in security selection, it might be a bit hard to defend utilization of several dozen pooled entities, even if it constituted the vast majority of one's portfolio.
So, when we look at these FoFs, we're looking at owning minimally 30 underlying CEFs in the case of YYY/CEFL, and over a 100 if we own PCEF. FOF sits somewhere in between, but for the honor of owning it, Cohen & Steers charges you double. While investors generally pick CEFs by nature of an expected forward income stream, NAV/total return performance and fees should still be a peripheral consideration.
In terms of overall allocation, there is clear differentiation towards FOF, which skews its portfolio towards equities. It also appears to be the only FoF that invests in both taxable and municipal debt, a somewhat unusual attribute. However, as we've seen during its nearly decade long existence, the fund has shown no propensity for generating total return alpha.
The remaining three should probably be mainly seen as leveraged bond funds that haven't held much muster over the near term. If the Fed's anticipated rate raise gains traction, not something I actually expect to happen this year, a leveraged bond fund may be the last place you'll want to be if you have any bent towards capital preservation.
Conclusion
Each of these four FoFs brings something unique to the table, however, poor performance, over diversification, income-eating fees, and lack of forward outperformance clarity should dissuade investors from making substantial commitments to any one of them in my opinion.
In my view, an optimal CEF FoF portfolio, whether of an indexed or managed variety, would probably be comprised of no more than 20 funds, preferably less, with the stacked management fee not exceeding 25 to 35 basis points. Unfortunately, the likelihood of something like that being created is merely idealistic and probably not realistic in nature.
FOF, given its non-index-related charter and stock skewed portfolio, would seem to be the best positioned of the bunch to deliver a combination of high income and potentially robust total return. However, with an 80 holding, unusually diversified portfolio, its appeal to a specific investor contingent and total return potential both appear to be limited. Management has clearly not shown value or justification for its fee. However, if a gun were stuck to my head, it would probably be my choice.
PCEF seems to have been a popular choice amongst the retail investor crowd, but its performance certainly hasn't made anyone's head spin. The fund owns about 20% of all available CEFs, nominally speaking, which brings into question the validity and discernment of the underlying index.
Despite the diversification element that these FoFs generally afford the individual investor, the better move may be to save the additional management fee and build your own basket of CEFs. Given the lackluster performance of what's currently out there, the odds of beating any of these FoFs may better than what you think, certainly better than the odds of winning Powerball!
Disclosure: I/we have no positions in any stocks mentioned, and no plans to initiate any positions within the next 72 hours.
I wrote this article myself, and it expresses my own opinions. I am not receiving compensation for it (other than from Seeking Alpha). I have no business relationship with any company whose stock is mentioned in this article.
Additional disclosure: Disclaimer: The above should not be considered or construed as individualized or specific investment advice. Do your own research and consult a professional, if necessary, before making investment decisions.