On December 31st, Scorpio Bulkers (NYSE:SALT) conducted a reverse stock split of 1 for 12 shares in response to listing requirements for the NYSE. When companies fall below the exchange minimum price, they will many times turn to a reverse stock split in order to avoid the looming delisting. It is almost universally a negative signal in the short term, although some companies are able to recover in the long term.
For SALT, the company initially saw a little bump after the reverse split, but since then has fallen over 60% in two weeks to the current $3.74.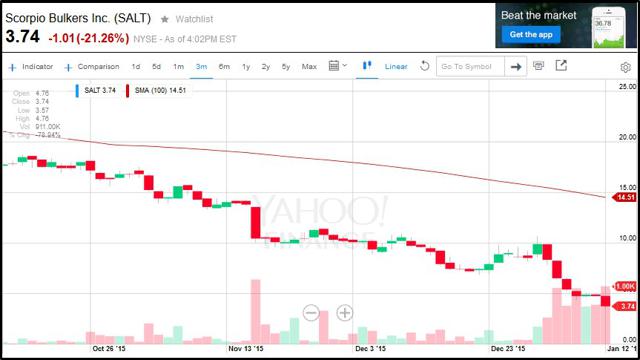 Click to enlarge
In reality, the company is suffering with the rest of the industry and the fall of the Baltic Dry Index, fueled by the fall in demand from Chinese ore and an oversupply of Dry Bulk ships. The BDI set another new low after reaching multi-year lows.

Click to enlarge
Add on the recent downgrading by Stifel and at a minimum, investors should avoid SALT, if not consider shorting the company. Stifel noted the company has a strong, young, and modern fleet, but the real problems are with the industry and not necessarily the company.
On the balance sheet, the company had $274M in cash at the end of the last quarter, but has since sold 11 ships at almost $400M.
For those that believe in the mantra of "buy when others are fearful" or "buy low and sell high," it might be tempting to get in at these levels. Most industry analysts, however, agree that this is likely not the bottom, and the industry still has ways to go before the oversupply of ships is in balance with the demand for dry shipping cargo. Meaning, prices are likely to still go down further for the industry.
Jonathan Chappell of Evercore ISI warned:
The dry bulk shipping market is experiencing ongoing unprecedented weakness in rates and asset values, and although we understand the desire to be contrarian or to find the diamond in the rough we believe it is just too early to move from the sidelines (or short positions) in an industry with likely further deterioration in fundamentals over the next 12 months, which could begin to result in liquidity squeezes and covenant breaches.
Conclusion
While I'm bearish on the industry, SALT was, and may still be for some, a short option. Reverse stock splits are almost universally a negative signal, and in the short term, almost all companies conducting a reverse split fall.
Disclosure: I/we have no positions in any stocks mentioned, and no plans to initiate any positions within the next 72 hours.
I wrote this article myself, and it expresses my own opinions. I am not receiving compensation for it (other than from Seeking Alpha). I have no business relationship with any company whose stock is mentioned in this article.