Every analysis that I've done lately on my DGI portfolio points to the fact that, in order to meet our investing objectives, I need to fortify our portfolio's foundation of core stocks.
In my most recent article, How to Build a Dividend House: Which Stocks Go Where?, I observed that our Dividend House portfolio's core holdings drive only 48.6% of our portfolio's total dividend income. This is shy of our goal to have >50% of our portfolio's dividend income generated by our core holdings.
Furthermore, I noted that only 48.8% of our portfolio's total dividend income comes from stocks in the defensive sectors (i.e., consumer staples + utilities + telecom + healthcare). Here again, our target is for >50% of income to be generated from defensive sectors.
As a result, I am launching "Project: Shore Up the Foundation!" to ensure I give maniacal focus to buttressing our portfolio's foundation by focusing my investing in core stocks, primarily in the defensive sectors.
Which Stocks Should I Consider Adding To?
So, which stocks should I focus on adding to and at what prices? Let's start with a picture of our current portfolio.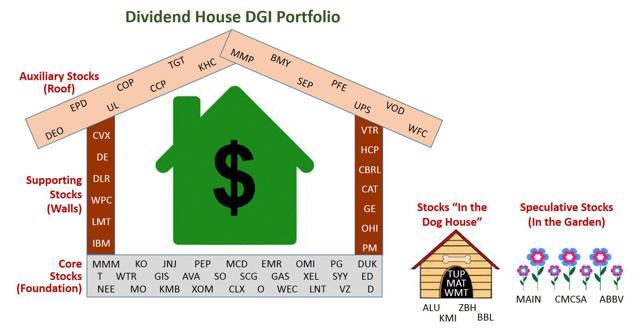 Click to enlarge
As shown above, we have 29 core stocks in our foundation. In fact, some could argue that our foundation alone could comprise a reasonable DGI portfolio by itself! Even so, our comprehensive DGI portfolio is comprised of 66 stocks. In our foundation, we target a full position in an individual core stock to generate between 2.5% and 4% of our portfolio's total income.
In other words, ideally, I'd like to have each stock in my foundation driving at least 2.5% of my portfolio's dividend income. Let's see which stocks are there already and which holdings need some reinforcement!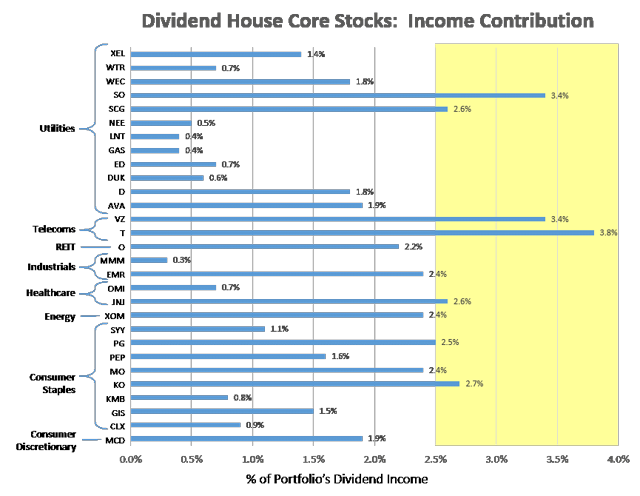 Click to enlarge
As the bar chart above illustrates, only 7 of my 29 core stocks are driving at least 2.5% of my portfolio's income. They are: Southern Company (NYSE:SO), SCANA (NYSE:SCG), Verizon (NYSE:VZ), AT&T (NYSE:T), Johnson & Johnson (NYSE:JNJ), Procter & Gamble (NYSE:PG), and Coca-Cola (NYSE:KO). None of these holdings exceeds the 4% maximum income target that I have set for foundational stocks. As a result, all of my core holdings are fair game in terms of adding to positions -- although I'd rather add to stocks that haven't yet reached 2.5%.
Where is the Price Right?
Which of my core holdings is reasonably priced today? The tables below show each core holding and various ways of looking at the stock's fair value.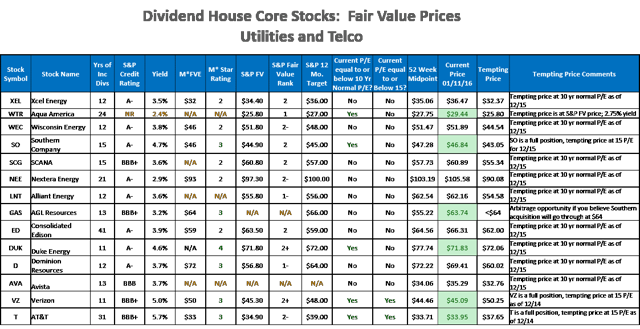 Click to enlarge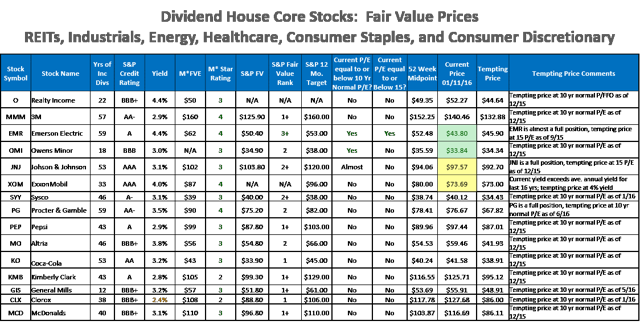 Click to enlarge
I have highlighted the current prices of eight of our core holdings in green. These are stocks that I consider to be at or below fair value today. They are Aqua America (NYSE:WTR), Southern Company, AGL Resources (NYSE:GAS), Duke Energy (NYSE:DUK), Verizon, AT&T , Emerson Electric (NYSE:EMR) and Owens & Minor (NYSE:OMI). I would consider adding any of these stocks at current prices to my portfolio today.
I've included a FastGraphs slide of Duke Energy demonstrating its current attractive valuation.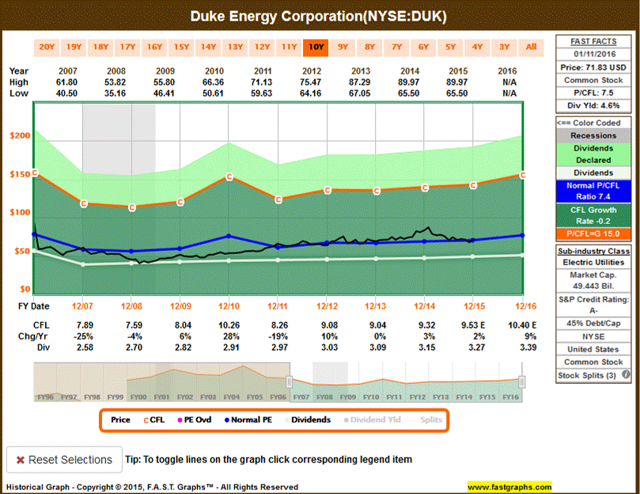 Click to enlarge
In addition, two other stocks are reasonable values, trading just at or slightly above fair value: Johnson & Johnson and Exxon Mobil (NYSE:XOM). These stocks (current prices highlighted in yellow) are attractive particularly if someone is looking to initiate a position.
Johnson & Johnson is trading just above its 10-year normal P/E ratio of 15.5. If I didn't already hold a full position in JNJ, I'd be tempted to add here.
Exxon Mobil's current dividend yield is exceeding its average annual dividend yield for each of the last 16 years. Due to the fact that oil prices seem to shrink to new lows every day, XOM is now yielding 4%. I believe XOM is a long-term energy sector survivor. So, for me, XOM's current price is quite tempting!
Conclusion
I have decided to make it my #1 priority to build our portfolio's holdings so that core/foundational positions generate more than 50% of our portfolio's total dividend income. My mission -- which I've dubbed "Project: Shore Up the Foundation!" -- is underway!
While I've been writing this article, I have purchased add-ons to some of our foundational stocks: Duke Energy, 3M (NYSE:MMM), Alliant Energy (NYSE:LNT), NextEra Energy (NYSE:NEE), Coca-Cola, and Johnson & Johnson. Even so, we are still shy of our >50% targets (although we are inching closer!). Our portfolio's core holdings now drive 49.3% of our total dividend income, while income generated from the defensive sectors comprises 48.9% of our portfolio's total dividend income.
Since I am still short of my goals, I'm glad I have a roadmap for future purchases.
I hope this article helps you crystallize your thinking about the stocks you want to purchase next for your DGI portfolio. Which stocks are in your sights?
Disclosure: I am/we are long ABBV, AVA, BBL, BMY, CAT, CBRL, CCP, CLX, CMCSA, COP, CVX, D, DE, DEO, DLR, DUK, ED, EMR, EPD, GAS, GE, GIS, HCP, IBM, JNJ, KHC, KMB, KMI, KO, LMT, LNT, MAIN, MAT, MCD, MMM, MMP, MO, NEE, NOK, O, OHI, OMI, PEP, PFE, PG, PM, SCG, SEP, SO, SYY, T, TGT, TUP, UL, UPS, VOD, VTR, VZ, WEC, WFC, WMT, WPC, WTR, XEL, XOM, ZMH.
I wrote this article myself, and it expresses my own opinions. I am not receiving compensation for it (other than from Seeking Alpha). I have no business relationship with any company whose stock is mentioned in this article.