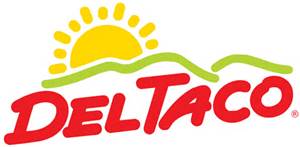 Back in August I posted a piece about fast casual chain Del Taco (NASDAQ:TACO) in which I stated that it was just another overpriced restaurant chain at $13. For much of 2015 the restaurant group as a whole was very hot and overvalued and TACO certainly fit that profile. But with the stock hitting single digits in recent days, is it time to throw in the bearish towel and flip bullish?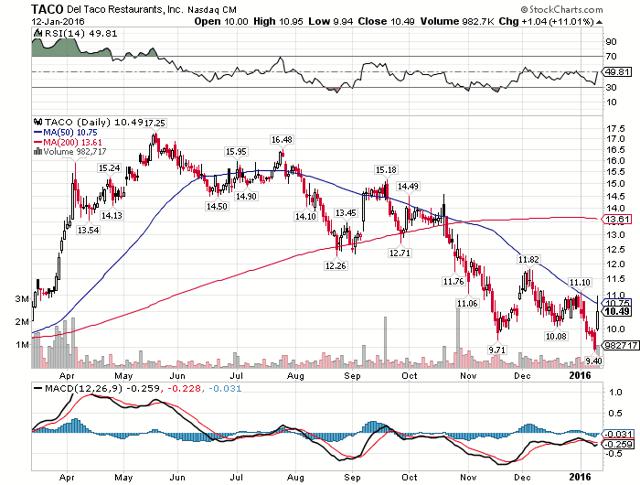 Click to enlarge
My issue with TACO back in August was that its growth profile, debt load and margins were nowhere near enough to justify the company's then-current forward PE of 24. TACO was being priced like it was growing into the stratosphere when nothing of the sort is actually occurring and we saw more of that in the company's freshly issued guidance.
TACO set guidance for revenue to grow about 5% in 2016 against a slightly higher growth level in 2015. This should come as no surprise to anyone as it doesn't take a PhD to figure out that no chain can grow quickly forever. TACO is a fairly mature chain with nearly 600 stores so expecting double digit revenue growth each year is unrealistic. Indeed, its guidance for 2016 comp sales of just 2.5% to 4.5% is proof enough of that. There is nothing wrong with TACO's revenue growth but at previous valuations, it simply wasn't enough to keep pace. Remember that investing is about expectations, not absolute levels and TACO's expectations were out of line for much of 2015.
TACO's guidance amounts to basically consensus as analysts had the company's revenue within a percent or two of the midpoint of TACO's new guidance. What remains to be seen is if TACO is low-balling guidance now in order to beat it or if that is legitimately what the company thinks it will do in 2016. We don't have enough history for TACO as a public company to have some kind of precedence but we will find out soon enough.
TACO still has the same problems with margins and debt that it had when I profiled the stock in August and they are significant problems indeed. This is my biggest fear with TACO because I know it will grow at mid-single digit rates on the top line but can it produce enough margin to eventually see sustained profitability? That is a huge 'if' at this point and while sustained top line growth will certainly help, will it be enough?
If the company's Q3 was any indication TACO is going to be FCF negative for some time. It forecast $36 to $41 million in capex for 2016 and that is a huge hurdle for operating cash flows to crest. I wouldn't be surprised to see TACO post breakeven or negative FCF for 2016 as it continues to invest in growth and that means that debt repayments will be very difficult to come by. That also means that TACO's operating margins will be significantly impaired for the foreseeable future as TACO simply cannot grow its way out from under its crippling debt load.
I'll admit that at less than 18 times forward earnings, I'm intrigued by TACO's prospects. However, many questions remain and chief among them is the company's debt. How will TACO grow enough to get out of debt eventually? It cannot produce sustained profit growth with the debt it currently has because the headwind to operating margins is simply too high. Despite this, sentiment on the name seems to have turned positive with what I consider consensus guidance for 2016 and that is important. The bias for TACO is higher from here barring some unforeseen disaster and at $10, I think it offers some long term value. Therefore, I'm flipping from bearish to bullish here as I think sentiment has turned and TACO is finally cheap enough that it has a reasonable valuation.
Disclosure: I/we have no positions in any stocks mentioned, but may initiate a long position in TACO over the next 72 hours.
I wrote this article myself, and it expresses my own opinions. I am not receiving compensation for it (other than from Seeking Alpha). I have no business relationship with any company whose stock is mentioned in this article.