The feeling of fear is palpable at this point. I do not believe that there is anyone who can ignore the uneasy feeling in the pit of their stomach, especially those who are retired, or with a short-term horizon until retirement.
As of this writing, the market is down roughly 340 points on the Dow and about 40 points on the S&P 500. This is a correction, period, and there are a few professionals out there who are calling for a REAL collapse! I have read up to a 75% drop in the S&P 500, but nobody truly knows what will happen.
What Should An Investor Do?
First of all, as I have often said, if you have no stomach for a loss of portfolio value at all, then you should not be investing. I have also urged folks to make certain they have enough cash for those periods of time when the going gets tough. I think 5 years of emergency funds to "get through" a brutal period is a fair amount and while some may disagree, I think today and this year, many have been wishing they had more cash than they do no matter how much they already have.
As that old saying goes "these are the times that test men's souls", it feels pretty fitting to me right now I can tell you that! So what should I/we do?
There are no one size fits all answers unfortunately and each investor MUST take a serious look at themselves and know exactly why they are invested and if they can handle a severe downturn such as the one I FEEL is looming right now.
Here is my own checklist:
Do I have enough cash?
Can I stomach a paper loss of portfolio value that at my age may never recover?
Are the dividends I am receiving safe, and reliable from my own research?
Am I invested in quality companies that can continue to make money and pay dividends?
Do I need to SELL any underlying asset to sleep better at night and to preserve needed capital?
Have I misled myself into believing that I can withstand a severe decline?
Do I know why I am invested and am I sure about it?
I can go on, but I believe you get the message. This is a reality check folks, and we all need to face it. There is not a single person on the planet who can tell you what to do and what is right for YOU. Only YOU can come to that decision.
OK, So What About The Team Alpha Retirement Portfolio Model
The last I checked, there have been no announcements that any company in the portfolio is ending its dividend and I have no idea what tomorrow will bring. Ford (NYSE:F) announced a special dividend for 2016 but they also announced that the dividend will not be increased.
At any moment, any company can decide to stop or to cut its dividends, period. The better the company, the less likely that may happen, but there has never been and never will be any guarantees.
Your due diligence and research have led you to invest in stocks that you felt comfortable buying. Do you still feel comfort in holding, no matter how queasy you might get?
The TARP model portfolio is not bulletproof even if it does offer a lower risk level, but a lower risk level for who? If you are not comfortable owning shares within this portfolio, make a decision for your own well being. As far as for educational purposes, the model will remain intact, and ride this storm out and everyone will see what happens on the other side.
As of now, the portfolio consists of the following stocks: Exxon Mobil (NYSE:XOM), Johnson & Johnson (NYSE:JNJ), AT&T (NYSE:T), Franklin Street Properties (NYSEMKT:FSP), Coca-Cola (NYSE:KO), Omega Healthcare (NYSE:OHI), Procter & Gamble (NYSE:PG), Realty Income (NYSE:O), General Motors (NYSE:GM), Ford (NYSE:F), Microsoft (NASDAQ:MSFT), Consolidated Edison (NYSE:ED), Altria (NYSE:MO), Main Street Capital (NYSE:MAIN), PetMed Express (NASDAQ:PETS), BGC Partners (NASDAQ:BGCP) , Ohio Valley Banc Corp. (NASDAQ:OVBC), HCP, Inc. (NYSE:HCP), Old Republic International Corp. (NYSE:ORI), Starwood Property Trust (NYSE:STWD), Mattel (NASDAQ:MAT) and Annaly Capital (NYSE:NLY).
I do not believe anything has changed from this chart either: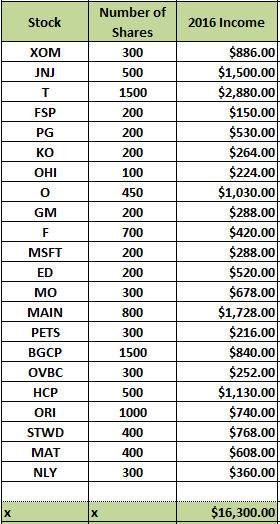 I will NOT be making any changes to this portfolio and all of us can watch what occurs. My own personal accounts will be reviewed and the questions I raise will be answered for myself and I suggest you do the same.
The BIG question is: What will YOU do?
Why "Follow" Me?
The main reason for a subscriber to "Follow" me, especially for the model portfolios (TARP or otherwise), is to glean some knowledge to become a better investor and not simply place bets.
Money management is every bit as important as any other aspect of investing, and by following a portfolio and the actions taken, you can gain some insight into a somewhat higher level of investing acumen. There are no requirements, and this is not "rocket science" -- it is simply a powerful way for you to put the money you have worked hard for to work even harder for you.
My message will be consistent, and my hope by doing this is to share my own experiences, illustrated in the model portfolios I build exclusively for Seeking Alpha.
Knowledge is power, and many folks shy away from the investing world because that very world makes it more confusing each and every day in an effort to sell you something: stock picks, technical strategies, books, videos, subscriptions with "secret ideas," gadgets, and even snake oil.
My promise to you is that my work here will remain free to all of my followers, with the hope of giving to you some of the things that took years for me to learn myself. That being said, let me reach out to you with my usual ending:
**One final note: The only favor I ask is that you click the "Follow" button so I can grow my Seeking Alpha friendships. That is my personal blessing in doing this, and how I can offer my experiences to as many regular folks as possible, who might not otherwise receive it.
Plus, it is free (and will continue to be) and does not cost one penny for anyone who reads me.
Disclaimer: The opinions and the strategies of the author are not intended to ever be a recommendation to buy or sell a security. The strategy the author uses has worked for him and it is for you to decide if it could benefit your financial future. Please remember to do your own research and know your risk tolerance.
Disclosure: I am/we are long BGCP,ED, F, FSP,GM, HCP, JNJ, KO, MAIN, MAT, MO MSFT, NLY, O, OHI, ORI, OVBC, PETS, PG, STWD, T, XOM.
I wrote this article myself, and it expresses my own opinions. I am not receiving compensation for it (other than from Seeking Alpha). I have no business relationship with any company whose stock is mentioned in this article.
Additional disclosure: Changes within my personal portfolios are being evaluated and given my personal circumstance, I may need to raise cash. The stocks in the model portfolio will not be touched unless there are fundamental changes in a company or an issue with the dividends.
Editor's Note: This article covers one or more stocks trading at less than $1 per share and/or with less than a $100 million market cap. Please be aware of the risks associated with these stocks.