Prospect Capital (NASDAQ:PSEC) just announced that its portfolio company American Property REIT Corp. ("APRC") has sold the Vista Palma Sola property in Bradenton, Florida for $43.0 million. The return on this investment was fairly high at a 35% cash realized IRR and netting a 2.1x cash on cash return.
Keep in mind that Prospect Capital created APRC specifically to invest in multi-family residential properties and hold these investments in a tax-advantaged REIT structure. As of September 30, 2015, the fair value of this investment was ~$120 million.
According to SEC filings, APRC purchased Vista back on April 30, 2013, for $27 million. In other words, the sale price was ~60% higher than the original purchase price. This was the second largest property in its portfolio, representing ~12% of APRC's total investments.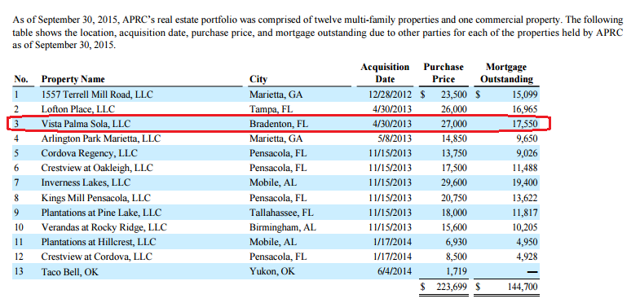 Click to enlarge
If other properties held by APRC can be sold or divested with similarly large premiums, Prospect Capital may need to adjust higher the fair value of this investment. Currently, the $120 million fair value estimate seems to include just a ~20% premium for the properties after adjusting for the mortgage debt. Assuming a 25-30% premium, this could be as much as a $0.04 to $0.08 boost to NAV per share.
Real estate investments have provided attractive returns
That Prospect Capital's multi-family real estate investments are paying off should not come as much surprise. The company has invested as much as 10% of its assets into real estate, with much of this coming in 2012 and 2013. As anyone who has been looking for a house in recent months can tell you, rents have increased considerably since then. These assets have likely appreciated, while new investments will probably not get close to the IRRs attained back then.
Prospect Capital's real estate portfolio is one of the proposed candidates for the pure-play spin-offs. Unlike the CLO business, this unit should command quite a bit of investor interest and will likely be sold at NAV.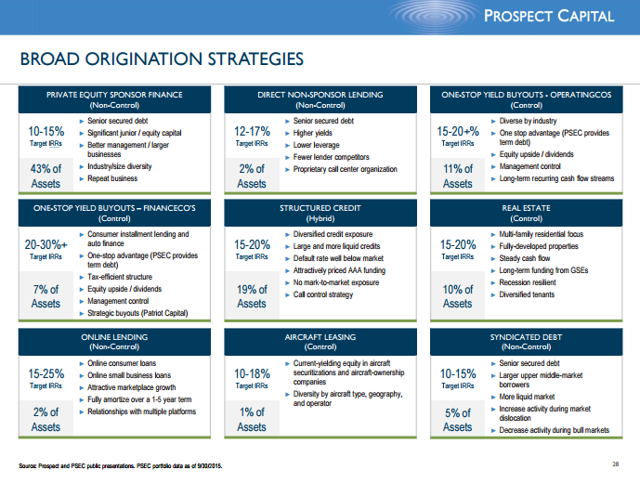 Click to enlarge
Conclusion
While Prospect Capital's fundamentals have hardly changed in recent weeks, market sentiment surrounding anything high yield has soured considerably. Prospect Capital is down 13% YTD, though this performance is not out of line with other BDCs. Similar declines also have been seen in closed-end bond funds, mREITs and other leveraged financial names.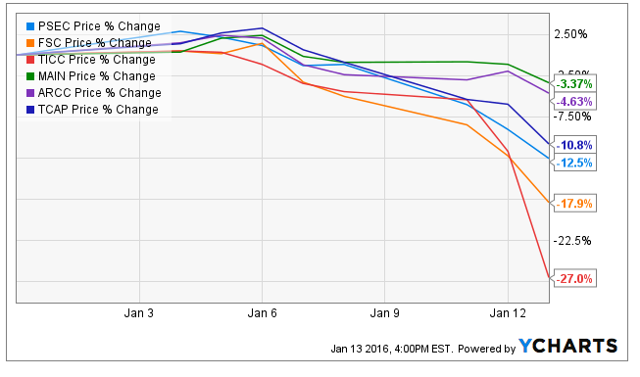 Click to enlarge
As for the reason for this sell-off, falling oil prices explain a large part of the drop - Prospect Capital has been following oil prices lower.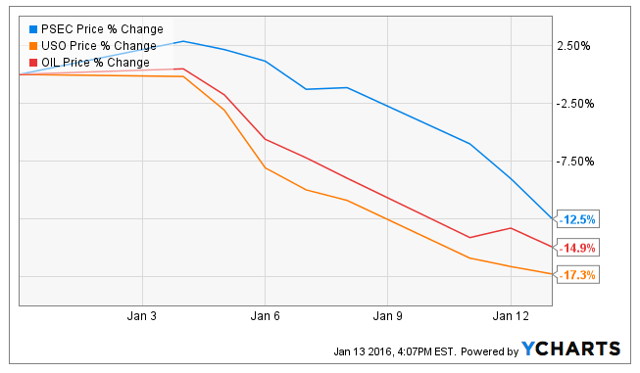 Click to enlarge
Though, just 3.7% of Prospect Capital's $6.57 billion in assets is in the energy sector, so ~$200 million. You could write down these investments to zero and Prospect Capital's NAV would only be impacted by 5.5%, or ~$0.56, down to ~$9.61 per share. To put that into context, that is less than half the YTD decline. In other words, it appears the markets are being irrational.
Disclaimer: The opinions in this article are for informational purposes only and should not be construed as a recommendation to buy or sell the stocks mentioned. Please do your own due diligence before making any investment decision.
Disclosure: I am/we are long PSEC.
I wrote this article myself, and it expresses my own opinions. I am not receiving compensation for it (other than from Seeking Alpha). I have no business relationship with any company whose stock is mentioned in this article.