Before AT&T's (NYSE:T) acquisition of DirecTV, there have been numerous rumors about a potential takeover of Vodafone (NASDAQ:VOD). In fact, shortly after Vodafone completed the sale of its Verizon Wireless stake to Verizon (NYSE:VZ) would have been a perfect time for AT&T to move ahead. The "new" Vodafone was cheaper, carried less debt, and had already undergone the separation process from Verizon Wireless. Instead, AT&T decided to buy DirecTV for a transaction volume of $63B, a step which extends its product offerings and international customer base. Later in October 2014, AT&T announced the acquisition of the Mexican Iusacell, followed by Nextel Mexico, to expand beyond the US border.
Both moves resemble Vodafone's strategy to expand into faster growing emerging markets and to reduce dependency on mobile communication. Looking more closely, there are more similarities between AT&T and Vodafone, and in some aspects AT&T's situation today reminds me of Vodafone's a few years ago.
Challenging Markets
Competition in wireless telecommunications is tough. Vodafone knows this situation better than AT&T as it had to cope with extremely challenging markets in Europe for years. This can be attributed to the structure of the European telecommunications market. The deregulation of the industry in the nineties gave numerous players access to markets beyond their borders. A relatively large number of new and already established companies fought for market share and stimulated competition by continuously lowering prices. Customers profited as prices dropped dramatically for more than a decade.
Therefore revenue in the European wireless markets has been stagnating or declining for years despite increasing air-time and data traffic as telecom companies fought for market share. The financial crisis and the downturn in many European economies also had its impact, and it took years until the negative trend slowed down. However, the situation is slowly improving again, and since then one or two years a recovery which is supported by an ongoing industry consolidation and growing consumer confidence can be observed.
In the US, the situation used to be different: AT&T and Verizon as the leading players were able to keep prices high compared to Europe. The underlying market growth and technological advancements, noticeably data traffic helped to grow top and bottom line. This situation has changed somewhat since Sprint (NYSE:S) and T-Mobile (NASDAQ:TMUS) started lowering prices aggressively to acquire new customers, forcing AT&T and Verizon to respond.
Superior Network Quality as a Distinction Factor
Both AT&T and Vodafone are premium providers, and their main differentiation point is the quality of their wireless networks which is undoubtedly superior to those of low price carriers. Particularly network coverage outside larger cities is a distinction factor, and a noticeable number of customers particularly business customers are willing to pay more for this.
In addition to voice communication, data traffic becomes increasingly important. LTE is much more advanced in the US than in Europe - consequently AT&T is one step ahead of Vodafone here. This also applies in terms of network infrastructure spending. AT&T has already upgraded its 4G network in the US, paving the way for the growth in high-speed data traffic, whereas Vodafone is currently increasing LTE coverage in Europe. Vodafone's project "Spring" is a program that aims at improving the wireless network globally, with an emphasis on the European market and includes broad 4G coverage. "Spring" comprises investments of £19B ($30B) within a two-year period until March 2016, an effort which is partly responsible for Vodafone's growing debt.
Setting up and maintaining a mobile network is extremely capital intensive, which is the reason why the barriers for new market entrants are very high. Wireless communications providers have high EBITDA margins and generate huge cash flow, but the business also is highly capital intensive and requires significant investments in the network infrastructure and for licenses. This is primarily true for the technology leaders with the ambition of providing the best network quality.
Geographical Expansion
Europe is the most important market for Vodafone, but the group generates almost one third of its revenue outside the continent. The emerging markets, in Vodafone's case primarily South Africa, India and Turkey, are important growth drivers. Wireless telecommunications play an even more important role in countries with no reliable wireline infrastructure. And an emerging middle class as well as increasing smartphone - penetration will continue to fuel growth for the next few years.
AT&T has only recently started to expand into markets outside the US with the aforementioned acquisitions of DirecTV, Iusacell and Nextel Mexico. This move will create a single North American communication market, including Canada and Mexico. In Latin America, AT&T will primarily build on DirecTV's presence in region, but a future expansion into wireless communication could be the next logical step.
For Vodafone, the geographic diversification pays off very well. Vodafone's service revenue in the AMAP region (Africa, Middle East and Asia Pacific) grows faster, and the margins are higher. Of course, there are certain risks, for example the slowdown in emerging economies and currency devaluation. Nevertheless, in the long run AT&T and Vodafone will benefit from the geographical diversification and the higher underlying growth potential in the emerging markets.
Vodafone is already very well positioned in emerging markets, but AT&T still has to develop and implement a strategy for Mexico. The country is admittedly an attractive market, particularly in light of the changing regulatory environment which requires Carlos Slim's America Movil (NYSE:AMX) to divest assets. Nevertheless, even with Iusatel and Nextel combined, AT&T remains a relatively small player which needs to increase its presence. AT&T will have to make continuous investments in the Mexican infrastructure, and the upcoming deregulation will most likely attract additional players. With DirecTV, AT&T has acquired a promising business in Latin America the company can build on in the future.
Broadening the Offering
Not only geographical expansion can be a solution to find new growth options for wireless companies, but also the expansion into adjacent areas such as broadband internet and TV.
As a response to the stagnating wireless market in Europe, Vodafone has started to expand its product offering toward broadband=based packages in several countries. Under the "Unified Communication" umbrella, it combines high-speed broadband cable TV and internet with wireless and wireline telecommunications. In Germany and Spain Vodafone acquired the cable providers Kabel Deutschland and Ono. These moves can either be seen as a completion of its product offering or it they might be the first steps in a transformation process which could change the company entirely in the long run.
Again, there are parallels to AT&T. The acquisition of DirecTV is intended to grow the group's revenue outside the shrinking wireline and the increasingly competitive wireless segment. It will enable the company to offer new bundles to a broader customer base, offer cross-selling opportunities and help to differentiate the company from the low cost wireless providers.
DirecTV increases AT&T's footprint outside the US, and almost half its customers are located in Latin America and in Mexico. The acquisition of Iusatel and Nextel Mexico are investments in a market which will supposedly grow faster than AT&T's home market. Possibly further acquisitions will follow in Latin America.
I think it is too early to predict how AT&T's and Vodafone's diversification strategy will pay off in the long run. Bundles, cable TV, TV-on-demand and pay TV offer new growth potential and there are synergies, but on the other side, there are already existing players in these markets and more web-based offerings are being developed each day.
Investments, cash flow and Debt
After significant expenditures, both Vodafone and AT&T should see some relief from reduced capital expenditures in the near future. AT&T has already guided toward lower capex in 2016 which will increase the company's free cash flow and raised hopes for higher dividend increases (which have not been fulfilled so far). Vodafone's project "Spring" is expected to be completed by March 2016, reducing the pressure on the company's cash flow.
In terms of cash flow, AT&T is clearly better positioned than Vodafone. Although Vodafone successfully reduced net debt after the sale of the Verizon wireless share, the figure increased again rapidly within the last 18 months. Even without acquisitions, Vodafone's operating cash flow does not cover capex and dividends, hence the net debt position grew. Some relief can be expected when project "Spring" is completed, and to achieve cash-flow neutrality should be the company's first priority.
AT&T's net debt increased after the DirecTV acquisition from $93B to $123B, but the acquired business also adds large cash flows and of course there will be substantial synergies. This situation should enable AT&T to repay debt more easily and reduce gearing to a more comfortable level. In terms of cash flow and debt, AT&T is in a more favorable position than Vodafone today which is one reason why I favor AT&T.
Shareholder Distribution
AT&T and Vodafone offer some of the highest dividend yields among major telecom stocks, 5.7% in AT&T's case and 5.3% for Vodafone. Another thing which both companies have in common is decelerated dividend growth. For AT&T, quarterly raises by just one cent became a habit which corresponds to a dividend growth rate of 2%. After the very recent increase, the quarterly dividend grew from $0.47 to $0.48 which corresponds to $1.92 annually. There has been some speculation about a higher raise, but obviously the balance sheet has priority for AT&T for the time being. But there is hope for accelerated dividend growth, and maybe investors will already be rewarded with more than a penny next year.
Vodafone paid its first dividend in 1999 and has grown it steadily since then. Last fall, it announced a raise of the interim dividend by 2.2%, and I would surely not count on a higher raise for the final payment. These increases are much lower than in past years when the annual dividend grew by around 7%, but that was before the sale of the Verizon Wireless share and the start of project "Spring," not to mention the various acquisitions. I do not expect a higher dividend growth anytime soon. Vodafone needs to do its homework first and work on the cash flow and balance sheet. At present it looks as if the chances for AT&T to return to accelerated dividend growth are higher.
Another major distinction is that AT&T has repurchased shares aggressively in recent years whereas Vodafone did not. Although Vodafone had several share buyback programs which started in 2004, the last repurchase authorization ended in 2013. These buybacks were fueled by excess cash, often from divestitures of minority stakes and from dividends from Verizon Wireless. Within the nine-year period between 2004 and 2013, the group bought back 14 billion ordinary shares.
The better pick
Looking at the 52-week performance, Vodafone is down by 6% and T has not moved at all. When currency fluctuations are eliminated, Vodafone is flat. VOD has reached at 52-week high in spring when the company entered into talks with Liberty Global about a potential asset swap, but lost all gains later in the year. T has shown very low volatility during the year, trading in a narrow 10% corridor.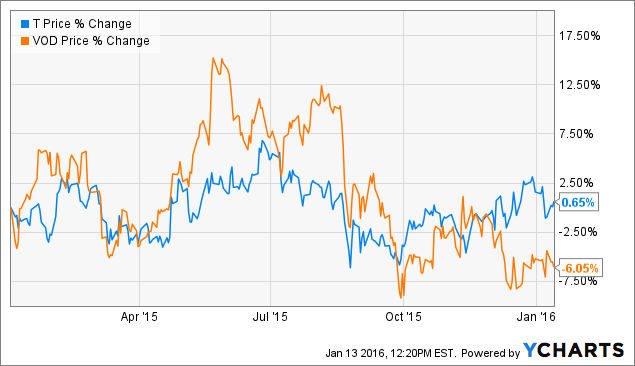 I believe there are good reasons to invest both stocks, particularly today. AT&T and Vodafone are conservative investments with a low beta, not the worst place to be in phases of increased volatility and growing market pessimism. Both dividend yields are and will remain highly attractive, even after the Fed finally made its cosmetic interest rate increase. In an environment of slowing global economic growth, the outlook for the telecom businesses remains much better than in many other industries.
So far, AT&T has been quite successful in fighting back competition in the US and with DirecTV and the geographic expansion to Mexico and Latin America there is additional growth potential. Cash flow generation remains very healthy which should enable the company to reduce its debt load and possibly raise the dividend by more than one cent in the near future.
Some mild tailwinds can be expected for Vodafone on its main market in Europe. Revenue decline is abating, and some countries have already returned to growth. The economic situation in part of the markets which were most severely affected by the financial crisis such as Spain is clearly improving. The emerging markets remain Vodafone's growth driver, and the group seems to be well positioned there for the next few years.
My preference today is AT&T, primarily because of the better cash flow situation, the more promising business outlook and the higher yield. Vodafone has yet to prove that after the completion of project "Spring" and revenues picking up, the operational cash flow will be high enough to cover future capex, licenses and dividend payments.
Conclusion
I am happy to own both AT&T and Vodafone as part of my dividend portfolio and may pick up more shares when prices are low on a regular basis. At the moment, I am more optimistic for AT&T since shares have been neglected for years and I believe that the stock has the potential to outperform in an overall challenging market environment in 2016. On the other side, Vodafone has become cheaper during recent months and is approaching attractive entry points again. Particularly US investors might want to watch Vodafone more closely in order to benefit from opportunities which will possibly be generated by a further strengthening dollar.
Disclaimer: Opinions expressed herein by the author are not an investment recommendation, any material in this article should be considered general information, and not relied on as a formal investment recommendation. Before making any investment decisions, investors should also use other sources of information, draw their own conclusions, and consider seeking advice from a broker or financial advisor.
Disclosure: I am/we are long T, VOD.
I wrote this article myself, and it expresses my own opinions. I am not receiving compensation for it (other than from Seeking Alpha). I have no business relationship with any company whose stock is mentioned in this article.