There is no shortage of articles proposing unbelievable dividend yields as being sustainable. Usually, those involve situations where a company's fundamental position is under threat, and the thesis gyrates around the chance that the deterioration won't be enough to destroy the dividend. High dividend yields are high for a reason. Most often, the reason is that the dividend is at immediate risk.
What I'm going to present in this article is rather different. I'm going to present a situation where there's a dividend yield above 10%, which is sustainable above 10%. Indeed, if the company kept its present dividend policy, its dividend yield could even rise to around 14% (which is near where its present yield stands).
If there's any trouble in this situation, the trouble isn't company-specific. Here we go.
The Company
The company I'm talking about is Mobile TeleSystems (NYSE:MBT). MBT is the leading mobile telecom operator in Russia, with ~38% of the market (by revenues). It trades in the U.S. market through the MBT ADR, whose ratio to the underlying share is 2:1.
Besides being the market leader, MBT has operations in Ukraine and three other smaller countries. But the main reason to hold it is in its Russian operations.
As I explained in my article titled "Still A Fan Of China Mobile" (NYSE:CHL), being the market leader in mobile telephony is very important. It makes for a cost advantage, which in turn tends to reinforce either the market leadership or the leader's margins. Sure, MBT's lead in Russia is not nearly as large as China Telecom's in China, but it's still a significant lead.
As with China, there is an ongoing shift toward 4G in Russia, which should favor MBT's future margins and growth through increased usage.
This shift also should make for reduced competition - this is so because what leads to aggressive competition in high fixed-cost markets like mobile telephony is the need to increase utilization rates. Data demand will pressure spectrum availability, meaning every competitor should be able to fill up its available capacity (increase utilization rates). Under those conditions, every competitor will feel a smaller need to capture more subscribers/market share and a higher need to charge more from existing subscribers.
The Fundamentals
Despite the impact the drop in commodities had on the Russian economy, about which you can read in my article titled "The Russian Ruble Is Another Currency Which Looks Decent Here," MBT is still being able to post decent numbers. In its latest report covering Q3 2015, this is what the company reported: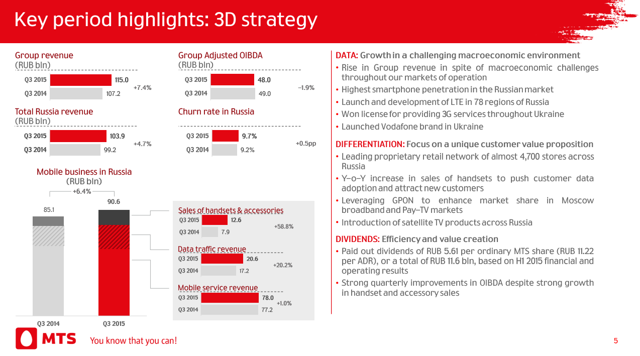 Click to enlarge
Source: Q3 2015 Earnings presentation
Basically, we still have a growing company (revenues +7.4% year-on-year) with stable EBITDA (-1.9%). Obviously, this is in local currency, and in USD things look horrid. But then again, the share price has already plunged on account of that.
MTB had EBITDA of 176.3 billion RUB (~$2.31 billion) over the last 12 months. It also projects 92 billion RUB in capex for FY2015, which leaves us with 84.3 billion in FCF ($1.1 billion).
Given that the company has a market capitalization of around $6 billion today and carries net debt of 213 billion RUB ($2.79 billion), this means it has an EV of ~$8.79. It thus trades at 3.8x EV/EBITDA and 8x EV/FCF. Moreover, it trades at just 5.5x P/FCF. These are all very appealing valuations - Verizon (NYSE:VZ), in a much more mature market, goes for 7.8x EV/EBITDA, and even China Telecom (NYSE:CHA) trades at 4.1x EV/EBITDA.
The Dividend
Up until 2015, the company has had the policy of paying out 75% of its FCF as dividends. This leads us to the current dividend yield, which sits at ~13.7%.
As we can see, 75% of MBT's FCF can support a dividend yield of 13.75% ($1.1 billion FCF x 75% / $6 billion market cap = 13.75%), so we can say that 13.75% is sustainable. Thus, if 13.75% is sustainable, so would 10% be (as stated in the article's title). I was just being conservative there.
That said, I should warn that the 75% FCF payout policy comes up for revision during 2016. So there's the risk that the dividend could be somewhat lowered. Against this risk, I would consider several things:
The company does not show much stress while paying this level of dividend. There has been a measure of increase in MBT's debt, but it has had mostly to do with the effect of an aggressive ruble devaluation on debt (due to translation effects).
The company has a large cash position, which it can use to smooth out the ruble impact on debt.
MBT's main shareholder (holding ~51.5% of the company), Sistema JSFC, relies on MBT's dividend as its main revenue source. So, it has an interest in keeping dividends up.
My own belief is that since the company can sustain the present dividend level, it most likely will. And if the company feels a need to temporarily lower the dividend level, it's still likely to keep a dividend yield of ~10%.
The Ruble
The main problem remaining for the MBT investor is that ultimately the stock and the value of its dividend will fluctuate according to the ruble's mood.
I, however, now expect the currency to stabilize on account of:
Crude trading at below sustainable levels.
Russia having managed to absorb the crude price drop this far, while keeping a positive balance of trade.
This is further detailed in my previously linked article about the ruble. With the currency being stable or even gaining in value, MBT is likely to be a very good investment for the long term. MBT will start from a very attractive yield base and might even grow from there.
To see how far things have gone with the ruble, just consider that MBT's present ARPU (average revenue per user) comes to just $4.46/month - or less than 1/10th Verizon's. It won't stay that way forever.
Conclusion
MBT is a very attractive investment whose dividend yield is sustainable above 10%. The main risk to this investment lies in crude price fluctuations and the impact they can have on the ruble.
Long term, it's likely that crude will stabilize above present levels. The ruble will stabilize or gain in value versus the USD, and MBT will prove to be a very good investment whose 10% or more yield will just be a starting point for future increases.
Disclosure: I am/we are long MBT.
I wrote this article myself, and it expresses my own opinions. I am not receiving compensation for it (other than from Seeking Alpha). I have no business relationship with any company whose stock is mentioned in this article.