I've heard many income investors pitching ConocoPhillips (NYSE:COP) as a great value at its current price and 6.4% dividend (one of the higher yields among large E&Ps). Their analysis relies on two assumptions. First, current oil prices are unsustainable and will soon rebound. Second, ConocoPhillips' dividend is sacred to management, and is therefore safe from being cut.
I believe these investors have fallen prey to a bit of recency bias and a lot of wishful thinking. Dig into the assumptions, and you find that buying ConocoPhillips as a value income play is far from a sure thing - and, in fact, comes with quite a bit of downside risk.
A bet on ConocoPhillips is a bet on the future price of oil
In 2012, ConocoPhillips spun off its downstream business (refining and marketing) into what is now Phillips 66 (NYSE:PSX), making COP a pure upstream E&P company. When this decision was made, oil was trading around the $100 level. It was thought that this move would unlock value for shareholders. But there's a problem.
The downside of this split is that it made the company vulnerable to falling oil prices. Integrated oil companies benefit from their downstream businesses because refiners see higher profits when the price of oil falls, acting as a kind of hedge on lower energy prices.
Without its downstream business, ConocoPhillips is essentially a levered bet on the future price of oil with a 6.4% yield (that has a high chance of being cut, as we'll soon discuss). Compare the company's stock chart to one of oil, and the correlation is easy to see.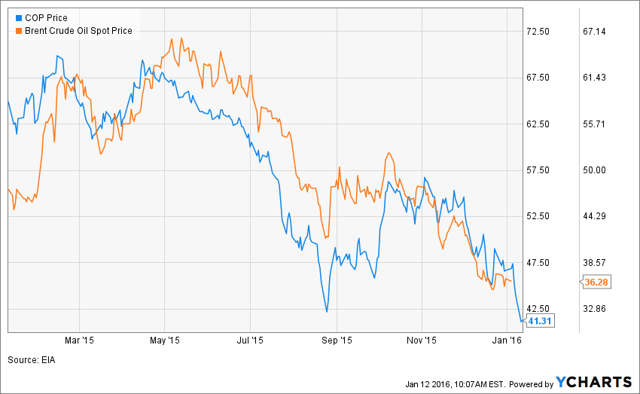 Click to enlarge
With oil (NYSEARCA:OIL) on its relentless march downward (currently down around 40% TTM), are you willing to step in and bet on a swift turnaround?
When it comes to forecasting oil, I tend to agree with famed investor Howard Marks, who remarked recently:
Nobody knows where the price of oil is going. And there's nothing intelligent to be said about the future of the price of oil. And so, you have to invest in it very gingerly and carefully.
Like Marks, I don't know where the price of oil is going to be in a year - I'm not sure anybody does. But I do know it is perfectly capable of falling to $20bbl as Goldman Sachs predicts. Investors should show extra prudence when investing in the volatile energy space, and ConocoPhillips does not offer that margin of safety you should demand.
The dividend is far from a sure thing
CFO Jeff Sheets declared recently that the company's "top priority is the dividend." I think investors should take these affirmative statements with a shaker of salt.
One only has to look at Kinder Morgan (NYSE:KMI), which recently slashed dividends after having projected to raise them just two months prior. You can see how quickly management can renege on commitments when confronted with the prospect of a quickly deteriorating balance sheet.
According to ConocoPhillips, for every $1 drop in the price of Brent crude the company takes an $85 million hit to its bottom line. This exposure to falling oil prices translated to a loss of over $1 billion in the third quarter for the company.
Since the company is running a cash deficit and is committed to paying out $3.6 billion in dividends over the coming year, it has resorted to a combination of reducing cap-ex and selling off "non-core" assets.
ConocoPhillips plans to reduce spending next year to $7.7 billion - a cap-ex reduction of 25% yoy and a 55% cut from 2014. Asset divestitures are expected to bring in an additional $2.3 billion. And the company reported cash reserves of $2.4 billion this last quarter. If oil stays at its current level, the company will have to take on additional debt to maintain its dividend.
ConocoPhillips currently has roughly $25 billion in debt, up $2.5 billion year over year. Moody's recently put the company's debt on review for downgrade, citing weak conditions and impaired cash flows.
There comes a point when a company is confronted with the choice of either cutting its cash distributions or causing possible long-term and irreparable damage to its business - and that moment is not far off for ConocoPhillips. And like Kinder Morgan, investors should expect it to be the former.
Conclusion
Unless you're in possession of a crystal ball predicting oil prices are going to rise 60% in the coming year, I would suggest now is not the time to be buying shares of ConocoPhillips. Investors interested in a dividend-paying energy stock should stick with integrated energy companies like Exxon (NYSE:XOM) and Chevron (NYSE:CVX). These companies will provide a higher total return, should oil remain depressed.
Disclosure: I am/we are short OIL.
I wrote this article myself, and it expresses my own opinions. I am not receiving compensation for it (other than from Seeking Alpha). I have no business relationship with any company whose stock is mentioned in this article.