There has been a spate of articles on SA regarding the possible competition between Tesla (NASDAQ:TSLA) and its new Model 3 and General Motors (NYSE:GM) and its recent introduction of the Chevy Bolt. Both vehicles are all electric, and both have target range of over 200 miles. The Bolt is targeted at a price of $30,000 (after government tax incentives), and the Model 3 has a target price of $35,000.
If the mock-ups of the Tesla Model 3 (a scaled down Model S) are correct, it will be a great-looking car. Mercedes' smaller sedans look like scaled down S Class cars so that would not be a ground-breaking approach. Nonetheless, if the new model does mimic the original Tesla Model S, the design could add to its appeal, but might lure many buyers away from the Model S, which is priced at two to three times the proposed $35,000 for the Model 3.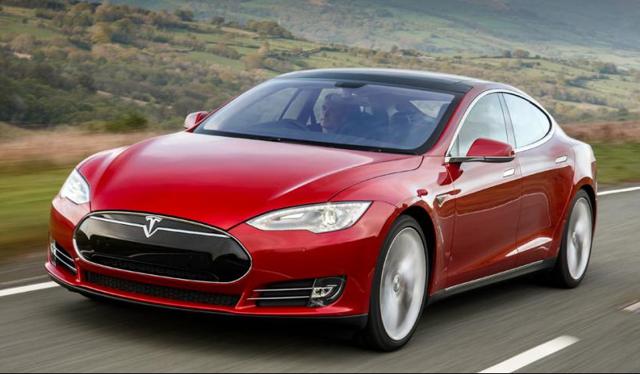 Source: Mock-up photo of Tesla Model 3 by Auto Express
By contrast, the Chevy Bolt is more of a runabout than a luxury sedan.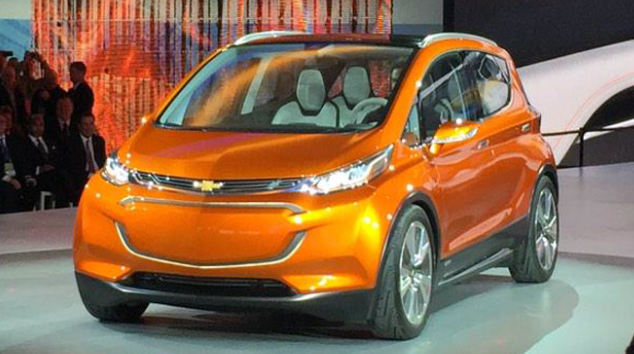 Source: Carscoops
The heated debate over possible competition between these two vehicles has all the earmarks of an argument between the unknowing and the uninformed. It should be plain and obvious they don't compete at all, since they are clearly targeted at different customer segments.
As a luxury sedan, the Model 3 will be of interest to the would-be buyers of the Mercedes C Class or the equivalent BMW models and their hybrid variants. As an economy runabout, the Bolt should appeal to cost-conscious buyers who currently own the Hyundai Elantra or Toyota Prius models.
The respective volumes of unit sales of each vehicle have to be seen within the potential of each segment, obviously with a bit of overlap.
It's worth pointing out that all-electric vehicles are enjoying rapid growth in demand (from a small base), in part as a result of the novelty of the technology, and in part driven by local and federal incentives, including tax credits and use of HOV lanes. Electric vehicle sales in Georgia took off for just those reasons in 2014.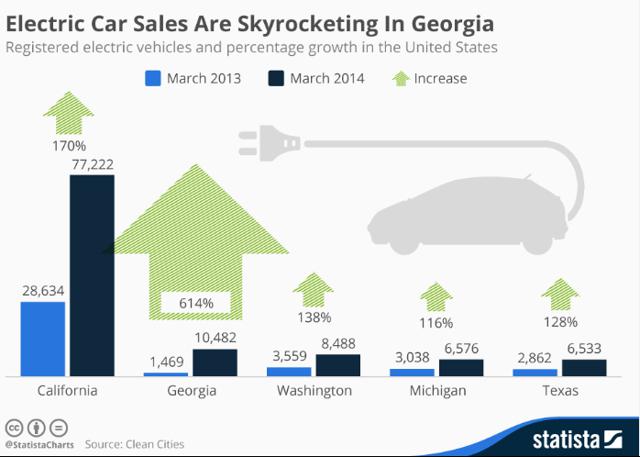 Source: Statista
Investors trying to handicap the sales potential should start with a review of the U.S. car market by price segment. In 2013, 81% of car sales were at prices less than $30,000. The Chevy Bolt is squarely targeting the economy segment and should be a viable offering in that segment.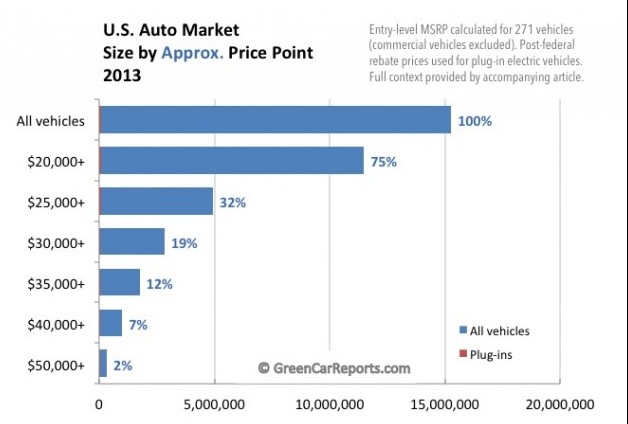 Source: Green Car Reports
By contrast, only 12% of cars sold in 2013 were priced over $35,000, where the Tesla Model 3 will vie for customers, and there is at least some doubt as to whether Tesla can, in fact, meet a $35,000 price point and still make money.
The luxury segment is a tough market. A review of 2013 small to mid-size luxury car sales in the United States shows that only six vehicle models sold over 50,000 units, and that even very good designs like the Audi A5 and BMW 1 Series sold only 16,620 and 7,345 units, respectively. Mercedes B Class shows the risk of trying to be an economy car in a luxury segment, with unit sales of only 776 cars in 2013.
Source: GoodCarBadCar.net
My guess is that Tesla Model 3 will attract as many as 30,000 U.S. buyers, but I fear that probably one-third of those will be customers who otherwise might have purchased a Model S. U.S. sales of the Model S were 25,700 units in 2015, and the Model 3 should appeal to a wider base.
The Chevy Volt sold 15,393 units in 2015 in the United States. Given the lower price point of the Chevy Bolt, it would not surprise me to see GM sell as many as 25,000 of its latest all-electric vehicle in its first full year, and very likely GM will lose money on the project.
I disagree with the scathing review Mark Hibben gave the new Bolt. Awarded the "Best Car" label at CES, the new Bolt will appeal to young families whose driving is mostly in town, and its functional design makes it a mainstream choice. Buyers of the Chevy Bolt are unlikely to have even considered any Tesla model, in my opinion. Mark's article has an air of elitism and entitlement in comparing the two cars, whereas for many consumers, a car is a utilitarian necessity.
Despite all the hype and controversy, I don't think either car will make or break the respective suppliers. Having said that, I believe the Model 3 will contribute to Tesla sales, but have a marginal impact on Tesla profits if it is, in fact, priced at $35,000, leaving little room for margin.
From an investment point of view, GM is cheap at about 6 times estimated 2016 earnings and carries a dividend approaching 5%, while Tesla is a growth and momentum play yet to demonstrate that it can be profitable. Investors attracted to either of these stocks are as different as the likely customers for their new vehicles.
With the prospect of a worldwide economic slowdown rearing its ugly head, I would avoid both for the time being.
Disclosure: I/we have no positions in any stocks mentioned, and no plans to initiate any positions within the next 72 hours.
I wrote this article myself, and it expresses my own opinions. I am not receiving compensation for it (other than from Seeking Alpha). I have no business relationship with any company whose stock is mentioned in this article.