After a fantastic run in 2015 that saw Casey's General Stores (NASDAQ:CASY) deliver excellent performance, its recent data points are below trend. The stock was my top retail idea for the holiday season, owing to: 1) belief in a takeover if the company struggled; and 2) insulation from online retail competitors. However, monthly same-store sales (SSS) and fuel margins have a big impact on the stock in the short term.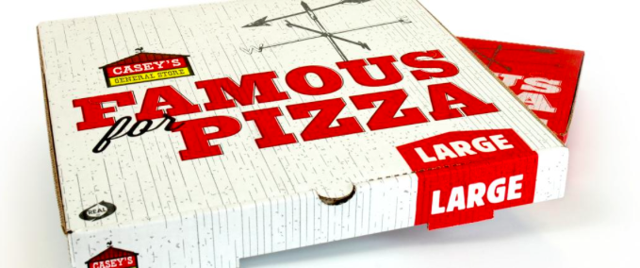 Last year, the company was up 35%, whereas the S&P was down 2%. Perhaps more importantly, it behaved defensively during more volatile periods. During August, the S&P was down more than 9% and CASY was up 4.5%.
CASY's Performance During August 2015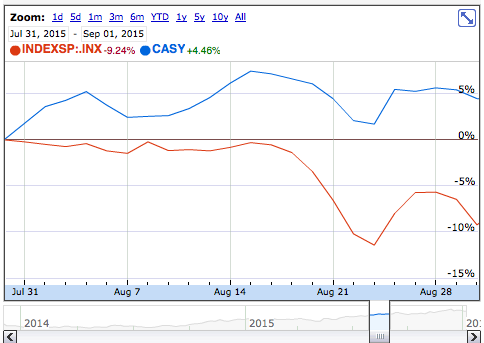 Similarly, in December, the stock was up 3.6% and S&P down 1.75%, further demonstrating the "defense is the best offence" philosophy.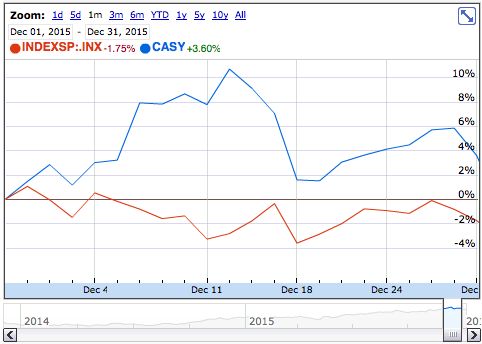 Much of its defensiveness can be attributed to tailwinds (falling gas prices and rising fuel margins) and company-specific initiatives, such as the improving Prepared Foods offering.
However, if either of these tailwinds reverse, the stock price could be in for a bumpy ride in the short term.
November SSS
The results were a bit of a bump in the road, especially for the Prepared Foods segment. CASY delivered just 5.8% SSS growth - a material slowdown from the 11% YTD average. Management attributes this to adverse weather and lapping a 1% price increase last year.
Grocery SSS growth continued above management's 6.2% fiscal 2016 target despite a slowdown in fuel volume growth. Arguably, the company continues to benefit from customers trading up to premium cigarette brands.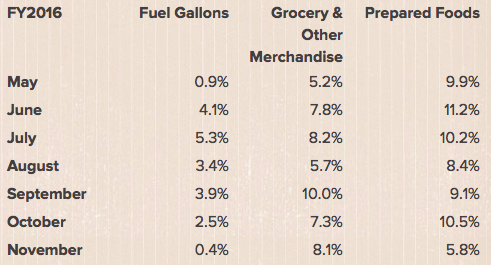 Recent Decline in Fuel Margins
After the company saw the benefit of historically high fuel margins in Q2, these begun to decline in December. In November, fuel margins continue to trend above management's 16.7c annual goal, but have fallen significantly relative to Q2 in December and into January.
According to OPIS estimates, for the week ending December 24th, CASY earned ~17c/g, and for the week ending December 31th, it earned ~16c/g. Finally, for the week ending January 7th, the company earned ~14c/g.
Compare this to the 24.7c/g it earned in Q2, which was the cause of CASY's big beat relative to consensus and management's 16.7c annual goal. It is important to note that fuel margins are very volatile, and a similar decline occurred last year near the end of Q3 as well. However, it has become conventional wisdom that declining oil prices equal rising fuel margins.
Q3 appears to be bucking this convention wisdom. I'll continue watching for further developments into Q4.
Recent Promotions
A key initiative of the company is the continued development of an online and mobile pizza ordering platform. CASY recently launched a "Download our app and get a pizza slice" promotion, along with a contest whereby customers who order online have the chance to win free gas for a year.
The mobile app was launched on January 4th, and is its success is absolutely necessary if management is to maintain momentum in Prepared Foods and ensure the November results were an anomaly.
Fortunately, ordering pizza on an app is something customers are increasingly more comfortable with - in 2014, nearly half of Domino's (NYSE:DPZ) orders were online.

Note: If by March or April we don't see the boost to Prepared Foods from the advertising push, I'd likely take a hard look again at my original thesis.
Insulation from Online Competition
Regardless of short-term fuel margin and SSS growth trends, I believe this business is one of the best retail ideas over the long term in a changing retail landscape.
Consider the performance of leading department stores over the past 3 months: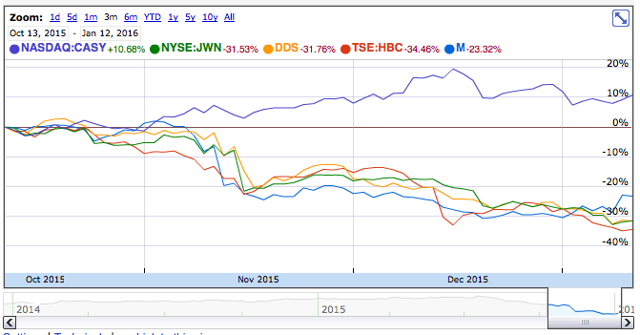 Much of this comes on the heels of Macy's (NYSE:M) struggles. The company reduced guidance, wrote-off assets and announced $400 million in SG&A reductions after ongoing declines in same-store sales. Management can make excuses, but the traditional businesses are losing share and relevance for customers amidst increased competition.
In my view, Casey's remains one way investors can insulate themselves against online retail competition. Not only does one own a good business operating in a less competitive niche, but management time is focused more on cultivating sales instead of swimming against the current by cutting costs and closing stores.
Disclosure: I am/we are long CASY.
I wrote this article myself, and it expresses my own opinions. I am not receiving compensation for it (other than from Seeking Alpha). I have no business relationship with any company whose stock is mentioned in this article.