Examining the latest economic indicators, faith in a housing recovery is justified, but it will still take a minimum of 3 years on aggressive assumptions, homebuilder prices still offer upside, but the risk/reward is less favorable. I suggest remaining long the sector, but at a reduced level of exposure than previously.
Context
Early in 2012, I wrote that housebuilders would continue to rally and that Standard Pacific was my best idea in the sector. YTD the sector is up 18% and Standard Pacific (SPF) is up over 41%. It is to time take a step back and look at where the sector is vs. economic realities. For example, I now show 17% upside left on Standard Pacific, which is adequate, but less than I can find in other stocks in different sectors.
Unemployment - Continues to Fall
Unemployment continues to fall as a faster rate than the economic consensus expects. This is a positive for house pricing, but we are still at least 3 years away from a normalized level of 5% unemployment even on the most aggressive projects given the last 6 months of declines, and most expect it to take years longer.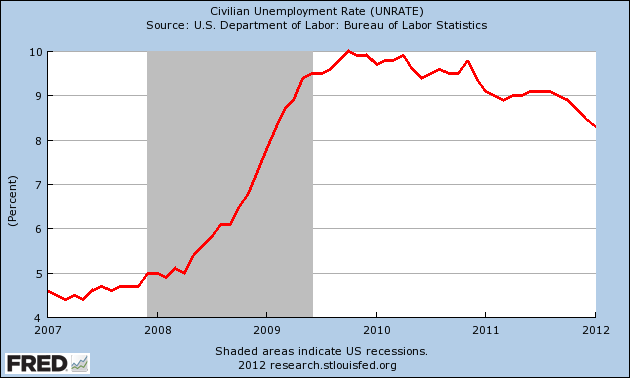 Housing Starts - Signs Of Life
Housing starts are showing signs of life, but are still at about 46% of 2007's level. The trajectory is good, but as with unemployment we are likely looking at years to get back to 2007 levels, and many would question whether 2007 is even a realistic target given the frenetic housing activity during that period.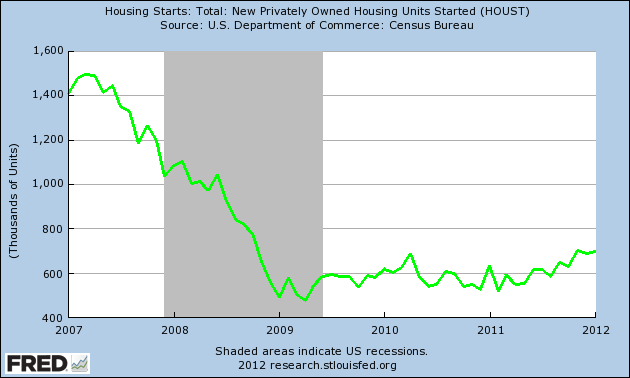 House Pricing - We May Be At The Bottom
House prices might have bottomed. This does not necessarily herald growth any time soon, since prices may remain flat for a while, but it is probable that 2012 is the year when house prices stop declining.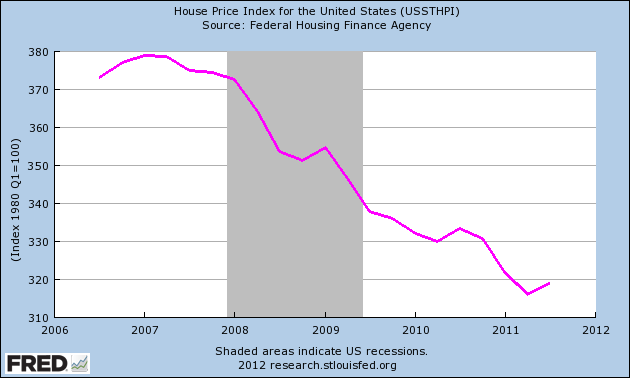 So to summarize the most salient indicators for housing are all starting to move in the right direction, but we are at least 3 years away from what might be considered normal activity, and pricing may take longer.
How does homebuilder pricing stack up against that economic picture?
Well, homebuilders as an index, according to the SPDR S&P Homebuilders ETF (NYSEARCA:XHB), are at about two thirds of their mid-2007 level, with many specific homebuilders trading lower than that.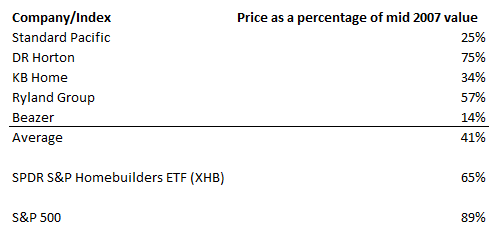 Let's assume that for the sake of argument once volumes and prices recover to 2007 levels, share prices will too. Per the indicators above, that normalization will take a minimum of 3 years. If share prices follow an even price to get there, that would imply a return of 15%/year on the homebuilders index. But if it takes 4 years the return will be 11%, and 9% if 5 years.
Conclusion
Homebuilders now have an expectation baked into their share prices. We are only seeing the early shoots of a housing recovery, and should make no mistake that though the trends are clearly favorable, some companies are starting to price a significant part of that recovery in already. It appears that homebuilders continue to offer value relative to other sectors, but the risk of faltering on either prices or volumes in the near term is high.
Recommendation
The data suggests that there is still value in housebuilders, but less risk/reward than previously. I plan to remain long the sector, but will reduce my weighting if the rally continues.
Disclosure: I am long SPF.