Stocks discussed on the in-depth session of Jim Cramer's Mad Money Program, Wednesday, January 13.
Markets have become so oversold on Wednesday that investors can start building small positions. The bottom has not arrived but there are signs of capitulation which signify that a bottom could be near. There are very few things that Cramer likes about this market but the rule is that discipline trumps conviction. Currently, the rule says that investors can start building small positions in high-yielding dividend stocks that have come down a lot, or companies that have reported solid earnings and have not gone up.
There is no perfect moment for a bottom. Cramer pointed out that FANG stocks have been taken down, which means that it's time to move to the safe stocks. He pointed to General Motors (NYSE:GM) which reported perfect numbers, raised its earnings estimates, raised the buy-back and boosted the dividend and the stock still went up by only $0.16.
Even when the best stocks cannot manage to rally on good news, it means we are in a bear market. "Respect the bear," said Cramer. "We also have to be disciplined, and because we are seeing the first signs of capitulation, which means a bottom might be closer than you think, but not so close that we won't take a lot more pain first," he concluded.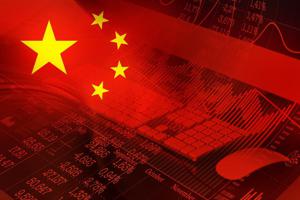 The Chinese stock market
Shanghai stock exchange has become a household name. When it goes down, it also grips the US market. How did this happen in the first place, because 2 years back no one really cared about the Shanghai composite index.
From 2010 to 2013, when the US stocks were recovering, the Shanghai composite declined from 3,100 to 2,100. In April 2014, the Communist Party announced the Shanghai-Hong Kong Stock Connect program that went into effect by November. This encouraged foreign investment and led to a rise in margin investing. An influx of foreign money, relaxation of margin rules and acceleration of new accounts started the bubble. "The point I'm trying to make here is that China's stock market is not representative of anything. This whole boom-and-bust cycle has been totally artificial from the start, and the whole upside move from the very beginning might need to be repealed," said Cramer.
The bubble burst in May 2015 at 5,100 and despite all efforts to curb selling, the market closed at 2,950 on Wednesday. In Cramer's opinion the market might lose all its gains and fall to 2,478. It could even go down to 2,134 from where the foreign investment began. The Chinese still have a lot to learn about financial markets.
Fear in the market
Sometimes there is so much fear in the market, that speculating on stocks is the worst thing to do as even strong bull cases for stocks don't work. Hence, before speculating, the environment must always be considered. Cramer pointed to Match Group (MTC), the online dating company which went public at $12, peaked at $16 and closed at $13.30 on Wednesday. They are better known by Match.com, OKCupid and Tinder.
In any other market, Cramer would buy Match Group due to its huge user base of 59M active users and a huge total addressable market. After the acquisition of Tinder, this company has become the leader in mobile dating. "I think Match may be the perfect example of how a somewhat speculative stock can get derailed by forces beyond its control that have nothing to do with the actual underlying company," said Cramer.
Investors are worried that the company may have a hard time monetizing the user base and it has very little organic growth left. Most of their growth comes through acquisitions. If investors weren't afraid of owning speculative stocks, Cramer would have recommended it. But in the current market, fear rules and investors will not speculate with Match. He would buy only if the price goes below $12.
CEO interview - Quintiles (NYSE:Q)
Quintiles is one of the best contract research organizations that help drug companies manage clinical trials. They have no exposure to world economies and no matter what the environment, people will always buy medicine. The stock of this company has fallen to $63 from $80 as the market has been hideous for biotech and related stocks. Cramer interviewed CEO Tom Pike to find out what lies ahead for the company.
Pike mentioned that despite the biotech sector environment and political drama, drug companies have raised $74B in the last year. These companies are not worthy unless their drugs are being tested and approved. In fact, the US had more drug approvals in the last year than any other year since 1996.
"We really understand this science well, we have some really innovative drugs coming and because of that we are seeing an attractive approval environment. And because of that we think 2016 for a business like us, and Quintiles in particular, can be a strong year," said Pike.
The Powerball
Cramer also has a Powerball ticket and he says he will win the lottery. "I am going to win, and I'm not just saying that because I have delusions of grandeur, although that is certainly part of it," said Cramer. What will he do if he won the lottery?
Firstly, he would take the lump sum rather than spacing it out with an annuity due to the power of compounding. "You only need to get rich once," said Cramer, and hence after paying taxes and collecting the winnings, there is no point taking risks but rather be conservative with the capital. The interest rates are rising and hence there should be a focus on short-term fixed income securities.
Then, he'd buy a group of utility stocks and take the advantage of compounding. Lastly, he'd give most of his winnings away to charity. "When I gave up my hedge fund in 2000 I recognized that there was more to life than making money. Giving back this lucky fortune sounds like a much better idea," said Cramer.
Lastly, he would buy his own island or buy a castle in Ireland and a villa in Italy. "Why the heck not? You only live once, or as the kids say, YOLO!"
Viewer calls taken by Cramer
Energy Transfer Partners (NYSE:ETP): The company can cover its dividend but the market is really bad.
Valeant Pharma (NYSE:VRX): Why be in this stock when major biotech and pharma companies are crashing.
Orbital ATK (NYSE:OA): The company is doing well.
Salesforce (NYSE:CRM): The fundamentals are good but the environment needs to change and the stock needs to come down and not be expensive. For the long term, it is a good buy.
PayPal (NASDAQ:PYPL): The CEO is very compelling and it has a great future. Cramer did not want to recommend it on takeover news.
::::::::::::::::::::::::::::::::::::::::::::::::::::::::::::::::::::
Jim Cramer's Action Alerts PLUS: Check out Cramer's multi-million dollar charitable trust portfolio and uncover the stocks he thinks could be HUGE winners. Start your FREE 14-day trial now!
Get Cramer's Picks by email - it's free and takes only a few seconds to sign up.