Melanie Huttner, Clayton Brown, Michael Lyons, Angelica Parente
Introduction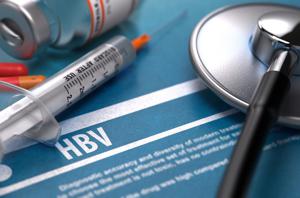 The Canadian company Arbutus Biopharma (NASDAQ:ABUS), formerly Tekmira Pharmaceuticals, has strategically placed itself in the hepatitis B (HBV) field following the recent acquisition of OnCore BioPharma in March 2015. Arbutus rose to fame following the 2014 Western Africa Ebola outbreak where the company garnered a Department of Defense contract for their RNA interference drugs TKM-Ebola and TKM-Ebola-Guinea valued at $140M. Arbutus controls key patents on lipid nanoparticle (LNP) drug delivery technology that overcomes stability issues associated with siRNA delivery. However, with the Ebola outbreak waning and the defense contract ending, Arbutus has moved their primary focus to curing chronic HBV, a competitive but lucrative therapeutic indication.
Underlying Technology
HBV is a contagious viral infection affecting the liver. It is a global health problem affecting an estimated two billion people worldwide and is the most severe form of hepatitis. Although a vaccine was developed in 1982, the WHO estimates that more than 360 million people have chronic liver infections from HBV, with approximately 780,000 people dying every year due to causes related to HBV infection. HBV is especially prevalent in developing countries in Africa and East Asia and is spread from mother to child and through bodily fluids. The current standard of care for chronic HBV is oral antiviral agents that slow the progression of liver disease, but most patients must continue medication for their lifespan in order to keep the virus suppressed.
Arbutus's current portfolio focuses on the development of a combination therapy to provide the first cure for HBV. The combination therapy is expected to consist of LNPs delivering RNAi drugs that target three sites on the viral genome, a cccDNA inhibitor to target the virus's dormant reservoirs, plus therapeutics that will stimulate the immune system and inhibit immunosuppression and HBV capsid formation. See Table 1 for more information regarding Arbutus's HBV pipeline. It is worthwhile to note that no RNAi therapeutics have been approved to date, primarily due to RNA instability, poor delivery platforms, and the RNA provoking an immune response. Therefore, Arbutus is faced with balancing the hurdle of overcoming previous companies' RNAi failures in Phase II and Phase III trials with the potential prestige of becoming the first company with a successful RNAi platform for an infectious disease.
In addition to HBV, Arbutus has RNAi candidate TKM-PLK1 in early clinical trials for a few carcinoma indications, as well as RNAi therapies in the pipeline for metabolic disorders. They have strategically licensed out their LNP technology to Dicerna Pharmaceuticals (NASDAQ:DRNA), Alnylam Pharmaceuticals (NASDAQ:ALNY), and Spectrum Pharmaceuticals (NASDAQ:SPPI), with the latter resulting in the FDA approval of Spectrum's LNP chemotherapeutic Marqibo® in 2012 for adult relapsed leukemia.
Table 1. Arbutus's HBV pipeline as of January 2016.
HBV Program

Mechanism

Current Status

Future Plans

1

ARB-1467 (TKM-HBV)

RNAi

Phase I single ascending dose study completed December 2015, amended to include two higher dosages with final results expected 1H16

Phase II multi-dosing study started December 2015; single dose results expected 3Q16 and multi dose expected 4Q16

2

ARB-1740

RNAi

Uses 3 different RNAi triggers vs. ARB-1467. Pre-clinical results suggest ARB-1740 is significantly more potent than ARB-1467 and potentially effective at lower doses

IND (or equivalent) expected 2H16

3

ARB-1598 (previously CYT003)

TLR9 agonist to boost the immune system

Licensed from Cytos Biotechnology, currently in pre-clinical testing in combination with drugs with different mechanisms. Results to be presented in 2016

Clinical evaluation in immune biomarker induction expected in 2016; combination studies with other pipeline candidates expected 2017

4

OCB-030

Cyclophilin inhibitor to boost the immune system

Preclinical evaluation against HBV

Discontinued by Arbutus late 2015

5

Core protein and capsid assembly inhibitors

Inhibit

viral replication

Pre-clinical evaluation

IND (or equivalent) expected 2H16 with preclinical data with different drug combinations released 1H16

6

cccDNA formation inhibitors

Target cccDNA viral reservoirs

Synergistic with approved nucleo -t(s)ide (NUC) analogs in preclinical models

Additional preclinical data with different drug combinations expected in 2016 with an IND (or equivalent) anticipated by 2H16

7

Surface Antigen Secretion Inhibitor

Allow host immune response to reengage

Preclinical development

IND TBD

8

cccDNA epigenetic modifier

Control cccDNA transcription

Drug discovery collaboration with the Blumberg Institute

Timeline unclear

9

STING agonists

Stimulate interferon genes

Drug discovery collaboration with the Blumberg Institute

Timeline unclear

10

1 or 2, approved NUC analog, and one or more of 3, 5, 6

Chronic

HBV functional cure

Building a platform of antivirals and immune stimulation assets

Clinical studies expected 2017
The most distinct and successful aspect of Arbutus's programs is their LNP technology, which incorporates RNAi drugs encapsulated inside lipid layers to allow for the protection and delivery of the therapeutics. Naked RNAi drugs have unfavorable physicochemical properties and are subjected to degradation in the bloodstream and renal clearance, thereby necessitating chemical modifications to the RNAi drugs and/or a delivery system to escort the RNAi drugs to their target organ(s). NPs can be challenging to work with as they face difficulties in characterization and formulation (number of drugs/NP, number of NP/solution, polydisperse in size), stability, storage, immunogenicity, targeting ability, and off-target toxicity.
Arbutus's HBV RNAi platform addresses these last two concerns by treating a virus in the liver, a reticuloendothelial system (RES) organ that is highly vascularized. Arbutus's LNP platform is based on the scientific work of Dr. Ian MacLachlan, a leader in the field of lipid nanoparticle formation and nucleic acid delivery, and the former Executive Vice President and CSO of Tekmira. Arbutus's LNP platform has been well received by competitors such as Alnylam Pharmaceuticals, resulting in Alnylam's use of Arbutus's LNP platform for patisiran, an RNAi therapeutic for the rare disease transthyretin-mediated amyloidosis currently recruiting for Phase III clinical trials, as well as two of their other therapeutics.
Arbutus faces stiff competition from both a technology point of view (RNAi delivery) and in the race to cure HBV, especially due to an increase in interest following recent advances in 2013-2014 for the treatment of hepatitis C. The market for RNAi technology has shifted in terms of it currently being dominated by start-ups and small companies rather than big pharma. From a technology standpoint, several companies have RNAi delivery platforms that are at a similar stage or further along in clinical trials than Arbutus's including Alnylam's GalNac siRNA conjugation platform, Silence Therapeutics' (OTCPK:SLNCF) synthetic siRNA platform, and Arrowhead's (NASDAQ:ARWR) dynamic polyconjugates platform.
A key advantage for Arbutus's platform is that the use of a broadly applicable and scalable LNP strategy may not require chemical modification of the siRNA itself because the RNAi drugs are formulated in a noncovalent manner, whereas all of the platforms mentioned above require covalent or synthetic modification of the siRNA. Additionally, the LNP platform allows for multiple siRNA sequences to be formulated within the same delivery system at once, or potentially for the incorporation and co-delivery of both siRNA and small molecule therapeutics. A potential downside to the LNP platform is that the particles are larger than the other systems and thus may have a harder time penetrating tissues. Also, NPs may induce toxicity, especially if they have a positive surface potential.
Arbutus appears to be positioned well in the RNAi landscape with a Phase II study of their RNAi candidate TKM-HBV (ARB-1467) started December 2015 (Table 1). The company's RNAi technology strategically incorporates a 3-trigger combination to target multiple conserved regions in HBV viral genomes extending to 99.8% of the world's recorded HBV genotypes (Figure 1). This essentially means that TKM-HBV utilizes a combination of 3 RNAi molecules to target three unique sequences on the HBV genome to block the production of essential viral proteins such as hepatitis B surface antigen (HBsAg), which plays a major role in suppressing the host immune system and enabling chronic infection of HBV. This method provides an additional level of therapy compared to current NUC analog HBV treatments such as entecavir that only targets HBV genome replication, cannot control virus protein production, and can elicit resistance in HBV patients. Arrowhead's ARC-520 also utilizes similar RNAi sequences to target regions of HBV mRNA to knockdown HBV protein production.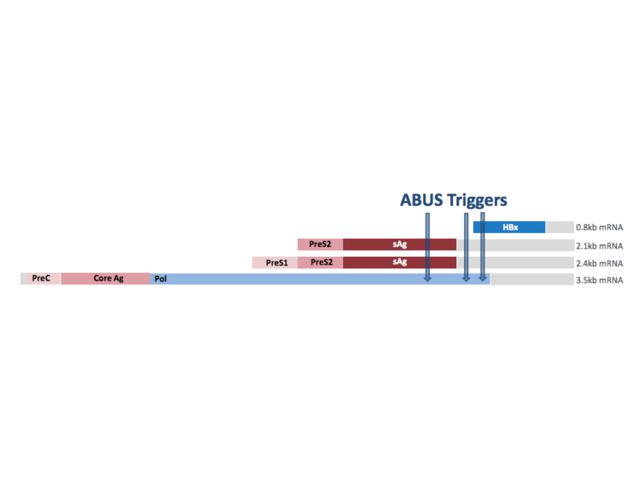 Click to enlarge
Figure 1. TKM-HBV targets three different sites on HBV mRNA. Four different mRNAs are expressed from one cccDNA.
TKM-HBV has shown in preclinical studies to reduce serum hepatitis B antigens, as well as viral DNA and cccDNA levels in both the liver and serum in mice (Figure 2). Furthermore, a Phase I single ascending dose trial conducted in 2015 did not reach a maximum tolerated dose; the Phase I trial protocol has been amended to include two higher doses with results expected in 1H16.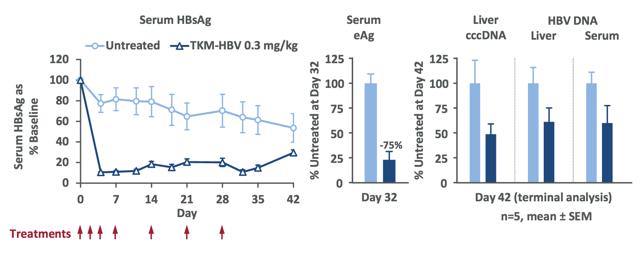 Click to enlarge
Figure 2. TKM-HBV knocks down antigen production in humanized mice.
In addition to TKM-HBV, Arbutus has an extensive pipeline to develop drugs against various stages of the HBV lifecycle with the hopes of developing a combination therapy that can act as a functional "cure." This includes their work on cccDNA inhibitors, capsid assembly inhibitors, TLR-9 agonists, and surface antigen secretion inhibitors. Arbutus has shown experimentally that the combination of TKM-HBV and entecavir, which targets reverse transcriptase, had a synergistic effect on the viral DNA and HBsAG levels in treating mice infected with HBV. This data suggests that RNAi therapies can be used in combination with other HBV drugs to more effectively treat infection. Arbutus aims to begin combination therapies between their flagship TKM-HBV and other HBV inhibitors they are generating by 2017. This may give Arbutus an edge over Arrowhead, which is currently only developing RNAi therapies for HBV infection.
Competing technology
Alnylam's HBV therapeutic ALN-HBV is still in preclinical stage with a recent round table discussion projecting to use combination therapy to reach a HBV cure by 2020. Thus far, they have used an RNAi GalNAc conjugate to target a conserved region of >99% of HBV's genotypes that has been tested in rodent HBV models to monitor levels of viral DNA and viral antigens with a CTA expected in late 2015. Arrowhead Research Corporation's ARC-520 is perhaps a more direct RNAi HBV competitor as they completed their Phase I safety study a year ahead of Arbutus and are now recruiting for four Phase II studies including ones for combination treatment with NUC analogs. They too use an siRNA targeting a region conserved in 99.6% of the viral genotypes.
They recently reported Phase IIa results supporting the advancement of ARC-520 based on a substantial decrease in viral antigen levels for up to two months after a single treatment. By mid-2016, Arrowhead is expected to file an IND for ARC-521, which uses the same trigger moieties as ARC-520 but is reported to be more active against HBsAg derived from integrated HBV DNA. Unlike Arrowhead however, Arbutus plans to develop an in-house combinational therapy to treat HBV infection. The use of other viral inhibitors in addition to their RNAi therapy increases the potential risks involved with their drug, but also the potential benefits. Whereas Arrowhead may only need to be concerned about the clinical risks of RNAi, Arbutus will have to handle additional risks and the finances associated with developing a number of other drugs.
Arbutus has demonstrated a reduction of nearly 90% of HBsAg in the serum of HBV infected mice for up to a month after acute administration of TKM-HBV. Arrowhead has shown promising data with a significant reduction in HBsAg levels over a similar timeline following treatment with ARC-250. Arrowhead has also extended their studies to show that RNAi therapeutics effectively reduce viral protein levels in infected non-human primates. However, without continued dosage of the drug, viral protein levels were observed to rise again in infected animals. Together, this data suggests that RNAi may be utilized as a treatment option for HBV infection, but on its own may not lead to viral clearance and therefore RNAi alone may not work as a cure, emphasizing a potential opportunity for Arbutus's combination strategy to shine through.
While Arbutus has a robust approach to target multiple aspects of the HBV viral life cycle, including HBV replication, a conserved region of the genome, suppression of the host immune system, and a reservoir of cccDNA, the company's HBV assets are in different stages of development ranging from research to Phase I trials. They appear to be using the same endpoints (viral antigen levels) as Arrowhead, but Arbutus's Phase II study for TKM-HBV is designed to include three monthly doses rather than a single dose done by Arrowhead, although Arrowhead claims they will announce multi-dose trial results in the near future. It is unclear whether the "ideal" combination treatment will be ready for clinical trials in time for Arbutus to get a sizeable piece of the market share. Gilead (NASDAQ:GILD) is rumored to be in the market to acquire HBV assets after the success of its HCV therapy, and will likely be more interested in Arrowhead's platform since they are further along than Arbutus and Gilead has its own small molecule HBV inhibitors in the pipeline and may not necessarily want all of Arbutus' candidates.
Johnson and Johnson have recently made moves to pursue their own HBV combination therapies. Ahead of the 2016 JP Morgan Healthcare Conference Johnson & Johnson Innovation and Janssen Pharmaceuticals announced an exclusive license agreement with Chia Tai Tianqing Pharmaceutical Group Co., Ltd. (CTTQ), a Chinese domestic pharmaceutical company and subsidiary of Sino Biopharma, for an undisclosed immune-modulating treatment to cure HBV. At the end of 2015, J&J also acquired Novira Therapeutics, a company focused on small molecule core and cccDNA inhibitors, who have their lead core inhibitor currently in Phase Ia.
Gilead currently produces the most prescribed therapy for HBV, Viread, the patent for which is set to expire in 2018. Tenofovir alafenamide (TAF), a more potent nucleotide reverse transcriptase inhibitor and prodrug of Viread with fewer side effects, performed positively in Phase III clinical trials for chronic HBV patients and NDAs were submitted in the U.S. and Europe in January 2016. Gilead also has two immune-modulating candidates for an oral T-cell vaccine specifically for chronic HBV and HIV patients in Phase II trials, GS-4774 (Tarmogen T cell immunity stimulator) and GS-9620 (TLR-7 agonist). Rumors have been mounting that Gilead may be looking to add to its current HBV pipeline through an acquisition of a Phase II or III therapeutic.
Non-HBV assets
In addition to the company's HBV-platform, Arbutus also possesses promising non-HBV assets in preclinical and early clinical trial stage. Specifically, they appear to be utilizing their RNAi/LNP delivery system TKM-PLK1 to target polo-like kinase 1 in diseases in RES organs such as adrenocortical and hepatocellular carcinomas (ACC and HCC). They completed a dose-finding Phase I/II trial in 2015 in patients with gastrointestinal neuroendocrine tumors (GI-NETs) or ACC and have an ongoing dose escalation Phase I/II study for patients with advanced HCC and chronic HBV to study the effect of PLK1 on viral parameters. These rare aggressive diseases have unmet medical needs due to limited first- and second-line therapies, poor prognoses, poor cure rates, and high mortality rates. Competition for Arbutus's treatment of HCC comes in the form of combination biological therapies and combination biological plus chemotherapy treatments. ACC and GI-NETs are lacking effective treatments and are often not diagnosed until late-stage disease.
Regulatory concerns
While the FDA has not approved any RNAi therapeutics to date, it has approved several lipid-based nanoparticles used as vaccines, analgesics, anticancer, and antifungal therapies. Liposomes have been studied for decades for the delivery of DNA-based therapeutics. Competition for other lipid-nanoparticle platforms for oligonucleotide delivery currently in the clinic comes from Silence Therapeutics' cationic lipoplexes, M.D. Anderson's phosphatidylcholine-based neutral liposome, and Alnylam's cationic or ionizable lipid platform.
Arbutus's therapeutics have two components: the RNA-like molecules that silence genes and lipid nanoparticles that enclose and protect the RNA from degradation. From a manufacturing perspective, the FDA's stance for both of these components is fairly straightforward requiring detailed characterization of composition and purity. There does not appear to be a large distinction between modified, double stranded or single-stranded RNAs. Techniques like HPLC, sequencing and mass spectrometry used to validate oligonucleotides are industry standards and should not present any challenges.
For the lipid components, the FDA is mostly concerned with concentration and charge. To measure these parameters, the FDA seemingly wants to move away from qualitative techniques like electron microscopy and dynamic light scattering and towards more quantitative techniques like Tunable Resistive Pulse Sensing technology. Arbutus already uses the new standards so as long as they don't have to make large changes to their platform, the regulatory risk for production and quality control should be low even when scaling up. Arbutus's cGMP facility is suitable for 100g+ batches of LNPS, which are stable for two years when stored at 5°C.
The FDA has already allowed compassionate use of Arbutus's TKM-Ebola for use in patients suffering from Ebola infection. While the efficacy of the drug was questionable, the formulation used was well tolerated. Arbutus is no longer pursuing TKM-Ebola after coming up short in a Phase II trial, but their products met the FDA's manufacturing requirements. Back in July 2014, when Arbutus was gearing up to do multiple ascending doses of TKM-Ebola, the FDA placed Phase I trials on clinical hold pending evaluation of cytokine levels from the single ascending dose portion of the trial. It is unclear whether any increases in cytokine levels were due to the delivery or active components of the drug, but this could be a recurring situation for future drugs that require more aggressive dosing. Fortunately, for Arbutus, their LNP platform has also been approved by the FDA for Spectrum Pharmaceuticals' Marqibo®, a treatment for rare leukemia patients that have not responded to other therapies, thereby validating the ability of Arbutus's LNP products to meet FDA standards.
Finances and Valuation
Following an initial public offering in March where the company raised $142M, Arbutus's hefty cash reserves bring the Enterprise Value to $109M, nearly a third of the company's $266M Market Cap (as of December 2015). Like most biotech companies without FDA approved drugs, revenue is low and mostly derived from licensing patents and milestone payments. In the nine months prior to the third quarter, revenue was $12,187, up from $10,603 in 2014. Expenses are also up to $102,751 from $32,828 in 2014 as a result of the OnCore merger and the initiation of more clinical trials. Funding from the DoD to support Arbutus's Ebola pipeline has made up 51% of Arbutus' total revenues for the past two years, but the cession of the Ebola program will end future revenue from the DoD. As a result of a current partnership with Alnylam, Arbutus stands to earn single-digit royalties on the Phase III drug patisiran in addition to future royalties from two other Alnylam drugs in Phase I.
Currently, the company is sitting on $181M in cash and cash equivalents and is spending $45M per year. Arbutus's cash will last them into late 2018 at their current burn rate, which will likely increase significantly in the upcoming year due to the increased cost of managing their new assets and TKM-HBV Phase II trials. Their direct competitor, Arrowhead Research Corp., has a smaller cash runway with $87M in cash while spending $65M per year. Alnylam is in the best shape in terms of liquidity but their HBV drug is still in pre-clinical stage. Unlike Alnylam, which trades around $80, Arbutus and Arrowhead have stock prices hovering below $4.00 and $5.00, respectively, which could make raising sufficient funds difficult.
Arbutus and Arrowhead will need to have strong Phase II results for their HBV drug in the coming year if they hope to have another successful public offering within two years. If either company were to issue common stocks today at $6, they would need to sell at least 8 million shares just to have enough funds to sustain themselves for a year. Overall, Arbutus is in a better position financially to push its HBV drug through Phase II and/or sell off its other assets and license out its LNP technology, while Arrowhead might have to raise funds as soon as next year. Either way, both companies would need to raise significantly more capital to get them through Phase III.
Table 2. An overview of Arbutus's main competitors' financials as of December 2015.
Arbutus

Arrowhead

Assembly

Ionis (ISIS)

Alnylam

Market cap (millions)

$266

$370

$150

$7,000

$8,500

Shares Outstanding

55M

59M

17M

120M

84M

Cash (millions)

$196

$110

$65

$830

$1,000

Cash runway* (years)

4 (2.5)

2

4

N/A

5

P/B ratio+

0.48

2.79

1.20

28.52

6.43

Furthest HBV candidate

TKM-HBV ( Phase II)

ARC-520

(Phase IIb)

multiple products in development

ISIS-HBVRx (Phase I)

ALN-HBV

(Discovery)

Type of Therapeutic

RNAi

RNAi

small molecule

antisense

RNAi
*The cash runway is the time needed for a company to burn through its reserve cash based on 2015 estimates. Parenthesis represents the expected cash runway due to increases in expenditures. The N/A denotation is given to profitable companies whose revenues cover their expenditures.
+The Price to Book ratio = market cap/(total assets - total liabilities) compares the perceived value to the actual value.
Nearly 50% of Arbutus'w value comes from its intangible HBV assets acquired from OnCore worth an estimated value of $350M. In addition to projected future revenues of $150M, the remainder of Arbutus's assets is composed mostly of the company's cash reserves. Given the sheer volume of competition in the HBV section (above, we have included companies of similar size and approaches; however, companies like Johnson & Johnson (NYSE:JNJ) and Gilead are also competing in the HBV sector) the value of Arbutus's HBV assets may be overstated. Currently, the company's P/B ratio sits at 0.48 but even with a 50% reduction in the value of the HBV assets, the P/B ratio would only raise to 0.7, far below other competitors. The company's large patent portfolio relative to its other microcap competitors could signal that the company is undervalued.
Management
Mark J. Murray, formerly at Protiva Biotherapeutics, has led the company as director and CEO for the past 7 years and continues to show that Arbutus/Tekmira is a force in the RNAi industry. This leadership is most exemplified with the most recent name change and acquisition of HBV company OnCore BioPharma. The merger brings in key executives, most notable of them is the Economist Innovator of the year and inventor of Gilead's blockbuster HCV drug Solvaldi, Dr. Michael J. Sophia. Another notable executive is Michael J. Abrams, the founding CEO of AnorMED which was later sold to Genzyme for $580M. AnorMED created the FDA approved stem cell transplant drug Mozobil. The management in general has a wealth of experience with all but one of the management having held a senior management position prior to Arbutus.
Conclusion
It is critical that the Phase II TKM-HBV trials go smoothly if Arbutus is to claim its place as a leader in the field of RNAi technology. Arrowhead currently has the advantage over Arbutus in being further along in their clinical trials. However, Arbutus's LNP technology is already being used in the FDA approved drug Marqibo®, demonstrating that its platform works and can be modified for different types of therapeutics. With Alnylam's patisiran progressing to Phase III, it may not be long before the first RNAi drug makes it to market. Patisiran's approval, which is built on Arbutus's LNP technology, would bring in limited streams of revenue due to an earlier agreement where Arbutus took an upfront cash payment of $65M in exchange for low single-digit royalties, but it would validate the LNP platform for siRNA delivery and help create more market interest in the RNAi field.
Arbutus' numerous licenses and drugs in its pipeline differentiates the company from its closest competitors. However, Alnylam and Arrowhead seem poised to beat Arbutus in the RNAi and HBV races, and may be aided by interest from big pharma companies such as Johnson & Johnson, Genzyme (Sanofi (NYSE:SNY)), and Gilead who have all expressed interest in combination therapies for infectious disease. Given these factors, we believe Arbutus is fairly valued and is a moderate risk/low reward investment. If Arrowhead falters in Phase II, then Arbutus may be able to take the reins in the HBV field and would be a great buy at its current price for the major returns it could have in the future. However, if Alnylam and Arrowhead's current assets succeed, Arbutus would do well to shift more focus to their non-HBV assets and their vetted delivery technology.
Disclosure: I/we have no positions in any stocks mentioned, and no plans to initiate any positions within the next 72 hours.
I wrote this article myself, and it expresses my own opinions. I am not receiving compensation for it (other than from Seeking Alpha). I have no business relationship with any company whose stock is mentioned in this article.