As the oil crash continues, shares of all producers are hit very hard. This certainly applies to smaller companies which are pure exploration businesses. These companies tend to be highly leveraged as they often lack the diversification brought by downstream activities.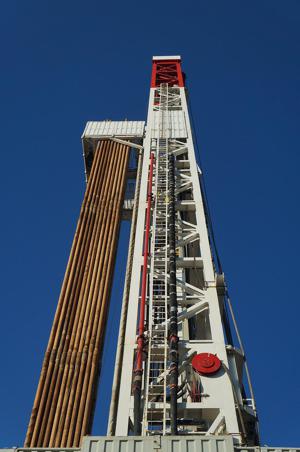 One company which has been hit very hard is EP Energy (EPE), even as it is quite a sizable player. While the company claims to have low break-even costs and a strong hedge portfolio, I feel to see appeal even at the current depressed levels.
EP Energy´s Business
EP is active in four areas including the well known Eagle Ford, the Wolfcamp, Haynesville and Altamont. The company holds nearly half a million acres across these plays, combined producing roughly 115,000 barrels of oil-equivalent per day. Roughly 55% of this production actually takes place in the form of oil. As the properties in the Eagle Ford have the best economics, EP is investing the majority of its capital investments into this play.
In its investor presentation the company claims to have the best operating costs as well as very high quality portfolio, but how realistic are these claims and are they really relevant in this environment? The company actually claims to break-even at roughly $36 per barrel in the Eagle Ford, although this number is based on the estimated well costs for 2016.
The Hedges Hardly Reduce Leverage
EP has put on quite some extensive hedges for 2016 and beyond. The company has hedged 18 million barrels at a swap price of $80 for 2016. With oil at $30, these hedges have a value of roughly $900 million, as modest gas hedges and smaller hedges into 2017 make it likely that the fair value of all these hedges exceeds $1 billion.
This largely corresponds with the fair market value of the hedges of roughly $850 million at the end of the third quarter. Although some hedges have run-off during the fourth quarter, the recent plunge has made the hedge book for 2016 more valuable.
The company held $4.9 billion in debt by the end of the third quarter. This includes the $1.1 billion which the company has borrowed on its $2.7 billion credit revolver, leaving the company with some $1.6 billion in liquidity remaining. This credit line is very important to the company, as it is literally the lifeblood for EP. The trouble is that lenders have set a covenant which dictates that net debt at a maximum might be 4.5 times EBITDA.
The Cost Of Production And Cash Flows
EP reported operating product revenues of $319 million in the third quarter of 2015. This number excludes the rather sizable hedge gains. With total costs amounting to $380 million, the company reported an operating loss of $61 million which is before the consideration of $84 million in interest expenses. This $145 million loss is huge, with production averaging 115,000 barrels of oil-equivalent per day.
In other words, realizations needed to be $14 higher to break even. With realizations coming in at just $30 per barrel in the third quarter, at a time when benchmark prices averaged $45 per barrel, it is clear that EP needs oil at $50 to break-even in this current environment.
With oil now closing in on the $30 mark, it is realistic to assume that realizations are down $10 per barrel compared to the situation in the third quarter. This suggests that if costs are stable, quarterly losses could increase by another $100 million to $250 million a quarter, or $1 billion per year.
So how does this all effect cash flows? The company held $4.9 billion in debt at the end of the third quarter as the market value of hedges is easily $1 billion, if monetized. This could reduce the debt load to $3.9 billion overnight.
We known that third quarter depreciation charges totaled $260 million. The company has told that $1 billion in capital spending into 2016 should be sufficient to keep production flat. That suggests flat cash outflows from net investments. Give then current loss rate, the net debt load might rise from roughly $4 billion today (assuming a monetization of hedges) towards $5 billion by the end of 2016.
The trouble is that EBITDAX or whatever fancy ratio is going to come under severe pressure, certainly as hedges run off. At the current moment losses amount to roughly $1 billion a year. After adding back $300-$350 million in interest expenses, the negative EBIT is seen around $600-$650 million. If I add back a billion in depreciation charges, EBITDA without the impact of hedges is roughly $300-$350 million.
As net debt approaches $5 billion by the end of the year, and covenants dictating a maximum leverage ratio of 4.5 times, EP needs adjusted EBITDAX of at least $1 billion to maintain its credit line. With EBITDA coming in far below this number (excluding hedges which will no longer support 2017 cash flows), a miracle is needed to avoid financial difficulties.
Final Thoughts
EP Enery is facing real troubles, despite having pretty much all of its production being hedged for 2016. The trouble is that cash outflows continue, EBITDA is vaporizing and that the company will almost certainly run into financial troubles into the coming year.
Unless oil prices rise dramatically, capital spending is curtailed even more, real cost savings materialize, assets can be sold, or debt can be swapped, the outlook is pretty dire for investors going forwards.
The $5 billion debt load is simply way too high, even as the $1 billion hedge position will provide some cash flows in the year to come. With 270 million outstanding shares, having crumbled 90% from the highs to $2.70 per share, equity has been reduced to $650 million. Including the debt load, each barrel being produced per day is still valued at roughly $50,000. Based on the 622 million barrels in reserves, the valuation is more reasonable at $9 per barrel.
The trouble is that investors might never see the benefits of producing these +600 million barrels as they could be wiped out by then. Either a bankruptcy or very severe dilution are the most likely scenarios for the company, in what is an increasingly dire situation.
For all of these reasons, investors are best advised to avoid the shares.
Disclosure: I/we have no positions in any stocks mentioned, and no plans to initiate any positions within the next 72 hours.
I wrote this article myself, and it expresses my own opinions. I am not receiving compensation for it (other than from Seeking Alpha). I have no business relationship with any company whose stock is mentioned in this article.