To buy when others are despondently selling and to sell when others are avidly buying requires the greatest fortitude and pays the greatest ultimate rewards."
- Sir John Templeton - 1958
Introduction
As a market historian and contrarian investor, the depression impacting commodity stocks since 2011, which has picked up steam over the last few months, is both fascinating and frightening. The last several months have been so bad, in terms of price action, that there are more companies trading at incredibly cheap levels than I have the time to write about.
For the record, I am still cautious on the broader markets, and I was one of the few analysts talking about expensive valuations last year. Since that time, the average stock is now down almost 30% from its highs.
While the broader markets have climbed the wall of worry over the last five years, commodity stocks have been in their own brutal bear market, seemingly in a parallel universe. Historically cheap valuations and behavioral sentiment, that has been, and remains, as negative towards any sector as I can recall, even surpassing the doom and gloom surrounding financial stocks in 2008 and 2009, suggests that there are contrarian value opportunities to be found.
However, free falling stock and bond prices have made these securities value traps at best, and even astute investors, buying at seemingly low prices, have had their heads handed to them. With 2015 rolling into 2016, selling has accelerated. Freeport-McMoRan (NYSE:FCX), the world's second largest copper producer, now trades at a price over 50% lower than when Carl Icahn famously bought his shares, in August of 2015, providing opportunistic investors with an attractive entry point in a company enormously leveraged to higher commodity prices.
Thesis
Out-of-favor, undervalued, heavily shorted stocks have the potential to be big winners in 2016.
Is FCX Out-Of-Favor? Yes.
With its stock price down 45% in 2016 (see the second chart below), 70% in 2015, and 92% over the last five years, while the S&P 500 Index, as measured by the SPDR S&P 500 ETF (NYSEARCA:SPY), has risen 62% over the preceding five years, FCX is definitely out-of-favor.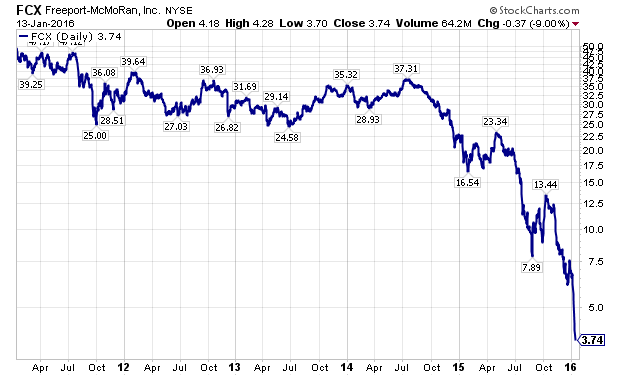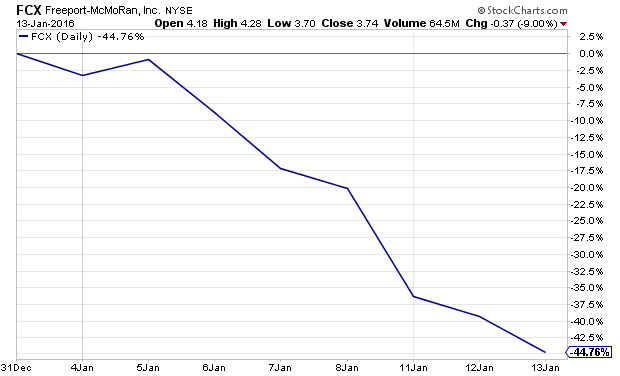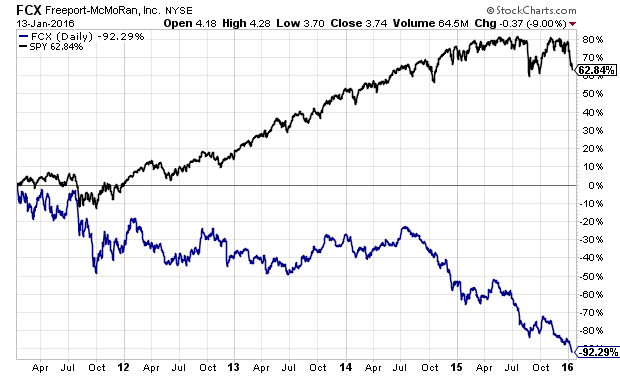 Freeport-McMoRan shares have suffered crippling losses, as declining copper, gold, molybdenum, natural gas, and oil prices have negatively impacted FCX's revenue, income, and free cash flow. Since Freeport-McMoRan is leveraged to the results of the aforementioned commodities, it has declined more than the commodities themselves. The following chart shows West Texas Intermediate Crude Oil, Copper, the United States Oil Fund (NYSEARCA:USO), and the iPath Bloomberg Copper ETN (NYSEARCA:JJC).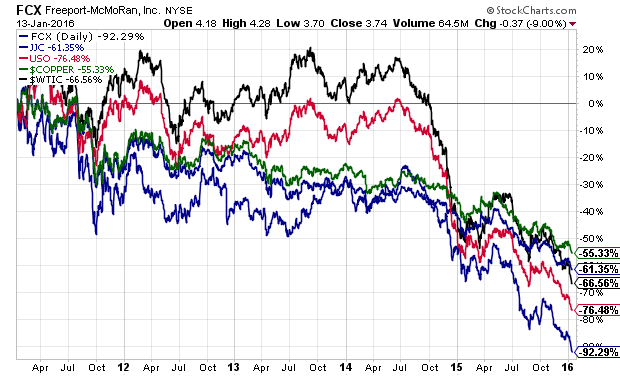 Freeport-McMoRan's peers, including Southern Copper Corporation (NYSE:SCCO), a pure copper competitor, BHP Billiton Limited (NYSE:BHP), and Rio Tinto plc (NYSE:RIO) have sold off in 2015, but FCX has been the worst performer, as the chart below illustrates.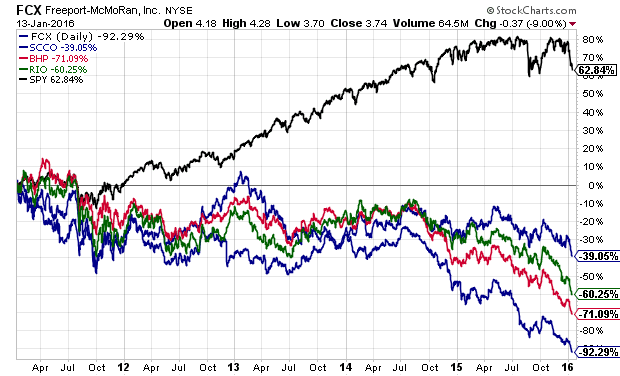 While I am bullish on SCCO, BHP, and RIO at today's price levels, and own both FCX and RIO in "The Contrarian s" portfolios, I think the risk/reward for Freeport-McMoRan's shares is by far the most compelling, especially given its recent share price decline.
Is FCX Undervalued? Yes, Remarkably So.
At the close of 2015, Freeport-McMoRan's shares traded far below the bottom of their ten-year ranges on price-to-sales, price-to-book, and price-to-cash flow ratios. With the 45% drop already in 2016, they have gotten even cheaper. The table I put together below, which shows relative and historical valuations, illustrates how extraordinarily cheap Freeport-McMoRan's common shares are today.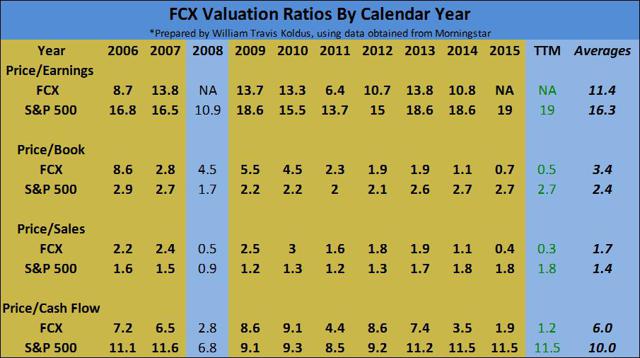 Click to enlarge
The contrast to FCX's prior low valuations in 2008 is striking. It shows the degree to which common shares have sold off, and the table doesn't even reflect the last two weeks!
Unsurprisingly, debt now makes up a majority of Freeport McMoRan's enterprise value. In looking at companies in my "Too Cheap To Ignore" series, it has been par for the course to see debt make up a vast majority of these company's enterprise values, leaving the common equity as a leveraged play on any rebound.
Is FCX Heavily Shorted? Check.
With 123 million shares short, equal to approximately 12% percent of the float, Freeport-McMoRan is heavily shorted, though not to the degree of other downtrodden commodity stocks, and a reversal of the downturn in its share price, could spark a sizeable short covering rally.
Catalyst #1 - Rising Copper Prices
Freeport-McMoRan could certainly benefit from rising oil, natural gas, molybdenum, and gold prices, and I list additional catalysts below this section, but it should be clear to anyone analyzing FCX that a rise in copper prices is the primary reason to be long shares.
Despite their mistimed acquisitions of Plains Exploration & Production Company and McMoRan Exploration Company, which in retrospect turned out to be buying oil and gas assets at peak values, Freeport-McMoRan remains primarily a copper company, with two-thirds of their revenues and a majority of their EBITDA coming from the red metal.
Recently, copper prices have fallen to five-year lows, as the following chart shows.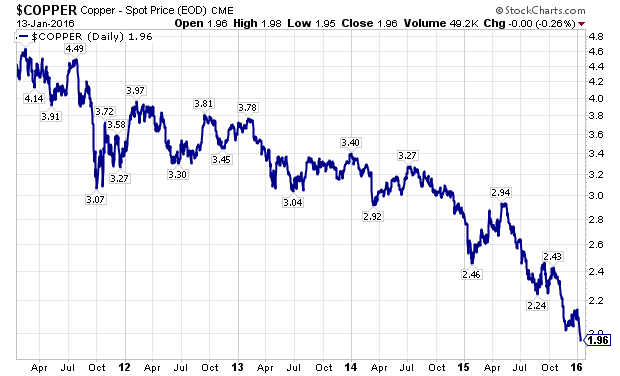 Despite the recent price weakness in copper, there are ample reasons to believe that prices are set to rise over the next several years. First, independent analysts believe the price of copper will head higher. In June, Coremark Securities raised their long-term copper price forecast from $2.75 per pound to $3.00 per pound.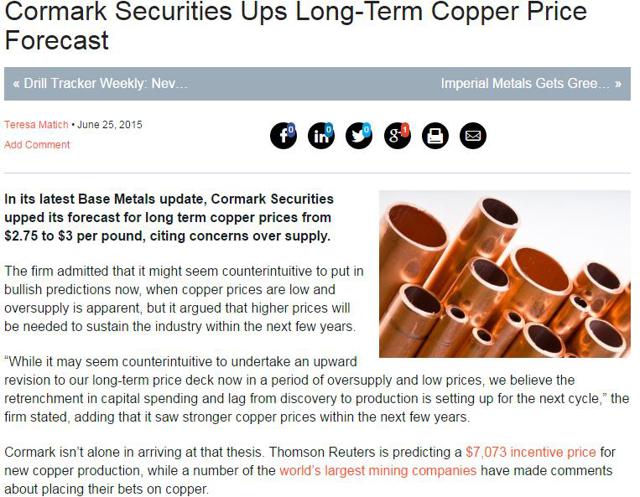 Click to enlarge
In the same article, Thomson Reuters predicted that copper would have to reach $7,073 per ton (it is approximately $4400 per ton today) to incentivize new production, as existing mines deplete their ore bodies.
A 61% price increase in copper from today's $2 per pound levels would do wonders for both the income statement and balance sheet of Freeport-McMoRan, as the company has extreme leverage to an increase in copper prices, as the following slides from their Q3 2015 Investor Presentation show.
Click to enlarge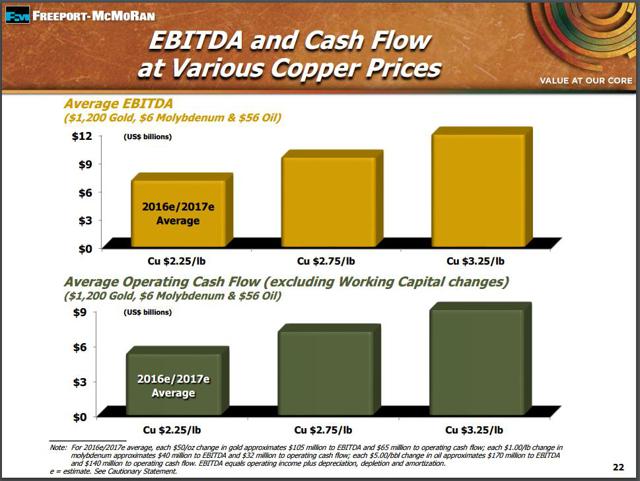 Click to enlarge
Capital expenditures are set to decline, as shown in another chart from the Q3 Presentation.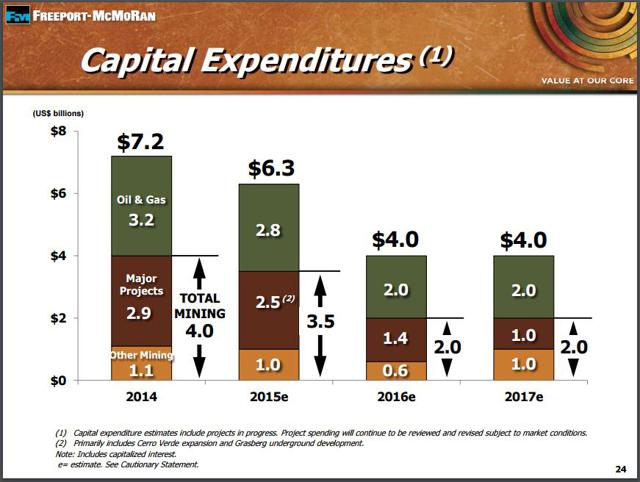 Click to enlarge
Thus, rising copper prices could lead to substantial free cash flows, paving the way for debt reduction.
Catalyst #2 - Growing Production & Reduced Expenses
As Freeport-McMoRan grows copper production in 2016 and lowers all-in costs, it is set to generate additional operating cash flow, even in a stagnant price environment.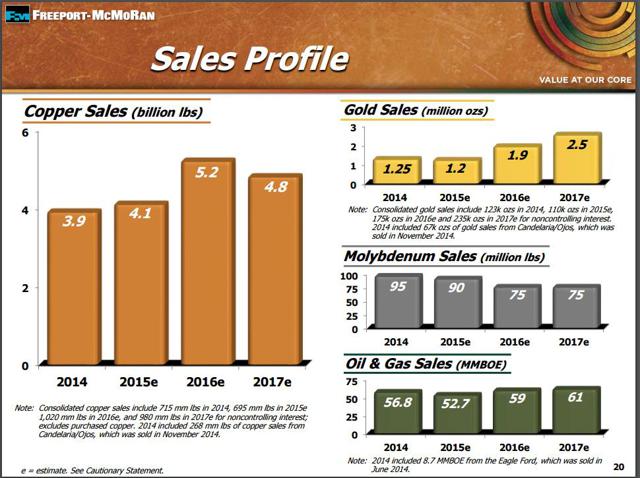 Click to enlarge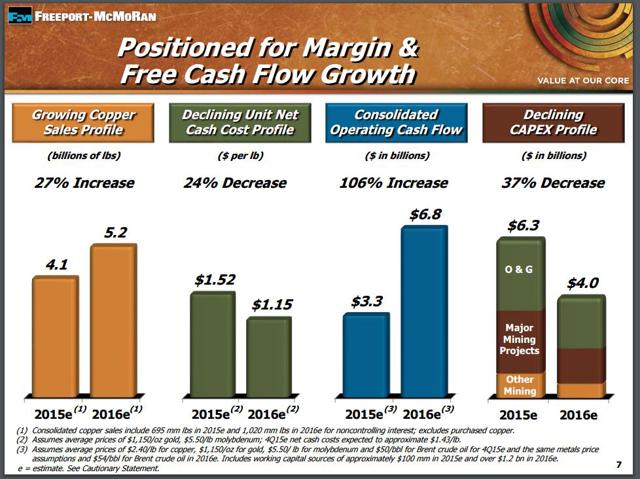 Click to enlarge
Thus, even if commodity prices continue to struggle in 2016, Freeport-McMoRan's income statement, balance sheet, and cash flow statements should show improvements as increased production and lower costs drive results.
Catalyst #3 - Activist Shareholders Spur Shareholder Friendly Actions
Carl Icahn famously bought shares of FCX in August of 2015, with a cost basis of approximately $8 per share.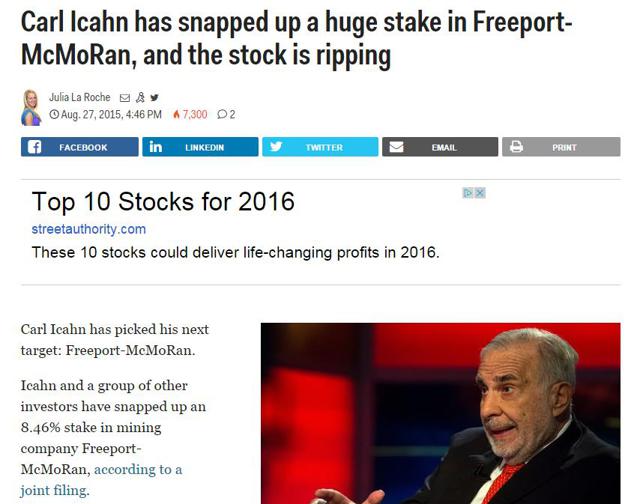 Click to enlarge
The shares acquired made Icahn, and his partners, the top institutional shareholder in Freeport-McMoRan.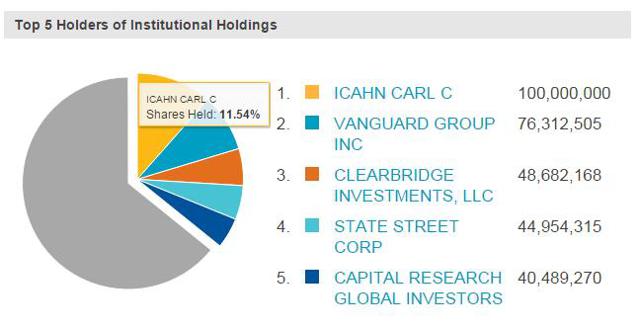 Click to enlarge
With shares now below $4, and copper below $2 per pound, expect Icahn and other looming activists to push for more mine curtailments and cost savings.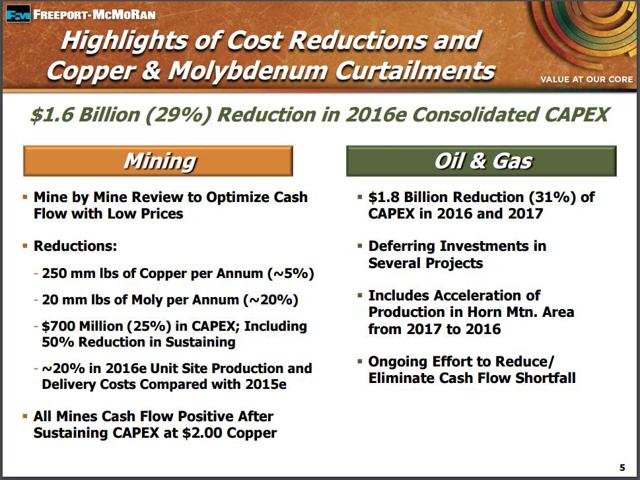 Click to enlarge
Catalyst #4 - Tier 1 Assets
We have already established that copper's long-term fundamentals are intact, which is different than other commodities, like iron ore, which is forecast to be in a surplus state for the foreseeable future. Building on this, Freeport-McMoRan has some of the best copper mines in the world as the following chart depicts.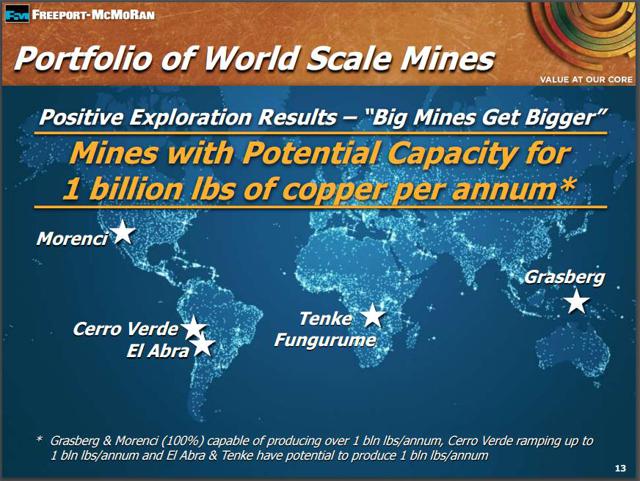 Click to enlarge
Catalyst #5 - Buyers Are Bidding For Copper
Barrick Gold (NYSE:ABX) is another undervalued commodity firm in my opinion, and I am bullish on their shares. To reduce the leverage on their balance sheet, Barrick recently sold a 50% interest in a copper mine that they jointly operated. The sale price of $1 billion, and the bidding process, which attracted multiple firms, including BHP, provide evidence that leading world miners see value in copper mines. This is true, even in an extremely depressed commodity environment, and it suggests that copper is a superior asset. Additionally, it also indicates that Freeport-McMoRan could divest assets if they needed to raise capital in a worst case scenario.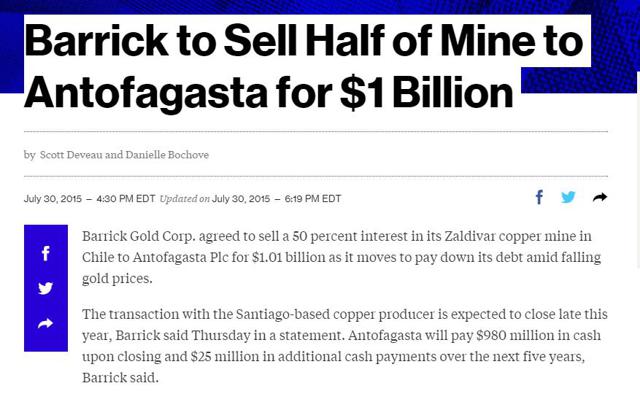 Click to enlarge
To close the catalyst section, the primary driver of an increase in FCX's share price will be the underlying prices of commodities. If copper rises in price, and to a lesser extent, if oil and gold rise, Freeport-McMoRan will realize substantial improvements in operating and free cash flows.
Risks
As I articulated in my recent article on Southwestern Energy (NYSE:SWN), the common denominator leading to a heavily discounted share price has been too much debt.
When Freeport-McMoRan made their acquisitions of Plains and McMoRan at the end of 2012, reentering the oil and gas exploration and production business, their long-term debt swelled from $3.5 billion at the end of 2012 to $20.4 billion to end 2013. At the time of the acquisition, robust cash flows from copper and oil sales appeared to be sufficient enough to fund capital expenditures and pay down debt. The decline in commodity prices halted the planned deleveraging, and long-term debt remains stubbornly at the $20 billion level, creating a very high degree of financial leverage.
Thus, any further decline in commodity prices, like we have seen in 2016, carries additional weight and pressures an already stretched balance sheet. The decline in the prices of copper and oil to start 2016 has wreaked havoc on FCX's common share price, as the financial markets are beginning to anticipate that commodity prices could be lower, for longer, than anticipated in 2016. One saving grace for Freeport-McMoRan is that the company's debt maturities are fairly reasonable in the intermediate-term, as shown in the following table from Morningstar.com below.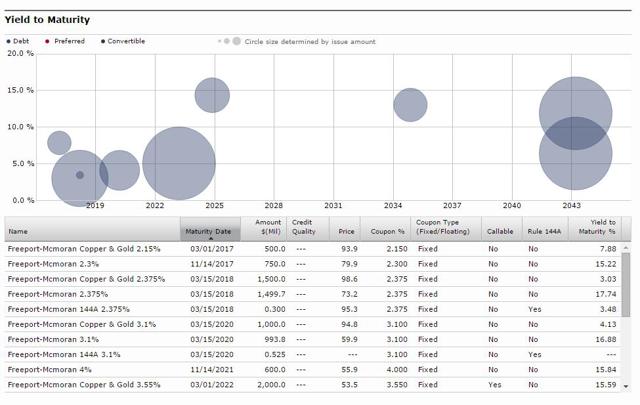 Click to enlarge
The plunge in FCX's common shares, and to a lesser extent their bonds, implies that the market is concerned about Freeport-McMoRan's ability to fund their capital expenditures of $4 billion and interest payments from operational cash flows in 2016.
If copper stays under $2 per pound, and oil hovers around $30 per barrel for the rest of 2016, Freeport-McMoRan will probably have to raise additional capital, diluting equity holders further. Additionally, the company could cut capital spending and/or sell assets to meet their near-term funding challenges.
Quantifying The Upside In Common Shares
If Freeport-McMoRan is able to survive the downturn in copper, oil, natural gas, molybdenum, and gold prices, what is the upside in its common shares? S&P Capital IQ sees upside at $9 per share for FCX, using a multiple of enterprise value to EBITDA. I am able to model a valuation north of $20, with copper prices averaging $2.75 per pound over the intermediate-term. Morningstar.com had a $13 price target with copper at $2.46 per pound, but this target has been recently reduced to $3 for FCX shares, based on a copper price average of $2 per pound, which I think is too bearish. If copper prices averaged $3 per pound or higher over the long-term, as Cormack Securities and Thomson Reuters forecast, then FCX shares could have a fair value north of $30 per share.
Portfolio Strategy & Deep Value Investing
The primary appeal of buying dirt cheap companies selling at or near all-time low valuations is that a rebound could spark significant share price gains, with shares having the potential to double, triple or more. The other side of this coin, however, is that a further weakening of a distressed company's business prospects could wipe out equity holders, who have the lowest position in a company's capital structure. To off-set this risk, when buying distressed companies, investors should consider buying a basket of distressed names. From my perspective, investing in out-of-favor companies is similar to venture capital investing, where you know going in that you will have some companies that fail, wiping out shareholders, but the winners and their corresponding share price gains, will more than make up for the companies that do not make it. To illustrate the merits of this approach, I have been using the following table I have put together, comparing a 10% basket of distressed companies with the remaining portfolio in cash (Portfolio B) to a more traditionally invested portfolio.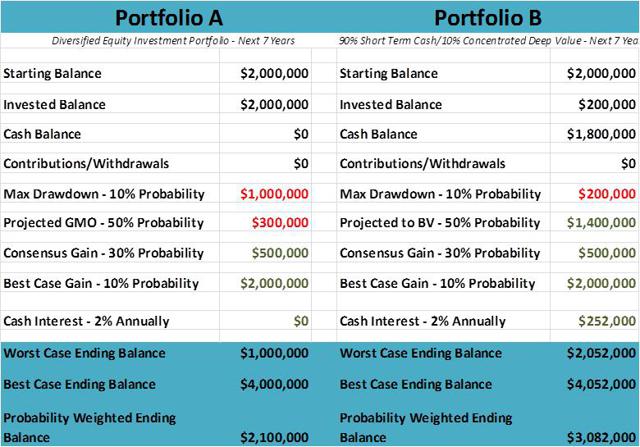 Click to enlarge
Recently, I have written extensively on portfolio strategy, and I cover this topic extensively in "The Contrarian premium service.
Conclusion: Freeport-McMoRan Is Undervalued
Freeport-McMoRan shares have entered a free fall decline in 2016, after losing more than two-thirds of their value in 2015. The enormous loss of value is contrary to copper's bullish long-term fundamentals.
While most commodities are forecast to be oversupplied, copper has attractive intermediate to long-term fundamentals. The red metal could see a structural supply deficit in as soon as 12 months, propelling near-term and intermediate-term prices higher to incentivize future mine development.
A rebound in copper prices, and to a lesser extent oil prices, would dramatically impact shares of Freeport-McMoRan, as recent acquisitions have left the company's balance sheet in a leveraged state, magnifying gains and losses. The recent leverage has worked dramatically against Freeport-McMoRan common shares in 2016, as copper and oil prices have plummeted to begin the year.
Even a modest reversal in commodity prices could push shares materially higher, with upside of over 80% just to get back to where shares opened the year. While the balance sheet is debt-laden and risks remain, Freeport-McMoRan should be attractive to opportunistic investors looking for a call option on higher copper prices. Buy FCX.
Disclosure: I am/we are long FCX, SWN, RIO, ABX.
I wrote this article myself, and it expresses my own opinions. I am not receiving compensation for it (other than from Seeking Alpha). I have no business relationship with any company whose stock is mentioned in this article.
Additional disclosure: Every investor's situation is different. Positions can change at any time without warning. Please do your own due diligence and consult with your financial advisor, if you have one, before making any investment decisions. The author is not acting in an investment adviser capacity. The author's opinions expressed herein address only select aspects of potential investment in securities of the companies mentioned and cannot be a substitute for comprehensive investment analysis. The author recommends that potential and existing investors conduct thorough investment research of their own, including detailed review of the companies' SEC filings. Any opinions or estimates constitute the author's best judgment as of the date of publication, and are subject to change without notice.