Shares of Discovery Communications (NASDAQ:DISCA) (NASDAQ:DISCB) (NASDAQ:DISCK) have been dragged down to a PE ratio not seen since 2012. Despite what people say about cable TV, DISCA still has a lot to offer advertisers, and is busy looking to the future.
This fall in share price has created a fantastic opportunity to buy into this respected company a great price.

Click to enlarge
At some point in our lives we're all bound to have watched programming by Discovery Communications. Being a media and entertainment force, it provides programming across a number of well-known channels and platforms worldwide. The most widely known channel would have to be the one it shares its name with - the Discovery Channel. We most probably owe a lot of our knowledge (some useful, some not) to this company.
At the moment it is hard to find shares that are actually up in the last six months. So it comes as no surprise to say that Discovery Communications is down during this time. Being a media company may also set off alarm bells, this sector got hit very hard in 2015, which is partly the reason why the shares are 22.5% down since then.
We attribute the cause of this primarily to the fact that the company's earnings have hit a wall. For the first three quarters of fiscal 2015 despite revenue being slightly up, net profit declined almost 9% as a result of its operating margin narrowing.
An increase in content spending and marketing investments is a necessary step to maintaining growth and relevance. Our thoughts on the narrowing margin are its okay, just as long as we see improvements in the next quarter. If we don't, then either the company is potentially making too large a spend in content, or the marketing spend is not working. Either way, we want to see an improvement in efficiencies.
So, back to the chart. The result of this 22.5% drop has left the stock trading at a very low PE ratio, as shown below.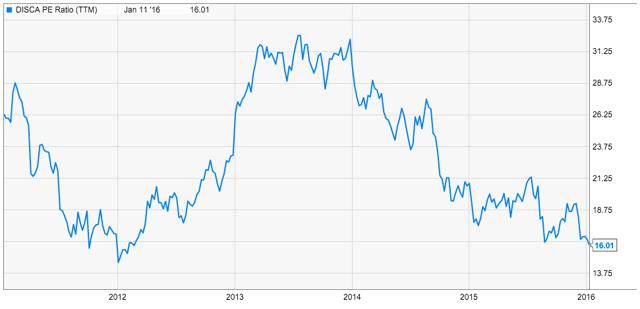 Click to enlarge
Source: Ycharts
We are pinning our hopes on margins increasing in Q4, which would have the obvious effect of leading to a better level of profitability for DISCA. Improvements in profitability are what investors want to see, and could quite easily be the catalyst to sending the stock higher. Making an investment in the company at the current price should prove to a great opportunity for those looking for gains in 2016.

Click to enlarge
Source: Google Finance
We believe the diversification of the company's programming gives it an advantage over the competition when it comes to advertising. As its programming can be narrowed down into such precise demographics domestically and internationally, we feel it gives advertisers a real opportunity to hone in on their target market. Imagine you're selling baby clothing, or kitchen equipment, do you advertise it on mainstream television where you may hit a few of your target market, or do you advertise on a channel that just your target demographic is tuned into already? We know which we'd choose.
This asset, along with its portfolio of quality content, is why we believe it can sustain good levels of advertising growth in the future. Below you will see the current portfolio of channels the company operates. It has everything from knowledge-based channels, to lifestyle channels, and sport channels through to food channels.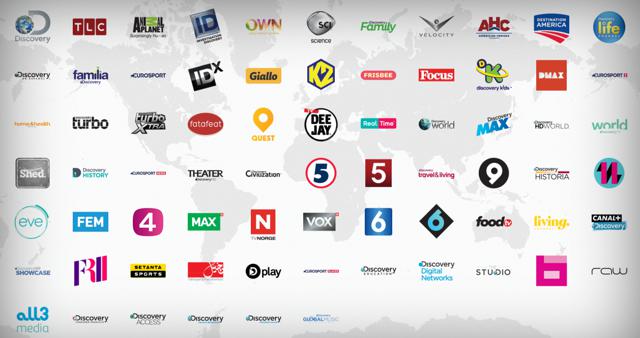 Click to enlarge
Source: Company Website
If we look ahead to the future the company believes the direct­-to­consumer business is something that could drive revenues of close to $100 million in the near term, and we agree. We, the smart device generation, consume media in various forms and places. No longer are we restricted to a big grey box in the corner of the room.
It is still very early days but through it Eurosport and Dplay app it currently has 200,000 subscribers. CEO David M. Zaslav believes one million subscribers paying $6 to $8 will get the company to its $100 million target. There is no doubt in our mind that mobile streaming is the future, and if the company can leverage its quality programming then it will succeed on this front. Perhaps the best part of this is what Mr. Zaslav went on to say on the Q3 2015 earnings call:
The exciting thing about the Eurosport app is that we're growing our direct­-to­-consumer business, but it's not coming at the expense of the linear channel. In fact the linear channel grew more than 15% in the past quarter. So people are signing up for the U.S. Open and they're watching maybe a choice of 18 courts. Most of it is when they're outside the home and then when they're in the home, they're watching one of the three Eurosport channels in most cases. So we're finding that it's additive.
By not cannibalizing its linear channel, it's a real bonus for the company and something we find to be very positive. The company acquired the rights to the Olympics (Summer and Winter) from 2018 to 2024, which should help bolster subscriptions. In Europe the company has the opportunity to lease back certain parts of the rights to individual countries which could prove to be a cash-cow.
The company expects its tax rate to be 33% for fiscal 2015, but by fiscal 2017 it should have dropped down to 30%. This will be a great help to the bottom line, giving earnings growth that extra bit of help.
One big positive for us is that Discovery Communications continues to be a free cash flow juggernaut. We love our investments to have strong levels of free cash flow, and Discovery Communications certainly exhibits this. In fiscal 2015 the company stated in its investor day presentation that it believes it will achieve an increase of FCF in the low single digits from last years $1.198 billion. Add this to its current ratio of 1.3 and things look pretty healthy.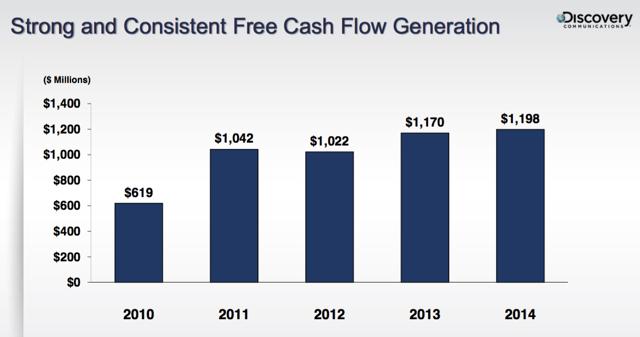 Click to enlarge
Source: Company Presentation
The sum of all this we feel is a quality company at a great price. We see Discovery producing strong and steady returns for investors for many years. The portfolio of programming it possesses will continue to be diverse, engaging, and relevant and a part of our lives for a long time to come.
To allow for a reasonable margin of safety we value Discovery Communications on a PE ratio of 17. For fiscal 2015 we anticipate earnings of $1.67 per share, up slightly year-over-year. But looking ahead to fiscal 2016, we believe that growth will accelerate and the company will produce EPS of approximately $1.80.
We believe a decrease in the tax rate, continued share repurchasing, and improvements to the operating margin will all contribute to this bottom line improvement. This gives us a one-year price target of $30.60, which equates to a return of 16% from its last close price.
Takeaway
Cable television may not be around forever, but it isn't going away anytime soon. As long as Discovery Communications adapts well to the new environment we believe they will continue to flourish in the future. The early signs have been positive, direct-to-consumer is gathering momentum and could one day be its driving force.
Disclosure: I/we have no positions in any stocks mentioned, but may initiate a long position in DISCA over the next 72 hours.
I wrote this article myself, and it expresses my own opinions. I am not receiving compensation for it (other than from Seeking Alpha). I have no business relationship with any company whose stock is mentioned in this article.