Author's Background
This being my first article on Seeking Alpha, I wanted to share my background, and you will see why I chose this particular IPO to write about. I earned a degree in Civil Engineering in 2003 and was subsequently employed by an Engineering News Record Top 400 general contractor. I spent five years in building construction and managed projects with an estimated cost of $90-100 million. I earned my MBA and professional engineering license. I currently work for a municipal government in a civil engineering role.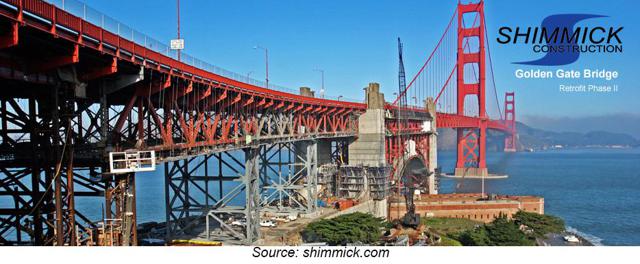 Executive Summary
Shimmick Construction (Pending:SCCI) plans to offer 6.25 million shares in its IPO at a range of $11-13 per share. There are no specifics on what the funds will be used for, but a third of the shares being offered are owned by the employees and management. The IPO documentation mentions projects being bid with no guarantee of award. It has a quarry which its IPO material states is in the early stages of operation. Classified as an emerging growth company limited certain IPO disclosures. Backlog of projects is $618 million as of Sept. 30, with an estimated $320 million expected to be recognized in 2016. I did not find its bonding limits in its disclosure, but the company did state it had $550 million of surety bonds outstanding. It will become a C corporation after the IPO which will increase its tax rate to 40%. Based on EPS and book value, I would not be comfortable paying more than book value which I calculated to be between $8 and $9 after the IPO. Even then, if EPS in 2016 is only $0.28, the rate of return is poor. Two years of data does not substantiate that this company will continue to grow and perform. I would avoid this stock until a couple years of growth have been demonstrated.
Company Information
Shimmick Construction is a heavy civil construction company located in California that self performs much of its work. It provides constructions services and design/build services on the West Coast and Hawaii. It recently is no longer part of a project team on a California rail project.
The company qualifies as an Emerging Growth Company according to the JOBS Act, which means it is allowed to present only two years of audited financials, exempt from an attestation by the auditors on Sarbanes-Oxley, can provide less extensive disclosures on executive compensation or golden parachutes, can extend the transition for complying with new accounting standards, etc.
Work Backlog
Backlog is very important for contractors as it establishes a stable workflow to right size the workforce. The company has listed a list of projects which it is bidding on. On large civil projects, the larger the project, the fewer the bidders (due to bonding capacity and contractor capability), and therefore, margins tend to be higher as well. Self-performing companies also tend to have a higher margin as their risk is higher and they do not pay a subcontractor's overhead, but take it on themselves. This list I believe to be immaterial as they have not been awarded. Generally, contractors only expect to secure a certain percentage of the jobs they bid. Even if they are awarded several, they may reach their bonding limit and could not bid on any more work. Their workforce and equipment will also limit the amount of work they are capable of performing.
They mention deteriorating infrastructure and the need for replacement. This is true throughout America, and it is also almost universally true that the money never appears in the amount the ASCE says is needed. The passage of the recent transportation bill will lead to increased spending on transportation projects.
Joint ventures can also muddy the waters. For example, the company lists the Gerald Desmond Bridge Replacement with a contract value of $779 million, which is true for the entire project, but how much of that will flow thru Shimmick or go to its bottom line is difficult to discern. Form F-16 helps clarify this matter showing that it currently has 6 JVs, with a total contract value of $2,115 million, SCCI's portion is $928 million, with $297 million of remaining revenue.
Legal Matters
Lawsuits on large construction projects are very common and the damages can be substantial. These can have material impacts on companies and often put them out of business.
Executive Compensation
The salary and compensation of the principal officers ($461-613k) does not appear to be out of line with what I would expect for a company of this size and located in California.
Fundamentals
After the offering, there will be 15,129,828 shares of common stock outstanding, plus additional if the underwriters exercise their options. This would give SCCI a market cap of between $160-190 million.
Book value is currently $11.7 million. The shares subject to redemption should go away after the IPO, and the cash from the IPO should result in a revised book value of approximately $125.1 million, which would be a price to book of approximately 1.3x.
Earnings for 2014 were $0.60 per diluted share. At the low end, the P/E would be 18.3. However, after nine months, the EPS in 2015 was lower than in 2014. Hopefully, the weather on the West Coast is better than in the Midwest, because the third quarter was always our best quarter. In addition, the EPS does not reflect any corporate taxes, so these could decrease by 40%. I am unfamiliar with the California tax law and if there would be any additional state taxes.
Long-term debt is currently $26.6 million. This is a debt-to-equity ratio of 0.21 due to the substantial cash infusion.
If you choose to invest, I would suggest consulting P/E ratios and P/B ratios for more mature companies and applying an appropriate discount. I tend to be a value investor and knowing the vagaries of the construction industry, would place my target price based on a 2016 EPS of $0.28 ($0.60 per share for 2015, a 18% growth, and 40% discount for taxes). Using an earnings multiple of 15, which I think is more than fair for a company this small with an unproven record, would result in a price of $4.20.
In construction, depreciation is a very tangible part of the balance sheet compared to say the real estate industry. Equipment wears out and becomes obsolete and has to be replaced.
Fair Value
The IPO provides a fair value of common shares for 2014 of $6.17 and an exercise price of $5.55. It also shows a fair value of, Sept. 30, 2015, $9.70.
Conclusion
Medium-size construction companies have many inherent risks. The large amount of equipment ($35 million) appears to make the rate of return on invested capital low. Without a proven track or further insight into the local market and likelihood of additional contracts, this is a speculative play.
Any IPO requires a large amount of due diligence on the part of the investor and carries increased amounts of risk.
Disclosure: I/we have no positions in any stocks mentioned, and no plans to initiate any positions within the next 72 hours.
I wrote this article myself, and it expresses my own opinions. I am not receiving compensation for it (other than from Seeking Alpha). I have no business relationship with any company whose stock is mentioned in this article.