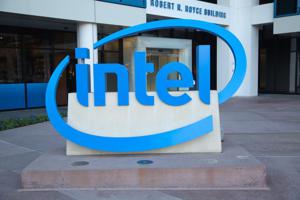 Intel (NASDAQ:INTC) the microprocessor and memory giant will report their calendar Q4 '15 financial results after the bell tonight.
For the 4th quarter, consensus is expecting $0.63 on $14.8 billion for sequential growth of -1.5% and +3% respectively, while year-over-year growth is -12% and +1 respectively.
In the October '15 call, gross margin was guided to 62% +/- 200 bp's which leaves quite a bit of leeway. Intel beat nicely on Q3 revenue and EPS and guided Q4 '15 inline.
With the Altera acquisition closing in late December '15, it looks like the numbers got a bump with the inclusion of Altera in Intel's numbers.
For 2016, Intel's Street consensus is expecting $2.37 on $58.4 billion in revenue for expected growth next year of 6% and 6% respectively.
The only year of the last 4 (and I'm including 2015 in this) that saw any kind of revenue growth was 2014, which saw the burst in PC growth from what I thought at the time was the Windows Vista termination refresh, where revenue grew 6% y/y, but other than that, revenue has fallen 1% per year 3 of the last 4 years.
Longer-term issues:
PC's: Although some of the headlines around Q4 '15 PC growth seemed to play to the crowd, the fact is Intel is trying to move away from the PC-centric business which at one point was 80% of revenue but is now 59% - 60% of revenue and operating income.
Data Center: the Data Center Group (DCG) growth is somewhat tied to the Cloud which is a positive but at the late November '15 Intel Analyst Day (where Intel was trading at $35), reading some of the Street research from the meeting it appeared that Intel lowered DCG from "mid-teens" to "low-double-digits" during the presentation.
The DCG is now 30% of Intel's revenue but 50% of Intel's operating income, which is a positive and despite somewhat tempered expectations for the segment, low-double digit revenue and operating income growth is a positive.
It is clear that the DCG is the future of Intel - that is no surprise to anyone - but revenue and earnings delta is still tied to PC's if we study 2014 anyway.
Capex: My issue with Intel over the years is that capex as a percentage of cash-flow north of 50% for a business with no revenue growth is like running a marathon with a piano on your back.
Last year Intel reduced capex to $7.5 billion, but in the November '15 analyst day Intel management did state that capex for 2016 will return to $10 billion with $1.5 billion being "memory-related".
The point of all this being that with that kind of capex burden, revenue growth is required.
Technical analysis: unlike a lot of the SP 500 after the rough January '16 start, Intel is still trading above its 200-day moving average. A trade above $34 on volume and Intel could make a run at $37 - $38, which was the late 2014 highs.
For a longer-term technical look, Intel has traded under the early 2001 high of $38.50 for the last 15 years. The capital intensity of Intel's core business and the lack of revenue growth came home to roost after the elevated state of late 1990's.
Valuation: Street consensus is expecting 4% revenue growth and 7% EPS growth for the next 4 years, which includes 2015. The Street consensus for '16 - '18 is actually stronger than what we saw this year so there is some positives to Intel's story.
The P.E is roughly 14(x) compared to those projected growth rates.
At 6(x) cash-flow (ex-cash) and 10(x) free-cash-flow ex-cash, Intel has been cheaper. While those cash-flow valuations look appealing, that is often the case with businesses with high operating leverage.
Intel generates ample free-cash-flow and the one positive change they have made the last few years is cutting back on the incentive stock options (ISOs), which consumed as much as $2 billion of Intel's free-cash-flow as of Sept. '14. Insider selling and the dilution therein was consuming about 50% of Intel's free-cash-flow as of late last year, but that has now fallen to 15% and ISO selling has fallen to $900 million as of 9/30/15 from over $2 billion as of 9/30/14.
This ultimately allows Intel to continue to increase the dividend, which they had to stop doing from June, 2012 through the end of 2014.
Analysis/conclusion: Readers probably want a hard buy or sell call around earnings tonight, but that won't happen and I'm not that kind of investor anyway.
The recent increase in Intel's forward EPS and revenue estimates are a positive in my opinion, and the reduction in ISO's and the consumption of free-cash-flow that was causing ISO's to offset the dilution from ISO's is another positive, but investors still need to see Intel move away from being levered to the PC business.
Intel has added long-term debt, but the chip giant is also generating a healthy amount of free-cash-flow, over $12.5 billion (4-quarter trailing) as of 9/30/15. Can they do an accelerated share repurchase here ?
2014 proved that EPS and revenue are still very PC sensitive, despite the growth of the Data Center Group.
Clients own a 2% position in Intel with the SP 500 weighting about 90 basis points or less than 1%. Intel's stock tend to do best when there is robust revenue growth driving earnings delta thanks to the operating leverage. The macro environment both for PC's and global growth has been anything but that. The position has been unchanged for years thanks to my believing the old Nasdaq 100 or the go-go tech names of the 1990's are the best value names today.
Here and here and here are some earlier articles written about Intel.
Ultimately the chip giant needs some revenue growth to fund that $10 billion capex nut.
Clients would only see an increase in the current position if I thought Intel could trade above that $38 - $39 early 2001 high and only if that happened on healthy volume.
Disclosure: I am/we are long INTC.
I wrote this article myself, and it expresses my own opinions. I am not receiving compensation for it (other than from Seeking Alpha). I have no business relationship with any company whose stock is mentioned in this article.