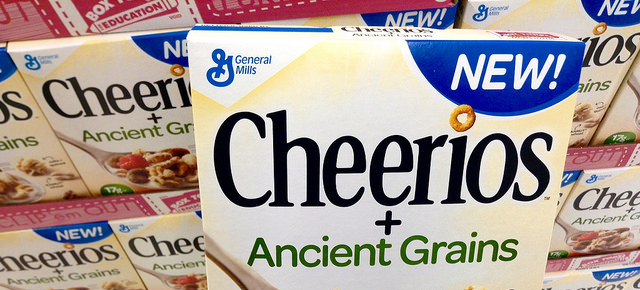 Here we come to the fifth part of my "Food Fight" series analyzing the various companies operating in the attractive food sector. This time we are taking a look at General Mills (NYSE:GIS).
General Mills is a familiar brand to many of us. Their logo crops up on a vast majority of our most popular cereal brands, including one of my favorites Cheerios.
But General Mills is much more than a cereals maker. They have the likes of premium ice cream Haagen-Dazs, Pillsbury dough, Old El Paso sauces and meal packs, Progresso soup and Nature Valley snacks all occupying space in their portfolio.
In fact, General Mills is very nicely spread across the segments that it operates in (according to its 2015 Annual Report):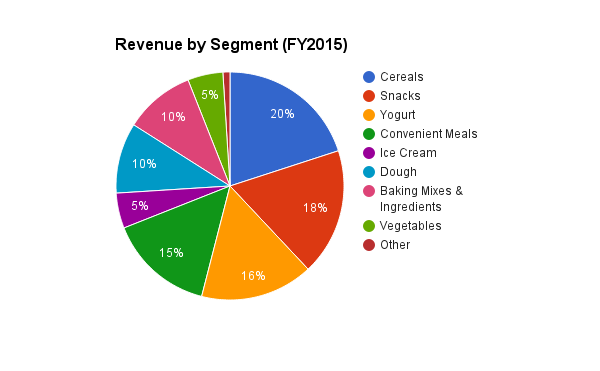 This makes them an attractive business with a nice spread across some very attractive segments.
Geographical Diversification
Geographically they are less diversified with the US making up about two-thirds of sales: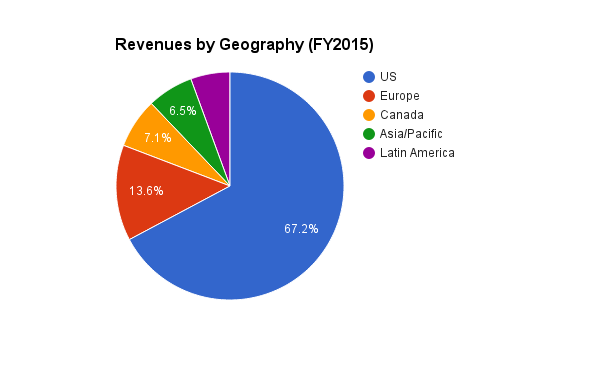 General Mills has been seeing revenues decline for most regions. In the case of their non-US markets, however, it is clear that currency fluctuations have hit their returns significantly knocking underlying constant currency growth back into real USD shrinkage: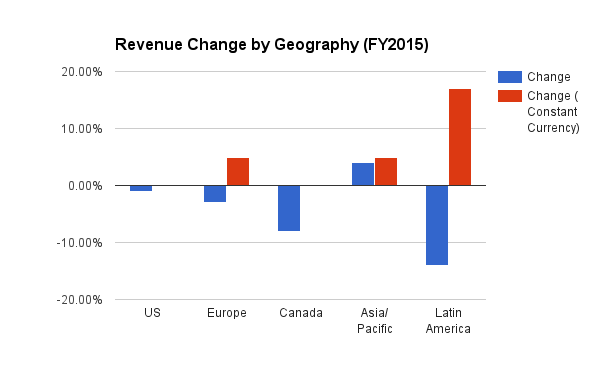 In general, currency headwinds tend to rebalance over the medium- to long-term. With underlying growth in non-US markets, General Mills appears to be setting itself up nicely for a generous future revenue from these regions.
Overall, although early days its powerful brands should prove effective in leveraging growth beyond the US where growth is slowing.
So what about the rest of the financials?
Solid Revenue Growth
General Mills has seen some pretty solid revenue growth over the last five years. In fact, compared to its peers it continues to ever so slightly outperform them: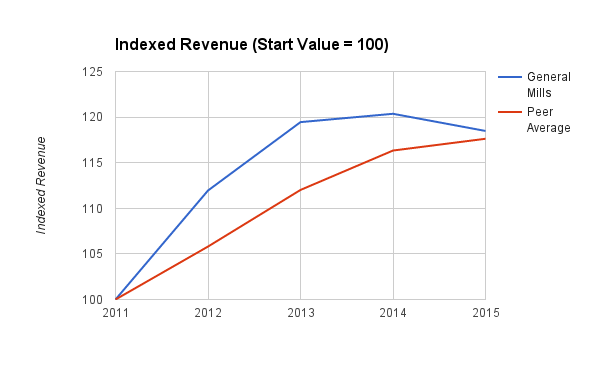 Many analysts are expecting revenue to fall again more dramatically in 2016. I suspect they may be right that it will drop, but are perhaps wrong about the extent of this drop. At Q2 2016 results time they chalked up pretty solid figures:
| | | |
| --- | --- | --- |
| $million | Net Income (b4 Taxes) | Revenue/Sales |
| 2011 | $2,428 | $14,880 |
| 2012 | $2,211 | $16,658 |
| 2013 | $2,535 | $17,774 |
| 2014 | $2,655 | $17,910 |
| 2015 | $1,762 | $17,630 |
| 2016 (H1) | $1,439 | $8,633 |
Now in FY2015 they produced about half their revenue in H1 and the other half in H2 (as you'd expect). Assuming the same is true of FY2016 we should expect to see revenue around the $17 billion mark again rather than the $16 billion that analysts are currently expecting.
Without the massive restructuring costs which hit net income in 2015 as well we should see it return to around the 2014 level again. All in all, the picture seems more optimsitic than some are predicting.
Robust Margins
General Mills has managed to put together impressive margins. Of course, with a basket of brands as strong as the company has you would expect this. Nonetheless, over the last five years it has managed to produce operating profit margins ahead of its still highly-performing peer group: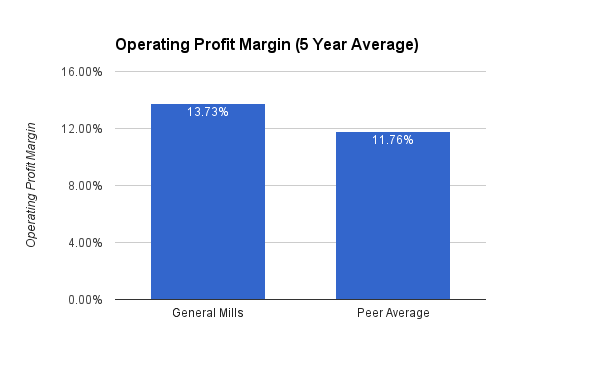 Looks good doesn't it? But a word of caution. When studied from a yearly perspective, in 2015 General Mills struggled to retain its margins: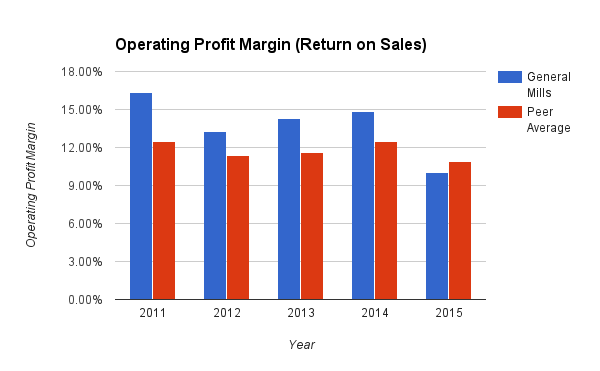 Now a margin of about 10% is still pretty good. However, this is something to watch out for in future. Clearly margin compression is a sector wide issue, but General Mills saw its margins shrink at a far more substantial rate.
Nonetheless, this does appear to have been more of a anomaly as at Q2 2016 the operating profit margin was back up to 16.6%. Consequently, their margins look pretty solid going into the second half of FY2016.
Cash Flow
Recently, General Mills has also outperformed its peers with regards to producing FCF growth: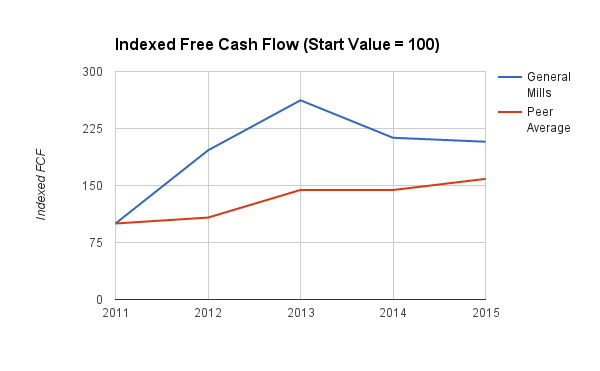 Certainly in the last couple of years it has struggled to keep up that growth and has fallen back a little. I expect to see this continue going forward as revenue looks set to remain flat in 2016.
Cash Return on Invested Capital
Nonetheless, they continue to produce this FCF very efficiently indeed. This can be seen by looking at the CROIC (cash return on invested capital). This is FCF divided by the sum of a company's debt and equity.
From this perspective, General Mills looks like a quality operator. However, it does slightly underperform its peers: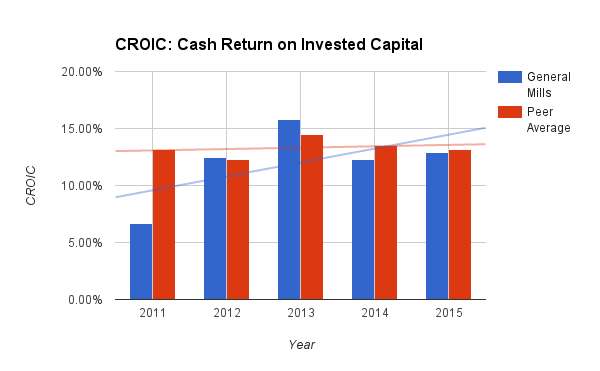 So far in the first two quarters, General Mills has managed to achieve a CROIC of 5.75%. It therefore looks on track to retain a CROIC around the 12% mark which it has averaged over the last five years. Consequently, although underperforming its peers moderately, it continues to perform incredibly well and generate copious amounts of FCF very efficiently.
Debt
It is when we get to debt matters that things looks less healthy for General Mills. The food sector is, generally, a fairly heavily leveraged sector. With stable earnings and cash flow, they often attract very generous interest rates and thus can handle larger debt loads.
Nonetheless, even in this "debt happy" sector, General Mills is a standout business (and not, unfortunately, in a good way).
Until as recently as 2013, General Mills was largely in line with its peers with regards its debt to equity ratio. However, since then rising debt and declining equity has meant it is fast approaching a debt to equity ratio of 200%: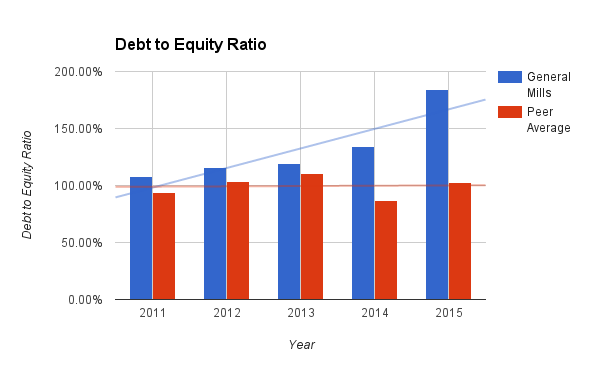 Indeed, looking at the Q2 2016 figures would suggest they have now crossed the 200% threshold.
What is worse is that this debt is fairly thinly covered by FCF: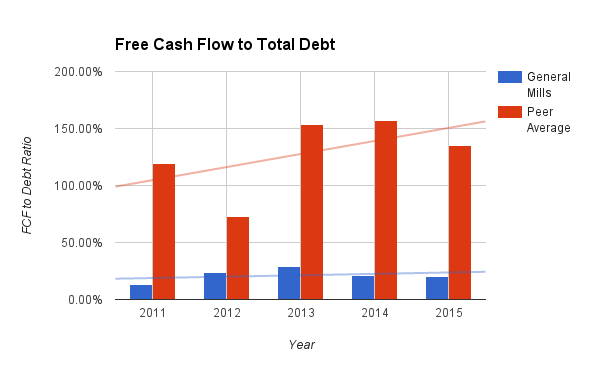 In fact, whilst its peers can claim FCF coverage of nearly 135%, General Mills can only claim coverage of 19.85%. In theory, this means it would take General Mills just over 5 years to repay it entire debt using only FCF whereas its peers could do so in less than a year.
However, let's not get too carried away here. First, I have mentioned before that the peer average is distorted a little by two hefty outliers (Lancaster Colony (NASDAQ:LANC) and Tootsie Roll (NYSE:TR)) who have low or no debt. However, even if we remove them from the peer average it is clear that General Mills is far behind its peers still: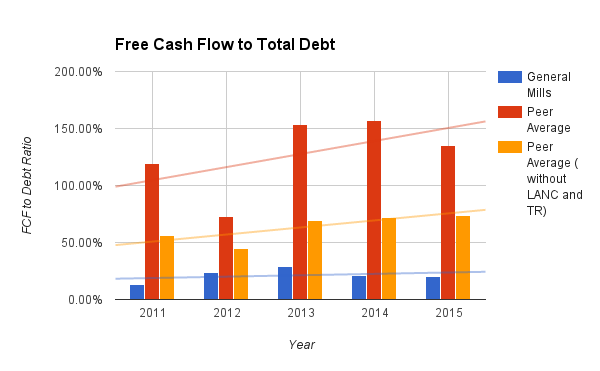 Another caveat should be that General Mills' FCF debt coverage level is still pretty solid. Certainly, I would like to see it above 25%. I don't expect this to come within FY 2016 as in Q2 2016 it was clear that debt had grown and FCF was set to be flat at best. Indeed, my estimate is for FCF coverage to fall to around 17% by year's end.
It is little surprise, therefore, to find that the main credit agencies are generally a little more sanguine with General Mills than its peers (find out more on how I normalize credit ratings here):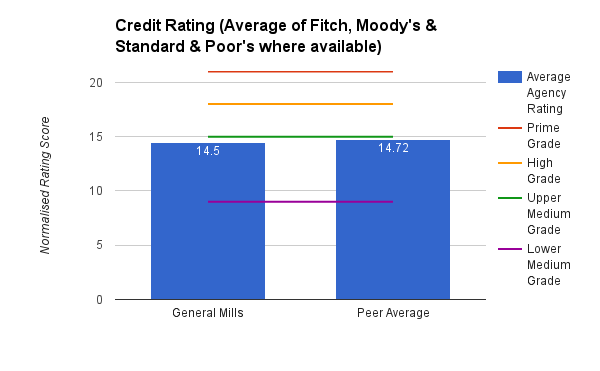 Despite this, General Mills remains an upper medium grade credit bearing company and is scarcely miles behind its peers. Nonetheless, other leading lights in the sector (such as recently reviewed Hormel (NYSE:HRL)) attract much stronger ratings.
Dividend
On the dividend front things improve markedly. General Mills is amongst the highest yielders of its peers: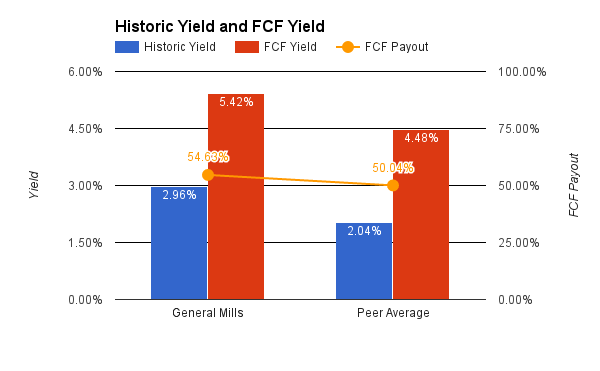 With a yield near to 3% that is pretty generous. What is more, despite recent FCF growth issues, its strong performance over many years means that it has a FCF yield well ahead of its peers at nearly 5.5%. That is great news.
Similarly, despite having a FCF payout ratio above its peers at present it still has room to continue dividend increases. That being said, at Q2 2016 time the payout ratio had risen to over 60%. I expect that this will be the payout ratio come the end of the financial year as well.
Despite this, General Mills still has a dividend which is generous and well-covered at present.
Valuation
General Mills various headwinds has resulted in its trading at a discount to its peers according to PE predictions: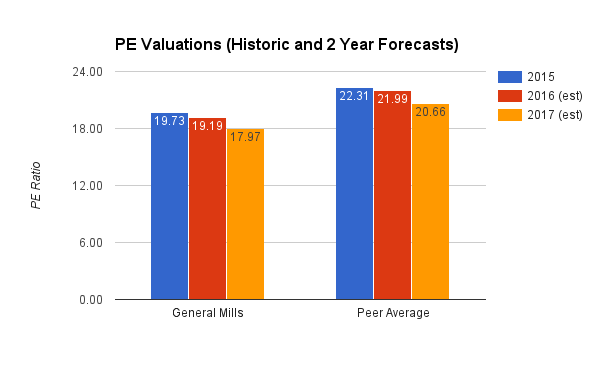 This is, I think, a fair valuation difference. General Mills is an excellent company which deserves to trade at a premium to many other businesses. However, amongst its food peers, despite its strong margins and historic revenue growth, it does underperform a little. The debt matter, in particular, is an additional risk which should be reflected in its valuation.
Fair Value
So what is General Mills' fair value price? This I calculate by taking the average PE ratio for the last five years and then multiplying the average EPS predictions for the next two years by this figure.
Over the last five years, General Mills has averaged a PE of 17.56. Using this in the above calculation gives us a basic fair value price of $53.38.
I then adjust this by the amount of cash held on their books. Doing so provides a cash-adjusted fair value of $54.47.
Conclusion
General Mills is a very attractive company with a variety of excellent brands.
It has some issues when compared to its peers. Its debt load is high and FCF coverage low. Nonetheless, it is far from at alarm bells stage. It has also underperformed its peers in the cash-generating efficiency stakes. Nonetheless, it is still a high-performing business in this regard.
Does the dividend and relatively modest valuation compensate for these weaknesses against its peers? That's a decision only you can make. Nonetheless, I would argue that this is probably the case. Certainly, if it was to fall below $54.50 I would happily pick up some shares in the business.
It has not traded around this level consistently since this time last year. Nonetheless, it has dipped to around that price a couple of times since for a short time: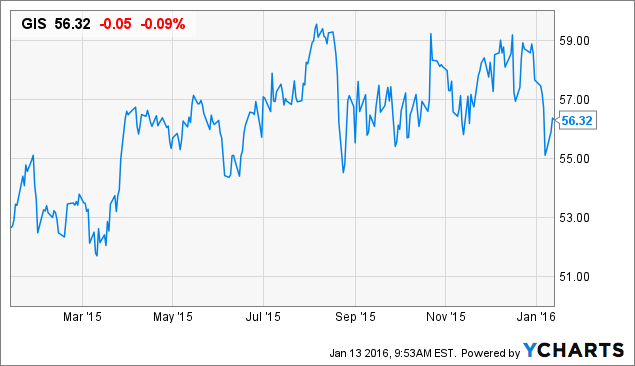 I'd certainly keep an eye out for another opportunity to present itself. It is a great company to hold.
Notes
The companies compared are: McCormick & Co (NYSE:MKC), Unilever (NYSE:UL), Hormel , Campbell Soup Company (NYSE:CPB), Mondelez (NASDAQ:MDLZ), Lancaster Colony, Hershey (NYSE:HSY), Nestle (OTCPK:NSRGY), Kelloggs (NYSE:K), J. M. Smucker (NYSE:SJM), ConAgra (NYSE:CAG), Mead Johnson (NYSE:MJN), Danone (OTCQX:DANOY), Tootsie Roll and Tyson Foods (NYSE:TSN). In each comparison, the company being specifically analyzed is not included in the peer average.
Unless otherwise stated, all graphs and tables and the calculations contained within them were created by the author. Creative Commons image reproduced from Flickr user jeepersmedia.
Disclosure: I am/we are long UL.
I wrote this article myself, and it expresses my own opinions. I am not receiving compensation for it (other than from Seeking Alpha). I have no business relationship with any company whose stock is mentioned in this article.