A time-honored ritual in the investment community is to analyze and dissect every addition and subtraction to the Berkshire Hathaway (NYSE:BRK.A) portfolio as the information becomes available. This is certainly understandable. Warren Buffett has an outstanding track record of investing success and the fact that he tends to hold his investments for years on end (as opposed to buying and selling stocks every other minute) makes him an intriguing investor to bounce ideas off of. But investors seeking to emulate Buffett should first make that Warren Buffett made the purchases they're analyzing. For instance, check out this recent story on Buffett's recent buys in The Globe and Mail:Click to enlarge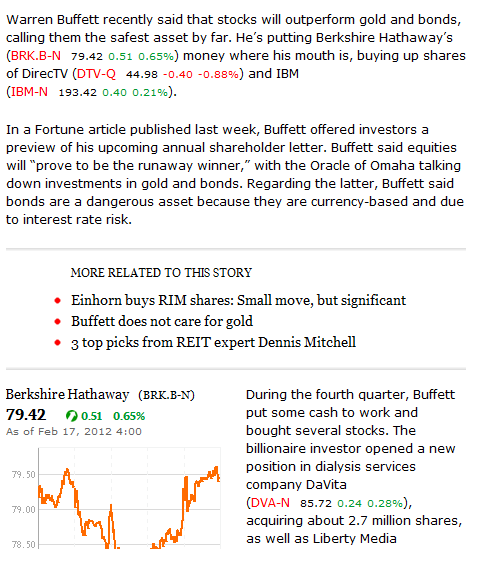 Click to enlarge
In particular, take a look at these sentences:
Warren Buffett recently said that stocks will outperform gold and bonds, calling them the safest asset by far. He's putting Berkshire Hathaway's money where his mouth is, buying up shares of DirecTV (DTV). ... During the fourth quarter, Buffett put some cash to work and bought several stocks. The billionaire investor opened a new position in dialysis services company DaVita (NYSE:DVA), acquiring about 2.7 million shares, as well as Liberty Media (NASDAQ:LMCA).
Now let's take a quick look at the largest holdings of Buffett's newest lieutenant, Ted Weschler. Before joining Berkshire last year, Weschler had run his own private investment fund called Peninsula Capital Advisors. Let's stop by Guru Focus and see what stocks Weschler was most actively trading during the end of the 2011 year.
Click to enlarge:


Click to enlarge
It seems that Weschler was most active in trading DirecTV, DaVita, and Liberty Media, the three companies that the article credits Buffett with purchasing.
The pursuit of tracking Warren Buffett's stock moves is not always straightforward for an investor. Some of Buffett's deals, such as the investment in Bank of America (NYSE:BAC), Goldman Sachs (NYSE:GS), and General Electric (NYSE:GE), came with special terms that gave Buffett a significant material advantage over common shareholders. Likewise, sometimes investors know that certain stocks are associated with Warren Buffett -- like Coca-Cola (NYSE:KO) -- but this does not necessarily tell us whether Buffett finds the price of Coke stock compelling today (for a number of possible reasons, Buffett has not added to his Coke stock in over 15 years).
But now, there is yet another complication in the mix for those investors who seek to follow Buffett's every move: the addition of Todd Combs and Ted Weschler to the investment team. Up until a couple years ago, investors could be sure that anything Berkshire Hathaway bought was explicitly endorsed by Warren Buffett. But when Combs and Weschler joined the team as part of the leadership transition process, Buffett made it clear that both managers will have complete control over a segment of the Berkshire portfolio.
If Berkshire invests billions of dollars into a particular security, we can be confident that Buffett is the one making the investment -- think the recent $10 billion purchase of IBM (NYSE:IBM). But when the headlines mention $300 million or $500 million stakes added to the Berkshire portfolio, be careful before automatically assuming that Warren Buffett is the one sending in the buy order.
Disclosure: I have no positions in any stocks mentioned, and no plans to initiate any positions within the next 72 hours.