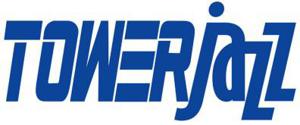 Spruce Point Capital Management is pleased to announce it has released the contents of a unique short idea involving Tower Semiconductor (NASDAQ:TSEM), another speculative and money losing roll-up with accounting and governance concerns suggesting $3.00-6.00 per share or approximately 50-75% downside. Our full presentation was just made public exclusively on our website. We encourage our readers to follow us on Twitter @Sprucepointcap and sign-up for exclusive research updates.
Happy New Year; Prepare For 2016 To Be The Year For Shorts
Since 2009, Spruce Point has had a single-minded goal of delivering to the market what we've termed a "Triple AAA" strategy. First, our ideas have to be Accurate. To this point, we are pleased to have been recently recognized by TipRanks, a website dedicated to tracking the investment performance of market analysts, as among the top 1.5% of performers (#65 of 4,779). Our research also results in tangible outcomes in Corporate America, either through executive and board resignations (Caesarstone (NASDAQ:CSTE), NCR (NYSE:NCR), Greif (NYSE:GEF), and Outerwall (NASDAQ:OUTR)), accounting changes (IRSA (NYSE:IRS) and Cresud (NASDAQ:CRESY), capital structure and allocation changes (NCR, and Ametek (NYSE:AME)), and engenders some harsh letters to management from other shareholders (iRobot (NASDAQ:IRBT) and NCR). Secondly, our short ideas are Actionable. We never waste with ideas that cannot be implemented. Our focus is on billion-dollar short ideas. Lastly, we strive to generate ideas that produce Alpha, a fancy Wall St. buzz word for outperformance above and beyond the market. With the market having gone straight up since 2009, we encourage our readers to see if the majority of our ideas have gone straight down, or underperformed the market.
With the stock market off to the worst start ever, having carefully selected short ideas has never been more critical. We have always endorsed being short companies with characteristics such as speculative business models with no free cash flow, companies dependent on frequent acquisitions requiring external capital for growth or frequent dilution, questionable management teams, and companies with aggressive or outright flawed accounting being used to flatter growth or margins. With these factors in mind, let us introduce you to our next big short: Tower Semiconductor.
We Are Short Tower Semiconductor, A Company With A History Of Losses, Questionable Business Model, And Dependent On Equity Issuance
Questionable Business Strategy
In our opinion, Tower is a collection of old semiconductor foundries cobbled together from acquisitions, which produces significantly below industry average GAAP gross margins (from 2012-2014 9% vs. 23% peers). Having gone through numerous financial restructurings in the past, Tower promotes large revenue goals reaching $1bn, and a large non-GAAP EPS headline of questionable merit, but has amassed at least ($695m) of negative cumulative free cash flow since 2004. Not having the capital resources or free cash flows to fund the large capex requirements to compete in the semiconductor manufacturing industry (Tower spends just 15% of sales on capex vs. peers at 40% of sales (e.g. TSMC (NYSE:TSM), United Microelectronics (NYSE:UMC), SMIC (NYSE:SMI)). Its recent deals (e.g. Micron (NASDAQ:MU) and Panasonic (OTCPK:PCRFY) reflect a short-term business strategy designed to bolster revenue growth for short periods, which allow its partners to sunset aged product cycles. It also allows Tower to book abnormal bargain purchase gains and trumpet the potential for new revenue sources from selling unused fab capacity. However, Tower's recent write-down of its acquired Japanese fab from Micron should be a warning sign of the pitfalls inherent in its business strategy. Micron, once a key purchaser of product from Tower, now no longer buys much product from Tower. As another example, Tower has been heavily promoting a joint venture with Panasonic to leverage unused capacity at three of its old fabs that had become burdensome to Panasonic, but upon close inspection we found evidence suggesting a brazen accounting scheme which shocked Spruce Point: Tower marks the JV at a 250%+ premium to that of Panasonic's valuation.
Punitive Equity Deals Hurt Shareholder Value
Acquiring revenues has come at a steep cost to Tower's shareholders: Since 2005, the company's share count has increased 34% p.a., outpacing revenue growth of 25% p.a. Its recent deals with Micron, Panasonic, and Maxim (NASDAQ:MXIM) have each entailed significant equity issuances, and, in our opinion, reflect Tower's dependence on propagating its share price to support deal activity. Not surprisingly, the company has had difficulty maintaining a stable roster of shareholders. All of its earlier strategic shareholders (SanDisk (NASDAQ:SNDK), Alliance Semi (OTCPK:ALSC), Macronix, Toshiba (TOSBY), and QuickLogic (NASDAQ:QUIK)) in the development of its second Israeli fab have sold, and its two largest Israeli shareholders (Israel Corp. (OTC:IRLCY) and Bank Leumi (OTC:BLMIF)) have liquidated their stock holdings over the past two years (despite maintaining various board positions). It appears Israel Corp. was so eager to relieve itself of its Tower position, that it spun-off a new company called Kenon (NYSE:KEN), which ultimately distributed TSEM's shares to its holders. Furthermore, the third largest shareholder, Bank Hapoalim (OTCPK:BKHYY), recently reduced its holding. U.S. shareholders should ask themselves do they know Tower better than the Israeli banks which financed it, along with Israel Corp., one of the country's largest holding companies?
Questionable Management, Corporate Governance and Long-Term Alignment With Shareholders
We are not the first to question Tower's governance. We recommend reading an excellent Seeking Alpha article by author Jay Yoon who also explores "management's troubling behavior." Further to his research, we find that Tower's CEO mysteriously omits his educational achievements, suggesting he didn't even graduate from college, which is bizarre for a mature billion-dollar company in the semiconductor foundry business. The CEOs of Tower's key peers all have advanced degrees, many with PhDs. An apparent lack of formal education has not stopped Tower's CEO from overseeing a company that has ravaged shareholders with massive dilution, well-timed stock options at inconsistently defined strike prices, and extravagant compensation and perks. Tower's group of 18 insiders earn a lavish 13% of SG&A expense (up from 6.6% in 2006 and compared with peers at 2-7.5%). Management is paid handsomely for promoting in the media that it will earn hundreds of millions a year for investors, issuing frequent press releases touting billion-dollar market opportunities, and presenting at microcap investor conferences associated with money-losing speculative companies (Note: Tower's market cap is $1.3 billion).
Evidence Suggesting Brazen Accounting Scheme To Forestall A Bankruptcy Threat
In 2013, with its stock price at a multi-year low, Tower indicated it had a wall of debt maturities coming due in 2015. Coincidentally, in Dec. 2013, the company announced what it would later describe as a "momentous" and "revolutionary foundry concept" JV deal with Panasonic which would add $400m of run rate revenues. Panasonic's tone was much more muted, and described the transaction as a consequence of highly competitive conditions. In our opinion, Tower heavily promoted the Panasonic deal to inflate its stock, and convert its Series F debt to equity to relive its debt burden. We have evidence to suggest TSEM inflated the value of the JV's assets from approximately $100m to $360m in order to book at $166m bargain purchase gain to bolster its equity.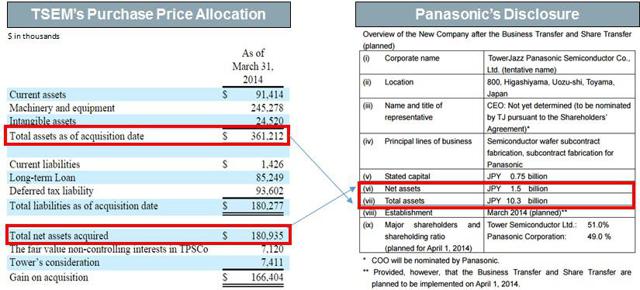 Click to enlarge
Source: Tower's Q2'14 Financial Filings and Panasonic's Press Release, 12/20/13
Note: Yen rate as 12/20/13 0.0096
Furthermore, Tower has engaged in other questionable accounting maneuvers to give the appearance of strong non-GAAP gross margins, profitability, and free cash flow such as: 1) Shifting COGS expenses to R&D and SG&A; 2) Changing the presentation of capex from "gross" to "net"; 3) Extending the useful life of its assets to reducing depreciation expense; 4) Excluding depreciation and amortization to present non-GAAP results (not industry standard); 5) Haircutting its convertible debt by inappropriately interpreting the accounting for a beneficial conversion feature, and 6) Haircutting its bank debt by inappropriately using an income approach vs. referencing its publicly traded debt. It should also be no surprise that Tower's financial reporting and transparency is sub-standard compared with peers. We observe Tower doesn't report key performance metrics and financial details such as: 1) Revenue by technology or application; 2) Utilization figures; 3) Allowance for doubtful accounts; 4) Intercompany sales, and 5) Financial guidance beyond sales, among other things.
Analyst Misperceptions and Valuation Disconnect
Analysts price targets range from $17 to $28 per share (average $22/sh), suggesting 75% upside from the current price. Analysts base these price targets on the assumption that Tower will grow 2016 revenues and non-GAAP EPS by 13% and 23%, respectively, with larger peers and industry forecasts suggesting low-single-digit revenue growth, and declining YoY EPS. It is no surprise that analysts are claiming that Tower's shares are cheap while trading at just 4.2x and 5.8x 2016E P/E and EV/EBITDA, respectively. In our opinion, Tower's non-GAAP EBITDA and EPS is so highly adjusted with questionable accounting assumptions, that analysts' estimates are practically useless. In our opinion, the true story is that Tower has a speculative business model that does not appear to make money, and appears dependent on issuing its inflated equity to finance transactions with larger industry counterparties. As a result, we view a sales-based multiple as more appropriate for valuing Tower. Its stock is currently trading at a 1.4x 2016E EV/Revenues. Investors should look at recent semiconductor stocks dogged with accounting issues such as MagnaChip Semiconductor (NYSE:MX) and Marvel Technologies (NASDAQ:MRVL) as appropriate valuation benchmarks. Similar to Tower, MX also operates outsourced foundry services and recently went through an accounting restatement tied to errors in, among other things, revenue recognition, cost of goods sold, inventory reserves, capitalization, expense recognition and allocation, as well as related business practices, for distributor, non-distributor customers and vendors. Its core business loses money and it trades at 0.5x EV/Revenues. Valuing Tower at between 0.5x and 0.8x 2016E revenues gets us a valuation range of approximately $3.00-7.00 per share (50-75% downside).
About Spruce Point Capital Management
Spruce Point Capital Management, LLC is a New York-based investment manager founded in 2009. The firm focuses on short-selling, special situations, and value investment opportunities. The firm conducts in depth forensic fundamental research and takes an activist approach to investing. Our research challenges conventional thinking with deep fundamental analysis, analytical rigor, and conclusions rooted with our unique viewpoints. For more information visit us at our website and follow us on Twitter @Sprucepointcap.
Disclaimer
This research expresses our investment opinions, which we have based upon interpretation of certain facts and observations, all of which are based upon publicly available information, and all of which are set out in our complete research presentation report on our website. Any investment involves substantial risks, including complete loss of capital. Any forecasts or estimates are for illustrative purpose only and should not be taken as limitations of the maximum possible loss or gain. Any information contained herein may include forward looking statements, expectations, pro forma analyses, estimates, and projections. You should assume these types of statements, expectations, pro forma analyses, estimates, and projections may turn out to be incorrect for reasons beyond Spruce Point Capital Management LLC's control. This is not an investment or accounting advice nor should it be construed as such. Use of Spruce Point Capital Management LLC's research is at your own risk. Any historical performance achieved from any idea or opinion from Spruce Point Capital Management should not be considered an indicator of future performance. You should do your own research and due diligence before making any investment decision with respect to any of the securities covered herein.
You should assume that as of the publication date of any presentation, report or letter, Spruce Point Capital Management LLC (possibly along with or through our members, partners, affiliates, employees, and/or consultants) along with our subscribers and clients has a short position in all stocks (and/or are long puts/short call options of the stock) covered herein, including without limitation Tower Semiconductor Ltd. ("TSEM"), and therefore stand to realize significant gains in the event that the price of its stock declines. Following publication of any presentation, report or letter, we intend to continue transacting in the securities covered therein, and we may be long, short, or neutral at any time hereafter regardless of our initial recommendation.
This is not an offer to sell or a solicitation of an offer to buy any security, nor shall any security be offered or sold to any person, in any jurisdiction in which such offer would be unlawful under the securities laws of such jurisdiction. Spruce Point Capital Management LLC is not registered as an investment advisor, broker/dealer, or accounting firm.
To the best of our ability and belief, as of the date hereof, all information contained herein is accurate and reliable and does not omit to state material facts necessary to make the statements herein not misleading, and all information has been obtained from public sources we believe to be accurate and reliable, and who are not insiders or connected persons of the stock covered herein or who may otherwise owe any fiduciary duty or duty of confidentiality to the issuer, or to any other person or entity that was breached by the transmission of information to Spruce Point Capital Management LLC. However, Spruce Point Capital Management LLC recognizes that there may be non-public information in the possession of Tower Semiconductor Ltd. or other insiders of Tower Semiconductor Ltd. that has not been publicly disclosed by Tower Semiconductor Ltd. Therefore, such information contained herein is presented "as is," without warranty of any kind - whether express or implied. Spruce Point Capital Management LLC makes no other representations, express or implied, as to the accuracy, timeliness, or completeness of any such information or with regard to the results to be obtained from its use. All rights reserved. This document may not be reproduced or disseminated in whole or in part without the prior written consent of Spruce Point Capital Management LLC.
Disclosure: I am/we are short TSEM.
I wrote this article myself, and it expresses my own opinions. I am not receiving compensation for it. I have no business relationship with any company whose stock is mentioned in this article.
Editor's Note: This article discusses one or more securities that do not trade on a major U.S. exchange. Please be aware of the risks associated with these stocks.