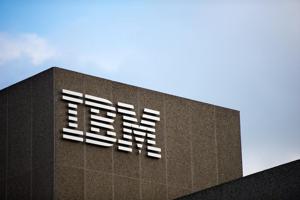 I first began investing in IBM (NYSE:IBM) using a "bond replacement" option strategy after the company reported poorly in late July 2015. Since then, the share price has continued to fall, so I have periodically checked on my operating and valuation assumptions. My original "Tear Sheet" on IBM may be found here (free access, but registration is required).
At Thanksgiving, I published an article outlining my valuation argument for IBM, an argument that boiled down to three things: revenue per share holding up well despite business divestment, profits heading toward my best-case scenario, and good uptake of the company's cloud products (suggesting healthy medium-term growth).
With recent weakness in the market and in IBM's stock price, I decided to take another look at one element of the valuation - profitability - to see whether I had missed some important dynamic in my earlier analyses.
Here's what I found. IBM's profit (using my favorite measure of Owners' Cash Profit or "OCP") looks pretty "meh" on a nominal basis, peaking in September 2009 and falling about 13% from there in the most recent trailing 12-month period.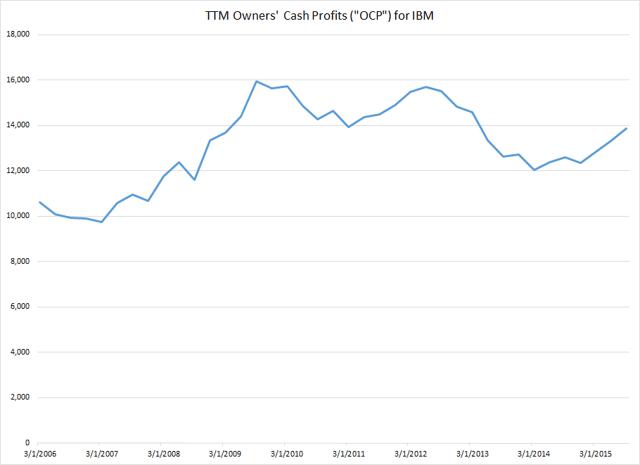 Click to enlarge
However, because IBM has been so aggressively buying back shares, I also plotted OCP per share. Here is that graph: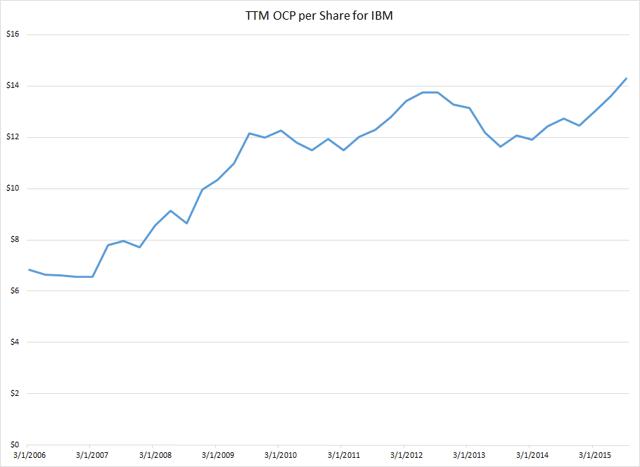 Click to enlarge
In contrast with the nominal values, on a per-share basis, IBM's profit per share has increased at roughly a 9% compound annual growth rate since 2006, and the most recent trailing 12-month figure is the highest in the company's history.
There are two factors leading to this improvement, both of which are good news for investors.
First, IBM is getting rid of low-margin businesses. Any time a company cuts out a low-margin business, it's an arithmetic certainty that its margin on the remaining businesses will go up. However, in this case, it's not only the margin going up, but also the share of profit to which every owner can lay claim. IBM is using proceeds from the sale of businesses as a source of cash to buy back shares. As you can see from a video I did about share buybacks (free, but registration required), I'm generally suspicious of the motives of these programs. But in IBM's case, rising profits per share demonstrate an example of buybacks generating value for long-term shareholders.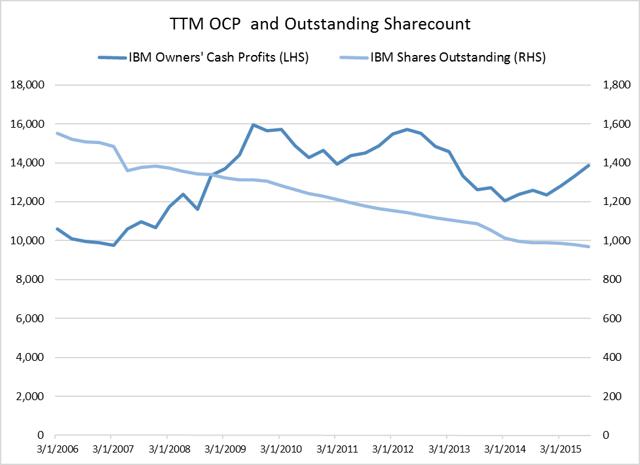 Click to enlarge
Second, my preferred profitability metric, OCP, is calculated in a way that takes improvements in "asset efficiency" into consideration, and IBM's asset efficiency has increased substantially with the divestment of its semiconductor fabrication plants ("fabs") and the sale of its "x86" server business to Lenovo (OTCPK:LNVGY).
"Asset efficiency" might sound like a technicality, but it does have a big impact on investors. For a company that must maintain a large asset base, a relatively large proportion of the cash flow that would have otherwise flowed through to become profits must be redirected to maintain the assets in working condition. As assets that must be maintained decrease, more of the company's cash flow can make its way through to owners' pockets or to investments that will help the company expand profits more quickly in the future.
One way to estimate how much a company is spending to maintain its asset base is by looking at the levels of depreciation and amortization expense charged in any period. Declining depreciation and amortization either means that a company is running its equipment into the ground (i.e., not replacing equipment as it reaches the end of its useful life) or that its business model requires less asset intensity. In IBM's case, the latter is clearly true.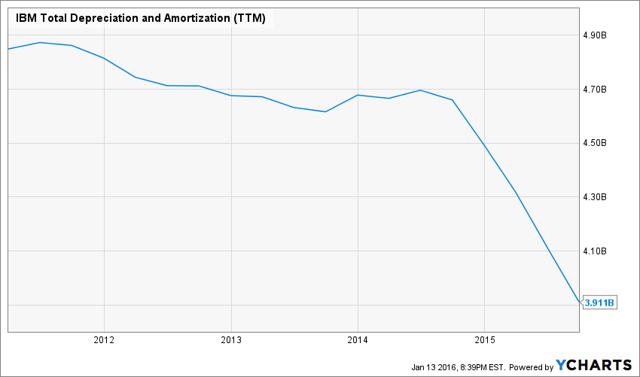 Click to enlarge
While this reduction in mandatory maintenance expenditures is good from an owner's perspective, looking at a company's profitability in the way many analysts do - on an EBITDA basis - looks like a negative because the "DA" portion is shrinking. In IBM's case, the EBITDA decline also can be seen clearly in the graph below: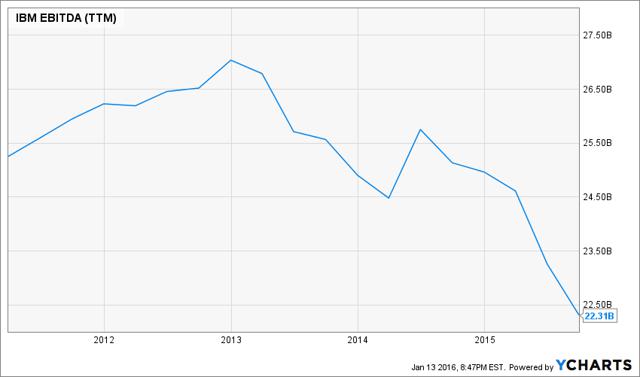 Click to enlarge
In reality, decreasing up-front maintenance costs as those represented by depreciation and amortization is a positive factor, but EBITDA treats it as a negative one. Surely, this must be one of the reasons for Charlie Munger's criticism of EBITDA as a profit metric.
While profitability at IBM looks good when a sensible and appropriate measure is used, revenue losses - especially those in the company's middleware franchise - still make me a bit circumspect about my investment in Big Blue. However, valuation is based on cash flowing through to owners, not on revenues being generated, so we believe the increase in profit is a good sign. Profit margins are much closer to our best-case assumptions, and our valuation is robust to near-term revenue weakness. So, on balance, the $209-218 fair value estimate range we published in July and reiterated in November still holds.
The investment structure we initially recommended was an income-generating sold put. Given that the stock price has continued to fall since that time, we feel comfortable with increasing our position size and/or increasing our leverage in this investment. We will be publishing another Tear Sheet detailing a levered long strategy within the week.
Disclosure: I am/we are long IBM.
I wrote this article myself, and it expresses my own opinions. I am not receiving compensation for it. I have no business relationship with any company whose stock is mentioned in this article.